Tuesday Movie News
EDITOR'S NOTE: VERY SOON, I'M GOING TO BE WORKING OUT IN THE REAL WORLD WITH REAL HOURS, SO LET'S GET SOME DWEEBING DONE BEFORE ALL THAT KICKS IN LATER THIS WEEK!
Mortensen Keeps PROMISES for Cronenberg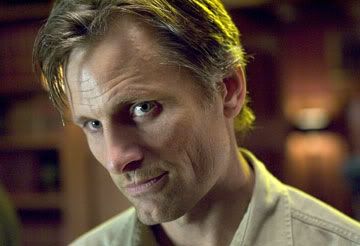 Focus Features and BBC Films has set Viggo Mortensen to star in EASTERN PROMISES.
Mortensen will portray a man caught up in the Russian mob. David Cronenberg will direct.
The thriller, set in London, centers on a nurse investigating the identity of a Russian girl who dies in childbirth. The nurse stumbles into danger when she learns the woman was a prostitute involved in sex trafficking.
Steve Knight wrote the script. Paul Webster will produce.
Pacino Joins THIRTEEN
Director Steven Soderbergh and Warner Bros. has signed Al Pacino to star in OCEAN'S THIRTEEN. He joins a cast which already includes George Clooney, Brad Pitt, Matt Damon, Andy Garcia, Don Cheadle, Bernie Mac and Ellen Barkin.
The plot is being kept under wraps. Pacino will be playing Willie Banks, the owner of a high-profile casino and hotel in Las Vegas.
EDITOR'S NOTE: BE PREPARED FOR LARGE CHUNKS OF SCENERY TO HANG FROM HIS TEETH AT ALL TIMES.
Brian Koppelman and David Levien wrote the script. Jerry Weintraub will produce. Production begins July 21st with filming in Las Vegas and Los Angeles.
Beltran Has ALTER EGO
Rock Shaink Jr. has sold his script ALTER EGO to Beltran Productions.
The psychological thriller centers on a group of unique characters trapped inside an imaginary world (Manhattan)
EDITOR'S NOTE: NOT THAT I HAVEN'T SUSPECTED THIS FOR SOME TIME, BUT MANHATTAN IS IMAGINARY?
who must solve a murder inside the tourist filled city streets before the clock strikes midnight on New Years Eve, killing everyone.
Fernando Beltran will produce.
Raimi's RISE Shoots for R
In an unconfirmed rumor, an anonymous inside source reports that RISE, starring Lucy Liu, Michael Chiklis and Carla Gugino, went back in front of the cameras in Los Angeles this week for a few days to beef up its R rating by adding more explicit gore and sex.
EDITOR'S NOTE: BEATS MAKING THE

SCRIPT

BETTER, I GUESS.
Sam Raimi is producing.
Giovanna Mezzogiorno Has Cholera/Starring in the novel adaptation

Italian thesp Giovanna Mezzogiorno, last seen in the foreign language Oscar-nominated
Don't Tell
, will stoke the sickly fires of love for Javier Bardem in
Love In The Time Of Cholera
.
Mike Newell is directing the movie adaptation of Gabriel Garcia Marquez' best-selling novel, which chronicles the story of an unrequited love spanning more than 50 years in South America.
Our heroic lovers (Bardem and Mezzogiorno) have to overcome jobs, marriages, affairs and deaths before they can finally be together.
With a script by
The Pianist's
Ron Harwood and a $35 million budget, Newell and co start shooting in Brazil this August.
Leary Story/LSD icon gets biopic treatment
Ever quoted the phrase "Turn on, tune in, drop out"? The man you have to thank is Timothy Leary. Thanking him in person would be rather hard, since he died in 1996, but now you'll be able to find out about his life and work in handy motion picture format, compliments of Miramax.
The company has snapped up the rights to Robert Greenfield's
Timothy Leary: A Biography
and hired
The Hoax's
Bill Wheeler to adapt it.
The book – which, like so many tomes grabbed by the studios, doesn't actually hit bookshops until June –chronicles Leary's life from his days as a Harvard professor to 1960's counterculture icon. A proponent of the research and use of drugs such as LSD, he became a hero to many and nuisance to the government, who considered him a rebel and a dangerous influence. His death was videotaped at his request and he was buried in space- with his remains sharing rocket-space with such luminaries as
Star Trek
creator Gene Roddenberry.
Mary Stuart Masterson Eats Cake/Directing a family drama
Mary Stuart Masterson last dipped her toes in the waters of big studio filmmaking in 1997's
The Postman.
And it appears to have scared her away into Indie territory for good.
The Cake Eaters
is her latest job, but with a twist – she's directing this one. The film, which has been written by and will star Jayce Bartok (who appeared in the
Station Agent
and cropped up in
Spider-Man
as the subway busker singing the superhero's praises), follows two families brought together by the return of a son. Naturally, this prodigal child's return stirs up a mess of emotions and the usual amount of skeletons come rattling from the wardrobe. The log line mentions a battle with "old ghosts", but we're guessing the subject matter, and more importantly the budget, mean you can't take that literally.
Masterson starts shooting in New York next month.
Depp's got a New Sensation?
Paul from over at "The Hollywood News" informed us that producers of the upcoming biopic of INXS frontman Michael Hutchence are looking to the Deppster to star as the Australian rock star.
Producers are further looking to round out the cast with an ambitious list of names that include Eric Bana, Sienna Miller, Naomi Watts, Eva Green, Patsy Kensit, Hayden Christensen, Stephen Rea, Joss Ackland, Rachel Griffiths, and Julie Walters.
The film, which has a working title of SLIDE AWAY (references an INXS-U2 duet) is under director Nick Egan, who directed a lot of INXS's more popular videos, and contrary to the rumor that has recently surfaced, Hutchence's father is not upset about the film and is cooperating with the production through Hutchence's Trust.
Star Trek : The Wrath of Capote?
If J.J Abrams is anything, it's loyal.
Not only can we pretty much expect a cameo from Greg Grunberg – I'm assuming - in Abrams' just-announced "Star Trek 11", but the "M:I 3" director is even considering casting Philip Seymour Hoffman, the villain of the former, in the new Enterprise jaunt.
According to
IGN FilmForce
, the Oscar Winner is being considered for a role as the ship's doctor in the film – but no, he won't be playing the younger Dr. Leonard "Bones" McCoy.
As announced on Friday, the new film – which Abrams will produce and direct – will be set after the events of TV's "Enterprise", but before the events of the original "Star Trek" series. It will fix on the very first adventure that Kirk and Spock share together, having met at the Starfleet Academy.
I'm still wondering how the heck they're going to find a young Kirk or young Spock….I guess they'll go the look-a-like route, but here's hoping, their dupes can act.
EDITOR'S NOTE: AMEN TO THAT. AND HAVE MORE SPARKLE THAN MOST YOUNG THESPS THESE DAYS. (
YEAH...I SOUND LIKE AN OLD COOT. SUE ME
). SAY WHAT YOU WILL ABOUT SHATNER, ET AL, THAT GANG HAD CHARISMA AND PRESENCE TO SPARE.
P.S....HERE'S AN UPDATE FROM YET ANOTHER SOURCE ----
It Won't Be Kirk And SpockExclusive: The Truth About Star Trek XI
EDITOR'S NOTE: SPECIAL NOTE TO DWEEBPAL ANDREW......NUMBER

ELEVEN

.
Fans around the world whooped for joy last week at news that the Star Trek franchise was being resuscitated with
M:I:3
director JJ Abrams at the helm.
News that it would adopt the long-mooted concept of Kirk and Spock's youthful adventures at Starfleet Academy provoked a more mixed reaction.
Those who thought such a move sacrilege can rest easy though because, as
Empire
discovered in an interview today with Abrams himself, the story is nothing of the sort.
"
The whole thing was reported entirely without our cooperation
," says the director with a hint of regret.
"People learned that I was producing a Star Trek film, that I had an option to direct it, they hear rumours of what the thing was going to be and ran with a story that is not entirely accurate."
But the million dollar question is, what will it be about?
Unsurprisingly, Abrams isn't saying ("
We've made a pact not to discuss any specifics
") but the
Lost
creator is a confirmed Original Series fan so don't be surprised if his take on the series does indeed take place around the era of Kirk and co, or if some of the established characters do make a reappearance.
"Those characters are so spectacular. I just think that… you know, they could live again
."
EDITOR'S NOTE: OK. SO. IT

ISN'T

ABOUT KIRK & SPOCK. UNLESS IT IS?
Star Blazers to keep you warm
It's origin in ink? Then it's ripe for a big-time contemporary movie!
"Star Blazers", that vintage Japanese anime series from long ago, is getting the cinematic treatment, says The Hollywood Reporter.
Benderspink and producer Josh C. Kline are adapting the series, known for its epic imagery and themes of brave sacrifice and respect for heroes lost in the line of duty.
"Star Blazers," distributed in the U.S. by Voyager Entertainment, aired stateside in the early 1980s. The story is set in the 22nd century after an alien attack on Earth has forced survivors to live in underground cities. After a message arrives from a distant planet promising a cure for the proliferating surface radiation, Earth's last vestige of hope rests on the crew of a powerful yet untested spaceship, which must reach the purported new ally and return home before mankind ceases to exist.
Granted, "Blazers", the series, was pretty tacky, so the film hasn't got a lot to live-up to – so it could be OK. Having said that, they've tried once before to get a "Star Blazers" film up and going – Disney attempted in the 90s – and failed, which begs the question: 'Why now? Not then?'
EDITOR'S NOTE: WHY

NOT

NOW?! A LITTLE OPTIMISM, FOR PETE'S SAKE!
EDITOR'S NOTE: AND HERE'S WHAT'S COMING UP FOR THIS SUMMER. CONSIDER YOURSELVES FOREWARNED ----
Run For Your Lives! The Blockbusters Are Coming!
By RICHARD CORLISS, JEFFREY RESSNER, LEV GROSSMAN, JAMES PONIEWOZIK, BELINDA LUSCOMBE,
REBECCA WINTERS KEEGAN
Coming soon to every theater near you: more of the freakin' same!
Summer means blockbusters, and that usually means sequels, prequels or remakes. Gone are the days when movies guaranteed the unforeseen: famous actors, yes, but in new roles; familiar genres, sure, but with different stories. Today the demand that Diaghilev made of Jean Cocteau—"Astonish me!"—has become "Remind me." Moviemakers and movie watchers, both groups in a historically cautious mind-set, want more of the same: tiny twists on proven franchises, like the pleasures of a living-room drama or sitcom. In this surprise-resistant summer, that's what you're getting: pay TV.
Once in a while, a new member has to join the club; otherwise, there would be no movies to make sequels of. Three years ago, that film was
Pirates of the Caribbean: The Curse of the Black Pearl.
It vaulted from prerelease shrug to summer smash, earning $305 million in North America and $652 million worldwide. So here comes the sequel,
Pirates of the Caribbean: Dead Man's Chest
(opening July 7), which was shot at the same time as
Pirates III,
due out next summer.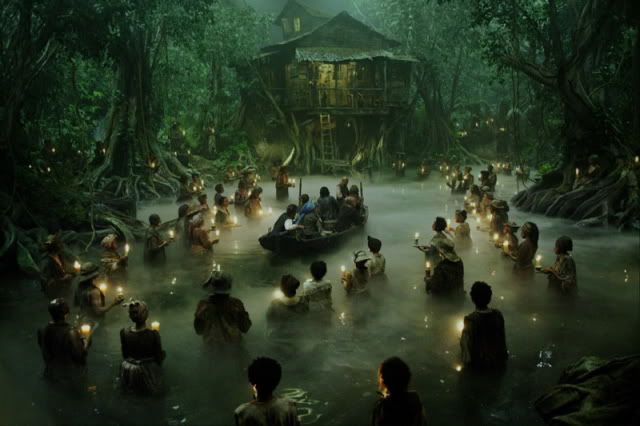 For this double voyage, Disney and producer Jerry Bruckheimer re-enlisted the old crew: director Gore Verbinski, writer Terry Rossio and stars Johnny Depp (as scurvy Captain Jack), Orlando Bloom (the young hero, Will Turner) and Keira Knightley (Will's fiance Elizabeth Swann). They all seem pumped.
"There's a kid inside most of the people on this crew
," Verbinski says, "
that gets juiced to get up in the morning and say, 'Hey, we're doing this.' This is the type of movie that says it's fun to go to the theater again."
EDITOR'S NOTE: AND NOW, RECITE IT WITH ME...THE MOVIE-FAN'S PRAYER ----
PLEASE MAKE THIS ONE AS GOOD AS THE FIRST ONE THAT I LOVED SO MUCH. PLEASE DON'T MESS IT UP AND WASTE SUCH A GREAT CAST AND SUCH BUILT-UP GOOD WILL. PLEASE DON'T BE LIKE "BOURNE 2".
The very notion of sequels might horrify Depp, Hollywood's best current example of dreamboat movie star and superserious character actor.
"It's a dangerous game
," he acknowledges. "
Rocky went into almost Warholian levels of absurdity. But if your intentions are good and pure, then you can sort of skate through, make an interesting, entertaining film."
His Captain Jack, the maniacally mannerist pirate, was plenty entertaining, to audiences and to Depp.
"I truly love the character
," he says, "
and I didn't feel I'd had enough of him in the first one."
Or the second or third? Bruckheimer says he's going to save all the sets
"in the hope that we can continue the series. If Disney will write us some checks, we'll do it
." And if the star isn't bored by then, he jokes:
"I'm teetering on the idea of a [Pirates] TV series."
That's not likely. But this is: out of the summer will emerge a from-nowhere smash on the order of
The Blair Witch Project
or
My Big Fat Greek Wedding
or
Wedding Crashers
. Or the first
Pirates
. After all, a surprise hit is the least surprising thing about summer.
MISSION: IMPOSSIBLE III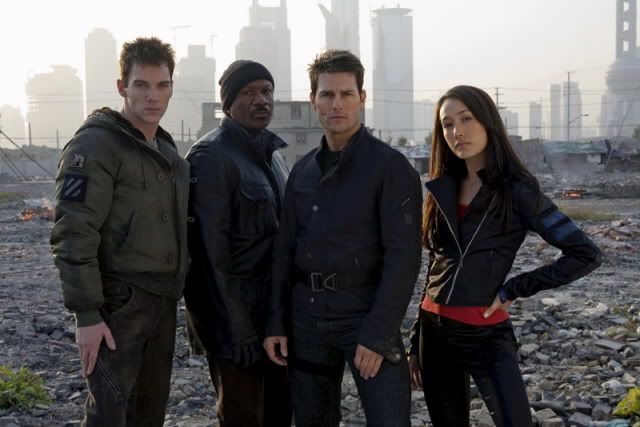 Starring: Tom Cruise, Philip Seymour Hoffman. Release date: May 5.
What the first two made: $396 million
THE CHALLENGE The audience's mission, should it choose to accept it, is to escape into an action movie when its star's off-screen life requires a greater suspension of disbelief than his onscreen stunts do. Weeks before the U.S. opening of
M:i:III
, as it's curiously advertised, Cruise is in the headlines because of his ecstasy over his new baby and his devotion to Scientology—neither of which cries out "badass superspy." The spy-movie genre has changed too, taking itself far less seriously these days thanks to movies like
Austin Powers
and TV shows like
Alias
, created by new
Mission
director J.J. Abrams. But perhaps it was time to lighten things up. Says Abrams: "
Any time you make a movie with a No. 3 in [its title], you have to have a sense of humor."

EDITOR'S NOTE: WELL PUT! (JJ ROCKS)



WHAT'S NEW Cruise's character Ethan Hunt gets a life beyond dodging explosions—and a girl (Michelle Monaghan). "
This guy happens to be really good at what he does, but it's a prison
," says Abrams. "
This woman is a light and gives him a sense of hope
." Providing the darkness is Hoffman, who sheds his
Capote
lisp for a really scary sneer.
THE BUZZ It's a hard call. Does Cruise the tabloid fixture hurt Cruise the movie star? This is the kind of movie audiences like to see him in, so it's a safer bet than, say,
Vanilla Sky II
.
SUPERMAN RETURNS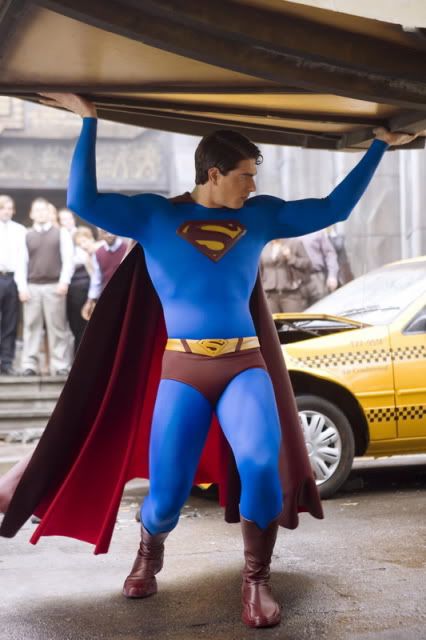 Starring: Brandon Routh, Kate Bosworth. Release date: June 30.
What the first four made: $318 million
THE CHALLENGE The problem with Superman is that he doesn't have enough problems. He can pretty much do anything—dude has superbreath—and apart from the kryptonite thing, he's pretty much invulnerable. And oh, my stars, what a do-gooder. Where's the inner conflict? Or the outer conflict, for that matter? He's not dark and troubled like Batman or Wolverine, or cute and clueless like Spider-Man.
WHAT'S NEW You can't openly monkey with the Superman mythology--there are probably federal laws against it—so to reinvent him director Bryan Singer (T
he Usual Suspects, the X-Men
movies) went subtle, quietly tweaking canonical story lines to roil Supe's placid emotional waters. When the movie opens, Big Blue has been gone for five years, and he gets back to find that Lois Lane has a new guy (!) and a kid (!!). Now, wouldn't that ruffle your spit curl?
THE BUZZ The set radiated bad p.r.: there were rumors of reshoots and wild budget overruns (the reported cost is a mighty $185 million). And do comic-book fans really care if Superman is a lover as well as a fighter? New guy Routh fills out the blue tights, and Spacey looks like a deliciously loony Lex Luthor, but Clark Kent might need to find a new beat.
EDITOR'S NOTE: AND A THIGH-MASTER.
X-MEN: THE LAST STAND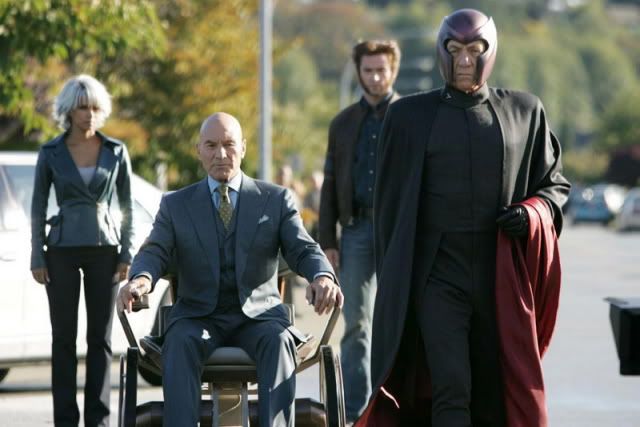 Starring: Hugh Jackman, Kelsey Grammer. Release date: May 26.
What the first two made: $372 million
THE CHALLENGE The X-Men have a problem. Not the threat of Magneto or the fact that a pharmaceutical company has come up with a "cure" for mutancy (jeez, can't we all just get along?). The issue is the loss of Singer (to
Superman
), who directed the first two movies, and his replacement by Brett Ratner (
Rush Hour, Red Dragon
), who hasn't yet shown Singer's talent for the shadowy action sequences that are the franchise's specialty. Oh, and Frasier Crane is the Beast?
WHAT'S NEW In addition to a bigger part for the under-utilized weather witch Storm (Halle Berry),
EDITOR'S NOTE: NOT NECESSARILY A

GOOD

THING. HALLE BERRY...OSCAR NOTWITHSTANDING....IS LOOKS WAY BETTER IN VERY SMALL DOSES. (IMHO....)
X3 also has new or much-expanded roles for several mutants beloved from the comic book. White-winged Archangel appears, as does Kitty Pryde, the girl who walks through walls and who served as the imaginary girlfriend for a generation of fanboys.
Watch them closely: This is the last X-Men movie, and Fox is looking for mutants who can be spun off as stand-alone franchises.
THE BUZZ Actually, not bad. A strong trailer suggests that despite what Ratner says—"
It's not just a bunch of superheroes saving the world and kicking ass. It deals with a lot of issues, prejudice and alienation and all that stuff
"—he has grasped one of the basic truths of the series: the more mutants, the mo'better.
POSEIDON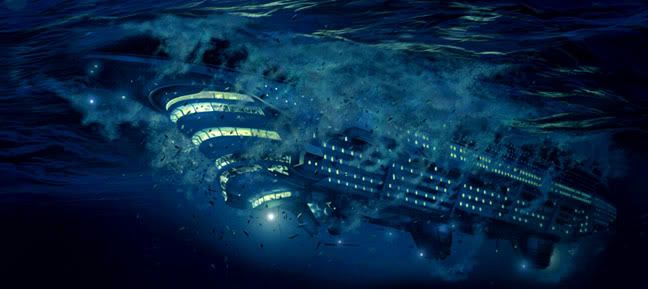 Starring: Kurt Russell, Richard Dreyfuss. Release date: May 12.
What the first one made: $84 million
THE CHALLENGE Making a 34-year-old disaster movie, known principally for its theme song and Shelley Winters' underpants, interesting to young, gotta-see-it-opening-weekend types.
And inspiring awe in people who have seen
Titanic
and
The Perfect Storm
.
WHAT'S NEW There's still a boat, a wall of water and a group of survivors. But apart from that, the screenplay is brand new. There's no Winters character—all the women are more of the "don't know-their-names-but-they-sure-look-good-wet" variety, like Emmy Rossum (
Phantom of the Opera
). And the special effects on this one should make the first one look like a kiddie pool.
THE BUZZ
The Poseidon Adventure
does not generate much Internet alarm over its desecration. The folks at Warner Bros., seem to be quietly confident. Their ace in the hole is director Wolfgang Petersen, who, having directed
The Perfect Storm
and
Das Boot
, knows from terror and tension on top of and beneath the waves.
Poseidon
could just be the preposterous, grip-the-armrest thriller people love in summer. Or, like the ship, it could be a sinker.
EDITOR'S NOTE: WELL THE

TRAILER

SURE LOOKED EXCITING. (AND I WAS NOT THINKING I WOULD WANT TO SEE IT, HAVING ONLY JUST GOTTEN THE THEME SONG FROM THE

FIRST

ONE OUT OF MY HEAD. (OOPS...THERE IT GOES AGAIN). GREAT CAST, TOO.
THE DA VINCI CODE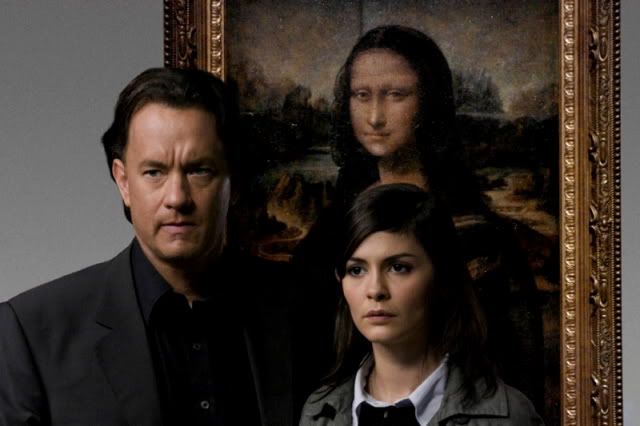 Starring: Tom Hanks, Audrey Tautou. Release date: May 19.
How many books sold: 40 million--plus
THE CHALLENGE Adapting the worldwide best-selling novel into a taut, suspenseful thriller. "
Because the story is so well known
," says director Ron Howard, "
the last little bit of mystery I have to offer is how I interpreted it."

WHAT'S NEW Not the story line, which follows the book's uncovering of an alleged Christianity con job almost, um, religiously.
EDITOR'S NOTE: THE REALLY COOL THING ABOUT CONSUMING A LOT OF NUTRASWEET, IS I DON'T FULLY REMEMBER THE BOOK'S PLOT DETAILS. EVERYTHING STAYS QUITE FRESH AND NEW THAT WAY!
But Howard delivers something the novel doesn't: re-creations of supposed historical events central to the ancient conspiracy. "
We try to transport the audience back in time so they can understand its context,"
he says.
THE BUZZ Security was tighter than the Mona Lisa's smile at the Musee du Louvre in Paris, where location filming was allowed only after closing hours. Ongoing complaints by the Vatican and Opus Dei have only stoked the publicity fires, while a (much) smaller group supporting albino rights blanched at the villain's complexion.
EDITOR'S NOTE: I AM BEGINNING TO FEEL TRULY SLIGHTED. WE NEED A

DWEEB-RIGHTS

LOBBY, DON'T YOU THINK?!
Sony has held no screenings for movie critics yet, which is not usually a good sign. But controversy sells, so maybe it won't need signs.
MIAMI VICE
EDITOR'S NOTE: DID YOU

HEAR

MY EYES ROLL? CAUSE I THINK IT WAS AUDIBLE. (EVEN THE

TRAILER

STINKS).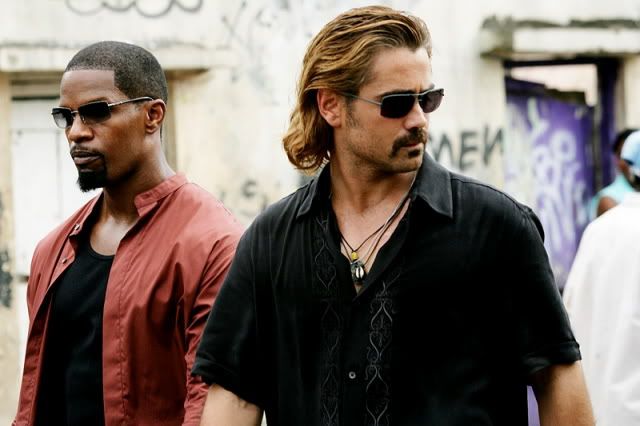 Starring: Colin Farrell, Jamie Foxx. Release date: July 28.
How long the show ran: 1984-89
THE CHALLENGE Updating the ultimate '80s cop show
WHAT'S NEW Miami, for starters. Style-conscious director Michael Mann, who executive-produced
Vice
for TV, took the original show's atmospherics from a provincial Miami that hid its grit under pink stucco. Now it's a boomtown, flush with international cash and bristling with glassy towers. The crime scene in '80s Miami, Mann says, "
was just small-town cocaine cowboys. Now, everything seems to have a couple of zeroes added to the end of it."
Gone too are the signature pastels. As for the substance, the director insisted on an R rating, allowing the movie to show the sex and violence the TV show had to imply.
THE BUZZ Production, on location in Florida and the Caribbean, was rougher than Don Johnson's stubble. Hurricanes closed the set three times, as did an incident in the Dominican Republic involving an off-duty cop who wanted to get on-set and a spot of gunfire; in December, Farrell had to be treated for exhaustion and dependency on prescription medication. Mann, a notoriously meticulous director, has pulled off tough, big-star productions before (
Heat, Ali
). But movie audiences have tended to like their TV remakes campy (
Charlie's Angels, Mr. & Mrs. Smith
), and Mann takes
Vice,
the movie, dead seriously. "
I hope the movie will surprise people familiar with the show,"
EDITOR'S NOTE: AREN'T THOSE PEOPLE MOSTLY MOUTH BREATHERS?
Mann says.
"I was never interested in doing something derivative."