Tuesday News (this-and-that)
EDITOR'S NOTE: A SMATTERING OF OTHER (NON-MOVIE) STUFF TO POST TODAY.
The Scent of a Movie
Theaters in Japan are offeringa new sensory experience: aromas synched with film.
Two movie theaters in Japan began offering a novel sensory experience to audiences Saturday: smells synchronized to a Hollywood adventure film.
Seven different aromas wafted from beneath the back-row seats during showings of the ''The New World,'' synchronized with the on-screen action.
''This movie depicted nature a lot, so the aromas created the atmosphere of the forest and flowers shown in the movie. It was nice
,'' said Asami Osato, who watched the film at Tokyo's Louvre Marunouchi theater.
EDITOR'S NOTE: YA KNOW....BEARS POOP IN THE FOREST. (I'M JUST SAYIN.....)
A floral scent accompanies a love scene, while a mix of peppermint and rosemary is emitted from special machines during a sad portion of the film.
The service is available for only the back 33 of the 470 seats, according to theater official Kenjiro
Beppu.
''We sold out all of our 'Aroma Seats' for four showings''
on Saturday, he said, adding that the
service will continue through May 5.
EDITOR'S NOTE: FROM WHAT I HEAR, THE SMELLS WOULD BEAT THE SCRIPT FOR "THE NEW WORLD".
Movie theaters will be able to download scent sequences for other films from the Internet from NTT Communications, which offers the service to theaters.
The company began a similar service for homes in Japan last year. Owners of the US$620 (euro500) home version can download different programs to emit smells to accompany a horoscope reading or for aromatherapy.
EDITOR'S NOTE: WHAT'S WRONG WITH

EAU DE WET DOG

, LIKE I'VE GOT FREE OF CHARGE?
Owners must keep refilling the machine with fragrant liquids. NTT Communications would not disclose how many machines it has sold.
EDITOR'S NOTE: THERE MIGHT BE A SUCKER BORN EVERY MINUTE, BUT THEY ARE VERY TOUCHY ABOUT BEING MENTIONED BY

NAME

, I GUESS.
U.S. startups have developed similar technologies before, although at least one company was forced out of business during the dot-com bust.
ABC Announces LOST Game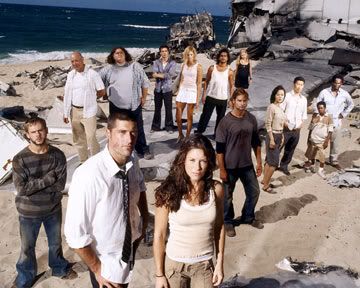 Associated Press has repored ABC will launch a global interactive game based on their TV series LOST. The LOST EXPERIENCE will be Internet-based and will feature a parallel story line that is not part of the TV show.
The game will begin May 3rd in the U.S., May 2th in the United Kingdom, and May 6th in Australia. There is no winning prize, but the experience will offer clues that could unlock some of the island's many secrets. It will introduce new characters and the mysterious Hanso Foundation. The first clue requires finding a toll-free number that will be released during the show or commercial breaks.
EDITOR'S NOTE: ARGGH....MORE THINKING! (I

HATE

THINKING).
AND SPEAKING OF "LOST" IN ANOTHER MEDIUM ---
Guilds, ABC reach mobisode deal
Disney-ABC Television Group has reached a deal with the guilds that will put the long-delayed mobisode spinoff of hit series "Lost" back on track, the company said Monday.
SAG, DGA and WGA all hailed the unprecedented agreement for establishing a template covering compensation for future programming on new digital platforms.
"

This deal marks the first of many to come and illustrates how, by working together with producers, we will achieve agreements that are mutually beneficial

," DGA president Michael Apted said.
But Bruce Gersh, senior vp business development at ABC, described the deal in more measured terms, characterizing it as a trial not unlike the network's recent decision to stream programming on ABC.com.
Atlantis to Adapt Graphic Novel from LIBRARIAN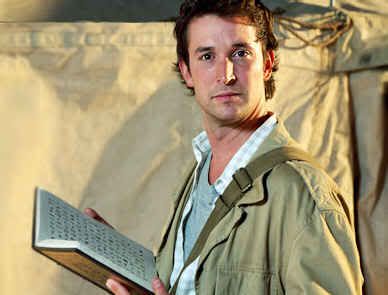 To coincide with the December 2006 broadcast premiere of the much-anticipated sequel to TNT's LIBRARIAN: QUEST OF THE SPEAR, Dean Devlin's Electric Entertainment has signed an exclusive worldwide agreement with Atlantis Studios to produce a graphic novel adaptation of the sequel and produce an original comic book series based on the characters from the two films.
The sequel, entitled THE LIBRARIAN: RETURN TO KING SOLOMON'S MINES, continues the action-packed adventures of Flynn Carson, a man charged with protecting a repository of humanity's greatest secrets, all hidden beneath the monolithic Metropolitan Library from the forces of evil who, if given the chance, would use the priceless treasures for their nefarious plans.
EDITOR'S NOTE: OH THOSE FORCES OF EVIL. ALWAYS WITH THE NEFARIOUS PLANS. (REPLACING THE GOOD STUFF IN THE LIBRARY WITH PORN?)
The LIBRARAIN comic book series will be produced by Atlanta-based Atlantis Studios, a company specializing in the production of comics and graphic novels based on science fiction, fantasy, and action-adventure licensed properties. The comic series will follow Flynn's adventures across the globe, and introduce new characters and artifacts suggested by the first two films.
"
Comics are great opportunities to explore mythology, history, and each character in a way we could never do on film"
said executive producer Dean Devlin, "
There are thousands of artifacts in the Library – each one a new adventure. Based on the response we've had from the first film, fans of all ages loved the characters and want to see more. This series will give it to them."
"
We look forward to working with Electric Entertainment"
, commented Atlantis Studios President James Watson, "
Dean instinctively recognizes the story potential of franchises like "The Librarian". A series like this has something for everyone – including action that's a great match to the fast-moving, visual medium of comics."
THE LIBRARIAN graphic novel adaptation of RETURN TO SOLOMON'S MINES will be available to retailers in late November 2006.