Wednesday STAR WARS stuff
2006 MTV Movie Awards
Voting is now open for the 2006
MTV Movie Awards
!
Star Wars: Revenge Of The Sith
is up for three categories:
Best Villain - Hayden
Best Hero - Ewan
Best Fight - Ewan and Hayden
Time for all you Star Wars fans to vote!
EDITOR'S NOTE: IN THE INTEREST OF (DWEEB) FAIR PLAY, THE HARRY POTTER, BATMAN, AND NARNIA GANGS HAVE A FEW OPTIONS YOU COULD VOTE FOR TOO.
Click here to vote now!
http://www.mtv.com/ontv/movieawards/ma06/#/ontv/movieawards/ma06/
The
2006 MTV Movie Awards
airs on Thursday, June 8 at 9 p.m. ET/PT
Celebration 4 Rumors
There's a rumor floating around the internet right now in regards to Celebration 4.
The rumor has it that an agent for a well know actor let it slip at a recent appearance.
The rumor stands as such."Celebration 4 in the L.A. Convention Center, May 24th to 27th 2007"
Please take this with a grain of salt, as for now it is PURE RUMOR. Nothing is official until Lucasfilm makes the announcement. Speaking of the announcement, it's also rumored that the news above will be announced sometime next month.
EDITOR'S NOTE: I HAVE PEOPLE I COULD STAY WITH IN LA.....HMMMM (NOT LIKE INDIANAPOLIS).
Inside The Complete Visual Dictionary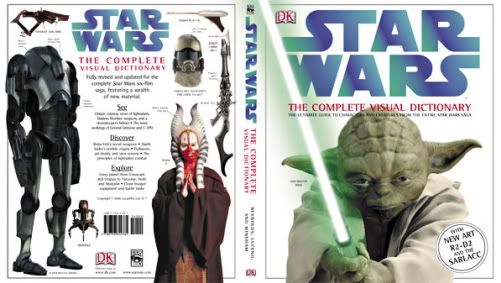 Over the years Star Wars readers have come to regard the incredible works of DK Books as the imaginative and authoritative guides inside the Star Wars saga. As announced in the latest Star Wars Insider, DK will publish Star Wars: The Complete Visual Dictionary, the ultimate guide to the entire Star Wars saga.
Here's a look inside the book, which combines all four Star Wars Visual Dictionaries into one volume, and expands the original works with new material.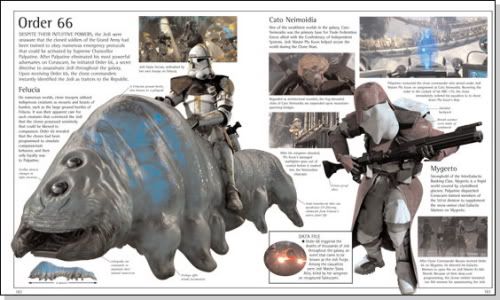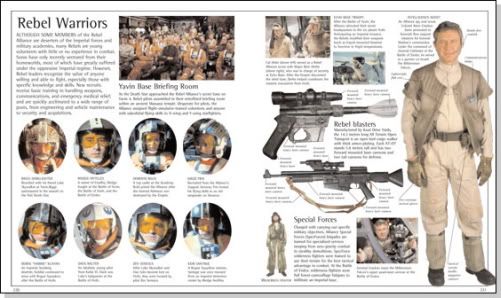 Revenge of the Sith
is explored in even more detail, with in-depth looks at Utapau, Mustafar, the Clone Wars and Order 66.
EDITOR'S NOTE: SNIFFLE....
The original Star Wars trilogy is also expanded, with overviews of the Rebel Alliance, Imperial personnel, and more. New artwork and props have been built specifically for this project, including a cutaway view of the enormous Sarlacc creature sculpted by Robert E. Barnes, and an exploded view of R2-D2's insides by model maker Don Bies.
The authors of the book, David West Reynolds, James Luceno and Ryder Windham, worked closely with Lucasfilm and Industrial Light & Magic to research this unique reference book. The result: a fascinating visual gallery of the characters, creatures and hardware of the entire Star Wars saga as they appear nowhere else!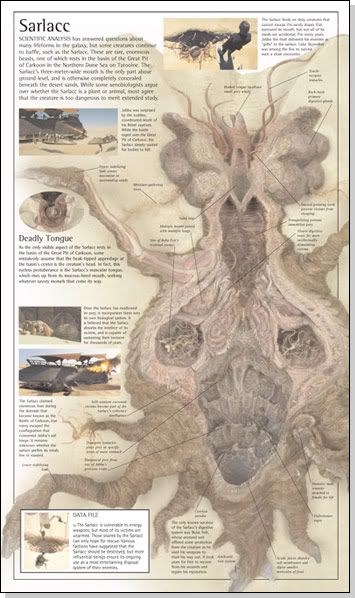 The Complete Visual Dictionary
is scheduled for release in October 2006.
EDITOR'S NOTE: I DO SO LOVE ME SOME ARCANA!
EDITOR'S NOTE: AND NOW, ODDLY ENOUGH, TWO ARTICLES ABOUT STAR WARS TATTOOS.
Art Galaxy: Darth Needles
The art of tattoo is a juxtaposition of what is at the same time overtly public and intensely personal. Comparably, the rich, powerful, attention-grabbing imagery of Star Wars, and the timeless, personal themes of the saga lend themselves to tattoo art.
Treasured by the fans who wear them, illustrative Star Wars tattoos are also favorites of the artists. Countless aliens, worlds, heroes, villains, creatures, and starships inspire original designs. Custom tattoos, created by the wearer and the artist, appeal to aficionados, and also tell a tale of dedicated fandom for all the world to see.
Needles
, a tattoo artist at
Last Rites Tattoo
in New York City, created these original custom pieces of tattoo art in cooperation with his clients. Also referred to as "Darth Needles," the artist is a member of Hyperspace and a dedicated fan, and our featured artist in this issue's Art Galaxy.
"
I am a huge Star Wars fan, and I enjoy replicating Star Wars on skin
," says Needles. His enthusiasm for the saga, and his considerable tattooing talent, are apparent in this gallery of work.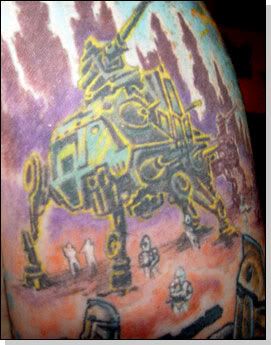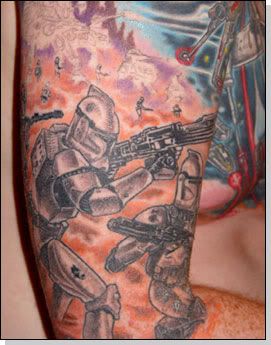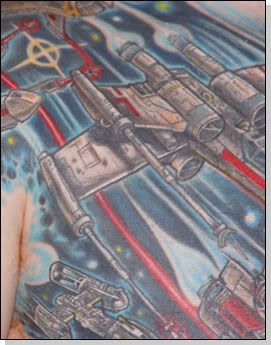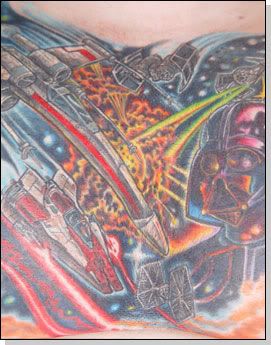 EDITOR'S NOTE: IS IT TERRIBLY NAIVE OF ME TO SAY THAT I NEVER BEFORE NOTICED HOW....UMM...

OBSCENE

AN X-WING CAN LOOK?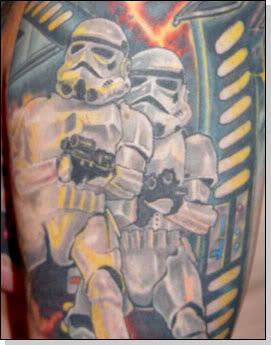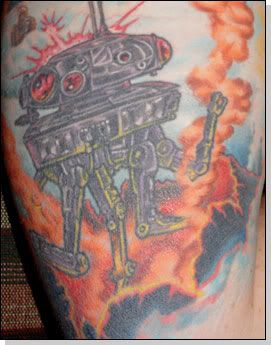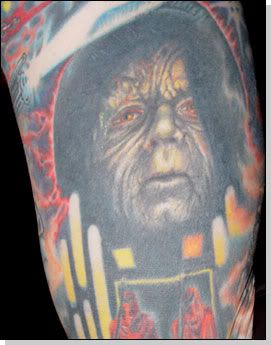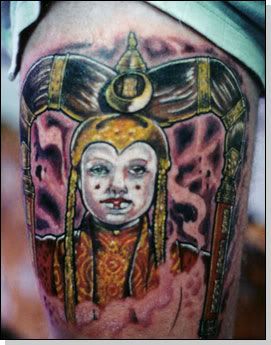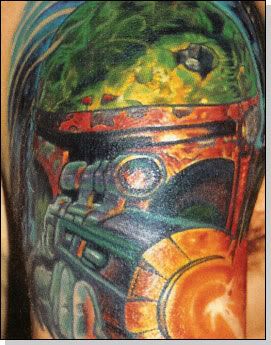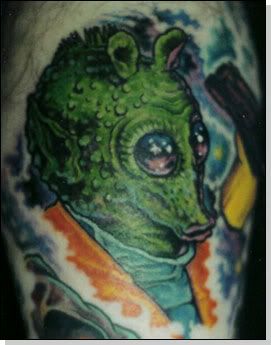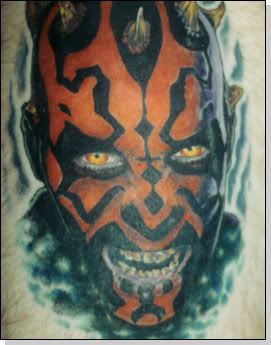 EDITOR'S NOTE: HEAR YA GO, ODDBOB...ONE JUST FOR

YOU

! (WOULD YOU LIKE THE GANG TO BUY THIS FOR YOU FOR YOUR UPCOMING BIRTHDAY?)
I AM IN THE MARKET FOR A SECOND TATTOO. BUT WHILE I CAN ADMIRE THE ARTISTRY THAT GOES INTO THE ABOVE BODY ART, IT IS

WAY

TOO GARISH AND BUSY FOR MY TASTE. (CERTAINLY PUTS MY LITTLE REBEL INSIGNIA..STANDING ALL BY ITS LONESOME ON MY UPPER ARM....TO SHAME, I GUESS).
Bantha Tracks Reader Profile: Terry "Bro" Browning
Star Wars inspires fans on a daily basis, many of whom choose to integrate the saga into their everyday lives and homes. Terry "Bro" Browning's love of Star Wars is evident, from the costumes he and his family have crafted, to the crates of toys he keeps in storage, to the very tattoos on his arms. Browning shared his pictures, and his thoughts on blending Star Wars with life.
In few ways is this blending of Star Wars more evident than in Browning's tattoos. Of Navajo heritage, Browning used Native American symbols and Star Wars imagery to create unique tattoos that express what's important to him. His crates of Star Wars collectibles may stay at home in storage, but the symbolism he treasures travels with him.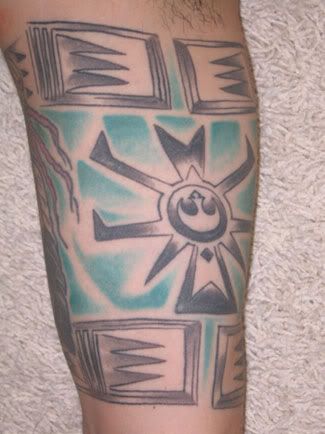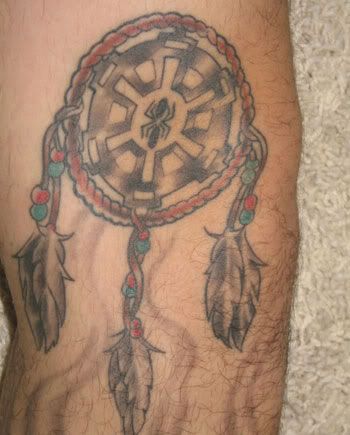 Browning blended Star Wars icons and Native American symbols in some of his more than 15 tattoos. The Rebel Alliance mark replaces the traditional diamond pattern in the Osage spider symbol in one of these tattoos. In the other, the Imperial symbol provides the core of the artwork.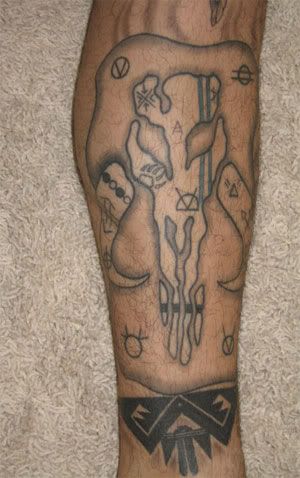 "

The Mandalorian skull is on my left inner calf, and is covered with ancient native American symbols

," writes Browning, "

all of which mean something dear to me: marriage, trust, harmony, friendship, hard work, etc

."
EDITOR'S NOTE: I THINK THESE ARE KINDA COOL. I REALLY LIKE THE CLEVER BLENDING OF NATIVE AMERICAN AND STAR WARS. (STILL NOT WHAT I'M LOOKING FOR FOR MY NEXT TAT, BUT PRETTY COOL, NONETHELESS).
AND YES, I KNOW IT IS ONLY WEDNESDAY, BUT LET'S DO SOME SW PICS TODAY, ANYWAY. JUST IN CASE THE REAL WORLD (AS IN NEW JOBS) IMPINGES ON MY DWEEB-POSTING TIME LATER IN THE WEEK.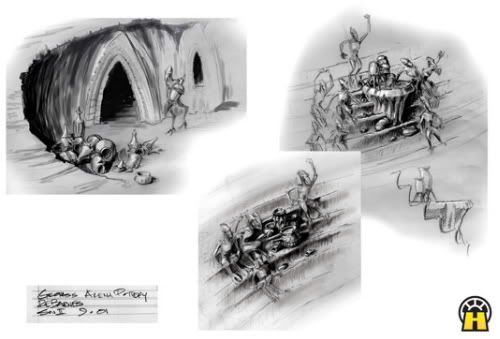 Robert E. Barnes illustrates designs for the pottery that decorates the Geonosian arena bleachers in Episode II.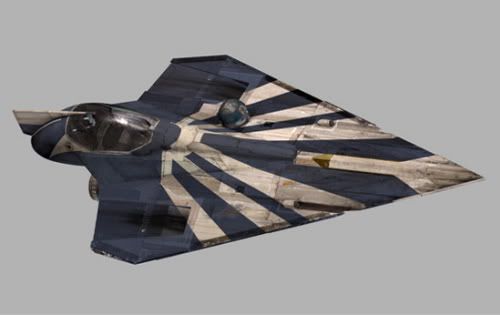 Plo Koon's Delta-7 Jedi starfighter, which gets blown out of the skies over Cato Neimoidia.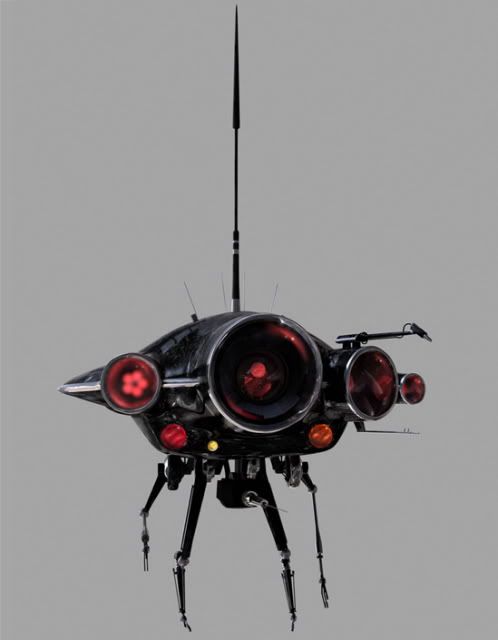 One of several probe droids dispatched to the sinkholes of Utapau to search for Obi-Wan Kenobi.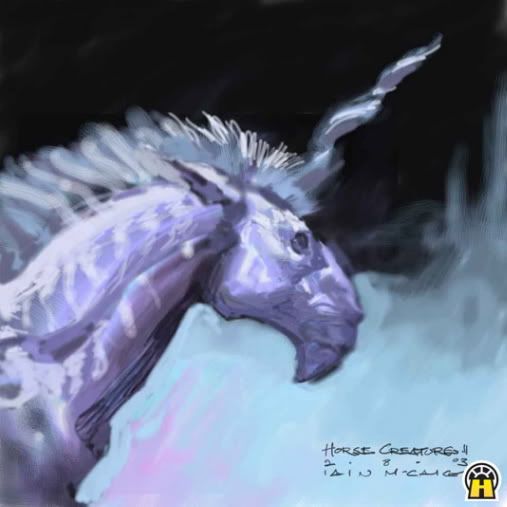 Iain McCaig mixes classic fantasy imagery with Star Wars in this painting of the Naboo horse creature seen during Senator Amidala's funeral
.
EDITOR'S NOTE: OOO..PURTY HORSIE!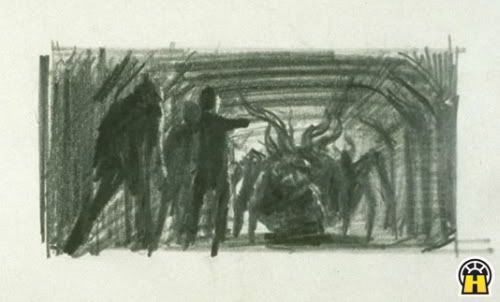 In the early draft scripts of Star Wars, rather than end up in a garbage compactor aboard the Death Star, the heroes had to fend against monsters in the dungeons of Alderaan, the Imperial capital. This tiny thumbnail by Ralph McQuarrie provides an intriguing glimpse at what might have been.

EDITOR'S NOTE: AND ODDBOB, IN ALL HIS WEEPY NOSTALGIA, WANTS US TO BELIEVE ALDERAAN WAS 100% SWEETNESS AND LIGHT. (OH, QUIT YOUR CATTERWALLIN, OB)!