A Wednesday Smorgesbord
EDITOR'S NOTE: A NICE, EXOTIC WAY OF SAYING, CATCH-AS-CATCH-CAN.
FIRST UP....JUST FOR OUR DWEEBPAL SAMANTHA -----
COMICS:
Dynamite Explodes With XENA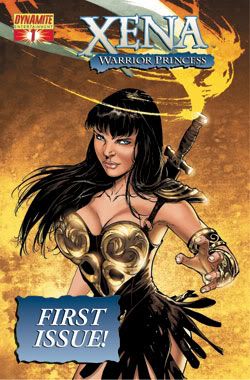 Dynamite Entertainment has announced in July they will release their XENA comic book.

The launch issue will feature three different covers. Half of the comics will run with a cover by artist Billy Tan and colorist Peter Steigerwald. The other half will split equally between a cover by Fabiano Neves and a photo cover of Lucy Lawless.

In the comic book series written by John Layman, Xena and her well-loved cast of friends and villains get in between a feud that reaches all the way up to the heavens as they fight in the "Contest of Pantheons" featuring Xena, Gabriele, Joxer, Autolycus and the return of Callisto.


AND IN A (SORRY SAMANTHA) NATURAL SEGUE TO TV NEWS:
'Lost' actress chooses jail over community service
HONOLULU -- "Lost" actress Michelle Rodriguez pleaded guilty on Tuesday to a single count of driving under the influence, choosing to pay a $500 fine and spend five days in jail rather than do 240 hours of community service.
Rodriguez, who portrays police officer Ana Lucia, and cast member Cynthia Watros were both charged with drunken driving after they were pulled over Dec. 1 in separate cars within 15 minutes of each other.
On Tuesday, a judge gave Rodriguez the option of jail time or community service. She surrendered to authorities at Kaneohe District Court later in the day. Choosing jail over community service was a "

personal choice

," said her attorney, Steve Barta.
Sci Fi enters realm of 'Gods'
Sci Fi Channel is developing "Chariots of the Gods," a six-hour miniseries based on the best-selling book by Erich von Daniken that is being executive produced by Oscar winner Irwin Winkler and written by veteran sci-fi series scribe John Whelpley.
The enormously popular book introduced the theory that Earth was visited by extraterrestrials in ancient times.
Described as "Raiders of the Lost Ark" meets "The Da Vinci Code," the project centers on a soldier returning from his tour of duty who brings with him an artifact that holds the key to uncovering one of the greatest secrets in human existence -- that aliens have been interfering with human genetics since ancient times.
EDITOR'S NOTE: DIDN'T "THE XFILES" KINDA PLAY WITH THIS.......... FOR 9 YEARS?
Rob Cowan and David Winkler also will executive produce. The project was brought to Winkler Films by executive producers Ken Hawryliw and Jim Gutteridge. Sci Fi is expected to announce the mini as part of its overall development slate today during the network's upfront presentation.
EDITOR'S NOTE: I WONDER IF SCIFI REALIZES THAT THIS MINI-SERIES IS ALMOST...WELL....SCIFI'ISH? (MIGHT THROW THEM OFF THEIR GAME OF KIND OF

IGNORING

THE GENRE).
SNICKER.....
WHO's K9 to go on ADVENTURES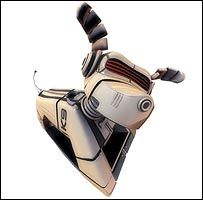 EDITOR'S NOTE: AND HE PROBABLY DOESN'T DROOL OR BARK!
The BBC reported this week that children's TV channel Jetix Europe is joining forces with former Doctor Who designer Paul Tams and K9 co-creator Bob Baker to create a 26-installment series which will center on the robo-dog K9 from the long running DOCTOR WHO series.
K9 ADVENTURES will feature a mixture of live action and computer animation. The original K9 appeared on Doctor Who between 1977 and 1981.
HARRY POTTER'ING:
Tony Maudsley confirmed as Grawp

Two months ago we reported that Tony Maudsley was signed on for
Order of the Phoenix
.
Now,
Leaky
has confirmed that Tony will be "playing" Grawp (Hagrid's half-brother) in the film.
Back in March,
OOTP
producer David Heyman said the following in an interview with
Empire
:
"We've done some stuff involving centaurs and Grawp, who is Hagrid's 16ft brother. The kids have to act against a lot of blue screen for characters like Grawp."
From this we could assume that Tony will just be the voice of Grawp and not physically appear in the film, but this has not been confirmed yet.
MOVIE NEWS:
Smith is Living LEGEND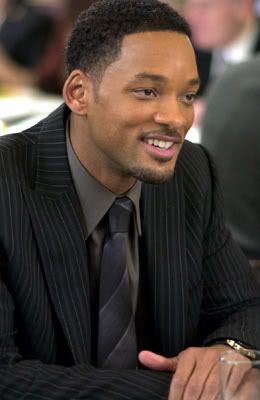 EDITOR'S NOTE: OH SO FINE....
Warner Bros. has signed Will Smith to a pay-or-play deal to star in I AM LEGEND.
Adapted from Richard Matheson's novel, the story set in post-apocalyptic New York, centers on the last healthy man following the release of a virus that decimates the population. To survive, he must battle mutants that wreak havoc during the night.
EDITOR'S NOTE: YEAH. THAT HAPPENS ALL THE TIME AT MY HOUSE. (
PITY NO ONE AS HANDSOME AS WILL SMITH IS AROUND TO HELP...AHEM....
)
Akiva Goldsman rewrote a script by Mark Protosevich. Francis Lawrence will direct. Akiva Goldsman, Erwin Stoff, David Heyman and Neal Moritz will produce.
Lee Will Voice DOG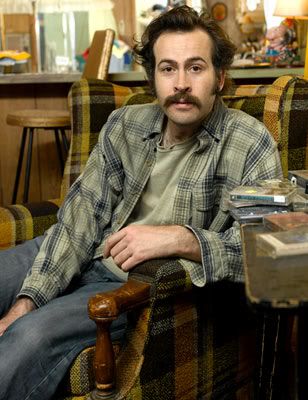 Spyglass Entertainment and Walt Disney Pictures have set Jason Lee to voice the title character for the big screen adaptation of UNDERDOG.
The film is based on the classic 1960s cartoon. In the series, a humble dog named Shoeshine Boy became the superheroic Underdog, who spoke in rhyme.
Lee joins a cast that includes Peter Dinklage, who will portray Barsinister.
Parker Checks Into VACANCY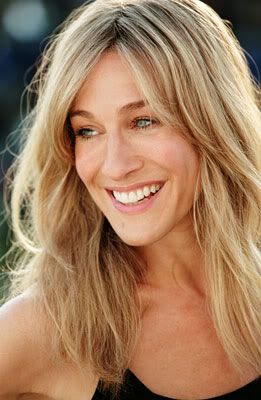 EDITOR'S NOTE: TODAY, I THINK I WILL HATE HER FOR HER

HAIR

. OR MAYBE FOR HER

TEETH

.
Sarah Jessica Parker has agreed to star in Screen Gems' VACANCY.
The suspense thriller centers on a couple who check into a motel and, unaware there's a hidden camera, become the subjects of a snuff film. Parker will play the wife, who is still reeling from the death of her infant son.
Hal Lieberman will produce. Mark L. Smith wrote the script
Ben Kingsley Takes A Hit/Starring in a mob comedy
Oh, the Mafia and their concrete-over coating, pistol-whipping, Bada-binging ways. They're just so funny!
The Last Seduction's
John Dahl thinks so.
Which explains why he's at the helm of
You Kill Me
, a new comedy written by Christopher Markus and Stephen McFeely.
Ben Kingsley, Tea Leoni and Luke Wilson have signed up to star in the tale of a hard-drinking hit man who is sent to rehab. He finds himself a sponsor and gets a job in a funeral home where he meets a woman who was related to one of his hits. Also cropping up are Dennis Farina, Philip Baker Hall and Bill Pullman and they all start shooting in a few days in Canada.
It's not Kingsley's first brush with gangsters- everyone remembers his turn in
Sexy Beast
and he's also just turned up in a hilarious cameo as himself on
The Sopranos
.
Disney set to chronicle 'Feynman'
Walt Disney Pictures has pre-emptively picked up "The Feynman Chronicles," an action-adventure spec by Ashley E. Miller and Zack Stentz. Mark Ciardi and Gordon Gray are producing via their Disney-based Mayhem Pictures banner.
The adventure is triggered after a mysterious object crashes into a remote mountain in 1940s Africa, and centers on brilliant young physicist Richard Feynman, who is recruited by the government to investigate it. He teams with a beautiful English spy and a cynical French aviator in a race against the Nazis to find the object and unlock its secrets.
EDITOR'S NOTE: ISN'T RICHARD FEYNMAN A REAL PERSON? (OR AM I GETTING THAT NAME MIXED UP WITH SOMEONE ELSE?)
Jason Reed and Casey Wolfe oversee for Disney.
'Dog' days for 'Priscilla's' Elliott
After more than a decade away from the big screen, Australian director Stephan Elliott is shifting from gender bending in the
Outback to a family comedy about a wealthy dog for Walt Disney Pictures.
Elliott -- best known as the writer and director of 1994's "The Adventures of Priscilla, Queen of the Desert," the comedy about two drag queens and a transsexual who land a cabaret gig in the remote regions of Australia -- has sold an original comedy pitch to Disney.
Elliott, with writing partner Sheirdan Jobbins, will pen the comedy, which he would direct. It is tentatively titled "In the Name of the Dog," and it centers on a family pet who inherits $500 million.
'13 (Tzameti)' getting English adaptation
NEW YORK -- Director Gela Babluani will remake his Sundance grand jury prize-winning thriller "13 (Tzameti)" in English for the Morabito Picture Co.
The production outfit, formed recently by producer and financier Valerio Morabito, nabbed all English-language remake rights to the French film, which will receive a domestic platform release in the fall by Palm Pictures.
"13 (Tzameti)" won the world cinema grand jury prize for best dramatic feature at January's Sundance Film Festival and the De Laurentiis Award for best first film at September's Venice International Film Festival.
The psychological thriller follows a naive young man who stumbles across instructions meant to be used by a dead gangster. His curiosity leads him to a clandestine world where men gamble behind closed doors with the lives of other men.
MOVIE MUSIC:
Zimmer scores DA VINCI CODE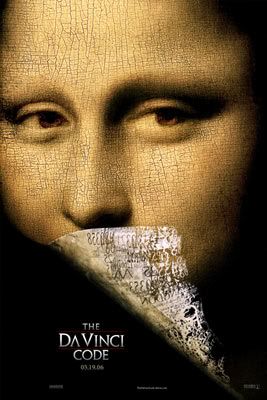 Hans Zimmer's web site noted that the recording sessions for his score to Ron Howard's eagerly-anticipated adaptation of THE DA VINCI CODE were completed last week at England's Air Studios.
Of the recording sessions, Ron Howard stated: "
They were powerful, fresh and wonderfully effective... Like every other facet of this movie, the score for THE DA VINCI CODE demanded a range of textures that recognized and reinforced the layers of ideas and emotion, which unfold as the basic story does."
Zimmer once again captures the essence of suspense and tension that builds throughout the film:
"The inspired Hans Zimmer has given us extraordinarily memorable music to appreciate within the framework of a film or completely on its own, where you can let the sounds carry you on your own private journey
," summarized Ron Howard.
EDITOR'S NOTE: HOW LIKELY IS IT THAT RON HOWARD WOULD SAY SOMETHING LIKE
'IT WAS DERIVATIVE AND BORING'
?
The two previously collaborated on BACKDRAFT in 1991.
Decca Records will release the score on CD on May 9th.
A LITTLE PHILOSOPHY/BIZ NEWS:
Playing a Terrorist: An Actor's Dilemma
`United 93' and other films spotlight Middle Eastern actors. But playing a terrorist can put them in a bind.
By John Horn
Times Staff WriterApril 26, 2006
Like any unknown actor looking for his big break, Khalid Abdalla was eager to be cast in a movie, especially a studio production. Yet when the 25-year-old performer heard about a possible lead part in an upcoming Universal Studios film, Abdalla considered turning it down.
The hesitation was understandable: The acting job was playing Ziad Jarrah, the hijacker at the controls of the Sept. 11 jetliner that crashed into a Pennsylvania field, killing all 40 passengers and crew on board, in "United 93."
As filmmakers tell a number of stories about Sept. 11 and other attacks both real and fictionalized — a rapidly growing list that includes "Munich," "Syriana," "Paradise Now" and Friday's "United 93" — there's increased demand for young Middle Eastern actors. But directors and their casting agents must convince those actors that their cinematic cause is more noble than that of directors a generation ago, who routinely depicted Arabs as cartoonish, fanatical madmen.
The actors who play terrorists, suicide bombers and hijackers in this new crop of films are caught in a delicate predicament: The very things they find attractive in playing these parts — three-dimensional characters, understandable motivations, the occasional love interest — also open up their films to criticism for humanizing individuals that some consider monsters.
"My first reaction on even hearing about the part was that I have no interest in doing anything like that at all for a number of reasons
," Abdalla said about acting in "United 93."
Abdalla wasn't the only actor who had reservations about playing that particular terrorist.
When 28-year-old French actor Karim Saleh learned of auditions for "The Hamburg Cell," a 2004 British television movie about the formation of the Sept. 11 hijacking team, he held similar misgivings about playing Jarrah. Only with his dad accompanying him for moral support on the trip to the London audition did Saleh drum up the resolve to read for the starring role.
"My father gave me the strength to believe that I would not be stuck playing terrorists,"
Saleh said. "
He said, 'There's a lot more to you.' "
When writer-director Stephen Gaghan was casting "Syriana," his ensemble drama about the political and personal costs of America's dependence on foreign oil, he struggled to find a young actor of Pakistani descent to play a suicide bomber. He held casting sessions in Los Angeles, New York, Paris, Damascus, Bahrain, Dubai and Karachi without success before he finally found Mazhar Munir in London.
"
I had found a couple of terrific young actors who simply weren't allowed by their families to take the part,"
Gaghan said.
"One young man's family said he would be cut out of the family
" if he accepted the role.
When actors of Middle Eastern descent are cast in lead roles, something as seemingly benign as a movie premiere can turn into a diplomatic dilemma. Iraq-born actor Lewis Alsamari, who plays hijacker Saeed Al Ghamdi in "United 93," left Baghdad for the United Kingdom a decade ago, but the United States denied the actor's visa request to attend Tuesday's premiere of the film at the Tribeca Film Festival.
The producers of these films also risk bringing real-world politics onto their movie sets.
An actor who starred as a Palestinian suicide bomber in "Paradise Now" described the emotional complexity of playing a bomber inside a bus full of Israeli actors, while his costar told of filming an equally troubling scene in front of the residents of a West Bank city.
The atmosphere between Arabs and Jews during the filming of the Olympic hostage drama "Munich" was emotionally charged.
And one American performer who played a passenger on "United 93" said that for a period of time during production he could not treat the four terrorist actors "
as human beings
."
EDITOR'S NOTE: HOW VERY 'METHOD'. BUT IN A REALLY CREEPY WAY.
All the same, the actors say they are thankful to be rid of the clichéd Middle Eastern villains of the late 1980s and early 1990s (in films such as "Delta Force," "Navy Seals," "Iron Eagle"), who were far more likely to be bearded, wear kaffiyehs and shout Arabic insults than resemble a real person.
It was precisely those clichéd depictions that made Abdalla so nervous about trying out for "United 93."
"
The reputation of representing Arabs by Hollywood is a stereotype, and it's an incredibly hurtful stereotype,"
says Abdalla, who was born in Scotland to Egyptian parents.
His mind was changed after meeting Paul Greengrass ("Bloody Sunday," "The Bourne Supremacy"), who wrote and directed the film. Abdalla came away from the encounter convinced Greengrass wasn't interested in perpetuating caricatures or fomenting hatred.
"
The idea was to put all of those people on the plane and try as best as we can to tell that story
," Abdalla said of his meeting with the filmmaker. "
It wasn't to be a film about stereotypes."
In some ways, "United 93's" four hijackers come across as fully developed as some of their doomed hostages; Jarrah, in particular, is depicted as hesitant but ultimately faithfully determined to do his job, at whatever cost.
After playing Jarrah in "The Hamburg Cell," Saleh starred as Issa, the Black September ringleader of "Munich's" Olympic attack (he also auditioned for, but was not cast in, "United 93"). In playing these characters, Kaleh believes he's helping rewrite Hollywood's spotty record in depicting people from the Middle East.
"
What I didn't want to do is to play a terrorist. I figured no terrorist was ever interesting enough to be portrayed,"
said Saleh, who grew up in Beirut and describes himself as French and Lebanese.
But Saleh was swayed to star in "Hamburg Cell" because director Antonia Bird's film focused on how people become zealots; the Sept. 11 attacks are the film's prologue and epilogue, not its center. Similarly, "Munich" presented a chance to travel more than 30 years into the past, when terrorism and its causes were unfamiliar to most.
"
It was an exploration
," Saleh said. "
It was an age where terrorism wasn't known — they were doing something for the first time, and it wasn't about Islam. There was a sense of discovery on the set."
There was a sense of tension, as well.
Because these movies are based on either actual events or, in the case of "Syriana" and "Paradise Now," loosely fictionalized incidents, historical and ethnic divisions inevitably affected the mood on a film's set.
During rehearsals and preproduction, Greengrass segregated the four actors playing the hijackers from the film's passengers and crew, so that the captors and hostages would not grow friendly.
"
In the end, it's acting, it's not real,"
Greengrass said. "
But every director will tell you that you have to create conditions that create tension, because tension is what makes drama feel real."
When "United 93's" hijacking begins, the four men must exert psychological and physical mastery over a plane full of smart and strong people, pretending that they have a bomb. In other words, Greengrass said, the actors were playing terrorists who were, in a way, acting.
In part, it was those scenes of domination that Abdalla, a University of Cambridge-educated literature student, found personally challenging. For his performance to work, he had to convince the passengers and, by extension, movie audiences, that he was capable of savagery. The lines between actor and character were blurry enough that visitors to the set felt uncomfortable shaking his hand.
Two scenes of art uneasily imitating life unfolded in "Paradise Now," the Oscar-nominated foreign language film from Palestine. The first involved actor Kais Nashef, 27, who plays a bomber who travels to Tel Aviv to complete his suicide mission. Director Hany Abu-Assad cast local Israelis as the doomed passengers on a bus.
"
That was the toughest for me,"
said Nashef, a Palestinian, who makes his home in Tel Aviv.
The other involved Nashef's costar, Ali Suliman, 28, who plays a fellow bomber. At one point, Suliman's character must videotape his last statement before a planned attack. When the scene was filmed, the set was filled with spectators from West Bank city encircled by Israeli checkpoints.
"When I finished my speech
," said Suliman, a Palestinian who lives in Nazareth, "
it was so still, so quiet. And then all the people were crying. They saw themselves in the speech
."
Although Suliman said he agonized over taking part in "Paradise Now," his costar Nashef said he was not hesitant to play such a politically provocative role:
"
I saw a good script that was not provincial or small-minded. People want more than caricatures."
"
Syriana's" Gaghan agreed:
"
All of the people who made the film believed that if we can show people as they are — maybe you will relate to them, and maybe you will not — we would have done our job."
No matter the difficulty in playing the role, the actors cast as terrorists and bombers said the work changed them as performers for the better.
"
There is something in doing this role that I would like in every role — something that is very challenging for an actor, and very challenging for an audience. I like to do tough stuff,"
"Paradise Now's" Nashef said.
Said Saleh: "
I always think of 'Munich' as the film that made me an actor…. But now I want to play things where I am not killing people, but showing off qualities that are more normal and banal. I want to play Woody Allen characters, writers and musicians."
EDITOR'S NOTE: IN OTHER WORDS, CHARACTERS PEOPLE, IN TURN, DESIRE TO

KILL

? (SNICKER....)