Hump Day Mish-Mash
EDITOR'S NOTE: SOME BIZ OF THE BIZ.....(AND SUCH/LIKE).....
Podcasting shakes up local media
Rise of on-demand programming may mean a wider audience but radio and TV affiliates worry about losing ad dollars.


By Randy Dotinga
Correspondent of The Christian Science Monitor
SAN DIEGO - When National Public Radio (NPR) started offering a free podcast of its popular quiz show "Wait Wait... Don't Tell Me!" it did so with little fanfare. That didn't stop hundreds - and perhaps thousands - of people from downloading the satirical look at the week's news on a Sunday afternoon back in February.
By Monday morning, the show had joined Apple Computer's list of the day's five most popular podcasts.
It was good news for NPR, which has become a major player in the podcast world. Not so for the 350 NPR member stations that broadcast "Wait Wait." They're worried that making the program available to iPods could mean a loss of listeners - and consequently the donations and ad dollars that keep the stations afloat.
"
Anytime customers can find your product in another place, it's going to cause some concern
," says John Decker of San Diego's KPBS-FM. He says the podcast trend makes some public radio programmers "
nervous."
Indeed, the rise of the on-demand world has local suppliers of content everywhere unsettled. In one sense, it's the classic tale of old-guard businesses struggling to withstand a disruptive technology. (Think Napster and the record industry.) But it's also a lesson in how media are benefiting by embracing the new broadcast landscape of content without boundaries.
The spike in the number of TV shows available online has put network affiliates on notice. "
Let's face it: The Internet eliminates middlemen
," says Terry Heaton, a broadcast consultant in Nashville, Tenn. "
And your local broadcaster is the middleman."
As more people watch programs on their computer or iPod, network affiliates worry about lower ratings - and lower revenue from commercials.
The vast majority of TV viewers, of course, still watch "60 Minutes" or "The West Wing" the old-fashioned way: on a television tuned to a local station. But that paradigm is fading out.
Last week, ABC announced it would offer shows for free - although with commercials - for viewing directly over the Internet. ABC and NBC already offer shows like "Lost" and "The Office" as $1.99 commercial-free podcasts, viewable on computers or video-equipped iPods.
NBC and CBS, meanwhile, will offer on-demand versions of their shows through the Comcast cable company. And tens of thousands of people routinely download illegal bootlegs of popular network shows.
Not every affiliate is worried about losing ad dollars. In fact, the growth in on-demand programming could spur interest in TV watching by making shows available to new audiences, says Craig Robinson, president and general manager of WCMH-TV, an NBC affiliate in Columbus, Ohio. "
It can increase awareness for a show,"
he says. "
Not everybody wants to ... watch on a computer screen or iPod."
EDITOR'S NOTE: ALMOST

NO

ONE DOES. BUT THEY ALSO DON'T LIKE BEING TIED TO THE SCHEDULING DICTATES OF THE NETWORKS NOW THAT THEY DON'T HAVE TO BE.
But Mr. Heaton says affiliates should be concerned. Under the current system, networks typically pay affiliates to run their programming. But that situation could change as more viewers bypass their local stations, Heaton says. "
The affiliates need the networks, and the networks know that."
On the other hand, the networks could choose to share the wealth, and one already has: FOX announced last week that it will give affiliates some of its proceeds from on-demand and Internet-based airings of shows like "American Idol."
What does all this mean for home viewers?
If on-demand programming grows, networks may devote less effort to programming shows that blend well together, like NBC's famous "Must See TV" Thursday nights. A combination of higher expenses and fewer viewers could force affiliates to cut their budgets for their profitable local news shows. Or, conversely, local affiliates could take an "if you can't beat 'em, join 'em" approach and offer all their content live over the Internet, as a station in Raleigh, N.C., is planning to do.
The situation is somewhat different in public radio.
Member stations pay NPR to air its programming. So far, NPR is tiptoeing around the on-demand issue.
Between August 2005 and March 2006, listeners downloaded 18 million podcasts of the shows and individual stories it made available for free. That compares with a weekly listenership of 26 million.
But neither of NPR's two signature daily news shows - "All Things Considered" and "Morning Edition" - are available as podcasts, nor are they aired on NPR's channel on the Sirius satellite radio network. The shows "
were specifically designed to be a vehicle for the local stations
" to provide their own bits of programming, says NPR spokeswoman Andi Sporkin, and they're staying that way.
Mr. Decker, the San Diego programmer, says those who worry about the impact of podcasts miss the big picture about access to public radio. "
I do believe that we're better off in the long run if we make ourselves as available as possible,
" he says. "
We can't stand in our own way."

Watching the Nervous Little TV Networks
Written on
April 17th 2006
Author
by
Kenneth Musante
More and more TV networks are releasing their video content online for free.
AOL's In2TV is showing a ton of vintage Warner Bros. TV shows, and CBS is showing on-demand episodes of
Survivor
. And while I give them all my heartiest golf clap for their efforts, it still seems to me that they've only stuck their collective big toes in the waters and are afraid to take the cannonball dive into the lake.
It's obvious to anyone that the future of video is distribution via some form of the Internet. It's not just traditional TV advertising that's dying; it's TV itself. It's not just about ratings and statistics. Video distributed over the Internet is interactive, engaging, and on-demand. While the Internet pipes aren't yet big enough to warrant direct streaming of HD-quality TV shows, TV networks should at least be preparing for the day when their primary business of broadcasting content over the airwaves becomes pushed aside by the distribution of content over IP.
With today's online advertising technology, it should be possible to serve appropriate video ad segments according to a person's viewing habits, how they found the video in the first place, where they are located, and what content is contained in the show. Advertising over the air, or even via cable is too static. All you can do with them is estimate the number of viewers by a score determined by a third-party rating service. In other words, a targeted video advertisement delivered via IP is worth more per second than a 30-second spot delivered to a broad, un-targeted audience via TV.
There's also been the move to sell downloaded TV episodes as premium content.
Nearly all of the major networks are selling shows on iTunes. But seriously, how many people are going to pay $1.99 for an episode of
Welcome Back, Kotter
?
EDITOR'S NOTE: THE SCARY PART IS, PROBABLY QUITE A FEW.
It makes much more sense to distribute older content for free, and incorporate some sort of contextual video advertising system.
Most of the newer video content that TV networks are distributing online appears after the initial TV release. This May Disney will release
Lost, Desperate Housewives, Alias
, and
Commander in Chief
available online a day after their initial TV broadcast. I presume they're trying to avoid pulling viewers away from their TV sets, thus reducing ratings and lowering TV ad revenue. It's an acceptable transition strategy, since TV is their primary business, but any delay longer than a week or so not only means the loss of potentially valuable online ad revenue, but it also encourages piracy.
People want to watch their favorite shows as soon as they're released. The longer the delay between the release of a show on TV and the release of a show online, the greater the window of opportunity for would-be video pirates to re-purpose the TV content and make it available online themselves.
TV networks need to focus on phasing out TV advertising as their primary business and focus on the more potential Internet advertising. To do that, they need to release their TV content (with advertising) as close to the TV airdate as possible, with as high a quality as possible. If a viewer can watch or download a high-quality version of a particular show via a TV network's official website, why would they waste their time downloading some shoddy video with a questionable bit rate and unknown codec ripped from TV or DVD?
EDITOR'S NOTE: ON THE OTHER HAND, MAKE THE QUALITY TOO HIGH AND THE COST TOO CHEAP, AND YOU CUT INTO THE BURGEONING LUCRATIVE DVD MARKET, WHICH MANY OF THE PRODUCERS ARE NOW COUNTING ON TO MAKE THEIR SHOWS PAY OFF DOWN THE LINE.
The TV industry's slow transition to online makes sense if you consider their commitments to the traditional broadcast, cable, and satellite platforms. But their still sluggish movement towards online means there's plenty of room for a small agile start-up network to trounce them all…if it can get in there fast enough.
EDITOR'S NOTE: THIS NEXT ONE IS ESPECIALLY FOR CHIEF FRANCOPHILE, OUR VERY OWN

ODDBOB

. (AND THE OTHER PARIS GROUPIES....MOI INCLUDED...IN THE READING AUDIENCE) ---
Letter From Paris
City of Lights, Camera, Action


By
ELAINE SCIOLINO
It is spring in Paris and the theme at the Hôtel de Ville — Paris's City Hall — is bright: "The city of Paris loves the movies."
Indeed, on any given day in Paris, no fewer than 10 producers are making films, all with the city's permission. Soon to be released is the film adaptation of the runaway best-seller, "The Da Vinci Code," which is said to have extraordinary Paris chase scenes and inside views of the Louvre.
Each week, 550 films are shown on 374 screens in 84 theaters throughout the city. There are about 18 movie channels on French cable television, one of them devoted exclusively to discussions about the cinema.
This season, City Hall has mounted a masterly public relations campaign of sorts about the city in the form of a retrospective called "Paris au Cinéma." A celebration of the city's century-long love affair with the movies, the show takes the visitor through the history of films shot in and about Paris, through film clips, photographs, costumes, posters, drawings, documents, postcards and memorabilia from more than 250 feature films.
What better way to start a day of touring Paris? Paris, after all, is a place of magic, where the line between the real and the imagined can become serendipitously confused. And more than any other art, the cinema knows how to play on the myth of the city, capturing reality, but changing and magnifying it in the process.
Even the show's poster, which has been hung all over town, both attracts and deceives.
The poster, a black-and-white photo of the actress Jeanne Moreau in Louis Malle's 1957 thriller Ascenseur pour l'Échafaud," shows her with windswept hair and an enigmatic smile, her face framed by the lights of Paris at night. Her character, however, is not a carefree gamine but a desperate and adulterous femme fatale searching the streets of the city in vain for the lover who might have committed the perfect crime.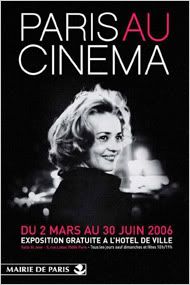 "Movies know how to magnify the power of Paris and to document the living portrait of the city
," said Nguyen Trong Binh, the exhibition's curator, who has written books and directed documentaries about the cinema. "
Sure, part of it is invented and fantasized. But movies also have the evocative power to rub off on reality."
The black-and-white grandeur of Paris of more than a century ago is captured in the Lumière brothers' footage of the Place de la Concorde, the Eiffel Tower, the banks of the Seine and the Arc de Triomphe, with a cityscape that looks remarkably the same today.
There is rare footage of Paris under the Occupation. French films continued to be made during that dark era in modern French history; Jews were banned from appearing in movies or producing them.
Inside one of the darkened rooms, visitors can settle in and semirecline on a 100-foot banquette for a 49-minute show. Paris is revealed on three giant screens showing clips from dozens of French and American films. Even non-French speakers can get lost in the six iconic themes of Paris cinema: bistros, the Eiffel Tower, rooftops, chases, Parisians and, of course, lovers.
Here is the Paris of picnics on the grass and illicit love and Champagne at the Ritz. Paris, intones Maurice Chevalier in the opening scene of "Love in the Afternoon," Billy Wilder's 1957 film classic, "
is just like any other city — London, New York, Tokyo — except for two little things. In Paris, people eat better. And in Paris, people make love, well, perhaps not better, but certainly more often
." (As in the film's opening scenes, couples in Paris really do kiss energetically in front of fountains and on tour boats on the Seine.)
EDITOR'S NOTE: WELL, DUH. IF YOU'VE EVER EVER EVER BEEN INCLINED TO KISS ENERGETICALLY,

THAT

WOULD BE THE A-NUMBER-ONE PLACE TO DO, YES?!
Here also is the dark side of Paris, captured in Jean-Jacques Beineix's "Diva" (the chase scene in the white-tiled, fluorescent-lighted staircases and hallways of the Paris Métro system), for example, and Henri Verneuil's "Peur sur la Ville" (Jean-Paul Belmondo struggling on a moving Métro train).
There are views of Paris that could normally not be seen in any other way except in the movies: the camera lovingly moving up the Eiffel Tower in "Le Chanteur de Mexico," or the view of Notre Dame cathedral from a nearby rooftop in "Is Paris Burning?"
Of course, there is also a Paris that never existed, as Hollywood delighted in creating an imaginary Paris in its studios back home. "
I've been to Paris, France, and I've been to Paris Paramount,"
the German-born American filmmaker Ernst Lubitsch famously said. "
Paris Paramount is better."
In Billy Wilder's 1963 "Irma la Douce," for example, the market area of Les Halles was entirely recreated in a Hollywood studio. The final ballet scene of Vincente Minnelli's 1951 "An American in Paris" has Gene Kelly, as the painter and the ex-G.I. Jerry Mulligan, paying homage to postwar Paris through sets created by MGM.
Paris as portrayed in the movies perpetuates the most preposterous, perhaps, but certainly some of the most romantic and charming clichés. How lovely to think that in Paris, it is possible for a woman (Romy Schneider in "Clair de Femme," for example) to be joined in a cafe by a man she doesn't know (Yves Montand)?
And it seems perfectly normal that in Paris, Garance Clavel in "Chacun Cherche son Chat" would be risking his life on a tiled Paris rooftop to recover a beloved cat (offering a panoramic view of the Georges Pompidou Center). Or for a red-lipsticked Gérard Depardieu, dressed in white mink and a platinum wig, to chat idly with Michel Blanc, both of them transvestite prostitutes, waiting for customers in Bertrand Blier's "Tenue de Soirée."
EDITOR'S NOTE: AS ANYONE WHO KNOWS ME IS AWARE, I AM

NOT

A FAN OF DRAG. BUT EVEN IF YOU

WERE

A FAN, WOULDN'T THE SIGHT OF DEPARDIEU

COMME UNE FEMME

PUT YOU OFF THE WHOLE THING FOR GOOD AND ALL? EEK.
For diehard Paris film buffs, the city has its own film library on the first floor of the Georges Pompidou Center in the Marais district. On the first Thursday of every month, the Pavillon de l'Arsenal, an architecture and city planning exhibition center, features "Small Film Lessons," short films and documentaries on Paris and its troubled suburbs with commentary in French by film experts, architects, sociologists, historians and town planners.
The interactive Cinémathèque Française features two exhibition halls, a multimedia library and four screening rooms, as well as extensive collection of films, in a 14,700-square-foot building designed by Frank Gehry, in the 12th arrondissement.
A small and useful guidebook in French is "Paris Cinéphile" ("Paris Film Lover"). It not only lists all the movie theaters in town, but also describes how to rent a private movie theater and where to find film discussion clubs and courses, film libraries and shops for movie posters, costumes, photos, books, DVD's and videos.
For Paris strollers, there is "Ciné Paris" ("Paris Cinema"). A full-color guidebook in French, it offers walking tours of the sites of Paris film history through each of the city's 20 neighborhoods, complete with maps and movie dialog.
And for Paris lovers who don't make it to town for the film exhibition, this fall the Hôtel de Ville will be celebrating Paris in a different way: with a free-to-the-public retrospective of the iconic Paris images of the 20th-century photographer Robert Doisneau.
Paris au Cinéma, Salle St.-Jean, Hôtel de Ville, 5, rue Lobau, Fourth Arrondissement. Every day from 10 a.m. to 7 p.m. except Sundays and holidays. (Go early; the exhibit is free and the lines are long.)
EDITOR'S NOTE: ADDING THIS TO THE LIST (LONG LIST) OF REASONS WHY IT WOULD BE NICE TO BE IN PARIS RIGHT NOW. THIS EXHIBIT SOUNDS GREAT...FOR FILM LOVERS AND PARIS LOVERS ALIKE.
More Venues Spur Higher Ad Costs
Actors' Royalties Are RisingAs Commercials Are Aired
On Growing Array of Outlets


By SUZANNE VRANICA
As if the explosion in high-tech media hasn't caused advertisers enough headaches, now they have a new, oddly low-tech complaint: it's making the actors in commercials cost too much.
As contract negotiations between ad agencies and actors' unions near, advertisers say the system for compensating actors has to be overhauled. The explosion of new ad-carrying media -- from cellphones to iPods -- is likely to make the process even more complicated and expensive.
Ad agencies currently follow a complex set of guidelines for paying actors under a contract originally adopted in the 1950s. For example, an actor appearing in a network-TV ad gets paid a fee every time the ad airs. Actors receive separate residual payments for ads that run on cable, spot TV, syndication and the Internet.
Continuing under the current model would
"end up making commercials prohibitively expensive,"
and marketers might do production "
outside the code
," says Douglas Wood, the head negotiator for the Joint Policy Committee on Broadcast Talent Union Relations, the ad world's bargaining arm.
EDITOR'S NOTE: GREEDY S.O.B.'S.
The Screen Actors Guild and the American Federation of Television and Radio Artists, don't agree that commercial actors make too much. "
Very many make a small amount of money
," says John McGuire, a longtime SAG negotiator.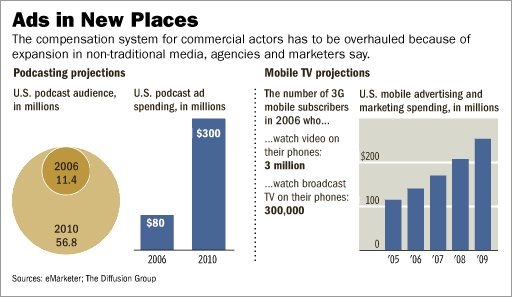 While all parties agree that the increasingly complicated media landscape needs to be addressed, both sides have already begun the typical precontract posturing. The ad industry has begun searching for an independent consultant to advise it on constructing a new method for compensating actors. The search comes as the industry gets set to renegotiate its collective-bargaining agreement with SAG and AFTRA, which expires Oct. 29.
"
This is not about reducing the payments we make to actors
," says Mr. Wood. "
It's about paying them a fair rate that allows ad agencies the freedom to creatively address the new media landscape."
Earlier this month, the ad industry and the unions met to begin preliminary talks. They discussed a joint study of alternate methods to compensate performers for their participation in commercials, although they haven't formally agreed to commission such a study.
"
We recognize there are a lot of new technologies where you can place ads, and it's going to add to the complexity of the contract unless we can come up with a different system
," says SAG's Mr. McGuire.
EDITOR'S NOTE: WHAT ABOUT SOME SORT OF FLAT FEE BASED ON THE SIZE OF THE ADVERTISING CLIENT OR ON THE SIZE OF THE TOTAL AD BUDGET? THEN YOU DON'T HAVE TO COUNT HOW MANY LOCAL VS. NATIONAL AIRINGS VS. TV VS. IPODS, OR WHATEVER.
Ad firms are hoping for a major overhaul. Over the past few years, marketers have put pressure on ad firms to cut costs. Steve Humble, director of broadcast production at Interpublic Group's Martin Agency, was part of a team that recently had to cut costs for a coming TV ad for Miller Genuine Draft beer. The team amended the spot to include three actors, instead of five. The reworked spot, ad executives say, is typical of the process going on these days as agencies seek to keep talent fees down.
Commercial actors tell a different story. "
Ad agencies are crying poor because of what they pay us, but that is erroneous,"
says Neil Magnuson, a 29-year-old actor in New York. "
If I had been bartending for the last 12 months I would have made more money than I did acting,
" he says.
Such differing perspectives have some in the ad industry preparing for a worst-case scenario. "
We are encouraging clients to produce ads before August in case there is a strike
," adds Karen Ellis, director of talent at the Martin Agency.
The JPC sent an email alert in February to its members advising them to
"consider rescheduling production planned for Oct. 30, 2006 through January 2007 to a date prior to Oct. 29, 2006,"
according to a copy of the email reviewed by The Wall Street Journal.
EDITOR'S NOTE: AND NOW, FROM THE 'AND SUCH/LIKE' CATEGORY, SOME THESPY SORT OF DWEEBING ----
KITSCH & MAKEUP
By MANDY STADTMILLER

GUILTY-PLEASURE FILM AND TV TAKES CENTER STAGE
CANCEL your Netflix - now you can watch all of the brilliantly crap-tastic sex and violence of "Showgirls" re-created live and right in front of your very eyes.
With a few creative liberties, of course.
It's Ultimate Guilty Pleasure Theater - and it's hilarious.
"
It's not so different from Broadway
," says actor and writer John Flynn, who co-created "Showgirls: The Best Movie Ever Made. Ever!" at Upright Citizens Brigade Theatre (307 W. 26th St., [212] 366-9176), which is running Thursdays at 9:30 p.m. through June.
"Audience members know the story, and the stories around a movie or TV show. With 'Showgirls,' it's just like watching a car wreck, but without any of the guilt."
EDITOR'S NOTE: I DON'T KNOW. I THINK I'D FEEL GUILTY IF I PAID MONEY FOR THIS, DON'T YOU?
Three wacky adaptations of film and TV shows are taking center off-off-Broadway stage as sleeper hits in sending up the popular culture you know and love - or know and love to hate.
Keeping in the spirit of camp value, "Point Break LIVE!" at Galapagos Art Space (70 N. Sixth St., Brooklyn) allows an audience member to actually play the dim-witted undercover surfer agent made famous by Keanu Reeves.
Over at The People's Improv Theater (154 W. 29th St.), audiences also get in on the action - and solve the crime - as part of an interactive spoof on the ever-addictive Dick Wolf series "Law & Order."
"
Everybody secretly wants to be Keanu Reeves
," says "Point Break LIVE!" co-creator Jamie Hook, a 36-year-old Brooklynite who directs the play, running Sundays at 8 p.m. through the end of April.
EDITOR'S NOTE: THEY

DO

? EVERYWHERE, OR JUST IN NYC?
"
Who wouldn't want to be him? He's a big great famous action movie star and 'Point Break LIVE!' gives you that chance. We are saying, 'You don't have to settle.'"
Although a procedural drama junkie probably could settle for sitting at home watching "Law & Order" almost 24 hours a day, the new live-stage parody at The P.I.T. allows audience members to solve crimes not so much ripped from the headlines but rather bastardized from the weekly news. One recent whodunit? A murder mystery involving Slobodan Milosevic on alternative Spring Break.The accused culprit? None other than ALF.
EDITOR'S NOTE: OK. NOW WE'RE TALKIN

ART

!
"
Our show is like fantasy camp for 'Law & Order' fans,"
says co-creator Jamil Ellis, 28, whose improv group Experimental Troupe Comedy developed the show, which runs the last Saturday of each month at 7 p.m., through July. "
People get obsessed with 'Star Trek' conventions and hang out with other people who are fans and dress up. So we're up there dressing up in our own 'Law & Order' personalities."
EDITOR'S NOTE: WOW. WHO WOULD I WANT TO BE?!!! SAM WATERSTON? LENNY BRISCOE? THE TOO-WELL-KNOWN-NOT-TO-BE-THE-BAD-GUY GUEST STAR?
Indeed, obsession is a key factor in bringing these pop pleasures to the stage.
In the UCB "Showgirls" adaptation, fellow die-hard junkies are often recruited to participate in the staged reading, with a new special guest every week. Legendary celebrity gossip columnist Michael Musto actually reached out to the creators of the parody to participate.
After "Valley of the Dolls," he considers the bawdy box-office bomb to be his favorite movie of all time.
"
I grew up not knowing good from bad taste
," he said before the show began last week. "
I actually think 'Showgirls' is a quality film. The great thing is, people who have never seen it come here, and they're on the floor laughing. It's a guilty pleasure, no matter what point of view you're coming from."
The delightfully raunchy post-modern take on the film that essentially killed "Saved by the Bell" wunderkind Elizabeth Berkley's career includes an over-the-top portrayal of the notorious screenwriter Joe Eszterhas (John Reynolds) as well as an incredibly dramatic reading of his stage directions. These include such bon mots as "
She is very fat. Unf---ably fat
." Tying it all together is a rabidly worshipful Queens Community College feminism professor who declares the film to be one of the greatest portrayals of females and minorities of all time.
Playing Berkley's Nomi Malone ("
Know me. I'm alone
.") is Lennon Parham, who, true to the film's cringe factor commits 200 percent to every terrible line. Her eyes practically popping out of her skull with focus, Parham intermittently lets out intense little animal-like shrieks and frenziedly bats around stage props in a fury.
EDITOR'S NOTE: SOUNDS LIKE A FEW ACTORS I'VE WORKED WITH. ALTHOUGH, THIS WAS USUALLY JUST THEIR BACK-STAGE BEHAVIOR (PRE MEDS).
"
With all these shows, there needs to be a genre that you are exploiting and heightening
," says the "Showgirls" parody co-creator Jackie Clarke, 30, who plays the deluded feminist professor. "
The thing that we really have fun with is how Elizabeth Berkley was directed in this incredibly manic way. Even when she puts ketchup on her fries, it's like the ketchup was the father who abused her. It's not even melodramatic. It's like melo-violent."
EDITOR'S NOTE: MELO-VIOLENT? OR MELO-DUMB, MAYBE?
Equally train-wrecky in its appeal is the absurdism of "Point Break LIVE!," which brings to the stage the classic 1992 cinematic tale of extreme sports rife with bankrobbing, skydiving, car chases and explosions aplenty.
"
Audience for theater is being stolen by Hollywood because people want to go see these big blockbuster movies,"
Hook says. "
'Point Break LIVE!' is saying put action back where it belongs: on stage."
Featuring fake blood, extended fight choreography and even an indoor monsoon, "Point Break LIVE!" is built around the notion that playing Reeves demands a special kind of acting. One of complete and utter cluelessness.
"
People's secret, innermost desire is to be Keanu
," Hook says. "
I bet if we could get Tony Kushner in the theater, he wouldn't pass up the chance."
EDITOR'S NOTE: THE INNERMOST DESIRE TO MAKE BUCKETS OF MONEY DESPITE HAVING NO TALENT OR EVEN APPEAL? YEAH....I COULD GO FOR THAT RIGHT ABOUT NOW IN MY CAREER. (SO

WHAT

IF I DON'T KNOW HOW TO WORK EXCEL!? PAY ME

MORE

FOR MY LACK OF SKILL AND MY TOTAL DEARTH OF SOCIAL GRACES!)
I'M GETTING INTO THIS WHOLE INNER-KEANU THING......
There is truth to the irresistibility of playing - or reprising certain pop culture roles - on stage.
In the "Law & Order" spoof, each show features an actor who has already appeared on the long-running NBC franchise to add an extra level of crime-solving finesse.
For "Showgirls," not only has Musto played the role of uber-skeevy casting director Tony Moss, but so has Zulema from "Project Runway" and upcoming weeks feature Frank DeCaro and Rob Corddry of "The Daily Show."
While slated through July, co-creator Flynn says he already has his eye on future possibilities for guilty- pleasure theatrical remount. While nothing could ever live up to a movie where Berkley is naked for one-sixth the entire running time, he says he and Clarke just may have stumbled upon a new muse.
"
It is hard to find anything more crap-tastic than this movie
," says Flynn, who estimates he has seen "Showgirls" anywhere between 100 and 200 times. "
Although a bunch of us went and saw 'Basic Instinct 2' last weekend, and I have to say, there's definitely potential."

EDITOR'S NOTE: SO...THEATER AS A COMPOSTED HEAP FOR BAD CINEMA? LET NO CELLULOID BE COMPLETELY WASTED, I GUESS?