Pre-XMAS TV News
Cloud of death over 'The West Wing'Show's fate seems that much more uncertain
By Toni Fitzgerald Dec 19, 2005
The death on Friday of actor John Spencer,
EDITOR'S NOTE: SNIFFLE
best known for his role as former White House chief of staff and current vice presidential candidate Leo McGarry on NBC's "The West Wing," presents a major dilemma for both the series and NBC.
Spencer, who died of a heart attack, was a longtime fixture at NBC, also appearing on the drama "LA Law" from 1990 to 1994.
Like his "Wing" character, he was a recovering alcoholic, and he was one of the show's most popular characters for his honest portrayal of that problem.
His death could not come at a worse time for the show, now in its seventh season, with its future already very much in doubt because of sinking ratings and rising salaries.
The real-life death of such an integral character could well spell the official end for "Wing," a show that was once among TV's most-watched dramas and is now mustering just 8 million total viewers, barely half of what it averaged in its prime years.
"Wing" was renewed last season at about half the cost of the previous year, forcing many regulars into recurring roles.
Spencer would ostensibly have played a major role in the show's season-long election storyline as the vice presidential candidate. In fact, his selection last spring was the show's season-ending shocker, and one focus this season has been presidential candidate Matt Santos' seeming distaste for McGarry.
EDITOR'S NOTE: THEY'VE BEEN GETTING ALONG MUCH BETTER AS THE SEASON PROGRESSED. ONE OF THE SAD THINGS ABOUT LOSING THE LEO CHARACTER...THE SLOW, SWEET WAY LEO AND SANTOS HAVE BEEN LEARNING TO LIKE AND APPRECIATE ONE ANOTHER.
Without McGarry, whose character was a mentor to many of the younger White House staff and the closest confidante of president Jed Bartlet (Martin Sheen), the show will lose its wise old sage. And one of the great joys of "Wing" was watching McGarry advise them correctly while he himself dealt often unsuccessfully with private demons.
Just how "Wing" will deal with Spencer's death is unclear. His character suffered a heart attack last season, and during his recent campaign questions about his health arose.
It would not thus seem surprising for McGarry to die of a fatal heart attack, but the writers won't be able to do that without rewriting history. The first episode of the season showed a scene three years in the future where Spencer appeared.
EDITOR'S NOTE: ONE WEBSITE I READ SUGGESTED THEY RECAST THE ROLE. THAT WOULD BE TOUGH TO TAKE, BUT MIGHT BE THE ONLY WAY PLOT-WISE TO MAKE THE WHOLE THING MAKE SENSE. (OR IT COULD BE LIKE THE OLDEST CUNNINGHAM SON ON "HAPPY DAYS" WHO WAS JUST NEVER SPOKEN OF AGAIN?)
Unless "Wing" sets that as a fantasy sequence, it can't very well write McGarry out.
Past shows have lost key characters as well, and most did not last long afterward. The most famous, and most recent, instance was John Ritter's death during the second season of ABC's "8 Simple Rules for Dating My Teenage Daughter" in fall 2003.
The show incorporated Ritter's death into the plotline and enjoyed a short ratings surge before falling way back last year, bringing wife Katey Sagal's character to the center of the show. "Rules" was canceled last spring.
Nearly 20 years ago, actor Freddie Prinze committed suicide while starring in "Chico and the Man." Though his role was recast, the show was canceled soon after.
EDITOR'S NOTE: AND PETE DUELL IN "ALIAS SMITH & JONES". SNIFFLE.
In 2000, "Sopranos" actress Nancy Marchand, who played Tony's mother, passed away. She was not a focal point of the storyline, and HBO used scenes she had already shot as well as computer tricks to set the scene for her on-screen death.
Spencer was 58 years old. He got his start on television at age 16, when he played the boyfriend of one of the twins on "The Patty Duke Show." He had extensive stage experience and appeared in many movies, including "Presumed Innocent," "Copland," "Black Rain" and "Albino Alligator."
EDITOR'S NOTE: REST IN PEACE, MR. SPENCER. YOU BROUGHT MUCH ENTERTAINMENT TO MANY OF US. SAFE TRAVELS TO THE NEXT STAGE.....
TREK to Boldly go to G4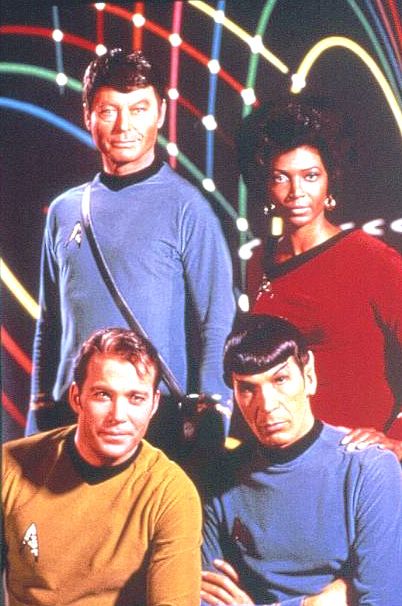 G4 is in discussions to acquire the syndication rights to the original STAR TREK and STAR TREK: THE NEXT GENERATION series.
Sources told the Hollywood Reporter that TREK will "
be part of a Comcast effort next year to reposition the channel brand of G4, which struggled to establish itself as the TV home for video gamers, in a broader play for young male viewers."
EDITOR'S NOTE: FOR THE 4 OR 5 PEOPLE WHO CAN FIND IT ON THEIR CABLE LINE UP.....
NBC Signs up for Moore

NBC Universal Television Studio has signed a two year deal with BSG's Ronald D. Moore.
Moore is already at work on a new fantasy show called PEN AND THE SWORD. The series centers on a young man at a temp agency who discovers the building he works in is a portal to a sort of medieval alternate reality. The man slides between worlds, trying to unravel the connection between the two -- i.e., verbal spats between colleagues in one dimension are sword fights in the other.
EDITOR'S NOTE: I HAD DAYDREAMS LIKE THIS WHEN I WORKED IN MY LAST JOB (THE ONE I DUBBED "SATAN'S SALTMINES INC"). SIGH....WERE THAT SUCH A PORTAL EXISTED......
He is also working on WAREHOUSE 13 for the Sci Fi Channel. This show revolves around a pair of government officials banished to a storage facility in North Dakota where they spend their days cataloguing artifacts and other odds and ends collected by the government over the years. Unbeknownst to them, every item has a backstory, pulling them into fantastic and supernatural quests each week.
Martian crashlands in Smallville?
"Smallville" is getting more and more exciting by the day – and no, not only because they're putting Erica Durance in a skimpy Bikini occasionally.
EDITOR'S NOTE: CLEARLY A FANBOY NEWS SOURCE. (SO MANY HORMONES, SO FEW REAL, LIVE GIRLS IN HIS MOM'S BASEMENT).
According to
Krypton Site
, there could be a few more surprises for fans in the coming season, including the appearance of another popular DC Comic character: The Martian Manhunter.
Executive Producer Miles Millar recently told the official "Smallville" magazine that "
One character we may bring to the show is the Martian Manhunter. There's always the possibility of having characters back, like the Flash or Mxyzptlk. If we find the story and it's organic, not forced, we love to do that."
The site reports that another DC character, Cyborg – from DC Comics' Teen Titans - will appear in episode 15 of the current season.
Alias spin-off or movie?

Sidney might be moving on, but that doesn't necessarily mean the rest of the "Alias" gang are ready to demolish SD-6.
According to
TV Guide
, producers of the recently axed "Alias" are considering spin-off possibilities.
"I would say we haven't seen the end of all things 'Alias'
," executive producer Jeff Pinkner teases. "
There are versions of this show which could exist after this season. There are plenty of stories we'd love to tell."
EDITOR'S NOTE: I'M ALL FOR A

GOOD

EXTENSION OF THE SHOW. BUT I HOPE THEY DON'T DRAG IT OUT IN A WAY THAT MAKES US FORGET WHAT MADE THE ORIGINAL SO BELOVED.
Among the formats Pinkner and Abrams have discussed is a spin-off series revolving around villains Sark (David Anders), Peyton (Amy Acker) and Sloane (Ron Rifkin). "
It's the triumvirate of evil!
" Pinkner says. (No official discussions with ABC have taken place yet.) Producers have also toyed with the idea of a big-screen adaptation starring Garner!
EDITOR'S NOTE: A. I'M NOT TERRIBLY IMPRESSED WITH AMY ACKER. I'M ALL FOR ALL-SARK-ALL-THE-TIME, AND RIFKIN ROCKS, OF COURSE. BUT THEY CAN DO BETTER ON THE BAD CHICK THAN ACKER'S RELATIVELY UNINTERESTING WITCHY CHICK. B. BIG-SCREEN GARNER. ALWAYS A GOOD IDEA.
Telenovela 'Betty' to U.S. as ABC hour
ABC is going ahead with its version of the hit Colombian telenovela "Betty La Fea," giving the project a cast-contingent pilot order.
"Betty," from Touchstone Television, Ben Silverman's Reveille and Salma Hayek's Ventanarosa Prods., is a one-hour centered on Betty, an unattractive but efficient secretary at a fashion magazine. Silvio Horta penned the pilot and is executive producing with Silverman, Hayek and her producing partner Jose Tamez.
The telenovela genre is red hot these days, with CBS developing at least five projects with the goal of fielding at least one in the summer as a 13-week serial
EDITOR'S NOTE: YAY. THIS IS EITHER GOING TO BE A FUN SUMMER THING, OR MAKE ENGLISH-LANGUAGE TV JUST AS SMUTTY AND STUPID AS SPANISH-LANGUAGE TV. (NOT THAT ENGLISH-LANGUAGE TV DOESN'T ALREADY HAVE PLENTY OF SMUTTY, STUPID MOMENTS ALREADY)!
Ricci entering 'Grey' area
Christina Ricci has been tapped to guest star on the special episode of ABC's sophomore hit "Grey's Anatomy" that is slated to air Feb. 5 after the network's broadcast of Super Bowl XL.
The plot for the episode of the medical drama, from creator/executive producer Shonda Rhimes and Touchstone Television, is being kept under wraps. Ricci's character is said to be coming to Seattle Grace Hospital "
not as a patient but in a life-and-death situation."
Idol To Try Out Thursday Time Slot
EDITOR'S NOTE: NOT THAT I CARE.....
Fox's American Idol is gently dipping its toes in the competitive Thursday-night waters for the first time, scheduling a one-hour live results show in sweeps that will send home four performers at 8 P.M. Feb. 23, as well as two others in March.
Four more contestants—two males and two females—will be eliminated from the competition show from 8-9 p.m. on the March 2 and 9 episodes (preceded by Tuesday- and Wednesday-night performance episodes). The top 12 finalists will also be revealed on the second Thursday-night telecast.
All other episodes from January through the finale in May, which traditionally ends on the final night of the season, will air as usual on Tuesday and Wednesday nights, a spokesman said.
Other networks had avoided making midseason scheduling decisions until recently, when Fox formally announced it was sticking with its standard game plan for the fifth edition of the highly rated musical competition series. Idol has been a spoiler, and other networks were nervous over speculation it was considering moving one of its two weekly episodes to Thursdays.
Idol will begin Jan. 17 and 18, with the show featuring audition cities on the first four consecutive Tuesdays through Feb. 7. Those will be comprised of two two-hour and two one-hour episodes. Additionally, Fox has slated three one-hour Wednesday night episodes to air through Feb. 1.
The Hollywood round will be from 8-9 p.m. Feb. 8, 14 and 15, with the top 24 semifinalists—12 males and 12 females—moving into later rounds.
The Fox Reality Channel previously announced that Idol will make its cable debut from Jan. 2-17 leading up to the network debut.
EDITOR'S NOTE: THIS WAS OFFERED AS A SERVICE TO THOSE OF YOU....PROTECTING YOU BY NOT NAMING YOU....WHO WATCH THIS SILLY SHOW.
'O.C.' tide shifts to 9 p.m. Thursday
Fox has reshuffled its midseason Thursday schedule, sliding teen soap "The O.C." to 9 p.m.
EDITOR'S NOTE: EST....
"O.C." will make the move from 8 p.m. to 9 p.m. on Jan. 12., when it will be joined on the Thursday schedule by veteran comedy "That '70s Show." "That '70s Show" will run back-to-back episodes in the 8 p.m. Thursday hour until March 16, when Carsey-Werner's current companion on Wednesday, "Stacked," will take over the 8:30 p.m. slot. Fox's original midseason plans featured "That '70s Show" and "Stacked" relocating to Thursday's 9 p.m. period March 2
EDITOR'S NOTE: AGAIN...MERELY A SERVICE. PLEASE DON'T ASK ME TO WATCH ANY OF THOSE SHOWS.
'Boys' club: Polone, Tarses get TBS pilot
Three months into their partnership, producers Gavin Polone and Jamie Tarses have landed their first pilot order for "My Boys," a single-camera romantic comedy from writer Betsy Thomas, picked up by TBS.
The project, produced by Sony Pictures Television and Polone's studio-based Pariah, centers on a woman in her late 20s, a sports columnist for a Chicago paper, whose life revolves around men -- her brother, her ex-boyfriend, her best friend and a sportswriter for a rival Chicago paper. In addition to writing, Thomas is executive producing the pilot with Polone and Tarses. Thomas, who created the WB Network comedy "Run of the House," is repped by CAA.