Star Wars Misc.
EDITOR'S NOTE: JUST A FEW RANDOM STAR WARS ITEMS....CLEARING OUT SOME STUFF FROM THE PAST FEW DAYS.
Don't Heckle Darth Vader
UPI.com
reports:
"Star Wars Anakin Skywalker, aka actor Hayden Christensen, let at least one recent New York detractor see his Darth Vader dark side.
The Canadian actor is currently filming the movie, "Awake," in New York with Jessica Alba.
He was leaving his trailer the other day when he was approached by what appeared to be a fan seeking an autograph, the New York Post reported Tuesday. But instead of asking for his John Hancock, the "fan" yelled at the actor: "You ruined the 'Star Wars' movies!"
A source on the set told the Post Christensen "chased the guy down the street and scared him away." A spokeswoman for the Weinstein Co., which is producing "Awake," declined comment."
EDITOR'S NOTE: DORKS SURE DO SCARE EASY. I MEAN HAYDEN WEIGHS ABOUT 120 DRIPPING WET?
Fashionable Star Wars Timepieces from Japan
For those who like to accessorize with a bit of sophisticated Star Wars flair,

EDITOR'S NOTE: AND WHO DOESN'T!?

Japan's GSX company has released the first in a cool new line of high-end Star Wars watches.

From the company's sleek GSX 500 series, the new
stormtrooper
edition watch depicts the signature features of the iconic trooper helmet with an understated streamlined elegance.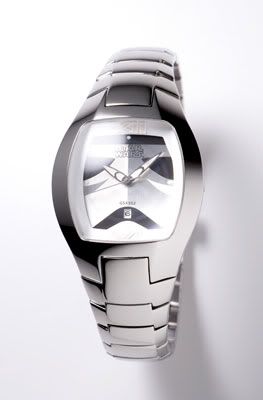 What's more, a "phantom" Imperial logo reveals itself on the dial's lens when turned in the light, which lends some added dimension to the watch face. The modern feel and restrained use of Star Wars iconography should make this watch a favorite among fans, and most especially among trooper aficionados.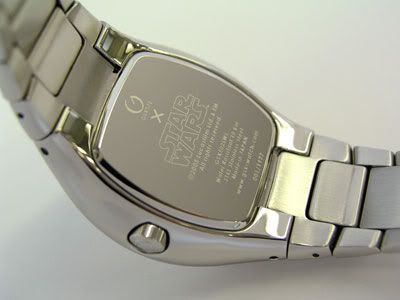 The edition size for the stormtrooper watch is 1,977, commemorating the first film's year of release. In Japan, these will retail for approximately 59,000 Yen, or $495.

An extremely limited
Darth Vader
edition watch is also being released alongside the trooper edition, but features more robust styling and added features including a
Death Star
moon phase indicator. The Star Wars logo and Imperial insignia are discreetly showcased among three smaller dials on the watch face, which includes a calendar, stopwatch, and military time indicator.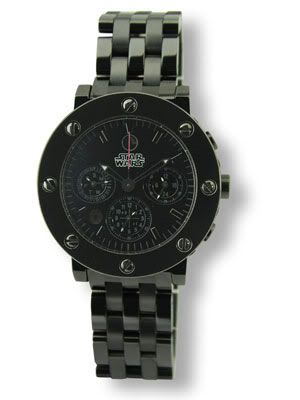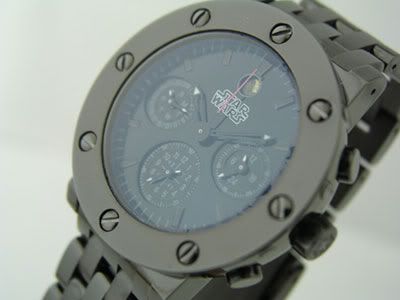 The entire watch is finished in a gun-metal black, with the Imperial logo reprinted on the case's reverse and crown. The Darth Vader edition comes with an edition size of just 300, and will retail for 168,000 Yen in Japan, or $1,410.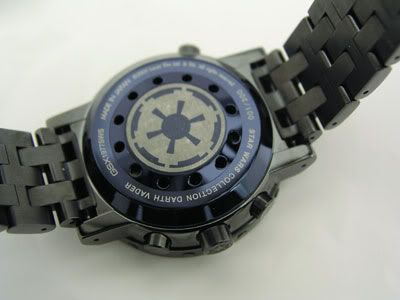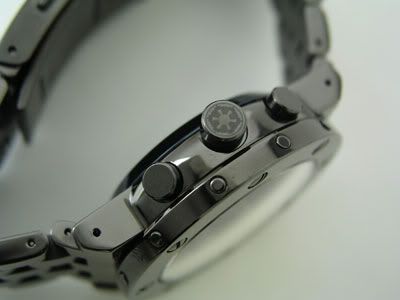 Each watch comes with an etched edition number on the reverse and comes packaged in a handsome black laquer box. StarWarsShop.com is working to bring several of these fashionable timepieces to its shoppers, so check back soon for updates.
Voting Begins! May The Choice Be With You
As reported yesterday, Hasbro and ToyFare have teamed up to determine the next
Star Wars Fan's Choice Poll for 2006.
This figure will be available to everyone in the basic figure line, not an exclusive.
The entire universe is yours to choose from! If you want to see your favorite character made into an action figure, then Vote now and let your voice be heard.
http://www.wizarduniverse.com/magazines/toyfare/TF20051214-tf.cfm
EDITOR'S NOTE: I VOTED FOR

QUINLAN VOS

. (TOUGH CHOICES, WHEN YOU ONLY GET

ONE

OUT OF ALL THE WONDERFUL CHARACTERS THAT ARE IN NEED OF TOY REPRESENTATION).