Happy Holidays from Uncle George
EDITOR'S NOTE: UNCLE GEORGE IS REALLY LIKE SANTA CLAUS FOR DWEEBS.
DISCUSS.
Lucasfilm Holiday Greetings 2005

For nearly 30 years, Lucasfilm has created special holiday greeting cards for its employees and business partners, a tradition which continues for the 2005 holiday season.
In the past, the artwork chosen to grace the cards often reflected themes or events unique to the Lucasfilm family of companies, whether it's a suited-up Santa Yoda with a sleigh full of gifts, a snowflake composed of the company's various parts, or a move away from an old home into a new one.
Lucasfilm's first major move occurred way back in 1979, when stakes were pulled in Los Angeles so the company could move en masse to their new digs in San Rafael. A whimsical moving card was devised by saga artist Ralph McQuarrie for the event, depicting a cast of Star Wars characters, creatures and vehicles caravanning north on Highway 101.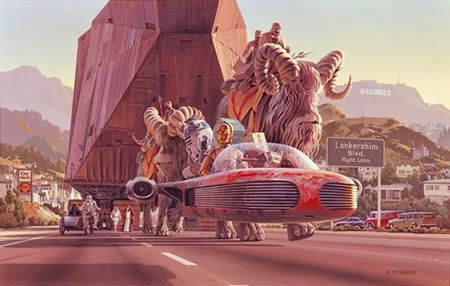 For Lucasfilm's recent move to the Presidio from their homes in the North Bay Area, ILM artist Christian Alzmann decided to pay homage to McQuarrie's classic image with a clever spin on the original for this year's Lucasfilm holiday greeting card.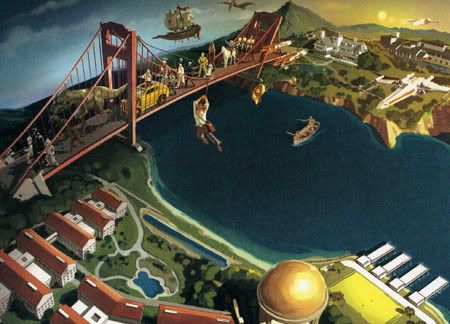 "
The company has only moved one other time
," explains Alzmann, "
and I thought, what a great homage it would be to put all of the new prequel elements into the original card design.
Lucasfilm has helped create so many more film icons since the move to Northern California, and I kind of wanted a chance to include all of them."
Alzmann, who's worked at ILM for nearly seven years, currently holds an art director position, creating concept art for projects and helping ILM CG production realize their concepts to their filmed completion.
Alzmann's holiday card design, which has expanded on McQuarrie's original image to include Lucasfilm's extended cast of film and video game characters, depicts a parade of droids, cantina band members, dinosaurs, a mounted Nelwyn, a swinging adventurer, an "armed and dangerous" robot, and many other Lucasfilm characters, creatures, and vehicles making the journey across San Francisco's Golden Gate Bridge.
The artist initially envisioned a composition much closer to McQuarrie's original, with the classic Star Wars elements replaced by new ones found in the prequels. However, Lucasfilm has grown immensely since those early Star Wars days, and wanted to incorporate the new members that have since joined its growing family, as well as others created by the artists at Industrial Light & Magic.
Sharp-eyed viewers might have spotted the dual Tatooine suns setting behind the Skywalker and Big Rock Ranch properties, signifying the end of an era. Of course, the illustration also holds the promise of a sunrise on Lucasfilm's new Presidio shore, where a new era of creativity and growth is already warming up.
Fans can check out more works by Alzmann at his website by clicking here.
http://www.christianalzmann.com/