Harry Potter 2005 finale
Harry Potter magic goes beyond written word

By Vanessa LaFaso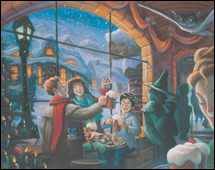 The books weave tales of boyhood wizardry and fantastical mayhem. But Harry Potter magic extends well beyond the written word, and fans in this area now have the rare opportunity to discover the added enchantments of the book's illustrations.
Perhaps, nobody understands the spellbinding artwork of GrandPre better than Michael Barry, curator and owner of
ArtInsights
at Reston Town Center, where the original works of Harry Potter illustrator Mary GrandPre are the featured exhibit through Jan. 1 and will be a permanent addition to the gallery.
ArtInsights
, which specializes in animation art, is the only gallery on the East Coast where GrandPre's original and limited edition works are available.
Barry and his partner, Leslie Combemale, were interested in expanding their vast collection of animation art with children's illustrations, but the work was difficult to come by.
"Until recently, none of that has been available,"
Barry said. He explained that the artists rarely sell their art themselves and either work through publishers or simply give away their pieces as gifts to loved ones. "
Many of the owners never investigated the possibility of the market
," Barry said.
Simply a phone call away
One would think that acquiring images from such a widely popular series as the Harry Potter books would be a daunting task. Yet, it was as simple as a phone call.
"
She [Combemale] just decided to pick up the phone and call her [GrandPre] on the chance she wanted to sell originals
," Barry said, noting GrandPre was "
a little surprised that we wanted to buy these."
Barry said the gallery has already sold a half-dozen GrandPre originals and "dozens" of limited editions.
In addition, a portion of the profits will benefit
First Star
, a children's charity committed to helping victims of abuse and neglect.
"
They are not very expensive so they make for a nice first piece
," Barry said. The framed Harry Potter limited editions are priced under $300, and even the originals will not break the bank. In addition, a portfolio of all seven prints—complete with a certificate of authenticity—is available for "the serious collector."
ArtInsights
also is the only gallery in the nation authorized to carry GrandPre's original illustrations from other children's books, all done in the same familiar style as the Harry Potter works—rich colors, sweeping motion and vibrant expressions.
Ray Smith, a 43-year-old Reston resident, is so fond of GrandPre's work that he is keeping his ears open for more opportunities to collect. "
I've asked Leslie to see if there's anything else available,
" Smith said.When asked if he is a fan of the Harry Potter books, Smith said, "
Oh yes, I've read all the books, that's where I know her [GrandPre] from."
One of the first
Barry, 53, a Corcoran School of Art graduate, and Combemale, 38, an art historian, opened
ArtInsights
in 1997, and it remains the only gallery of its kind in the Washington, D.C., region.
Barry and Combemale's venture was prompted by Disney's official release of animation cels to art galleries in 1979.
"
We were one of their first dealers
," Barry said.
To this day, Barry and Combemale enjoy a special relationship with Disney as well as with Warner Brothers and Bill Melendez studios ("Peanuts" animator). Their collection includes, among other things, an assortment of vintage, hand-painted animation cels and original sketches in pristine condition.
"
The cels were only meant to last through production, but were done so well, they managed to survive,"
Barry explained.
The collection of original works are the pride of
ArtInsights
, keeping animation collectors like Smith apprised of new gallery arrivals.
"
I like the personal touch you get from Leslie and Michael
," Smith said."
We specialize in originals, that's what we do the most of and are the best at getting,"
Barry said.
The Art of Harry Potter

About the Art
These enchanting images were created by Mary GrandPre. GrandPre's style may look familiar as her work also appears as the cover art for the seven Harry Potter books written by J. K. Rowling. Paying close attention to light and color, GrandPre's execution of Harry's adventures draws the viewer into a magical dreamlike world. Each print, reproduced in the fine art Giclee process, is hand signed by Ms. GrandPre and hand numbered in an edition limited to 25 images.
About the Artist
Mary GrandPre has received worldwide recognition for her Harry Potter artwork. She has also created illustrations for Atlantic Monthly, Time Magazine, and Random House Publishing, where she illustrated classic tales such as Cinderella. Additionally, she was given an opportunity to develop scenery for the DreamWorks feature "Antz." Currently, she had illustrated six children's books and has been recognized by the Society of Illustrators, Communications Arts, Graphics, Print and Art Direction. She is a graduate of the Minneapolis College of Art and Design.
EDITOR'S NOTE: AND LEST WE FORGET, SHE IS A RESIDENT OF MY FAMILIAL STOMPING GROUNDS....SARASOTA, FLORIDA! (SO TOUCH ME?)
Harry Potter Works by Mary GrandPre for Sale at ArtInsights