Pre-XMAS Movie News
EDITOR'S NOTE: YES YES, I KNOW. TOO MUCH EGGNOG, NOT ENOUGH DWEEBING. BUT I'VE BEEN SPENDING SO MUCH TIME GOING TO SEE ALL THESE DURN LATE-IN-THE-YEAR MOVIE RELEASES, I BARELY HAVE TIME FOR

SLEEP

, MUCH LESS POSTING.
SURE WISH THEY COULD FIGURE OUT A WAY TO RELEASE MOVIES YEAR-ROUND, INSTEAD OF ALL IN THE LAST WEEK OF DECEMBER.
MOVIE NEWS.....
Disney returning to Narnia

EDITOR'S NOTE: SHOCKED?


Not surprisingly, Disney has given the thumbs up to the second jaunt in the "Narnia" tales.
"The Chronicles of Narnia : Prince Caspian" is slated for a December 2007 release, says
Narnia Web
.

The sequel would see Peter, Susan, Edmund and Lucy returning to boarding school when they are summoned from the dreary train station (by Susan's own magic horn) to return to the land of Narnia -- the land where they had ruled as kings and queens and where their help is desperately needed.

Brosnan is Steel interested EDITOR'S NOTE: FYI TO WHOEVER WROTE THE EVER-SO-WITTY TITLE OF THIS STOLEN SNIPPETT....IT'S

STEELE

. (IF YOU'RE GOING TO PUN, PUN ACCURATELY)
Seems those rumours about Pierce Brosnan and Stephanie Zimbalist reuniting for a "Remington Steele" movie might be true.

The former MI6 employee told
IGN FilmForce
that he's in talks to bring his popular character back from the telly graveyard.
"

The show is out on DVD now and so we have started negotiations on making a movie out of it,"

said Brosnan. "
I think there's an audience there. There's a sentimental memory and fondness for it."
EDITOR'S NOTE: I AGREE. ONE OF MY FEW FOND MEMORIES FROM THE....SHUDDER...80'S. BUT WILL STEPH TAKE HIS CALLS? (I WAS UNDER THE IMPRESSION IT WASN'T A CONVIVIAL SET?)
VENDETTA Trailer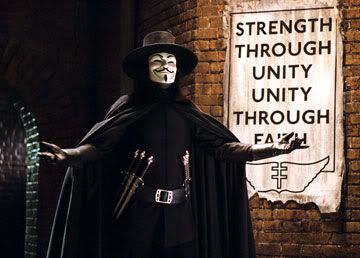 Apple.com has been on a roll this week. They are now offering the trailer for V FOR VENDETTA.

V hits theaters on March 17, 2006. The film stars Hugo Weaving and Natalie Portman. It centers on a terrorist freedom fighter known only as "V" who begins a violent guerilla campaign to destroy those who've succumbed to totalitarianism, and recruits a young woman he's rescued from the secret police to join him.

James McTeigue directed from a script by Andy Wachowski and Larry Wachowski, which was based on the graphic novel by Dave Gibbons and Alan Moore.


http://www.apple.com/trailers/wb/v_for_vendetta/hd/
EDITOR'S NOTE: ACTUALLY LOOKS PRETTY GOOD. (ALTHOUGH WITH THE WACHOWSKI BROTHERS, LOOKS MIGHT BE ALL IT HAS).
Your first look at Ghost Rider
Nicolas Cage flames up as "Ghost Rider", and Sony are giving you your first look at the film right here.

http://www.sonypictures.com/movies/ghostrider/site/index.html



Keira looking fine in Silk


Foxy Keira Knightley will go from wearing corsets to, um, wearing corsets.

The "Pirates of the Caribbean" and "Pride and Prejudice" stunner will star in "Silk", based on the book by Alessandro Baricco, says
KeiraWeb
.

Set in 19th Century France, the film will tell of a married silkworm smuggler, Herve Joncour who travels to Japan to collect his clandestine cargo. While there he spots a beautiful European woman, the mistress of a local baron, and they fall in love. When Herve's wife begins to suspect something is up, a black cloud starts to mask the unrequited love.

EDITOR'S NOTE: A BLACK CLOUD HAS BEEN KINDA HAUNTING MY LOVE LIFE TOO. (ALBEIT, SANS CORSETS)



Michael Pitt, who played Jen's one-time boytoy Henry on TV's "Dawson's Creek" and that Cobain-esque character in the recent "Last Days", might play the husband character.


Bookcrossing.com
says of the book :

France, 1861

. When an epidemic threatens to wipe up out the silk trade in France, Hervé Joncour, a young silk breeder, has to travel overland to distand Japan, out of bounds to foreigners, to smuggle out healthy silkworms. In the course of his secret negotiations with the local baron, Joncour's attention is arrested by the man's concubine, a girl who doesn't have oriental eyes. Although they're unable to exchange so much as a word, love blossoms between them, a love that is conveyed in a number of recondite messages. How their secret affair develops is told in this remarkable love story. As haunting as a strain of passionate music, Silk is an enchantment, an exquisite narrative and stylistic tour de force..

The film, to be directed by Francois Girard ["The Red Violin"], will be before the cameras next Spring. Yep, KK's going to film it in-between "Pirates of the Caribbean 2" and "Pirates of the Caribbean 3".

Elle Woods Vs. The Bell Witch
Moviehole mate Reese Witherspoon has snagged another job just before the holidays. The talented blonde is being courted to star in a new Universal drama that's written by Don Winston. At present, the spec is called "Our Family Troubles", but will likely change title before it makes it to the screen.

According to Variety, the "Walk The Line" star will play a first-time mother that starts to doubt her own sanity when she starts encountering some pretty strange things. The woman is determined that a legendary evildoer by the name of The Bell Witch is planning to harm her baby son.

FRIGHTENERS 2?
CanMag.com is reporting, off an Entertainment Tonight broadcast, that Peter Jackson is considering a sequel to THE FRIGHTENERS.

Jackson told ET, he's hoping the new FRIGHTENERS DVD sells well enough that he could possibly convince Universal to do a sequel. He would even love to see Michael J. Fox return for a small role.

Burns Will LOOK UP IN THE SKY for Singer
Bryan Singer has set documentary director Kevin Burns to direct the film LOOK UP IN THE SKY: THE AMAZING STORY OF SUPERMAN.

Burns and Singer will executive produce the feature length project, which they hope to get a theatrical release for via Warner Bros. and even show it possibly on TV before SUPERMAN RETURNS opens.

Singer told the Hollywood Reporter, "

I have such an admiration for the evolution of the character and what Superman has represented over nearly eight decades. I wanted a document that respects the legacy and the collective consciousness of Superman."

EDITOR'S NOTE: DONCHA LOVE IT WHEN THE DIRECTOR DRINKS THE COOL-AID? (I

STILL

THINK THE NEW SUPES LOOKS CHUBBY IN THE TIGHTS; LET'S JUST HOPE HE CAN

ACT

).

John Powell to score 'X-Men 3'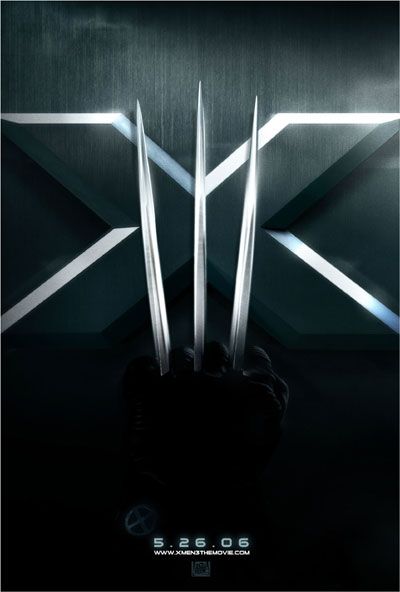 X-MEN 3 will get an original score by John Powell (ROBOTS, SHREK, PAYCHECK). The prestigious assignment has been confirmed to Music from the Movies by 20th Century Fox.

Powell, whose previous action scores include FACE/OFF, THE BOURNE IDENTITY and THE ITALIAN JOB, is working for the first time with director Brett Ratner.

Previous reports about Lalo Schifrin being involved in the project (Ratner worked with him on the two RUSH HOUR films and AFTER THE SUNSET) are no longer accurate.

The two first X-MEN films, both directed by Bryan Singer, were scored by Michael Kamen and John Ottman.

Cast members Patrick Stewart, Hugh Jackman, Ian McKellen, Halle Berry and Famke Janssen all return in X-MEN 3. The film is scheduled to premiere next May.

John Powell's other upcoming films include two animated features: ICE AGE 2: THE MELTDOWN, SHREK 3, and THE BOURNE ULTIMATUM.



Writing team boards 'Skip' for Columbia "


Sahara" scribes Thomas Dean Donnelly and Joshua Oppenheimer have been tapped to rewrite the comedy-actioner "Skip Tracer" for Columbia Pictures.

The story centers on a man who inadvertently kidnaps a young girl embroiled in a custody battle when he repossesses a yacht.

Scribe Steve Franks ("Big Daddy") penned an earlier draft. Neal Moritz is producing through his Original Films banner alongside Brad Luff and Chris Henze. Sony's Jonathan Kadin is shepherding the project for the studio.