Movie News
EDITOR'S NOTE: PLEASE STOP MAKING MOVIES UNTIL I SEE THE ONES THAT ARE ALREADY OUT. JUST QUIT.
I CAN'T TAKE THE PRESSURE ANY MORE!!!
New mutants, director recharge 'X3'

By Scott Bowles, USA TODAY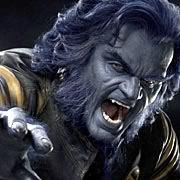 MANE MAN: KELSEY GRAMMER CALLS HIS BLUE-HAIRED STRONGMAN BEAST AN "OUTSIDER"

The mutants are back. Now they just need the humans to return, too.

X-Men 3 hits the big screen next year with our heroes facing their toughest challenge yet: a fan base anxious about how the franchise will fare with a new director at the helm.

Ever since Bryan Singer bolted from the series to direct next year's Superman Returns, devotees have wondered whether the band of superhero misfits could return with a film to match the caliber of the first two, which took in more than $702 million worldwide.

Star Hugh Jackman isn't worried.
"
I wouldn't have come back if I thought we weren't going to do the series justice
," says Jackman, who plays the popular mutant Wolverine. "
I think X-Men— and Bryan — led the rebirth of comic book movies. We weren't going to treat a third one lightly."



Brett Ratner directs X-Men 3, which opens May 26. Ratner is best known for comedy, including the two Rush Hour films, and studio executives concede that a regime change gave them pause.

"

I don't care what director we would have brought in; there would have been

concern,"

says Avi Arad, head of Marvel Studios. "

We had to make sure we were coming back with something serious, something new, that would improve the series. I think we did."




The encore will feature new characters, including the blue-haired strongman Beast, played by Kelsey Grammer, and Angel, a winged mutant played by Ben Foster (Six Feet Under). The plot centers on a cure discovered for our heroes' mutations, and their dilemma in choosing whether to remain individuals or blend into mainstream society.

"

I'd never really thought about doing comic book movies before

," Grammer says. "

But this one has always been about what it's like to be an outsider. And we've all felt that way at times. I think that story line is what appeals to fans more than any filmmaker or star."




Fan Thomas Hay, 29, of Livonia, Mich., agrees. "

They've got the whole cast back, plus more comic book characters. I'm confident. The characters and story are the most important thing."




X3 probably marks the last installment of the franchise.

"

We really have become a family

," says Halle Berry, who plays Storm, a mutant handy with a lightning bolt. "

I'm going to be sad to say goodbye."




And moviegoers? Arad concedes there may be initial apprehension among fans. But "

when they see how much we worked to stay true to the story, true to the characters, they're going to remember why they became fans in the first place."




EDITOR'S NOTE: SO DOES ALL THAT MAKE YOU EAGER TO SEE WHAT THEY'RE FLAPPING THEIR LIPS ABOUT? TAKE A LOOK ---

X-Men 3 teaser trailer online
Famke, Anna, Captain Shiny Cranium…..they're all back for Bretty Ratner's super-sequel "X-Men 3".

http://www.apple.com/trailers/fox/x3/

Hoffman and Rockwell Vs. Batman?
You can add to more names to the Bat-villain wannabe list.

According to Batman-on-Film, Philip Seymour Hoffman ["Boogie Nights", "Capote"] has emerged as a frontrunner for the role of The Penguin/Oswald Cobblepot in the "Batman Begins" sequel. Hoffman's rising statue in Hollywood – they're talking Oscar for his latest effort – and his ability to immerse himself chameleon-esque into a role, might make him a funky choice.

Meantime, Sam Rockwell ["The Hitchhiker's Guide to the Galaxy"] is apparently very keen to wear the face makeup of The Joker in the film. A source for the site says, "This doesn't mean he is confirmed or unconfirmed or even under consideration, but I can definitely say that the man is pursuing the role."

Bob Hoskins is said to be also keen on playing The Penguin, whilst a number of actors, including Lachy Hulme and Paul Bettany, are vying to play The Penguin. EDITOR'S NOTE: PAUL BETTANY? HOSKINS SEEMS THE MOST 'RIGHT' OF THOSE MENTIONED. BUT I ALMOST DON'T WANT TO GET INTO A DISCUSSION ABOUT THIS, SINCE WE MIGHT END UP WITH ANOTHER AD NAUSEUM CASTING CONVERSATION. NO MORE WHO'S-THE-NEXT-JAMES-BOND SAGAS! STOP THE SILLINESS! (WELL..THAT PARTICULAR SILLINESS. THIS WHOLE DWEEB THING IS SILLY. AND WE'RE NOT STOPPING THAT, HEAVEN KNOWS).

MORE TRAILERS (WHILST WE TRAIL) -----

EDITOR'S NOTE: INCLUDING OUR PAL THE SQUIRREL. (OR SCRITCH, OR WHATEVER HE WAS CALLED).

M:I3 Trailer Online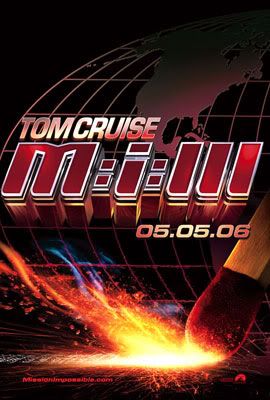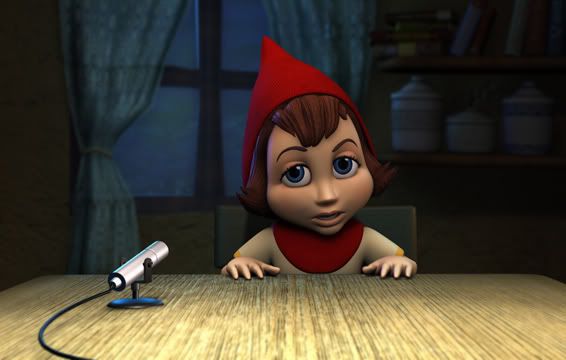 In case you haven't seen it yet, the HOODWINKED trailer is available on Apple.com.
EDITOR'S NOTE: THIS LOOKS VERY FUNNY!
The animated comedy features the voices of Glenn Close, Anne Hathaway, Jim Belushi, Patrick Warburton, Anthony Anderson, David Ogden Stiers, XZIBIT
EDITOR'S NOTE: I'M GUESSING THIS IS NOT HIS(HER?) GIVEN NAME?
, Chazz Palminteri, and Andy Dick.

The story is a re-telling of this classic fable. It begins at the end. Chief Grizzly (Xzibit) and Detective Bill Stork (Anthony Anderson) investigate a domestic disturbance at Granny's (Glenn Close) cottage, involving a karate-kicking Red Riding Hood (Anne Hathaway), a sarcastic wolf (Patrick Warburton) and an oafish Woodsman (Jim Belushi). The charges are many: breaking and entering, intent to eat, wielding an axe without a license, but these unusual suspects have their story to tell first.
HOODWINKED hits theaters on December 23, 2005
EDITOR'S NOTE: ARRRGGGHHH!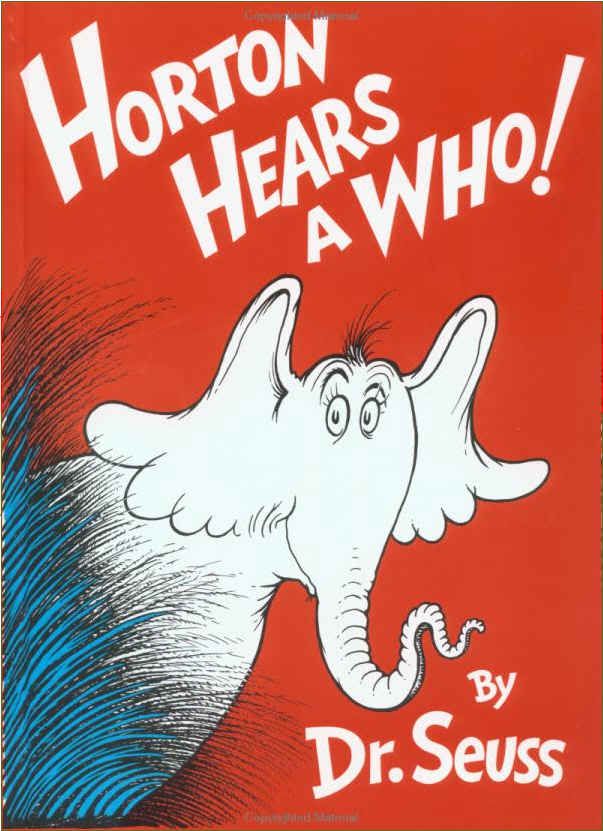 Twentieth Century Fox Animation has hired Jimmy Hayward and Steve Martino to direct the bigscreen version of HORTON HEARS A WHO.

The CGI-animated adaptation of the Dr. Seuss classic has been written by Ken Daurio and Cinco Paul.

Chris Meledandri and Chris Wedge will produce. Audrey Geisel, Theodor Geisel's widow, will executive produce.
Mrs. Geisel has provided the directors with access to her husband's notes and letters explaining his visual inspiration for the Horton character and his world.
EDITOR'S NOTE: THAT SPINNING SOUND ONE HEARS....IF LIKE HORTON ARE YOUR EARS...IS NOT A SNEECH AND NOT A WHO, BUT DR. S.....MR. G, TO YOU.

The film is currently scheduled for release in 2008.
Johansson Gains PRESTIGE
Touchstone Pictures has signed Scarlett Johansson to star in THE PRESTIGE. She joins a cast that includes Christian Bale, Hugh Jackman, Michael Caine and David Bowie.
EDITOR'S NOTE: WOW. WHAT A CAST. TALK ABOUT SOMETHING FOR EVERYONE. (INCLUDING DAVID BOWIE..... FOR THE

ALIENS

IN THE AUDIENCE).

The story centers on rival magicians in early 1900s London who battle each other for trade secrets. Johansson will play a magician's assistant named Olivia who is sent to spy on the competition.

The $40 million film will beginning shooting in January.

Bekmambetov is a WANTED Man
Universal Pictures and producer Marc Platt have set Timur Bekmambetov to direct WANTED. The film will be based on a comicbook series by Mark Millar.
The story centers on a nebbishy white-collar worker who discovers his father is the world's most evil supervillain.
EDITOR'S NOTE: SOMETHING LIKE THIS HAPPENED TO A FRIEND OF MINE! HE WAS REALLY BUMMED. (BUT THEN, HE KINDA DUG IT. I MEAN, THERE

ARE

BENEFITS).
After his dad is murdered, the son is recruited into a covert org and trained to take up his father's legacy.

The script was written by Derek Haas and Michael Brandt. Marc Platt, Jason Netter and Jim Lemley will produce. Marc Silvestri will executive produce.

Cumming is Haunted by CHARITY
Alan Cumming is starring in and directing the indie film SUFFERING MAN'S CHARITY. The film is currently in production in Los Angeles.
The dark comedy also stars David Boreanaz, Anne Heche, Henry Thomas and Carrie Fisher.
EDITOR'S NOTE: OK. THAT'S AN INTERESTING MIX OF PEOPLE. ANNE HECHE AND CARRIE FISHER ON THE SAME SET, FOR INSTANCE? THE CATERING TABLE MUST BE MOSTLY

CHEMICAL

.

The story centers on a struggling writer (Boreanaz) who is accidentally killed by Cumming one evening. Cumming discovers the writer's novel and ends up taking credit for penning it. When it becomes a success, the writer comes back to haunt him.

Cameron ready for 'Battle'
James Cameron is moving forward on his next helming project, the sci-fi thriller "Battle Angel" for 20th Century Fox.
The film marks the director's long-anticipated follow-up to "Titanic," which Fox co-financed with Paramount Pictures. Fox declined comment and would not confirm that the project has been greenlighted, but Mali Finn Casting has placed an open casting call online for the lead actress in the new Cameron film. The ad calls for female applicants age 16 to mid-20s who are athletic and agile with graceful movement and have an ear for languages and dialects. Submissions are due Dec. 19, the firm said.
EDITOR'S NOTE: WOW. IF IT WEREN'T FOR THAT ATHLETIC, AGILE AND GRACEFUL PART. OH. AND THE 16-MID-20'S THING. OTHER THAN ALL

THAT

, I'D BE

PERFECT

! (I WONDER IF THIS IS A TRUE CASTING CALL, OR IF CAMERON IS JUST LOOKING FOR ANOTHER YOUNGER WIFE)?
Scott, Graham, Macht, Perabo say 'Because'
Gabriel Macht, Tom Everett Scott, Lauren Graham and Piper Perabo are joining the cast of Gold Circle Films' "Because I Said So," which Universal Pictures will distribute domestically.
Mandy Moore and Diane Keaton already have boarded the Michael Lehmann-helmed project.
Penned by Jessie Nelson and Karen Leigh Hopkins, the story centers on a well-intentioned but overzealous mother (Keaton) who goes on a mission to find Mr. Right for her youngest daughter (Moore). Macht and Scott will play male suitors, while Graham and Perabo will play sisters of Moore's character. The film starts shooting Monday in Los Angeles

Silberling, Howard court 'Crusaders'
Terrence Howard and Brad Silberling are in negotiations to star in and direct, respectively, "The Crusaders," a drama for New Line Cinema. Bob Cooper is producing through Landscape Entertainment.
Written by Lawrence O'Donnell and Paul Redford, "Crusaders" is the true story of Thurgood Marshall as seen through the eyes of Jack Greenberg, a dedicated young lawyer who became the only white member of the NAACP Legal Defense Fund and who fought side by side with Marshall in the courts to destroy segregation.
If a deal is made, Howard would portray Marshall, who would later become the first black Supreme Court justice. When he worked for the NAACP, Marshall won 29 of the 32 cases he argued before the Supreme Court
Gellar Has Small GRUDGE
Columbia Pictures has signed Sarah Michelle Gellar for a brief role in THE GRUDGE 2.
The actress will return to pass the supernatural curse -- introduced in the first film -- on to the next victim; an actor is expected to be cast soon.
EDITOR'S NOTE: I'D SAY THE CURSE SHE PASSES ON IS HAVING TO BE IN THIS KIND OF MOVIE.

Takashi Shimizu will direct from a script by Stephen Susco. Sam Raimi, Robert Tapert and Taka Ichise will produce.

It's "10-4" for Singleton and CONVOY
Paramount Pictures has set John Singleton to direct the action-adventure film CONVOY. Lorenzo di Bonaventura will produce.

The script by Art Marcum and Matt Holloway centers on a group of U.S. truck drivers who make a one-year commitment to drive goods for U.S. contractors through the Afghan war zone because of financial hardships back home

Wolpert Takes Off With Pan Project
Walt Disney Feature Animation has hired Jay Wolpert to adapt PETER AND THE STARCATCHERS by Dave Barry and Ridley Pearson.

The story centers on a young orphaned boy, Peter, who becomes a stow-away on a merchant ship in order to avoid a life of servitude. He gets more than he bargained for when he finds a hidden trunk full of the celestial substance "starstuff," and when the shipment is hijacked, it is up to Peter to save the day.

The book explores the origins of Peter Pan in a tale set before the J.M. Barrie classic.

Valderrama Puts his CHiPs on the Table
Warner Bros. Pictures has signed THAT 70'S SHOW's Wilmer Valderrama to play motorcycle cop Francis "Ponch" Poncherello in the big screen version of CHiPs. The role was made famous by Erik Estrada.
The TV show followed the adventures of California Highway Patrol motorcycle officers Ponch and Jon Baker (Larry Wilcox).
EDITOR'S NOTE: NO LAME TV SHOW LEFT UNRESURRECTED, HUH?
Daniels is on 'Lookout' duty for Spyglass
Jeff Daniels has signed on to star opposite Joseph Gordon-Levitt in the dramatic thriller "The Lookout" for Spyglass Entertainment Group. Walt Disney Pictures will distribute the film in North America.
The story centers on a mentally impaired former athlete (Gordon-Levitt) who works as a janitor at a bank and gets sucked into a heist. Daniels will play Lewis Canfield, a blind ex-biker who becomes an unwilling participant in the heist. Scott Frank, who wrote the screenplay, will make his directorial debut. Principal photography is scheduled to begin in the spring in Canada.

New Line Goes Softley for INKHEART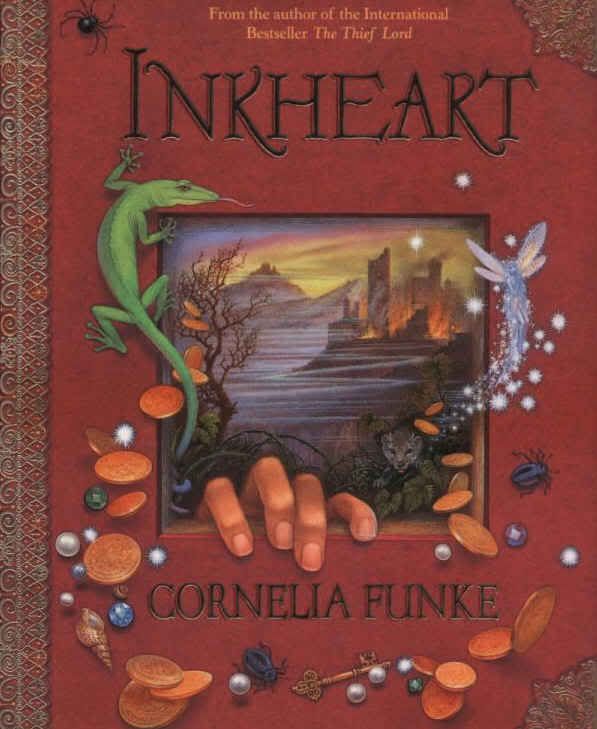 New Line Cinema has hired Iain Softley to direct INKHEART. The family fantasy is based on Cornelia Funke's novel. David Lindsay-Abaire will adapt.
The story revolves around a girl whose father has the power to bring characters from books to life by reading aloud. When a villainous ruler and his band of rogues from a children's fable kidnap the man, his daughter and her friends -- both real and imaginary -- must rescue him.
EDITOR'S NOTE: YAY! A GIRL WHO'S A HERO(INE) FOR A CHANGE. (AND BY THE BY, IN

MY

FAMILY IT WAS MY

MOM

WHO COULD BRING CHARACTERS FROM BOOKS TO LIFE BY READING ALOUD. BUT THEN,

MOST

MOMS CAN DO THAT, CAN'T THEY?)

Sommers Will COLLIDE Worlds Once Again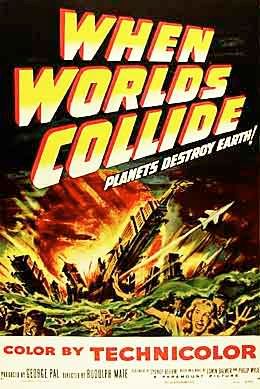 Steven Spielberg and Paramount Pictures have brought back director Stephen Sommers to helm the remake of WHEN WORLDS COLLIDE. Spielberg will produce. Sommers will write and direct the film.
Sommers had been set once before to direct the film but moved on to direct A NIGHT AT THE MUSEUM for 20th Century Fox. But ultimately he left that project due to "creative differences."
EDITOR'S NOTE: STEPHEN SOMMERS. "MUMMY" MOVIES GOOD. "VAN HELSING" BAD. WE ARE STILL DECIDING ABOUT YOU, MR. SOMMERS. HMM?

Sommers will now work on a rewrite of the script and hopes to have a draft done by sometime in near the beginning of the second quarter of next year.
More FOUR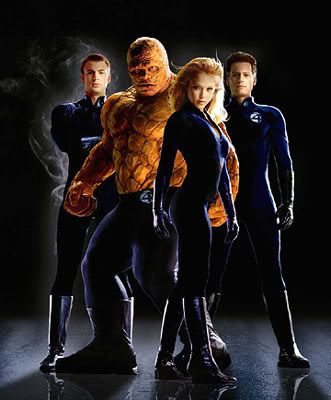 20th Century Fox has announced they will make a sequel to FANTASTIC FOUR.
EDITOR'S NOTE: DID WE HAVE ANY DOUBTS?
Tim Story will once again direct from a script by Mark Frost.

Ioan Gruffudd, Jessica Alba, Chris Evans and Michael Chiklis are expected to return for the sequel since their original deals were for three films. Julian McMahon, who played Victor Von Doom, in the first film, will not be back.

The film is set to be released on July 4, 2007
Woo & New Films Dial up BLOODY NUMBERS
New Films International is teaming up with Terence Chang and John Woo's Lion Rock Productions to co-finance and co-produce BLOODY NUMBERS.

The thriller centers on a woman who must come to grips with a strange supernatural gift in order to track down a serial killer who murdered her sister.
Arthur Anderson will direct from a script by Todd Berger. The film will be shot on location next year in New Orleans' French Quarter.
EDITOR'S NOTE: REALLY? THAT SHOULD BE GOOD FOR THE CURRENTLY-NOT-SO-BIG EASY'S REVENUES.
Segal Gets SMART
Warner Bros. Pictures has signed Peter Segal to direct the big-screen version of GET SMART. The film will star Steve Carell as Maxwell Smart, Agent 86, a spy for CONTROL, fighting the evil forces of KAOS.

The movie will be set in presentday and focus on CONTROL falling on hard times by not getting the big government funding other spy agencies, like the CIA, do.

Tom Astle and Matt Ember did a rewrite on the script, which was based on the TV series created by Mel Brooks and Buck Henry. EDITOR'S NOTE: BASED ON. BUT NOT WRITTEN BY. IS IT LIKELY THE NEW ONE IS GOING TO HAVE ANYWHERE NEAR THE WIT AND SNARK OF SOMETHING PENNED BY BROOKS AND HENRY? (NOT TO BE A CYNICAL CODGER, BUT IS IT?)
Law's casting wraps Meyers' 'Holiday' plans



Nancy Meyers has finished up her "Holiday" shopping.
The helmer has cast Jude Law to round out the toplining quartet for the Columbia Pictures romantic comedy, Meyers' follow-up to Sony's "Something's Gotta Give."Law is set to join Cameron Diaz, Kate Winslet and Jack Black, who already have boarded the project.
The film's casting process reportedly has been so lengthy and involved with multiple table reads and screen tests that it has prompted the ire of many agents.
Penned by Meyers, the story follows an American woman (Diaz) with man troubles who befriends a British villager (Winslet) with similar problems.
Law will play the love interest of Diaz's character, while Black will play a suitor of Winslet's character.Meyers also is producing.

"Holiday" begins shooting early next year in Europe and the U.S., with Columbia's Amy Baer shepherding for the studio.
Although Law enjoyed a busy year in 2004, which saw him appear in six films including "Alfie" and "Closer," he was absent from the big screen this year.
EDITOR'S NOTE: WELL, AFTER BECOMING A RUNNING JOKE FOR HIS OMNIPRESENCE IN 2004, THE DUDE EARNED SOME TIME OFF. (TO DIDDLE HIS KDS' NANNY AND GENERALLY MAKE A FOOL OF HIMSELF IN THE TABLOIDS. SO, I GUESS HE

HAS

ACTUALLY BEEN KEEPING BUSY WITH A CERTAIN AMOUNT OF

DRAMA

).
The two-time Academy Award nominee next appears in Steven Zaillian's "All the King's Men" and Anthony Minghella's "Breaking and Entering."

Hail Mary, She's Simone!
Singer Mary J. Blige is attached to star in an untitled Nina Simone biopic for MTV Films, says The Hollywood Reporter.
Simone, known as the high priestess of soul, rose to fame in the '60s with signature jazz ballads and such powerful protest songs as "Mississippi Goddam" and "To Be Young, Gifted, and Black," an anthem of the civil rights movement. In 1974, the chanteuse went into exile, eventually ending up in Paris, where she died in 2003.
EDITOR'S NOTE: ISN'T THERE SOME SORT OF RULE THAT IN ORDER TO BE TAKEN SERIOUSLY AS A JAZZ LEGEND, YOU MUST DIE PENNILESS (OR AT LEAST MESSILY) IN PARIS?

The film, which will chronicle Simone's ascent to stardom and her relationship with Paris-based manager Clifton Henderson, marks the first toplining project for R&B star Blige.

Theron to Flux muscles in 007's next?
It's merely buzz that's bound to be mortein-ed, but the latest lass rumoured to be hot on Sony's wish list for "Casino Royale" is the tall and tantalizing Charlie Theron.

Theron, currently appearing in "Aeon Flux", is apparently being eyeballed as a possible Bond Girl.



According to Scotsman.com, Theron is director Martin Campbell's first choice. "

She is glamorous but she is also a brilliant actress. It would be quite a coup to have an Oscar-winner as the female lead",

says an insider.

The South-African beauty would be the second – should she agree – actress to do a Bond film following an Oscar Win. Halle Berry appeared in "Die Another Day" post-statue too.

EDITOR'S NOTE: THE DIFFERENCE BEING THAT THERON CAN

ACT

. (SORRY......)