A little Disney
Monsters Inc. Takes Randy Newman on a Ride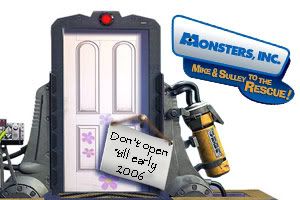 Just before the Thanksgiving holiday, at Paramount Studios Scoring Stage M, music was recorded for a new ride at Disney's California Adventure theme park. The new ride is based on the hit animated film MONSTERS, INC., and appropriately uses music based on the score by Academy Award-winner Randy Newman.
For the ride, Newman's score was arranged and adapted by long-time orchestrator Jonathan Sacks, which was then recorded and mixed by John Richards. The 50-piece Hollywood Studio Symphony was conducted by Joey Newman, and played the cues expertly.
From the jazzy "Downtown Monsterville," to the dramatic "Scary" cues, the core of Newman's score is represented, and will be heard as riders travel through Monsterville on the sit-down styled ride.
The Monsters, Inc. ride, which replaces the old Superstar Limo ride in the park's "Hollywood Backlot" area, is scheduled to open after the New Year.
EDITOR'S NOTE: HERE'S THE DEAL, JOEL. I SAY THE HECK WITH MONEY OR JOBS OR ANYTHING PRACTICAL. LET'S TAKE A YEAR AND JUST VISIT ALL THE DISNEY PARKS. ALLLLLL OF THEM. WHADYA SAY?!
Milne heir loses appeal to reclaim 'Pooh' rights
The 15-year-old battle over "Winnie-the-Pooh" royalties resurfaced Thursday as a federal appeals panel ruled that an heir of "Pooh" author A.A. Milne cannot reclaim the rights that were licensed decades ago to another party, Stephen Slesinger Inc.
Clare Milne had hoped to use the 1998 Sony Bono Copyright Term Extension Act to recapture the rights but a district court, and now the 9th U.S. Circuit Court of Appeals, have ruled that the law applied only to contract agreements executed before 1978.
The Slesingers and the Walt Disney Co. renegotiated the contract in 1983.
"Quite simply, there is no principle of logic, canon of statutory construction or consideration of fairness that supports Clare's reading of the (copyright act),"
according to the appellate court.
EDITOR'S NOTE: THE BIG MEAN MOUSE BEATS THE WEE BEAR?
(CAUSE HE'S A BEAR OF VERY LITTLE BRAIN?)