Must-Buy item for....umm....????
EDITOR'S NOTE: I WAS GOING TO SNARK ABOUT THIS ONE, BUT IT KINDA SELLS ITSELF.
PERSONAL NOTE FOR ODDBOB --- I'M SURE YOU CAN PUT YOUR NAME ON A WAITING LIST FOR THIS. (OR MAYBE SANTA HAS A SPECIAL LAY-AWAY CARD?)
BATMAN UTILITY BELT
DC Direct has announced it will release the BATMAN UTILITY BELT.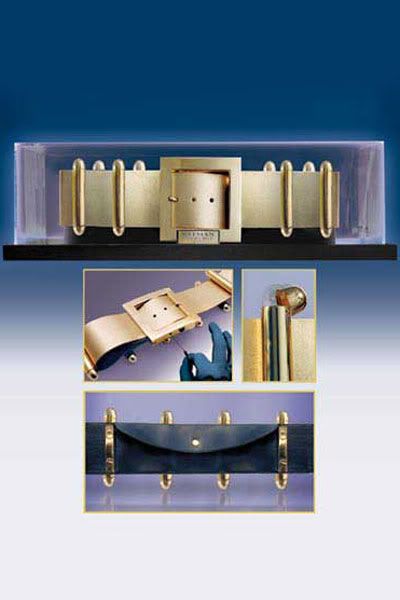 This finely crafted, high-end, limited-edition replica of the BATMAN UTILITY BELT is a life-sized, fully-lined genuine leather belt with solid-state construction measuring approximately 44" long and weighing approximately five pounds.
This replica features a concealed pocket to hold a Batarang (not included).
EDITOR'S NOTE: BATARANG NOT INCLUDED???!!! SHEESH!
Included are a real metal electroplated belt buckle and nine spring-activated capsules with a gold-tone finish. In addition, the UTILITY BELT features a movable dial for a faux belt radio.
EDITOR'S NOTE: NOT FAUX AT ALL, IF YOU HEAR VOICES SENDING YOU INSTRUCTIONS WHEN YOU TURN THE DIAL.
The belt is enclosed in a display case with a removable acrylic top, a solid wood lacquer base and comes with a 4-color certificate of authenticity. This replica is packaged in a gold-foil stamped black gift box. Limited edition of 750.
The BATMAN UTILITY BELT is designed for display only, and is not meant to be worn.
EDITOR'S NOTE: WELL WHERE'S THE FUN IN

THAT

!?
It will on sale on February 22, 2006 for $350.