Star Wars, MORE Star Wars
EDITOR'S NOTE: CAN YOU BE TOO RICH, TOO THIN, OR HAVE TOO MUCH STAR WARS NEWS?
FIRST UP, FYI.....
BBC REPORT ON EP3 RUN-TIME
Unlike the US, where a dozen or more running times have been reported on various theater websites, the BBFC lists the definitive runtime for the UK, at a second shy of 2 hours and 20 minutes.
MORE SHOPPING:
Star Wars Slurpee Cups


Now showing up at 7-11 stores, Star Wars Slurpee cups! Complete with Darth Vader head topper, these cups allow fans to slurp the new pitch-black, icy concoction, called Darth Dew!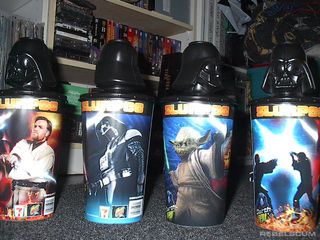 EDITOR'S NOTE: PRETTY DARN GROOVY! (
WHERE IS A 7-ELEVEN NEAR ME? ANYONE KNOW THE HOUSTON 7-ELEVEN SITUATION
?)
STAR WARS EPISODE III Music Video Online
StarWars.com is currently showing the music video for the "Battle Of The Heroes" Theme for STAR WARS: EPISODE III: REVENGE OF THE SITH. The music video includes some footage taken from the movie trailer as well as some new material.
Entitled "A Hero Falls," the video is one of 16 similar videos that are included in the bonus 70-minute DVD that accompanies the Episode III soundtrack CD. Selected by John Williams, the videos will comprise of compositions that tell the entire story of the saga in 'Star Wars: A Musical Journey.'
You can watch the music video at StarWars.com.
EDITOR'S NOTE: UPDATE. I JUST WATCHED THIS VIDEO. IT IS WONDERFUL. SAD AND CHILLING.
HERE'S THE DIRECT EMAIL ADDRESS:
http://starwars.com/episode-iii/release/trailer/10.html
EDITOR'S NOTE: AND SPEAKING OF STAR WARS MUSIC.....
Target & Wal-Mart EP3 Soundtrack Exclusives
JWFan.com
/
SoundtrackNet
reports that the bonus download with the ROTS soundtrack from Wal-Mart is a John Williams interview, while the bonus download with the ROTS soundtrack from Target is the radio edit of 'Battle of the Heroes'.
EDITOR'S NOTE: TARGET WINS AGAIN?
ROTS Soundtrack Bonus DVD Review
DVD File
has posted a review of , the bonus DVD that accompanies the Episode III soundtrack.
Here's an excerpt:
George Lucas has prepared a gift for his loyal fans. Tucked away within the deceptively thin jewel case that houses the Sony Classical CD of John William's very strong score for Star Wars Episode III: Revenge of the Sith is a bonus DVD entitled
Star Wars: A Musical Journey
.
The DVD's sixteen chapters are partially chronological. The overriding structure defines the Star Wars saga from Anakin's childhood to his redemption. But each individual chapter has its own theme that might include sequences from some or all of the six Star Wars films.
As with the THX WOW demo piece, the editing is remarkably tight. Some specific onscreen events are timed precisely to crescendos in Williams' orchestral score. Each chapter is backed by one - sometimes two - of his musical sequences.
And each chapter may stand alone as a terrific home theater demo.They may be played either sequentially with the "play all" option or individually. They may be played either with or without a dramatic introduction by Ian McDiarmid (Senator Palpatine).
My advice? Play them sequentially (runtime 1:01:43) without the verbal introductions.
Then go back and repeat the process with the intros enabled, but use your next chapter button to skip the musical segments; you'll then be able to hear what Ian McDiarmid has to say as a sequential set of readings. His introductions have an aggregate runtime of 8:45.
EDITOR'S NOTE: I'M CONFUSED. IS THIS BONUS FEATURE INCLUDED WITH ALL THE MUSIC CD'S OR IS THIS A SPECIFIC-STORE EXCLUSIVE OF SOME KIND?
Star Wars Chess Saga Edition
Milton Bradley
List Price:
$37.43
Our Price:
$33.69
Featuring pewter playing pieces representing Old Republic and Separatist armies, including popular characters like Yoda, Obi-Wan Kenobi, Anakin Skywalker, Mace Windu, Senator Padmé Amidala, Supreme Chancellor Palpatine, Count Dooku, and Jango Fett, this chess variant takes the classic game to a whole new level of play in a galaxy far, far away.
Usually ships in 6 to 8 business days
Product Reviews
http://paizo.com/store/brand/starWars/boardGames
/v5748btpy78go
More on 'Revenge of the Sith' DVD
In addition to our previous report on the 'Revenge of the Sith' DVD, an anonymous source writes:
I work at a Burger King and on our promotion list it says we have Star Wars toys on November 11 - December 16. It is to celebrate the release of the DVD. It will include 5 watches that you can buy and 16 new toys. Judging by the start date and our notes at the King, I expect a DVD release on Tuesday November 15th!!
EDITOR'S NOTE: AND TOYS AND WATCHES!!!
Time Gets Into The Sith Action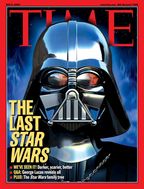 FOR IMMEDIATE RELEASESunday, May 1, 2005
FIRST LOOK AT THE LAST STAR WARS MOVIE:
Q&A With Director George Lucas'REVENGE OF THE SITH IS LESS OSTENTATIOUSLY REVOLUTIONARY THAN ITS PREDECESSORS...IF HE [LUCAS] HAS HIS WAY, SOON ALL MOVIE THATERS WILL BE JUNKING FILM PROJECTORS AND GOING DIGITAL,'Writes Time's Richard Corliss---
Lucas Talks to TIME's Richard Schickel:On 'Revenge of the Sith': "
Like everyone who makes movies, I'm always convinced the next one will be a flop...[that] it probably won't make any money."
EDITOR'S NOTE: FORTUNATELY OR UNFORTUNATELY, THOSE TWO THINGS DON'T REALLY HAVE ANYTHING TO DO WITH ONE ANOTHER WHEN IT COMES TO STAR WARS.
On Creating His Visions with Special Effects: "
'Jurassic Park' showed that you could create things using a computer that were so realistic, you could insert them into a movie seamlessly."
On His Shyness: "
People think of me as a sort of pathological, Howard Hughes-type guy...It ain't even close to that."
On Future Projects: "
I want to get out of doing anything important."
"
The long-awaited conclusion to the Star Wars saga, Revenge of the Sith, with 90 minutes of animation, is less ostentatiously revolutionary than its predecessors. Rather, it's a consolidation of earlier breakthroughs,
"
EDITOR'S NOTE: A SEMI-MEANINGLESS COMMENT?
writes TIME's Richard Corliss in his review of the last Star Wars movie. "
The climactic face-off between Sidious and Yoda is a potent, visually plausible merging of a human actor and a digital one. When an audience takes for granted the integration of live action and animation, the revolution Lucas pioneered can be said to have triumphed. If he has his way, soon all movie theaters will be junking film projectors and going digital,"
writes Corliss.
And in an interview with TIME magazine's Richard Schickel, who has known him since 1977, director George Lucas opens up about how he works, his fear of failure and the sort of movies he really wants to make.
The TIME cover package includes a 2-page graphic of the Star Wars family tree guide that will help keep everything straight after 6 films, a list of 5 'Thing to Watch For' without giving anything away, an essay by TIME's John Cloud on falling in love with Star Wars as a child and exclusive pictures from the movie (on newsstands Monday, May 2).
On His Future: "
I'm going to go off in the direction that I was really interested in going off in when I was in film school-films like Koyaanisqatsi, films that are a little more abstract in nature. It's vaguely in the land of music videos, I guess, but I don't even know how to describe them...How they're gonna turn out, I don't know. I know they won't be mainstream movies...I'm sure they'll be just as criticized as Star Wars films are. I'm sure some people will be just as devoted to them as the Star Wars films
."
"
I'm also going to do some TV shows. I love television because it's not important. You get to do really great work, you really get to focus on the work, and all this megillah that goes on around it is gone. And you get to explore your interests, and it doesn't have to be that important. I want to get out of doing anything important."
"
On May 19th, you'll see where they got: back, finally, to the beginning. Sith will surely start a stampede to re-see the 1977 film as a reminder of how the 13-hr. tale proceeds. Lucas is nothing if not an expert extender of his franchise. In two weeks, lots of people will fill movie houses around the world to judge the latest and last Star Wars episode,"
writes Corliss.
Entire cover package is available on TIME.com:
www.time.com/starwars
TIME ONLINE STAR WARS ARCHIVE: Check out digital versions of the May 30th, 1977 TIME magazine that contained coverage of the first Star Wars movie and the May 19th, 1980 issue on The Empire Strikes Back.
Flip through every page for free on Time.com:
www.time.com/starwars
C3: Celebration 4 in 2007?
Lucasfilm is by no means ready to announce it, but it appears there's another Celebration planned for 2007.
According to our sources, fans are expected to gather officially once again for the 30th anniversary of Star Wars.
Lucasfilm denied the rumors, saying nothing official has been said yet.
We've hear reports on television and received rumors from fans that this might not be entirely accurate. Warwick Davis was reported to even have said, "See you at Celebration 4!" at the end of his time as MC on stage.
It is generally accepted that Indy would probably be the logical choice yet again for the next Celebration, especially since in a non-movie year attendance would be expected to be lower.
Of course, there could easily be the first season of the live-action TV show complete and the 30th anniversary complete DVD collection to contend with for fans attention.
Either way, we're expecting that once the Episode III DVD is out the door this fall, you'll begin to see a shift in focus on the part of Lucasfilm. It will be time to talk about TV, the ultimate DVD set and getting together with Star Wars fans for another big party.
EDITOR'S NOTE: WONDER IF THEY'LL FIGURE OUT A WAY TO WORK OUT THE LONG LINES/ DISORGANIZATION ISSUES BY THEN. PROBABLY NOT....
INTERVIEWS, REVIEWS, TALKING ABOUT STAR WARS:
One-On-One with George Lucas
By Scott Huver, Hollywood.com Staff
Imagine my excitement when I discovered George Lucas the original Jedi Master himself, hanging around the bar at an elite cocktail party in Pacific Palisades, trading quips with fellow Hollywood titans Ron Howard and Brian Grazer, and accepting compliments from celebrity well-wishers including Ellen DeGeneres and Portia de Rossi.
After putting the finishing touches on
Star Wars: Episode III - Revenge of the Sith
, the legendary director had taken a well-deserved week off in Hawaii--a post-production ritual which years ago resulted in a brainstorming session with fellow vacationer Steven Spielberg that produced the storyline for the Indiana Jones films--and was preparing himself for the grueling onslaught of promotional duties for the new film.
Luckily, the Force was with me: I discovered Lucas before media burnout could set in, and--even battling a bout of bronchitis--he graciously agreed to chat exclusively with me for Hollywood.com.
You'll have to wait in line with the rest of the Padawans to learn the secrets of
Episode III
, but he delivered the exclusive scoop on Star Wars' future on TV, his plans to release 3-D versions of all six films, his next non-Star Wars project and the challenges of bringing digital projection to the mainstream multiplexes. Oh yeah, and some breaking news about a guy called Indy.
Are you ready for all the attention and hoopla for Episode III?
George Lucas: "No."
Are you ever ready?

Lucas: "No." [laughs]
What's more exciting for you, to unveil the new movie or to unveil Lucasfilm's new high-tech campus on the Presidio?
Lucas: "They're different. They're both finished. The movie and the Presidio were started at the same time, so it's like a completion. They were started at the same time, I was doing both of them simultaneously, and it be great that they're both done."
What are you going to do now that you're done with both?

Lucas: "We're doing a couple of Star Wars TV shows that I'm getting sorted out. One is called Clone Wars, which is a cartoon [on the Cartoon Network] and we're going to expand it to a half an hour, and the other's a live-action 'Star Wars' with spin-off characters. Not with the main characters."
Is that where the future of Star Wars is, on television?
Lucas: "Yeah, we're not going to do any more movies."
And what will be your involvement? Will you be overseeing everything?
Lucas: "No, I just hire the guy that does everything. And then I step away and let him do his job. I'm not going to have anything to do with it at all."
Is it true that starting in 2007 we're going to see all the Star Wars films again in 3-D?

Lucas: "Well, we're hoping so. It really depends how fast the theater owners finally get on the stick and put digital cinema in their theaters, because it won't work without having digital projectors. So we're hoping it's a way of pushing digital. I've been trying for six years to get digital--we did
Phantom Menace
digitally in four theaters, we did
Attack of the Clones
in about 115 theaters, and now a lot of people have sold their theaters so we're only going to be in about 80 theaters now. But in Europe it's gone from about 20 theaters to now there's about 300. So we're now, depending on the rest of the world. In the United States, the film industry has kind of gotten together and formed organizations to make sure this doesn't happen in the foreseeable future."
Is that frustrating for you?
Lucas: "Yeah, it's very frustrating for me. They're doodling on purpose for various reasons, to see how they can control it, but they're not going to be able to and it'll all work itself out. They deny that they're stalling, but six years is a long time to wait for this stuff to happen. They'll say 'Oh, no,' but we've been shooting this way for six years, we've been projecting this way for six years, the equipment's all there, everything's ready to go, the quality's better than film, and they're just still arguing among themselves about nothing."
What do you think is the main reason they're doing that?

EDITOR'S NOTE: MONEY, DUH.
Lucas: "Fear. Fear of the unknown. They just don't know what's going on, and they haven't actually taken the time to actually study it, so they skirt it over to people who's job it is to deal with film, and of course those people say it's bad. If you go digitally, then those people wouldn't have their job. So you're going to people who are going to lose their jobs and asking them their advice on what they think of digital cinema. It makes no sense whatsoever."

EDITOR'S NOTE: AND MONEY.
Will you always continue to use Star Wars as a way to introduce technical advancements, because you know people love the films and will always come back to them?

Lucas: "No. The only reason I would release these in 3-D is I saw the 3-D process--I've seen LOTS of 3-D processes over the last 30 years--and this the first one that actually works. This is brilliant. It changes everything, it's easy to watch and I saw it and said 'This is great!' And it works very, very well with Star Wars. So, you look at it and say 'Well, yeah, I want to see the whole thing in 3-D.' We have some sections of it done, and I want to see the whole thing that way."

What other film projects do you have in the works?

Lucas: "I'm producing a film that I've been sort of working on for 15 years, and it's time I finished it. It's about African-American fighter pilots during World War II."
Have you written it, or do you plan to direct it?

Lucas: "I'll be producing, and hopefully we're going to do it sooner than later. As I said, it's been going for a long, long time. I've still got to get a script out of it."
Are there any actors attached or that you'd like to see star in it?

Lucas: "No, it's about kids. All those fighter pilots were all like in their twenties, young twenties--20, 21, 22 years old--so it's going to be all young kids."
And what's the status of the new Indiana Jones?
Lucas: "I talked to Steven while I was in Hawaii, and he said the script is done and he was going to send it to me when I got back, which was yesterday. It isn't on my desk today and he's coming up tomorrow to see Star Wars, so I assume he'll bring it with him."
You guys do well when you collaborate in Hawaii. Things tend to work out there.
Lucas: "Yeah. We're frantically trying to finish War of the Worlds at the same time. We'll see. I look forward to reading it and seeing if it's what we laid out in the first place. You never know."

Is there anything we can reveal about it?
Lucas: "It's...um...No."
You had an idea of what was planned before they wrote the script?
Lucas: "Oh yeah. I came up with this idea doing Young Indy, which has got to be about seven or eight years ago, and we've been through a number of scripts--six or eight scripts. Six scripts, two rewrites. So it's been down the path. There were certain aspects of it that
Steven
and
Harrison [Ford
] didn't like, and so we changed those, and then we laid out a version and it didn't come out the way it was supposed to, and then we did another version and it didn't come out, so we've just been going through this development hell, which happens once in a while. We'll see. When it comes out, it'll be different. Different, but the same."
And Harrison's staying in shape all this time, right, in case he has to take his shirt off?

Lucas: "No, he's plays an older person in this."
Is it true that there may be a younger person in this, poised to take over?

Lucas: "It's possible. Not really to take over."
But someone to create new movies with?

Lucas: "No, it wasn't meant to be that way. But I guess that's a possibility. It's really to wrap it up. Just desperately trying to put things together that work. You need characters to make the film work. It's not just an adventure story. There's actually got to be human relationships in it."
Are you still planning on bringing back some of the other characters from the previous films?

Lucas: "Yeah."
Can you say who?
Lucas: "No." [laughs]
Mrs. Spielberg, perhaps?
Lucas: "Well, there are a lot of rumors out there. Some of them are true. True-ish

Steven Spielberg Reviews Episode III
Christian O'Connell: Stephen have you seen the new Star Wars?
Steven Spielberg: I saw it about a week ago, and it's absolutely amazing it's the best of the last 3 episodes, it's the best way you could possibly imagine for George to finish it off, it has a tremendous ending it's very dark you'll cry at the end, it's wonderful.
EDITOR'S NOTE: NOT A LONG DRAWN OUT REVIEW, BUT WE KNOW WHERE HE LIVES, SO HOPEFULLY HE WOULDN'T LIE TO US. (EVEN FOR OUR UNCLE G).
Mark Hamill Talks Episode 3
EDITOR'S NOTE: MY CULT-OF-LUKE IS SUCH A LONELY ONE. WHY IS THAT DO YOU THINK?
Edwin writes:Mark Hamill was at the AFI Silver Theater in Silver Spring, Maryland. I am a TV news photographer and I went there to interview the cast of "The Big Red One."
EDITOR'S NOTE: I AM A SUCKER FOR WW2 FLICKS, AND THIS ONE IS A LOVELY LITTLE UNDER-RATED ONE. AND I GATHER THIS NEW DVD RESTORES ABOUT 50 MINUTES OF FOOTAGE. (
ADDED TO MY AMAZON.COM LIST, IF ANYONE'S SHOPPING FOR ME
).
I talked to Mark for about 10 minutes and my last question was Star Wars related.
Question:
"
you know that in about 3 weeks, they are releasing a new movie..."(pause for about 5 seconds, and Mark gives me a blank look)I continue: "Star Wars Episode III: Revenge of The Sith."
Mark responds sarcastically,
"Oh, are they making another movie? That must be why I see Darth Vader on my corn flakes box."
EDITOR'S NOTE: I'M SURE HE SAID IT IN GENTLE JEST. GIVE THE GUY A BREAK. (
HE'S STILL THE HERO, IN MY BOOK
!)
That's all he said about the movie, but he said that he has seen bits and pieces of it. He also said that George Lucas has invited him recently to Skywalker Ranch to talk about Mark's new animated show that he is working on.
OTHER STAR WARS ITEMS (RANDOMNESS IS GOOD, IF IT'S

STAR WARS

RANDOMNESS, YES?)
Film Focus Ultimate Star Wars Quiz
Film Focus
has posted their 100 question long Ultimate Star Wars Quiz to celebrate the release of 'Revenge of the Sith':The quiz gets progressively harder as you go along and we hope there'll be questions in there you'll only be able to answer if you know the films inside-out.
We've teamed up with Fox to make sure there are oodles of Star Wars swag up for grabs to winners, we've got posters, DVD boxsets and loads more to give to runners up and there's a special prize for the Ultimate fan that we're keeping under wraps until the end of the quiz.
The quiz closes on May 14th in time for the release of the film and we'll be hand-scoring it to make sure that even if you've not got perfectly grammatical answers, if they're right you still get scored.
The quiz'll also come back after the competition closes as a play-for-fun exercise, and it'll be a permanent feature of the site.
EDITOR'S NOTE: I HAVE A PREMONITION OF DOOM....MAYBE I'M NOT REALLY A DWEEB, MAYBE I DON'T KNOW ENOUGH, MAYBE I SHOULD GO BACK TO MY HORRID DAY JOB AND GIVE UP MY QUEENDOM.
NAH....
http://www.filmfocus.co.uk/starwars1.asp
Bai Ling Cut From Episode III
Page Six
reports that Bai Ling, who was cast as Senator Bama Breemu in 'Revenge of the Sith', has been cut from the film:
BAI Ling was cut out of "Star Wars: Revenge of the Sith" after it was announced that she was posing nude in Playboy, the disappointed actress claims.
The sexy Chinese-born Ling, who was supposed to play Senator Bana Breemu in the final installment of the "Star Wars" series, burst into tears at the Tribeca Film Festival premiere of "The Beautiful Country" the other night while she was describing how her scene was snipped:
"
I just found out that my part has been completely cut out of the upcoming 'Star Wars' movie. I do not know what happened,"
Ling said.
LucasFilm spokeswoman Lynn Hale told us that Ling's sole scene was cut more than a year ago.
"It was just one scene,"
she said.
EDITOR'S NOTE: GIVEN HOW MUCH OF YOUNG OBI-WAN'S ANATOMY IS AVAILABLE FOR VIEWING....AT ANY DVD SHOP, AND IN ANY NUMBER OF FILMS....I WOULDN'T THINK LFL IS SUDDENLY PRUDISH.
THE EXPANDED UNIVERSE.....YIPPEE!!!
C3: Timothy Zahn, Outbound Flight & the EU
12pmThe wait for Timothy Zahn was quite long and filled about 2/3rds of the panel room.
In fact such a long time was spent letting people in, he started a little later and gave a number of fans the chance to get a few items signed or just shake his hand.
There was a lot of great anecdotes about his writing and the positive fan reactions, but by far the coolest thing, and what really excited the fans in the room was information about his newest books.
Yup, books. Plural.
Read on for more information
.
The moderator started off the show and Mr. Zahn talked a little about his newest novel,
Star Wars: Outbound Flight
which is due in bookstores on October 25. He explained a little about how the book, and it's sequel, the previously released Star Wars: Survivor's Quest came to be released.
In 2000 Lucasfilm approached Mr. Zahn to tell the story of Outbound Flight, the mysterious Jedi ship that was alluded to in his earlier Thrawn Trilogy. He thought about it for about two seconds and agreed. It was to be released before Episode 2, but eventually got pushed back to late in 2005 on the Del Rey release schedule.He was then asked to do a Luke/Mara story so he thought, since prequels are so popular, he would link the two stories together.
He doesn't usually write this way, but scheduling permitted it and he worked out both outlines simultaneously and was able to start plot threads in Survivor's Quest that won't resolve until Outbound Flight.
When asked if fans would ever find out more about Talon Karrde's old boss, Jorj Car'das, Zahn replied "
You mean the Jorj Car'das in Outbound Flight
?"He promises great Jedi action with Jorus C'baoth (the original, not the clone) and Obi-Wan and Anakin will be featured in the first half of the book.
Zahn also indicated Commander Thrawn will be featured and will not disappoint with his tactics and military action.
EDITOR'S NOTE: THRAWN ROCKS!
What really got attendees excited was his announcement of a new book that is to be set right after
A New Hope
and features the classic characters. It is tentatively titled
Allegiance
and he will start working on it come August 2005. He was treated a huge round of applause when revealed it will depict Mara Jade at the height of her powers as The Emperor's Hand! He hopes to be able to find a nice part for Chewbacca, and will also feature Vader with some interaction between the Sith Lord and The Emperor's Hand.
EDITOR'S NOTE: CLASSIC CHARACTERS, STILL IN THEIR PRIME, AND WRITTEN BY TIMOTHY ZAHN. LIFE IS GOOD!
When asked what else he might be writing in the GFFA, he admitted that it's by invite only, but he might like to do a Luke/Mara/Ben Skywalker story post-
Legacy
. He also would like to do a Thrawn and the Chiss book but feels it may not be marketable enough, so he said he may pitch it to the
Star Wars Insider
as short fiction.
Other things he touched on were clarifying some plot points about the Far Outsiders from the
Hand of Thrawn
duology, and the fact that he intended them to be the Yuuzhan Vong, but wasn't allowed to be more specific than he was.
EDITOR'S NOTE: WASN'T THAT SUPPOSED TO BE KINDA OBVIOUS? (SUBTLE, BUT OBVIOUS?)
He also wishes he could have better nailed down the timeline issues in his first trilogy (as far as the Clone Wars and Prequels are concerned) but those are the breaks. "
We get to play in George Lucas's driveway with our toys. And when he backs the car out and breaks something, we really have no right to complain."
All in all he was very modest and self deprecating towards the fans accolades, and wants to thank the fans as much as anyone for the resurgence of the Star Wars fiction. "
I just poked my finger in the crust to show everyone that there was still steam here."

STARWARS FUNNIES:
The Darth Side: Memoirs of a Monster
You can check out the journal of Darth Vader, Lord of the Sith and servant to his Supreme Excellency the Emperor Palpatine
http://darthside.blogspot.com/
EDITOR'S NOTE: DARTH V IS SO TRENDY; HE HAS A

BLOG

!
Letterman Star Wars Top Ten
the Letterman Top 10 that aired April 27th:
Top Ten Questions To Ask Yourself Before Camping Out To See "Star Wars
"
10. "Why don't I have anything better to do?"
9. "How many Wookiees does my tent sleep?"
8. "Will it be more fun than when I camped out to see 'Miss Congeniality 2'?"
7. "Exactly when did I give up on doing anything meaningful with my life?"
6. "Will I be teased by roving gangs of Trekkies?"
5. "If I use all my vacation days now, how will I take that trip to ice planet Hoth?"
4. "Does Starbucks let guys dressed as galactic bounty hunters use their bathroom?"
3. "I wonder how many other guys on line are named 'Shecky'?"
2. "Should I just pay the extra dollar and use Moviefone?"
1. "If I had a girlfriend, what would she think?"
EDITOR'S NOTE: TONS MORE STAR WARS STUFF STILL TO COME. BUT LET'S GET THIS POST UP, AND I'LL BE BACK TOMORROW OR SO WITH MORE.