NOT Star Wars/yawn....
EDITOR'S NOTE: SINCE THIS IS A BLOG AND NOT, SAY, THE NEW YORK TIMES, WE DON'T REALLY HAVE ANY RESPONSIBILITY TO BE GOOD JOURNALISTS. I MEAN, I DON'T HAVE TO REPORT STUFF IF I DON'T WANT TO.
BUT DARN MY SILLY INTEGRITY. DARN DARN DARN.
SO HERE'S A BUNCH OF STUFF I AM HAVING TROUBLE FOCUSING ON...CAUSE, DUH, IT'S

NOT ABOUT STAR WARS

. LET'S GET THIS OUT OF THE WAY, AND GET BACK TO THE COOL NEW TOYS AND SUCH!
TELEVISON NEWS:
After 11 years, Dr. Carter takes leave from 'ER'

By Bill Keveney, USA TODAY
It's the end of an ERa.
Noah Wyle, the only
ER
lead to stay with the hit NBC drama for its 11-year run, will depart as a cast regular in May and return for four episodes in each of the next two seasons.
Noah Wyle received five Emmy nominations for his role as Dr. John Carter on ER.
Wyle's character, Dr. John Carter, will say his goodbye to colleagues at Chicago's County General Hospital in the season finale May 19.
EDITOR'S NOTE: HMMMM.... THAT DATE RINGS A BELL FOR SOME

OTHER

REASON. WHAT COULD IT BE? WHAT COULD IT BE?????
One week earlier, Carter will reunite with his true love, Kem (Thandie Newton), in Paris, producers say. ER (tonight, 9:59 ET/PT) will shoot in the French capital in early April.
EDITOR'S NOTE: IT'S BEEN SO LONG SINCE I KEPT UP WITH THE SHOW, I NEVER EVEN SAW KEM. (WHOEVER

SHE

IS)
Executive producer John Wells says he'll feel the loss personally as well as professionally; he and Wyle, 33, are among just a few people still with the show who worked on the 1994 pilot. Sherry Stringfield, another original, returned as Dr. Susan Lewis in 2001 after a five-year absence.
"
It's very sad for me. Noah and I have a lot of history together
," Wells says. "
He's a wonderful actor and a wonderful man, and it's been great to watch him grow up and get married and have a family."
Wyle, who has received five Emmy nominations for his portrayal of Carter, said last fall that he planned to leave ER when his contract expired at the end of this TV season. But he left the door ajar on whether he would return in some capacity.
Wells says it came down to the actor being interested in other career opportunities and the writers having difficulty finding new story ideas for Carter on a series so focused on character relationships.
ER, which has been renewed through 2007-08, is no longer the ratings juggernaut of Wyle's earlier years, but it remains NBC's most-watched scripted series and performs strongly with advertiser-coveted young adults. CBS' Without a Trace now beats ER in viewers (18.9 million viewers to 16.1 million for the 2004-05 season), but ER leads among ages 18 to 49 (9.8 million to just under 8 million).
Wyle's Carter will be leaving to work with a Doctors Without Borders-type organization, Wells says. In an earlier plotline, Carter and Dr. Luka Kovac (Goran Visnjic) provided medical services in Africa, which is where Carter met Kem, a health administrator who works with AIDS patients. Kem left for Africa early this season, after the couple had a baby boy who died.
Wyle, part of an original cast that included George Clooney, Anthony Edwards and Eriq La Salle, took a six-episode break in fall 2003 to spend time with his wife, Tracy, and baby, Owen.
In December, Wyle starred in an action-adventure film, TNT's The Librarian: Quest for the Spear, which received good reviews and attracted a robust 7 million viewers. It was ad-supported cable's highest-rated movie in households for 2004; a sequel is in development.
Tom Weeks of media buyer Starcom Entertainment says Wyle developed Carter into a strong lead character over the years, but his departure shouldn't significantly harm the ensemble show. "
No one wants to see him go, but I think the hospital is what people tune in to watch
."
EDITOR'S NOTE: NOT SINCE GEORGE CLOONEY AND JULIANNA MARGULIES LEFT. IMHO...
'Nightline's' Koppel will exit ABC in December
Veteran journalist Ted Koppel, the face of "Nightline" for 25 years, will leave ABC when his contract expires in December, the network said Thursday.
"
Ted and I have discussed a number of options under which he might have remained at 'Nightline' or in some other capacity at ABC News, but Ted believes this is the right time for him to leave,"
ABC News president David Westin said in a statement posted on ABC's Web site.
Koppel's retirement comes at a time of big changes in the news departments of the three major new networks.
"Who" Will Continue... But Not with the Good Doctor
The Stage has reported that the BBC has announced it is to recommission the DOCTOR WHO series after its ratings success with the first episode. Six episodes have already been written by Russell Davies and he has even written a Christmas special.
Christopher Eccleston, the ninth incarnation of the good doctor, told The Stage that, "
It is a huge responsibility to shoulder and I do not want to be thought of as the Doctor to the exclusion of everything else I do in the future. So I'll have to think long and hard about it."
Variety reported late in the day Wednesday that Eccleston has completed thirteen episodes of the show and his last appearance is expected to be in a Christmas special. They also stated that Christopher "
said he did not want to be typecast as the 900-year-old Time Lord
."
The BBC's Jane Tranter stated, "
I think Chris is fantastic, but we've still got another 12 episodes to go. People will have to wait and see what happens."
Then late Wed. night the BBC confirmed that Christopher Eccleston has quit as Doctor Who after just one episode of the new series.
Talks are taking place to replace him with David Tennant.
Billie Piper, who plays Dr Who's assistant Rose, is expected to star again.
Eccleston is apparently planning new projects and that he found filming the series gruelling.
The BBC announced on Wednesday that it had commissioned the second Doctor Who series, which will again feature 13 episodes.
EDITOR'S NOTE: DR. WHO IS SUCH A HIP THING....HIP, VIS-A-VIS DWEEBING, AT ANY RATE...THAT SOME DAY I REALLY MUST GET INTO IT. (BEING THE HIP, HAPPENIN, QOTD THAT I AM?)
Steve Bochco Brings TV War to TV
A female soldier in fatigues stands at a phone booth, starkly framed against a clean, white U.S. Army barracks,
fretting over her imminent deployment to Iraq.
"I know I'm going to get killed," she says, nervously fingering the phone cord. "I've seen those faces on Nightline. Every one of 'em's me."
The comment comes early in the one-hour pilot episode of
Over There
, the scripted TV show about the Iraq war scheduled to air on the FX Channel in July. The soldier on the phone—nicknamed " Mr. B" and played by Nicki Aycox—is referring to the April 2004 special from ABC News that showed the faces of the then-500-plus soldiers who had perished in Iraq. At the time, some offended affiliates pre-empted the program.
"
The media, arguably, has a greater role in communicating the realities of this war than ever before, and, consequently, is an important element of the conflict,"
wrote Over There producer Steve Bochco via e-mail, while vacationing in Hawaii.
EDITOR'S NOTE: OF COURSE, IT SEEMS LIKE THEY'VE PRETTY MUCH ABROGATED THAT RESPONSIBILITY, BUT MAYBE THAT'S JUST ME......
The nearly completed version of the pilot, screened this week by The Observer, owes a heavy debt to the woozy, muted visuals of Steven Spielberg's Greatest Generation epic,
Saving Private Ryan
—but with its boilerplate foxhole drama of men in combat modernized with the addition of a couple of women, speed-metal music and references to Abu Ghraib.
To depict contemporary warfare on television, Mr. Bochco and his characters had to address the impact of TV itself on perceptions of the war.
"
Were we not to acknowledge the fact of Al Jazeera, CNN, satellite communication, e-mail, etc., and the way in which it permeates all aspects of the conflict, we wouldn't be painting a realistic portrait of the environment,"
Mr. Bochco explained.
Mr. Bochco, the veteran TV producer behind
Hill Street Blues
and
NYPD Blue
, has said he wants his war drama to hew as closely to reality as possible while avoiding the appearance of bias.
In a war that isn't finished—let alone settled in history—it's hard not to be seen as taking sides. Nightline host Ted Koppel sought neutrality when he aired the names and faces of the war dead, a concept he told The Observer at the time was a "Rorschach test." The program, Mr. Koppel said then, was partly "a reflection of what [viewers] bring to it."
Chris Gerolmo, the writer and director of
Over There
, said he had a similar approach to making his fictional version of the war. "
We're just going to try to be as straightforward and realistic as we possibly can,"
Mr. Gerolmo said, "
and let the audience decide what to do about that."
EDITOR'S NOTE: THIS WOULD SEEM TO BE A VERY TOUGH LINE TO WALK. I MEAN, IT'S STILL GOING ON, AND IT'S NOT LIKE YOU CAN GET ANY CLARIFYING DISTANCE FROM IT, HUH? (NOT THAT DEPTH OF THOUGHT OR EDIFICATION IS THE NORM ON TV, BUT

STILL

.....)
The pilot's setup—looking at the war and its moral quandaries through the eyes of a handful of young soldiers in a single platoon—inherently tips its sympathies toward the U.S. military. Iraqi insurgents are largely faceless, spending their fragmentary airtime running around and getting killed in large numbers.
EDITOR'S NOTE: UGH. JUST WHAT WE NEED, MORE JINGOISTIC ONE-SIDED, ONE-DIMENSIONAL PROPAGANDA.
"We came to kick your ass!" a particularly gung-ho soldier named Bo screams during a chaotic gun battle.
The young grunts are seen in all their elements: having sex, shooting off weapons, getting shot at (and, less often, shot), and musing on the gory death they witness—and in every case, cause.
In one instance, an Arab insurgent's legs keep on ghoulishly walking after his top half is blown off by a rocket, his glistening guts poking out of what's left of his torso. Another is seen through a rifle scope as he takes a bullet in the head. Later, the U.S. soldiers examine their handiwork up close, their moral questioning reduced to stunned muteness.
Meanwhile, the explicit interpretations of the news media are never far away. In another scene, the world-weary squadron commander, dug in behind a dirt barricade, schools the "virgin" soldiers who've just arrived on why they can't attack a group of insurgents holed up in a mosque. "Al Jazeera has a cameraman in there!" the commander yells at a soldier who's about to fire. Explaining that they're essentially in a battle for public relations, the commander asks bitterly: "Does that sound like war to you?"
The Iraqis are also aware of TV-news imagery, as when captured insurgents cry out indignantly, "You will take me to Abu Ghraib!"
"I take my clothes off now!" spits another, as the standard TV film stock flashes to cable-news-style Betacam video.
Even that scene has the effect of drawing sympathy for the soldiers, who are portrayed as too confused to be blamed for what they're involved in.
In individual vignettes, during intimate "getting to know you" conversations between soldiers, each of the characters talks about their lives back home as, say, high-school quarterback or aspiring singer, as if in an "Army of One" recruitment ad.
That's soon followed by a jump-cut scene in which those same soldiers stand dazed after a bloody gun battle, or after a roadside bomb has blown off a cohort's leg, leaving a mushy pile of blood and muscle tissue.
The back-and-forth approach echoes coverage of the actual Iraq conflict, which has generally toggled between two different wars' visual and narrative vocabularies: the patriotic righteousness of World War II or the tragic senselessness of Vietnam.
Mr. Gerolmo said
Over There's
look draws heavily from films about both of those conflicts: Steven Spielberg's World War II movie
Saving Private Ryan
and Stanley Kubrick's Vietnam flick,
Full Metal Jacket
.
"
You can look at the first 25 minutes of Saving Private Ryan, if you want to stage a battle
," said Mr. Gerolmo, referring to the multiple filters, film stocks and handheld cameras used to shoot those scenes. "
Every single possible technique you can use, they used. We watched that religiously. For the base back at home, we watched Full Metal Jacket."
EDITOR'S NOTE: THAT SAYS A LOT, RIGHT THERE. THEY DIDN'T STUDY ACTUAL HISTORY TO MAKE THIS, THEY STUDIED FILM HISTORY. TYPICAL, MYOPIC, HOLLYWOOD MIND-SET.
He said the clean, square shots of Army bases were based on the Kubrick film.
"Those two models were very, very large in our minds,"
he said.
But because the war remains undecided and ambiguous, Mr. Gerolmo said the story line remained something new. "
We're sort of launching ourselves in slightly less well-trod terrain, story-wise,"
he said.
Mr. Bochco said he has never been a war-movie buff, and he insisted that
Over There
wasn't inspired by other war dramas, even if it used their visual cues. Specifically, he aimed to deflect political readings of the program.
"
I don't see Over There as either a World War II-style drama or a Vietnam-style drama
," he wrote. "
It's its own piece, reflective more of the human drama of men and women in harm's way, than it is a political piece making value judgments about the righteousness of this conflict. The fact that some may see it one way and others another way is, to my way of thinking, illustrative of the fact that the show is aggressively non-political in its tone."
Mr. Gerolmo felt that by focusing exclusively on the moral quandaries of soldiers, they would avoid the political undercurrents altogether.
"
What's changed since Vietnam, it seems to me, is even people who are against the war seem to have substantial sympathy for the people who are fighting it,"
he said. "
That's really a big change from Vietnam …. [I]f you're interested in these soldiers and you can work up some sympathy for their stories, then regardless of how you feel about American policy, which is formulated by altogether different people than the people we're writing about, you can watch this show."
John Landgraf, who became president of the FX Channel in early 2004, said that it is possible to fictionalize the ongoing war in part because the press has already had a chance to give its take.
"
I think there's an accelerating pace with which we sort of metabolize and contextualize things
," he said. "
Journalists, I think, are the first line of contextualizing historical events. But journalists have had a couple of years now. I really honestly think it's time for the next wave, which are the writers and artists."

EDITOR'S NOTE: THAT'S A BS WAY OF SAYING THAT IN AN ERA WHERE KNOWLEDGE AND CONTEXT HAVE BECOME IRRELEVANT, FROWNED UPON, ALMOST, HOLLYWOOD HAS AS GOOD A SPIN AS ANYONE ELSE.
In the same breath, Mr. Landgraf said making things ultra-realistic was the only way to avoid casting political judgment. "
Making it not real is in some way editorializing, is it not?"
he said. "
Isn't the whole point of making a show that is dramatically honest and fair as possible to make it as real as possible? Making it unreal is hedging your bets."
EDITOR'S NOTE: OF COURSE, SO IS SHOWING ONLY ONE SIDE OF THE CONFLICT AND NOT GETTING ANY UNDERSTANDING OF THE MANY SIDES AND THEIR VIEWS.
Hired in 2004, Mr. Landgraf has been tasked with continuing the transition of the FX Channel from a backwater for M*A*S*H reruns into a place for dense, realistic, quasi-HBO dramas about cops, firemen and soldiers (The Shield, Rescue Me, Over There, respectively). The network has another hit in Nip/Tuck, about the lives of Los Angeles-based plastic surgeons.
Mr. Bochco, an avid watcher of CNN, said the creators didn't draw directly on cable news coverage in conceiving the show. But the pilot has entire scenes that are largely familiar from TV news reportage. One is a night sequence shot entirely in green-hued night-vision, reminiscent of the first Special Forces raid; another is shot entirely in orange, presumably during the sandstorm that struck while U.S. troops approached Baghdad in 2003.
"
As a director, you want to use the jiggly cameras and flat light that the TV guys use
," said Mr. Gerolmo. "
So it looks real, so it looks to Americans like the footage they've seen of Iraq. Other than that, the raw TV news doesn't have the time to do anything in depth and we're doing something else."
What defines the show against depictions of war in past TV shows—and the last fictional TV show about war appeared in 13 years, when ABC broadcast China Beach—is that characters who suffer horrible injuries will continue their broken lives in subsequent episodes.
Mr. Gerolmo recalled a 1962 TV series called
Combat!,
directed by Robert Altman, in which injured characters simply disappeared.
"
If you got hurt in Combat!, you were out of the show
," said Mr. Gerolmo. "
And this is a show about the war and the human consequences of the war on people involved directly and people tangentially involved. And once you do that, you're doing a different kind of show on television, because they don't have that."
Mr. Gerolmo predicted that the show's ratio of scenes set at home versus scenes set in combat in Iraq would eventually amount to about 50-50.
For
Saving Private Ryan
, Mr. Spielberg has said he injected his own conscience about war through the character of Corporal Upham, the intellectual, knock-kneed typist too afraid to kill the enemy until the very end. In
Over There
, a version of that character, nicknamed "Dim," waxes poetic on the consequences of war on man's soul.
"We're savages," he says. "We're thrilled to kill each other. We're monsters. And war is what unmasks us."
Then he concludes: "But there's a kind of honor in it, too. A kind of grace. I guess if I'm a monster it's my privilege to be one."
EDITOR'S NOTE: OH. RIGHT. THIS IS GOING TO BE A SUBTLE, INCITEFUL TAKE ON THE WHOLE THING. URP.
But just as the show seems to fall on the side of American honor in war, it veers back to a more severe reality, especially with the bloody conclusion to the pilot, which The Observer agreed not to disclose.
Mr. Gerolmo said directing the Iraq war drama on sets in Southern California had affected his views on war. But it was also exciting to make war pictures.
"
It made me feel horrible about the idea of war
," he said, but "
at the same time, directing shows about war is really fun. When nobody gets hurt—that's exciting. It's really a charge. It's really an adolescent fun-filled day to blow up a truck. Blowing up stuff when nobody gets hurts, that's exciting."
EDITOR'S NOTE: AND THEN HE GOT A LATTE AND A SCONE AND FORGOT ALL ABOUT IT! FAR OUT, MAN! (SIGH.....)
As for real-life war, he added: "
It's so sad that we end up using this as a tool of foreign policy. It seems like the last choice to me."

EDITOR'S NOTE: RAISE YOUR HAND IF YOU THINK HE EVEN REMEMBERS TO VOTE?!
DA MOUSE BIZ
EDITOR'S NOTE: THE FRERES WEINSTEIN HAVE BEEN IN THE PROCESS OF SEPARATING FROM UNCLE WALT FOR SO LONG, IT'S HARD TO BELIEVE IT IS ONLY NOW REALLY HAPPENING!
Dis, Weinsteins are done
After a prolonged, monthslong negotiation, Bob and Harvey Weinstein and the Walt Disney Studios announced Tuesday that they are ending their 12-year exclusive relationship, under which the Weinsteins ran Miramax Films. The divorce was characterized as a "mutual agreement" and culminated what Disney Studios chairman Dick Cook called a "long and arduous process," which he insisted "was always amicable."
"While it's always hard to leave behind the company named after our parents, Miriam and Max," Harvey Weinstein said, "we are hitting the ground running,"EDITOR'S NOTE: WELL, AS CLOSE TO RUNNING AS HE AND HIS TUBBY BRO EVER GET. as he and his brother prepare to launch a new company with ambitious plans to release 15-20 films in its first year. Disney shares rose 45 cents to close at $28.35 in Wednesday trading.

Miramax duo form new media posse
HARVEY and Bob Weinstein, the Hollywood impresarios behind Pulp Fiction and Kill Bill, are close to raising as much as $1 billion (£530 million) to hatch a new media group that will be advised by the actors Robert Redford and Paul Newman.
The Weinstein brothers, whose exit from The Walt Disney Company was sealed this week, are seeking to raise between $350 million and $500 million from outside investors and as much as $500 million more in debt to finance the new company.

Among their long-term plans are the launch of a movie cable channel and the production of Broadway shows adapted from some of the films they produced as founders and co-chairmen of Disney's Miramax film unit.
The Weinsteins, who will leave Disney formally when their contract expires in September, are expected to inject some of the estimated $130 million they will receive from their settlement with the company.
They have hired Goldman Sachs to help to raise the rest of the money and formed an advisory board that includes media investment banker Steven Rattner, Paul Tudor Jones, the billionaire hedge fund manager, and James Dolan, the chief executive of Cablevision, the US cable operator.
Paul Newman and Robert Redford, who starred in Butch Cassidy and the Sundance Kid, are acting as advisers along with Dirk Ziff, the billionaire media heir. Hollywood directors including Quentin Tarantino, Anthony Minghella and Kevin Smith are already making films for the start-up venture.
The Weinsteins plan to release between 15 and 20 films a year, some of which will be coproduced with Disney. But Harvey Weinstein said that the new company would be "a fully integrated media company" with reach into publishing and the internet.
EDITOR'S NOTE: AND LOOK...STUFF ABOUT DISNEY THAT ISN'T ABOUT SNARKY BIZ DEALS!
SNOW IN THE AIR: The art of "Bambi" is breathtaking.
Walt Disney's 1942 masterpiece, "Bambi," with its circle of life, its precise depiction of the wild, its heroism, tragedy, and message of hope, is already among the most innovative and enduring films of all time. But now, past and future collide as a crack team of computer and animation experts, using state-of-the-art technology, have digitally restored "Bambi"'s 110,000 frames to a new brilliance, one at a time.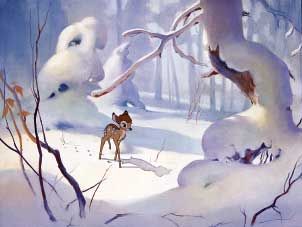 And that's only the beginning. The Special Edition double DVD set has an equally enhanced soundtrack, so the film's music flows from the speakers with new clarity. Whether you have a fancy home theater or not, you're in for quite a show.
Start by watching "Inside Walt's Story Meetings," one of many bonus features (which include deleted scenes, games, and a look back at what was happening the year "Bambi" was released).

Andy Siditsky, senior vice president of DVD productions for Disney, is particularly excited about the story-meeting feature, which uses the copious stenographer notes taken at the time to reenact scenes inside the "Bambi" story room.
"Imagine," he says, "sitting in on a story meeting for 'Bambi' with Walt and his team, including two of the famous Nine Old Men."
The reenactment by voice actors is played over the running film, and serves as the DVD's audio commentary feature.
"[Viewers] will hear how Walt articulated his vision and how the team made decisions -- and then marvel at how close the original vision is to the final product."
Donnie Dunagan, who supplied the voice of the young Bambi, was no stranger to the studio back then. Though only five when "Bambi" was made, Dunagan was already a pro, having appeared in seven movies, such as 1939's "Son of Frankenstein."
But The Walt Disney Studio was something special. Now 70, the retired 25-year veteran of the United States Marine Corps looks back fondly on his time with Walt.
"I met Mr. Disney on the second or third day," Dunagan recalls. "I remember the big smile, the gentle voice, but mostly I remember his presence. I got to see him every day with the 'drawing men,' which is what I called the artists who worked on the picture. He was more of a coach than a boss. You paid attention to him, but in a relaxed way. I remember him bouncing his fingers in the air to demonstrate a deer prancing, and then watching the drawing men bring it to life. There was no script to memorize -- they just told me what to say. 'Okay, Donnie, now speak these words like you're afraid. Speak these like you're happy.' Those gentlemen were so much fun to work with, always laughing, playing tricks. I used to smuggle in a water gun -- we all had a blast."

NATURE SHOW: After a spring rain interrupts hisnap time, Bambi watches a stream pick up speed.
As for the harrowing scene where Bambi loses his mother, the young Dunagan was stunned.
"It surprised me. I didn't know it was in the film until I saw it on the screen. So sad," he recalls. "But then Bambi's father steps in, leads him to safety, and I remember thinking, 'Wow, things can get pretty bad but you still pick yourself up and keep going.' You can recover from loss." Dunagan regrets that after he grew up he did not meet Disney again. "The courage he had, his sensitivity toward animals, the message he gave us in 'Bambi.' I've never forgotten it."
ODDS-N-ENDS
TWC to test Startover this year
Time Warner Cable expects to test its planned Startover service this year in Columbia, S.C., chairman and CEO Glenn Britt said here Wednesday.
Plans for the service -- which would allow TV viewers to run back to the beginning of any program currently airing, providing a function similar to that of video-on-demand or digital video recorders -- first became known late last year.
While many hurdles remain, TWC is making "good progress" on the service, Britt said at a Banc of America Securities investor conference.
EDITOR'S NOTE: AND HERE'S SOMETHING JUST FOR LOTR-OBSSESSIVE (AND DWEEBPAL) JERRY P.
Lord of the Rings: Lothlorien Action Figure Gift Pack
PRICE: $29.99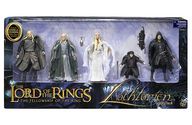 Description:
The Lord of the Rings Lothlorien Gift Pack is a set of 4 action figures which all come in a single gift pack. This gift pack includes three previously released figures ( Frodo, Aragorn and Galadriel) and two that are exclusive to this gift pack (Haldir and Celeborn). Each action figure is an official Toy Biz Lord of The Rings 6-inch action figure. (Subject to change.)
Regal, AMC join forces
In a move that will unite the two largest U.S. theater chains' fastest-growing business, Regal Entertainment Group and AMC Entertainment announced Tuesday that they are combining their two cinema screen advertising businesses into a new joint venture called National CineMedia Llc.
The deal already has closed and will not be subject to regulatory approval.
The combined company's national distribution now will reach 11,200 screens and will comprise 36% of the national boxoffice, according to Nielsen EDI.
The new company still will be smaller than industry leader Screevision, which operates cinema advertising on 16,000 screens in the United States.
Combining the operations of Regal CineMedia, Regal's media subsidiary, and National Cinema Network, AMC's cinema advertising subsidiary, National CineMedia will focus on cinema advertising and promotions in addition to business communications and training services and the distribution of digital alternative content. EDITOR'S NOTE: THE MOVIE AD BIZ HAS BEEN A RED-HEADED STEP-CHILD FOR FAR TOO LONG. IT'S A WONDER ANYONE EVEN NOTICED IT TO TRY TO FIX IT. BUT CONSOLIDATION IS A STEP IN THE RIGHT DIRECTION. IMHO....
NOW....MAYBE WE CAN GET BACK TO THE STAR WARS STUFF SOON!? (PHEW....INTEGRITY AT SUCH A PRICE, EH?)