At LAST/Wednesday STARWARSSTARWARSSTARWARS
EDITOR'S NOTE: I'M WEARING MY PRINCESS LEIA PALACEWEAR T-SHIRT. I CAN'T HOLD IT IN ANY MORE. MUST POST STAR WARS ITEMS. SIMPLY

MUST

!
Lucasfilm: TV is Next for Star Wars
As
Star Wars: Episode III – Revenge of the Sith
looms on the horizon, the folks at Lucasfilm are starting to talk a bit about the future of the franchise beyond the final movie. Of course, part of that future has been rumored in recent months to include some kind of TV presence, and now the company is acknowledging that fact.
EDITOR'S NOTE: GIDDY JOY. JUMPING UP AND DOWN. (
A LITTLE BIT OF DROOLING, EVEN
).
"
We are looking into all kinds of things for the future
," Steve Sansweet, Lucasfilm's Director of Content Management and Fan Relations, recently told Now Playing Magazine. "
We're looking for television clearly: Animation [and] we are looking into live action television
."
EDITOR'S NOTE: MORE JUMPING!
What kind of live action television, be it an ongoing series or some kind of TV movies, Sansweet wouldn't say. What is clear, though, is that Star Wars will continue well beyond the release of Sith on May 19th.
EDITOR'S NOTE: HUZZAH HUZZAH! NO NEED TO SCROUNGE AROUND AND TRY TO GET A LIFE. WHOOHOOO!!!!
"
Certainly with LucasArts we are looking into interactive games; not only the kinds of things that are there now, but as technology progresses we're looking at what direction that can go
," Sansweet continues. "
We're also continuing to see how we can expand Lucas Online in various ways."
The bottom line? Star Wars – just like the ghost of Obi-Wan – isn't going anywhere.
"
We will keep Star Wars alive and well as long as there is an audience, which we think is an indefinite horizon
," he says.
EDITOR'S NOTE: OH YEAH, BABY!!
Digital Episode 3 Different to Film Version
The May issue of Empire Magazine has a quote from Rick McCallum on the digital version of 'Revenge of the Sith' (Pg 78):
"
The digital version of the movie will be different from the version that goes out on film. That has to be locked down so much earlier, whereas the digital can go right up to a week-and-a-half before the film comes out"
The digital version of 'Attack of the Clones' was also
different
to the version that came out on film, the most notable difference being Padme holding Anakin's mechanical hand during the wedding scene.
But will this digital version of 'Revenge of the Sith' be longer than the version on film, perhaps as a reward to theaters that have upgraded to digital projecters, and fans who choose to see the movie in a digital theater. Time will tell.
EDITOR'S NOTE: AND ARE THERE ANY ANY ANY THEATERS IN THE GREATER HOUSTON AREA WITH DIGITAL PROJECTION CAPABILITY? WHIMPER???
4th Annual Star Wars Fan Film Awards Voting Begins
In a
joint press release
, LucasFilm and AtomFilms have announced that the finalists for the 4th Annual Star Wars Fan Film Awards
have been posted
.
Let the voting begin ...Good luck to TFN FanFilms Staff John Hudgens and all the finalists. The winners will be announced at Celebration III in Indianapolis.
EDITOR'S NOTE: THE FILMS RANGE FROM ABOUT 1 MINUTE TO ABOUT 12 MINUTES IN LENGTH. MOST OF THEM ARE ABOUT 3-5 MINUTES. AND SOME OF THEM ARE QUITE GOOD. CHECK IT OUT AT THE LINK BELOW. (AND FOR YOU MUSICAL THEATER DWEEBS...CHECK OUT "ONE SEASON MORE"....."JEKYLL AND HYDE" MEET STAR WARS. I THINK IT'S MY FAVORITE).
http://www.atomfilms.com/af/content/love_of_the_film
Entertainment Weekly's 6 Star Wars Covers
The next issue of
Entertainment

Weekly will feature 6 Star Wars covers, one for each of the Star Wars movies.

EDITOR'S NOTE: THE HECK WITH NOT BEING FULLY-EMPLOYED....MUST HAVE ALL SIX!!!!



Six Times The EntertainmentOver the years, Entertainment Weekly has gone out of its way to support our favourite little space opera, and to celebrate the end of an era, they are hooking us up in the best way possible: Six fantastic covers!
Inside the special issue(s) readers will find the 'What's Your Star Wars IQ?' quiz,

EDITOR'S NOTE: HOPE I SCORE WELL (TITTER)

as well as what is bound to be a great cover story.
Whether you are a completist or just like getting a choice,

EDITOR'S NOTE: UMMM...WHICH WHICH???

there is little doubt that there will be something cool for you to pick out of the magazine rack next week.
The covers feature:
· Darth Maul (I)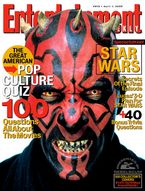 EDITOR'S NOTE: HELLO, ODDBOB! ARE YOU MY

FRIEND

?
· Yoda (II)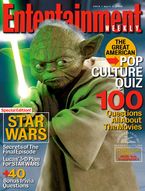 · Anakin (III)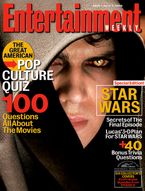 · Han Solo (IV)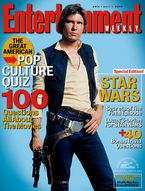 EDITOR'S NOTE: HI, HONEY. REMEMBER WHEN YOU WEREN'T A GEEZER?!
· Darth Vader (V)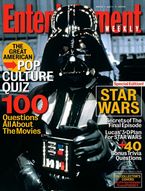 · Princess Leia (VI)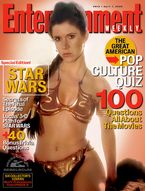 EDITOR'S NOTE: MUST DIET IMMEDIATELY!

The magazine also features a Great American Pop Culture Quiz with a few Star Wars questions


EDITOR'S NOTE: SEND ME EWS!!!
(WHAT DAY DOES EW COME OUT EACH WEEK?)




RotS Meets Free Comic Book Day
Free Comic Book Day is approaching once again, and this year Dark Horse is doing it in style: look for an all-new Anakin/Obi-Wan yarn that ties into the beginning of Episode III (because there just isn't enough going on in that month already), written by RotS adaptation scribe Miles Lane and drawn by Nicola Scott. And did I mention it's free?
EDITOR'S NOTE: OF COURSE, THEY NEGLECT TO MENTION THE DATE. MAY 7TH. FYI.....
Head to
FreeComicBookDay.com
for more details.
Star Wars Reunion Courtesy Dark Horse Comics
With only a few months left in the
Clone Wars
, Dark Horse hosts an Expanded Universe reunion this week with
Star Wars: Republic
#74 and Star Wars: Obsession #4.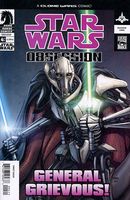 The countdown to Episode III continues...
Anakin Skywalker. Obi-Wan Kenobi. Mace Windu. Saesee Tiin. Plo Koon. Ki-Adi-Mundi. A'sharad Hett. Agen Kolar. Kit Fisto. Oppo Rancisis, Quinlan Vos. K'kruhk. Jeisel. Aayla Secura. Tholme. Count Dooku. Sora Bulq. Skorr. Bok. Murgukai clones. Anzati assassins.
EDITOR'S NOTE: ANZATI ASSASSINS ROCK!
Khaleen Hentz. General Grievous. Asajj Ventress. Bail Organa. ARC Trooper Alpha. Commander Bly. Oddball. Sagoro Autem. Adi Gallia. Soon Bayts. Ausar Auset.
If you don't recognize these names, then you haven't been reading the Star Wars comic books from Dark Horse!
All storylines come together in preparation for
Revenge of the Sith
and fans of the Expanded Universe can get in on the action with two comics out this week.
First up is
Star Wars: Republic
#74 by John Ostrander, Jan Duursema, Dan Parsons, and Brad Anderson. "Siege of Saleucami" features the "Reps" vs. the "Seps" with an entire new clone army of Murgukai clones trained by Anzati assassins!
It's up to the Jedi to stop them, and they've assembled a large attack force to stop this new threat.
Meanwhile, Quinlan Vos continues his plan to track down and take out the second Sith Lord.
With the return of many supporting characters from the past few years, plus vehicles from
Revenge of the Sith
, this issue also includes a brand-new character based on a member of the Dark Horse forums!
Over in Star Wars: Obsession #4, Haden Blackman, Brian Ching, and Sno Cone Studios keep the party going with a virtual who's who of Star Wars characters. Obi-Wan's obsession over finding Asajj Ventress has led him to the graveyard planet of Boz Pity where the Seps are building a large armada of warships.
So the Jedi have gathered together to investigate...and find themselves face-to-face with General Grievous!
This issue also includes many supporting and background characters (including one whose name you won't believe), and features a surprise (but not really) ending.
If you've been reading the
Clone Wars
comic books all along, you'll get a kick out of seeing so many familiar faces who are all back for one last hurrah before the end of the Prequel Trilogy. If you haven't been reading, then run out to your local comic store and pick these up, and hunt down the back issues. You'll be glad you did.
EDITOR'S NOTE: YES, YES YOU WILL. THE EU IS DA BOMB!
EDITOR'S NOTE: AND NOW, MORE IN OUR CONTINUING TALE OF STUFF TO

BUY!!
Celebrate The Saga
With epic offers from Kellogg's! If you haven't been to the grocery store lately you might be missing out on some cool collectibles.
EDITOR'S NOTE: WHEN I WAS SHOPPING AT TARGET THE OTHER DAY, I WAS MORE EXCITED ABOUT THE CEREAL AISLE THAN THE TOY AISLE. (I'VE ALREADY SENT AWAY FOR A R2D2 COOKIE JAR FROM KELLOGG'S/KEEBLER)!
KUDOS, AND THE MASTER LIST (TO-DATE)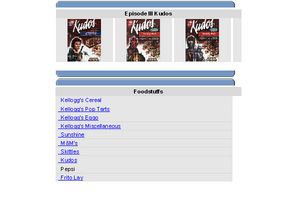 CEREAL AND POP TARTS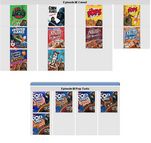 EGGOS AND CHEEZITS
SKITTLES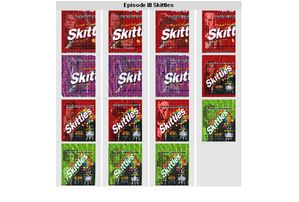 THE FRITOLAY FAMILY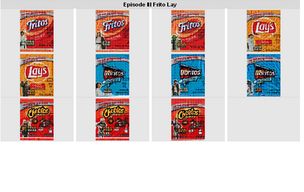 Kellogg's has several promotions going on with many of their food products. You can get saber spoons,
EDITOR'S NOTE: I GOT MY FIRST SABERSPOON MONDAY. VERY COOL!
Episode I on DVD, card game, saga poster, R2-D2 bowl, Darth Vader voice changer, FX plate, Episode III poster or three different cookie jars!
Each offer involves sending in an order form, a few UPC's and a check for a few bucks!
Click here
http://www.kelloggs.com/promotions/starwars/index.shtml
for the official Kellogg's Star Wars promotional website, where you can read up on all the details and see images of the special products offered
EDITOR'S NOTE: KELLOGS CEREAL, KELLOGS FRUIT SNACKS, KELLOGS POP TARTS, KEEBLER COOKIES. SEND ME UPC CODES!
(YOUR QOTD IS GREEDY. BUT SHE ALSO DOESN'T WANT TO EAT ALL THIS JUNK. BUT YOU ARE ALL SKINNY, RIGHT? SO YOU EAT IT AND SEND ME THE PACKAGE!)
GIGGLE.....
Pepsi Turns To The Force And The Dark Side
Pepsi Turns To The Force And The Dark Side for STAR WARS: EPISODE III Revenge of the Sith Promotions
STAR WARS' BELOVED YODA LEADS PEPSI ONLINE SWEEPSTAKES WITH MORE THAN $1 MILLION IN PRIZES UP FOR GRABS
Darth Dew Slurpee to be Available at Participating 7-Eleven® Stores for Limited TimePURCHASE, N.Y. - March 24, 2005 -
In conjunction with the highly-anticipated May 19, 2005 release of
Star Wars: Episode III Revenge of the Sith,
Pepsi-Cola North America today announced that it will run an online promotion and a new Diet Pepsi commercial, both centered around everyone's favorite Jedi Master-Yoda.
In addition, Pepsi will partner with 7-Eleven, Inc. to offer Darth Dew Slurpee and four limited-edition 3-D cups at participating stores nationwide.
EDITOR'S NOTE: ADDING 7-ELEVEN TO PLACES I NORMALLY NEVER GO AND NOW NEED TO FIND....
"
Call Upon Yoda
"Beginning April 18, Pepsi drinkers and Star Wars fans have three ways to play the "Call Upon Yoda" instant-win sweepstakes -- online, by phone, or by text messaging -- to see if they've won one of ten $100,000 grand prizes.
Other prizes include Star Wars toys and games from Hasbro and Lego and free 2-liter bottles of Pepsi Lime.
The sweepstakes will also bring fans closer to their favorite characters, Yoda, Darth Vader, C3PO and R2-D2 via unique Web-based interactive games and phone and text messaging programs.
Here's how the "Call Upon Yoda" sweepstakes works:
1. Get a code featured on 12 or 24-packs of Pepsi, Diet Pepsi, Caffeine Free Diet Pepsi, Mountain Dew, Diet Mountain Dew or Sierra Mist.
2. Register at
www.calluponyoda.com
.
3. Enter your code via phone, online or by text messaging.
4. If Yoda responds, then Yoda will tell you which prize you may have won. If you are not a winner, either Darth Vader or C3PO and R2-D2 will let you know that you should try again.
Yoda will encourage fans to achieve success via the Jedi Training Games and the Intergalactic Translator at the www.calluponyoda.com Web site.
New Diet Pepsi Commercial
Yoda also stars in a new Diet Pepsi commercial called "Jedi Mind Trick."
The spot is scheduled to begin airing in May and features the same award-winning special effects that ILM creates for Star Wars.
Set in a diner, Yoda sits at the counter and uses the Force to try to get a Diet Pepsi to drink with his meal.
A special appearance by the famous wookiee, Chewbacca, ends the spot with typical Pepsi humor.
The commercial was created by BBDO New York.
Darth Dew Slurpee
On the dark side, Darth Dew Slurpee will be available at participating 7-Eleven stores nationwide during the month of May.
Introduced last summer, Mountain Dew Pitch Black is the popular limited-edition soda that combines the great taste of Mountain Dew with a blast of black grape flavor.
Darth Dew Slurpee is modeled after Mountain Dew Pitch Black and will be served in four different Episode III collectible 3-D cups with lids shaped like the head of Darth Vader.
EDITOR'S NOTE: WELL THESE SOUND LIKE MUST-HAVES, EH? (ALTHOUGH THE SLURPEE THING PUTS ME INTO SUGAR-SHOCK JUST

READING

ABOUT IT!)
"
Revenge of the Sith is already the most talked-about movie of the year, and Yoda is one of the most beloved movie characters of all time,EDITOR'S NOTE: FOR A CHARACTER THAT MOSTLY

NAGS

THRU 6 MOVIES, YEAH. BELOVED. (HARUMPH) so we're very excited that he is the cornerstone of our promotion and our new Diet Pepsi commercial,"
said Dave Burwick, SVP and chief marketing officer of Pepsi-Cola North America. "
We hope Star Wars and Pepsi fans alike have as much fun as we've had with Yoda in celebrating the last episode of the Star Wars saga."
"
Once again, Pepsi has created a great way to help our fans experience the wonder of Star Wars,"
said Jim Ward, vice president of Marketing and Distribution for Lucasfilm. "
When Revenge of the Sith hits theaters in less than two months, Star Wars fans will finally get the answers to all their burning Star Wars questions. In the meantime, Pepsi is going to give their consumers a chance to win $100,000 and other
great prizes in the "Call Upon Yoda" promotion. That's what I call a win-win proposition." EDITOR'S NOTE: WELL, YOU'RE THE MARKETING GUY, SO WHAT ELSE

WOULD

YOU SAY?!

Join the M-pire
M&Ms are joing the M-pire (good choice). In a very funny and unique trailer, the different M&Ms dress up in Star Wars costumes to promote the release of the dark chocolate M&Ms.
EDITOR'S NOTE: CUTE CUTE CUTE!! (CRASS COMMERCIALISM IS PAINLESS WHEN IT'S THIS CLEVER).
EDITOR'S NOTE: THE TRAILER IS GREAT, THE UPCOMING TOYS ARE ADORABLE, AND CHECK OUT THE M&M PACKAGING. THERE ARE SOMETHING LIKE 70 DIFFERENT PACKAGES, AND THEY ALL HAVE VERY FUNNY M&M 'TAKES' ON THE STAR WARS UNIVERSE. FUNNY FUNNY STUFF!
http://www.mms.com/us/mpire/
Target Cards Arriving
The Target post cards for the Revenge of the Sith debut have started to arrive in mailboxes across the country, reminding people to head to their local stores for the launch. We've also got the Star Wars gift cards that feature lights and sounds of a certain Dark Lord. Look for these next week as well.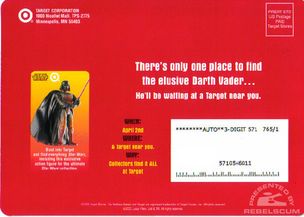 EDITOR'S NOTE: THE FLIP SIDE OF THE CARD IS A GORGEOUS, SPARKLY PIC OF THE OBI-WAN/ANAKIN DUEL SHOT. THE CARD ITSELF IS A GREAT KEEPSAKE. (AND THE DARTH, ABOVE, PEELS AWAY TO REVEAL A DISCOUNT)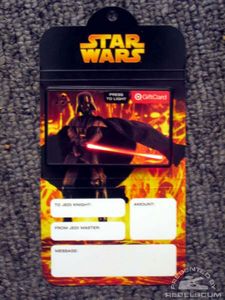 48 Hours Of The Force At Wal-Mart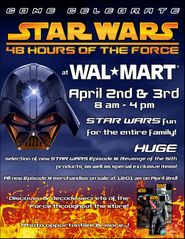 It's coming.
Revenge of the Sith
fever is about to take over the world.
EDITOR'S NOTE: ALREADY THERE, BABY, ALREADY THERE!
Wal-Mart is gearing up for the festivities and here's a rundown of what fans can expect during "48 Hours of the Force" promotion.
There will be a HUGE selection of Revenge of the Sith merchandise available at 12:01am April 2nd. We've already gotten a glimpse at the POP displays from the
Event Playbook
, which will feature lava-themed security shrouds, signs, a special Darth Vader standee for photo opportunities, and pallet displays!
But wait, there's more!
We've gotten word that 400 select Wal-Marts across the country will have a large 30' x 60' tent in the parking lot filled with Star Wars "48 Hours of the Force" promotions.
Look for members of the 501st decked out in costume, photo opportunities for kids, a LEGO mural building event, and lava blasts everywhere. Each store should be getting 20 pallets of merchandise, so there whould be plenty for everyone.
But what about exclusives? We've gotten word that Wal-mart will have some kind of "Early Bird" figure set, reminiscent of the Vintage promotion with certificates and dioramas.
Not much more is known on this yet --so consider this a rumor for now-- but expect an official announcement very soon.
Toys "R" Us Press Release
TOYS "R" US Stores to open at 12:01 am on april 2 to celebrate the arrival of
Star Wars: Episode III Revenge of the Sith
Toy collection.
Avid Star Wars Fans Will Be Among the First To Savor New Movie-Related Products -
The wait is almost over for Star Wars fans - at least when it comes to movie-related products for the final chapter of the epic saga. The new collection of toys and games for
Star Wars: Episode III Revenge of the Sith
-which hits theaters worldwide on May 19-- goes on sale at Toys "R" Us stores nationwide on April 2.
At 12:01 AM on April 2, 316 Toys "R" Us stores across the country will open their doors giving Star Wars fans the first opportunity to make purchases from the new toy collection.
The biggest celebration will take place at Toys "R" Us Times Square where Star Wars fans are being encouraged to come dressed as their favorite character from the Star Wars movies.
Here, attendees will be treated to special appearances by Darth Tater* and Star Wars mPIRE* characters from M&M'S, including M-Vader and Mobi-Wan Kenobi.
Special prizes will also be awarded to fans who successfully answer Star Wars trivia.
EDITOR'S NOTE: WELL DRAT. LET'S GO TO TIMES SQUARE AND GET TOYS AND WIN PRIZES!
Star Wars enthusiasts who are unable to attend the midnight festivities can log onto Toysrus.com when the virtual store also opens to sell the Star Wars collection at 12:01 am on April 2.
EDITOR'S NOTE: FOR THOSE OF US LIVING IN AREAS WITH NO MIDNIGHT STORES!!! (ALTHOUGH I STILL MAINTAIN IT IS WRONG TO BUY THE TOYS, TILL

AFTER

YOU'VE SEEN THE FILM! AND I'M STICKING TO THAT, BY THE WAY).
"
Fans of the Star Wars saga have been eagerly anticipating the final installment of the film franchise and the availability of its related merchandise
," said John Barbour, President, Toys "R" Us, U.S. "
The Toys "R" Us team and our vendor partners have worked hard to deliver an exciting selection of new and unique products for our Star Wars collector customers and fans of all ages."
An extensive assortment of
Star Wars: Episode III Revenge of the Sith
toys will be showcased in special feature shops in all Toys "R" Us stores.
Products will include action figures, games, Electronic Lightsabers, Darth Vader Voice Changer, assault vehicles, playsets and more from Hasbro. A Star Wars: Episode III Revenge of the Sith Plug it in and Play TV Games* unit from Jakks Pacific and LEGO construction versions of
Star Wars: Episode III Revenge of the Sith
vehicles and scenes will also be available.
These feature shops will include a number of exclusive items available only at Toys "R" Us. Star Wars fans should note that additional
new Star Wars: Episode III Revenge of the Sith merchandise will arrive frequently at Toys "R" Us stores nationwide leading up to the movie opening on May 19 and thereafter.
Star Wars: Episode III Revenge of the Sith product that will be available exclusively at Toys "R" Us and Toysrus.com includes:
Trivial Pursuit® DVD Star Wars® Saga Edition Collector's Tin from Hasbro GamesThe Trivial Pursuit DVD Star Wars® Saga Edition game combines traditional game play, modern DVD technology, and questions from all six Star Wars movies. Housed in a special collector's tin exclusive to Toys "R" Us, the game features over 2,400 questions, including 600 interactive questions on two DVDs. Appealing to Star Wars fans and collectors alike, this game contains 20 DVD questions that feature real life Star Wars fans acting out various scenes from the Star Wars saga. No batteries required. Ages 10 years and up.
Stratego® Star Wars® Saga Edition: The Galactic Battlefield Strategy Game from Hasbro GamesStar Wars fans can face-off in this classic battle of Good vs. Evil.Favorite Star Wars characters have come together for the ultimate encounter in this Toys "R" Us exclusive game. Players can abide by the classic Stratego rules or use special powers to add to the strategy. Battles can be recreated featuring characters from the latest movies or by using classic battles from the original trilogy. Both trilogies can be combined to create the ultimate battle that is the Star Wars saga. No batteries required. Ages 8 years and up.
Star Wars: Episode III Revenge of the Sith Anakin Skywalker's* Jedi Starfighter from HasbroAnakin battles the enemy using his amazing piloting skills in his Jedi starfighter. This Toys "R" Us exclusive play set allows Star Wars fans to recreate Anakin's piloting skills and mastery of the Force to defeat his opponents in space combat. Starfighter features opening canopy, firing missiles, retractable landing gear and wings that spring open. Product available mid-May. No batteries required. Ages 4 years and up.
Star Wars: Episode III Revenge of the Sith Holographic Yoda Figure from HasbroJedi Master Yoda, a close friend of the Wookiees, travels to their homeworld of Kashyyyk to help personally spearhead the Republic defense of that planet. While there, the revered Jedi sends a holographic transmission to the Jedi Council to discuss recent ominous events. The Holographic Yoda figure features unique translucent styling and is available only at Toys "R" Us beginning April 10 as a gift with a Hasbro Star Wars purchase of $25 or more. Not sold separately. While supplies last. No batteries required. Ages 4 and up.
Digital Film Projection Advances Slowly
LAS VEGAS - Six years ago, Hollywood types were predicting a lightning-fast revolution toward digital projection, the heir apparent to those flapping reels of film that have dominated for a century.
It's turned out to be evolution, at a snail's pace.
As they have since the late 1990s, manufacturers of digital projectors such as Texas Instruments, Christie and Sony are showing off their wares this week at ShoWest, an annual convention of theater owners.
They're still hawking their gadgets to a wary crowd, with studios and theater chains taking their time to evaluate the ever-developing technology, hash out technical standards, and figure out how to cover the potentially multi-billion-dollar cost of installing the new projectors at the 36,000 U.S. movie screens.
"
There won't be any big announcements or speeches made this week, because we're not done yet,"
John Fithian, president of the National Association of Theatre Owners, told The Associated Press. "I
use the metaphor that we're baking a cake, and it's an hour-long process, and we're about 50 minutes into the baking job."
Since a handful of digital projectors debuted with George Lucas' "Star Wars: Episode I — The Phantom Menace" in 1999, the number of such systems has inched up slowly, with just a few hundred theaters worldwide equipped to show movies digitally.
Lucas and another key advocate of digital film techniques, "Titanic" director James Cameron, will be at ShoWest on Thursday to demonstrate how digital-projection systems can be tweaked to create three-dimensional images.
Cameron plans to show digital 3-D footage from his latest undersea documentary, "Aliens of the Deep," while Lucas will present segments from his "Star Wars" saga converted to digital 3-D.
Lucas has been frustrated by the slow pace, which dashed his hopes to show his final "Star Wars" films in wide digital release.
Theaters do not want to take on the cost themselves, looking instead for Hollywood studios to foot the bill since they would gain enormous savings on the cost of duplicating and shipping 3,000 or more bulky film prints for each major release.
The new systems can project films from digital tapes, DVDs or images beamed directly to theaters. Fithian pegged potential savings at $1 billion a year on the cost of film prints alone.
"
There is some real good work being done on finding ways that the studios can use their savings to finance the transition,"
Fithian said. "
I think it's fairly widely accepted by the studios that they need to fund this transition or it's not going to happen."

Lights, camera, baton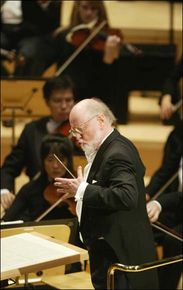 Below: Steven Spielberg shows the result of a videotaped scoring session to composer John Williams, left, and film editor Michael Kahn LOS ANGELES TIMES REUTERS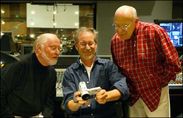 Claims for the success and influence of the British film industry frequently verge on the delusional, but the status of Abbey Road studios as a world-class facility for soundtrack recording is easily verified.
Just scroll through the schedule for the Abbey Road Film Festival.
For 16 days, Abbey Road's cavernous Studio 1 will be transformed into a customized super-cinema, screening a selection from the 150 films whose soundtracks have been recorded there over the past 25 years.
EDITOR'S NOTE: WOW. WOULDN'T THIS BE AN AMAZING THING TO ATTEND?!
It's a popcorn-chomping list, encompassing comparatively arty pieces such as
The Last Emperor, Brassed Off
and
The Madness of King George
alongside copper-bottomed blockbusters such as
Braveheart, the Lord of the Rings
trilogy and
Shrek.

The festival opened last weekend with
Raiders of the Lost Ark
(1981), the first of Steven Spielberg's Indiana Jones adventures and the first movie to be scored at Abbey Road. The Raiders soundtrack was composed by John Williams, who has been back in Abbey Road recently with the London Symphony Orchestra (LSO) to record the music for George Lucas's latest and supposedly last Star Wars instalment,
Episode III: Revenge of the Sith
.
So what is it that brings him back to leafy St John's Wood?
"
There never have been, in this country or in America, many rooms where you could put an orchestra and chorus that would be set up for film synchronization,''
Williams explains.
"
Basically we use two rooms in Los Angeles and Abbey Road in London. It's set up to do all the computer recording and to project the film, and it has fine acoustics so we can capture specific close-up aspects of the orchestra and still get the bloom of the full room itself. And it has this wonderful history, too, which the LSO adds to every day.''

Williams' vast list of credits includes most of the Spielberg oeuvre, all the Superman movies, the Harry Potter series and dozens more. His work may take him to the new frontier of audio-visual technology, but in his jacket and polo-neck sweater, white beard and glasses, he radiates the reflective air of a university professor. His schedule is tight, but his deep, unhurried voice suggests he has all the time in the world.
At 73, he has lived through endless upheavals in the film and TV industries, but as a young music student at the Juilliard School in New York, he originally had a career in classical music in his sights.
"
I was a pretty serious piano student as a youngster
,'' he says, "
and the first job I had in the Hollywood studios was as a pianist in the orchestra. Then I began to see the possibilities of composing for film and felt I would be able to learn how to do this. It was a gradual evolution over seven or eight years from the piano bench to the podium.''

His first jobs were in television, where he worked on series including
Wagon Train, Time Tunnel
and
Lost in Space
, and on the weekly "anthology dramas''
Alcoa Premiere
and
Bob Hope Presents the Chrysler Theater.


"
That was hundreds of TV films about every kind of subject, so it had to be a place to learn and gain experience. I was lucky to arrive on the scoring scene when the studios were converting from film production to TV. They needed a lot of music and employed young composers to work for not very much money, so it was a great opportunity.''

Williams is now securely entrenched as one of an elite handful of Hollywood composers, alongside the likes of James Horner and Howard Shore. But you suspect that in posterity's opinion, Williams may loom a little larger than most.
EDITOR'S NOTE: I WAS ABOUT TO MAKE A COMMENT ABOUT THAT LUMPING HIM IN WITH HORNER AND SHORE, BUT THE WRITER CAUGHT UP. YEAH. DUH.
That may be because he has always stuck to first principles, resisting the lure of gadgets and gimmicks.
"
A lot of my younger colleagues are able to put a lot of their music into a computer or synthesizer, and audition it that way
,'' he says.
"
When I was starting in music we didn't have all that equipment, so I continue to demonstrate at the piano whatever the orchestra is going to do. That's going to be an inadequate presentation at best, but it hasn't been a problem for me.''
Has a director ever said to him, "No, that's not what I wanted?''
"
I haven't had that problem. Once in a while a director will say this scene is too loud, too fast, or whatever, but I'm happy to rewrite scenes, it's part of what we do. In many cases, I think I can do a better job having been given a second chance at bat.''

Williams must possess some mysterious sociability elixir, because he has even successfully negotiated three movies with the volatile Oliver Stone.
"
He's a very different man to George Lucas or Spielberg
,'' he says, "
but we've had good times. When we made JFK, his idea was that I should record the music for the Dallas assassination sequence before I even saw the film, and he would cut some of the sequences to that. I think I wrote about 15 minutes of music and he cut quite a bit of it in. It was a different methodology and I enjoyed it a lot.''

Considering how much of his work has been on sci-fi projects or for movies on thoroughly all-American themes, it's curious that Williams's rousing symphonic themes and thunderous fanfares are reminiscent of such European classicists as Richard Strauss or Gustav Mahler. In addition, he has a big, fat, soft spot for British composers.
"
I've always been a lover of Elgar and Vaughan Williams and William Walton. Somebody once gave me the film of Elgar coming into Abbey Road studios to record Land of Hope and Glory. He said to the orchestra, `Gentlemen [there were no ladies then], please play this tune as though it were the first time you'd ever heard it.' I admire the great musical tradition in this country, so I suppose you could say I'm an Anglophile.''

In this respect he's following in the footsteps of his close friend Bernard Herrmann, composer of soundtracks to
Citizen Kane
,
Psycho
and
Vertigo
. Herrmann lived in a flat off Regent's Park for many years, and Williams was a frequent visitor.
"
Benny - as we affectionately called him - loved British music and the whole music-making atmosphere of London, and our wives were great friends. He was a great figure in film music, possibly the greatest.''

When I ask him if he approaches a film score by starting with a central major theme, it's Herrmann's example that springs to mind.
"
It's often an approach for me to find a theme or themes that will identify characters or the film itself. Some films don't require that kind of musical grammar. For instance, you wouldn't want a singable melody in Psycho.

EDITOR'S NOTE: ALTHOUGH, IT'S SOMETHING ANDREW LLOYD WEBBER WILL NO DOUBT ATTEMPT AT SOME POINT. (SNICKER).

But on the other hand, Herrmann did Vertigo and there are some beautifully melodious pieces in there.''

Despite the breadth of his musical experiences, including a stint as conductor for the Boston Pops orchestra and the composition of several concert pieces, Williams will always be best known for his long partnership with Spielberg.
"
I think Steven and I started together in 1973
,'' he says. "
That's a long time to collaborate with anyone, it's a long marriage, but it was never planned that way. I think everybody knows the generous kind of man he is and the contributive spirit he has. We just get on very well.''
Their first meeting was on Spielberg's early
The Sugarland Express
(1974), which was only a modest success at the box office. However, two years later they reconvened for
Jaws
, the director's breakthrough into the front rank of popular cinema. Williams' score, with its distinctive pulsing motif, won him an Oscar, though this wasn't quite the novelty it might have been, since he'd already won one for his work on Norman Jewison's 1971 film of
Fiddler on the Roof.

He has continued to score such recent Spielbergian highlights as
Catch Me If You Can
and
Minority Report
(both 2002), and is about to immerse himself in the director's remake of
War of the Worlds
. So on balance, this movie malarkey isn't a bad way to make a living?
"
Not everyone is comfortable with doing film music
,'' Williams says, "
but I think it's more and more a valid activity for composers. I think younger people are taking more serious interest in it than was the case decades ago.''

But how many of them will be lucky enough to find their own Steven Spielberg?
EDITOR'S NOTE: VERY FEW. BUT THE MUSIC COULD STILL BE GOOD, EVEN IF THE MOVIE ISN'T, RIGHT? (SO MORE TO THE POINT, HOW MANY DIRECTORS WILL BE LUCKY ENOUGH TO FIND THEIR OWN

JOHN WILLIAMS

?)!
AND CLOSING WITH AN ODDBOB MOMENT (SOMETHING HE PURLOINED FROM AN IMDB POLL, I BELIEVE):
GEORGE LUCAS HAS SAID THAT STAR WARS EPISODE III - REVENGE OF THE SITH IS GOING TO BE "TITANIC IN SPACE"
WHAT EXACTLY DO YOU THINK THIS MEANS?
1. ANAKIN SKYWALKER EXHORTS "I'M KING OF THE GALAXY!"
2. QUEEN AMIDALA WILL WEAR A BIG HAT
3. A FRAMING DEVICE FOR THE STORY FEATURING BILL PAXTON
4. CELINE DION CROONING THE LOVE THEM "MY SITH WILL GO ON"
5. OBI-WAN KENOBI YELLING "ICEBERG--I MEAN, METEOR--RIGHT AHEAD!"
6. WOODEN DIALOGUE IN BETWEEN ACTION SEQUENCES
7. JUDICIOUS USE OF IRISH MUSIC IN TH SCORE
8. A PROMINENTLY FEATURED EXPENSIVE NECKLACE
9. LOTS OF WATER
OR....
10. IT'S JUST GOING TO BE A BIG DISASTER ALL AROUND?
EDITOR'S NOTE: GRRR...ODDBOB WILL BE SPANKED.