SO much catching up, and SO little time - TV
Editor's Note: MORE catching up on the fly. The QOTD's work is NEVER done.
(hand to forehead, much dramatic pausing......)
Julianna Margulies joins THE LOST ROOM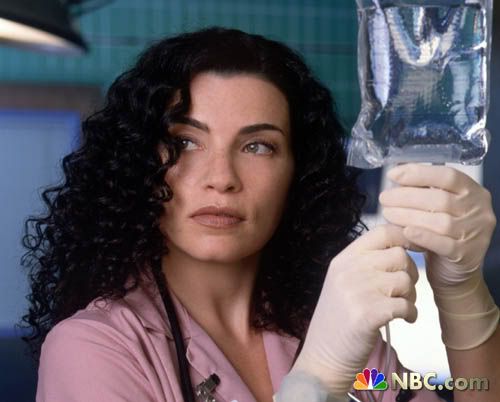 Editor's Note: You'd think the website I stole.....umm COPIED....this item from would be able to come up with a more recent pic of the lovely Ms. Margulies. (I should find better folk from whence to PURLOIN).
Julianna Margulies, formerly of ER fame, has signed on to star in Sci Fi Channel's limited series THE LOST ROOM.
Margulies will play a mysterious woman who contacts a detective (Peter Krause) claiming that her brother was killed for a seemingly innocuous motel room key, one that actually has the power to unlock a door into a room full of unimaginable power.
Editor's Note: Maybe the hotel staff should CLEAN the room more often?
After he comes into possession of the key and his daughter (Elle Fanning) vanishes into the room, he forms an uneasy alliance with the woman.
Margulies will join Roger Bart in the series.
Editor's Note: Creepy Roger Bart notwithstanding, anything with Julianna Margulies is on my watch-list.
THE LOST ROOM will be six-hours total and is set to premiere this December. Production is currently underway.
Sci Fi Channel acquires STAR TREK: ENTERPRISE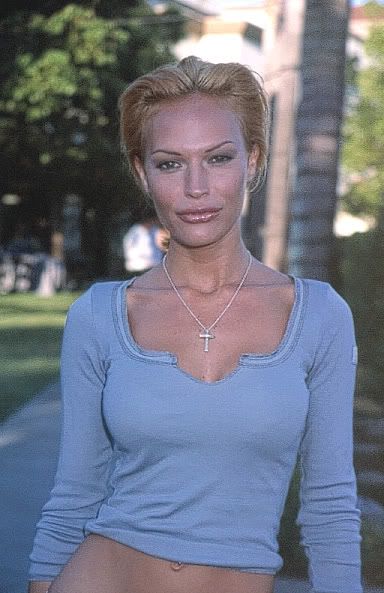 Editor's Note: Wow. They really don't make Vulcans like they USED to, huh?!
According to SciFi.com, the Sci Fi Channel has acquired the rights to multiple made-for-television movies and series from CBS Paramount Domestic Television, including
Star Trek: Enterprise
, the prequel series starring Scott Bakula and Jolene Blalock, as well as the series
Haunted, Jake 2.0
and last fall's short-lived
Threshold
. The deal also includes exclusive cable rights to the classic series
The Twilight Zone, Tales From the Darkside
, several Stephen King miniseries and made-for-TV movies including
Primal Force
and
Trilogy of Terror II.

ENTERPRISE is scheduled to debut early fall on the Sci Fi Channel.
Editor's Note: This must be some sort of mistake. The SciFi Channel has accidentally purchased a bunch of.....urrr....SCIENCE FICTION! (Maybe they plan to run it on their sister-net USA?)
Fox developing vampire show
Editor's NOte: At the risk of being accused of being a pinko-liberal (not that I would MIND), WackyRupert's bullypulpit network putting on a VAMPIRE show seems very appropos, eh?
According to Variety, Fox has picked up AMY AFTER DARK from writer John Scott Shepherd and director Todd Holland.
The show will focus on a young New York attorney who discovers she's a vampire.
Editor's Note: Again...a lawyer who is a vampire....Redundant? (apologies to PlanoKevin....an attorney AND a Dweeb, so one mitigates the other).
Fox also picked up another untitled drama from Allan Loeb and Christian Taylor which is centered around a police detective who is secretly centuries old.
Editor's Note: Except for the

detective

part, I'd say they know our dweebpal OddBob!
Shepherd, who is writing
Amy
, created and executive-produced ABC's short-lived drama
The Days
. Holland, who executive-produced and directed Fox's
Wonderfalls
, won an Emmy for his work on
Malcolm in the Middle
.
ACADEMY AWARD-WINNER JAMES HORNER HAS COMPOSED NEW THEME MUSIC FOR THE 'CBS EVENING NEWS WITH KATIE COURIC'
James Horner, a two-time Academy Award-winning composer, has composed the new musical theme for the CBS EVENING NEWS WITH KATIE COURIC, which debuts on Tuesday, Sept. 5 (6:30-7:00 PM, ET).
The musical theme will also be integrated into other CBS News programs over time.
Horner is one of today's most successful composers of music for film. He won Oscars for Best Original Score and Best Original Song ("My Heart Will Go On") for "Titanic" and has received seven additional Oscar nominations for his scores from "Apollo 13," "Braveheart," "Aliens," "Field of Dreams," "A Beautiful Mind," "House of Sand and Fog" and the song "Somewhere Out There" from "An American Tail."
He is the recipient of six Grammy Awards and two Golden Globe Awards. Among the more than 100 film scores Horner has composed are those for "Legends of the Fall," "The Mask of Zorro," "Glory," "Patriot Games" and "Star Trek II: The Wrath of Khan."
Editor's Note: So even if Katie isn't doing well, we can all HUM along with the news and be mollified I guess?
Williams is transplanted to TNT pilot
Treat Williams has signed on to star in "Heartland," a drama pilot for TNT from Warner Horizon Television.
Williams will play Nathaniel Grant, a surgeon in the medical drama set in the high-stakes world of heart transplant surgery.
Editor's Note: If Treat Williams plays a doctor often enough on TV, does he actually get to practice medicine for real?
The project hails from David Hollander, creator and executive producer of the CBS drama "The Guardian." The project was developed by Warner Bros. Television but will be produced through the newly formed Warner Horizon unit designed for cable and lower-budget series.
Williams' character is described as an intense, sleep-deprived surgeon whose devotion to his work takes a toll on his relationships, including his estranged wife, who works at the same hospital as the organ-recovery coordinator.
Many 'Masters' set for ABC show
Judy Davis, Sam Waterston and Anne Heche are among the long list of actors who have signed on to star in episodes of ABC's upcoming anthology series "Masters of Science Fiction."
Malcolm McDowell, James Cromwell, John Hurt, Sean Astin and Brian Dennehy also have signed on to star in installments of the six-episode series, which is based on short stories by some of the sci-fi genre's top writers.
The hourlong show is set to air during the 2006-07 season.
Other actors starring in episodes are Terry O'Quinn (ABC's "Lost"), Elisabeth Rohm (NBC's "Law & Order"), Clifton Collins Jr. (ABC's "Alias"), Kimberly Elise (CBS' "Close to Home") and James Denton (ABC's "Desperate Housewives").
EDitor's Note: WOW! I mean, incREDible list of people, huh? I hope the writing is as good as the star power! (based on top scifi short stories...I wonder which ones?) Wow!