Smidgeons of Dweebing
Editor's Note: Time for just a

tad

of this and that to keep us abreast (
snicker...she said BREAST
) of the more important Dweeb NEWS.
Julian McMahon returning to FANTASTIC FOUR sequel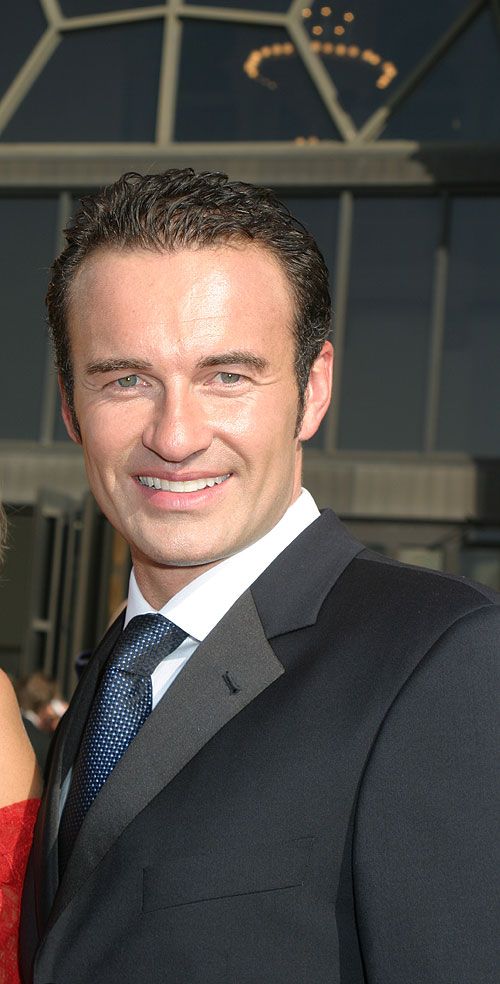 Julian McMahon has revealed to iF Magazine that he will be back as Dr. Doom for the FANTASTIC FOUR sequel.
Though McMahon will be back in some form, he is not sure of his exact role in the film.
"
We haven't got a script yet. The script hasn't been put out and I'm not going to start until the end of August or September. Right now, I'm literally every day, 16 hours a day on Nip/Tuck... I don't think there is going to be as many prosthetics. That was tough. I would rather not do it again, but at the same time, I've signed up to do what I need to do."
Editor's Note; That's kind of a quick turn-around given they don't have a finished SCRIPT yet, huh? The last one was entertaining but NOT all that tightly written, so I hope they put getting the script right over speed. (Hope

do

spring ETERNAL, don't it?)
The FANTASTIC FOUR sequel is set to release on June 15, 2007. The rumored title for the film is FANTASTIC FOUR AND THE SILVER SURFER.
Disney goes back to 2-D with FROG PRINCESS
Walt Disney Feature Animation is getting back into the business of traditional animation with it's upcoming animated film FROG PRINCESS.
The studio has put John Musker and Ron Clements together to develop the film. They will attempt to put a female spin on the tale of the Frog Prince. Musker and Clements worked together to make Disney's THE LITTLE MERMAID. They also worked together on such traditionally animated Disney musicals as Aladdin and Hercules.
The film is still in the early stages of development and no real script or cast details are available as of yet. All we know is that the film will be a female twist on the standard tale of the Frog Prince.
Editor's Note: Chicks...and frogs...RULE!
James Marsden Applies Hairspray/Cyclops joins movie musical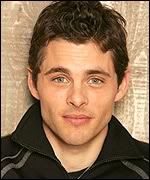 Dying by the hand of your super-powered lover is easy. Especially when you do it off-screen. Now it's time to find out if
X-Men's
James Marsden can sing and dance.
The man formerly known as Cyclops has been added to what can only be described as the sprawling
Hairspray
cast. He'll play Corny Collins, the host and dreamboat star of the dance TV show that our heroine, Tracy Turnblad, dreams of appearing on. Let's hope Wolverine's been giving him song and dance lessons.
Editor's Note: Oooo.... If Wolverine would give ME lessons, I'd actually PRACTICE!
You know the rest – John Travolta in a dress, Queen Latifah, Adam Shankman directing, release date set for summer next year
Brad Pitt Is Benjamin Button/Commits to the Fincher film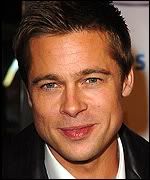 Editor's Note: yeah yeah yeah....You're pretty. (
you wife-cheater, you
).
One of those films we were beginning to think would never crawl from development hell has at last made it out into the glow of the green light.
Brad Pitt has finally committed to star in
The Curious Case Of Benjamin Button
for the combined forces of Paramount and Warners. He plans to make the film after sequel
Ocean's 13
.
Based on an F Scott Fitzgerald story, the script – penned by
The Insider's
Eric Roth – finds the titular character ageing backwards from 50. Trouble is, that's when he meets a 30-year-old woman (Cate Blanchett) and falls in love.
Button
has been tumbling through the wilds of Hollywood for more than ten years, with Pitt interested for at least one of those. The movie will reunite him with
Fight Club
director David Fincher.
But it's not the only film on the actor's to-do list. He's also considering taking on the US version of the top BBC drama
State Of Play
.
Rodrigo Santoro joins LOST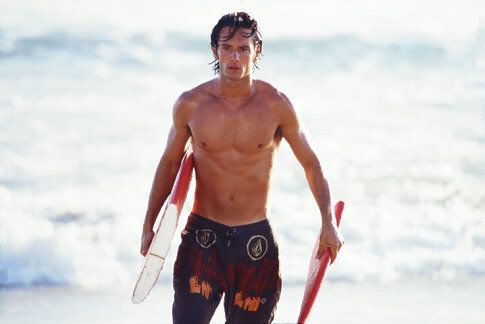 Editor's Note: Not that we NEEDED another reason to watch "Lost", but this will do in a pinch........
TV Guide's Michael Ausiello has learned that Rodrigo Santoro will join the cast of LOST for the upcoming season.
Ausiello writes, "
Lost has found its new mystery man — and you're reading about it here first! Rodrigo Santoro, best known to American audiences as the hot dude Laura Linney crushed on in Love Actually, is joining the cast this fall. I know what you're thinking, "Rodrigo... Whatchoo Talkin' 'Bout Willis?" That was my initial reaction, too. Well, the 30-year-old actor may not be a household name here in the States, but there apparently is no bigger movie star in Brazil than him."
His part is listed simply as 'mystery man'.
Editor's Note: Strangely enough, that is also what is listed on OddBob's business cards. (
or is it WEIRD man
?)
LOST airs on ABC on Wednesdays at 9 p.m. EST. It will return in September for 6 episodes and then go on hiatus for 12 weeks before coming back for 17 straight episodes.
Vin Diesel developing animated HANNIBAL TV series
Vin Diesel is developing a 'groundbreaking' animated television series that will span the life of Hannibal. The film will follow Hannibal from his tutelage as a warrior under his father, to his scaling of the Alps on the backs of elephants, to his invasion of Italy.
Six episodes of the series have been ordered by BET and will be aired during prime time in the fall of 2007.
BET's Senior VP of Animation Denys Cowan had the following to say, "
This isn't a Saturday morning show -- we want to be able to show a lot more of the drama and action that you expect to see in prime time."
Diesel's big screen take on HANNIBAL is still stuck in development heck, though the plan is still to make the film.
Editor's Note: Cartoons sure do make strange bedfellows. Why BET? And Why Vin Diesel?
And here's an interview with a lovely man. (sigh......)
Jason Isaacs: More Than a Bad Brother


by Matt Webb Mitovich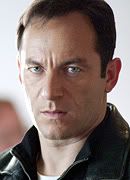 Jason Isaacs, Brotherhood
When Jason Isaacs first comes on the phone, he mentions that he is covered in blood. Sounds like an interesting — but not atypically brutal — moment is in the works for Showtime's
Brotherhood
(Sundays at 10 pm/ET), where he plays prodigal hoodlum Michael Caffee, MIA for seven years and now back home in Providence, Rhode Island, to reclaim his turf, all the whole trying not to sully his legislator brother's political profile.
But it turns out that Isaacs — whom you know from such film fare as
The Patriot
(he popped Mel Gibson's son) and the Harry Potter series — has his hands dirty for a different, even heroic, role.
TVGuide.com:
Why are you covered in blood?
Jason Isaacs: It's for a BBC miniseries called State Within; I play the British ambassador who's trying to save the world from terrorists, and the leader of the rebels has been shot in my arms. Just another day at the office! [Laughs]
Editor's Note: Oooo. I hope we get this show on BBC America or something. It's about TIME lovely Lucius gets to be a GOOD guy!
TVGuide.com
: You had me wondering for a second what sort of fresh mess Michael Caffee was involved in.
Isaacs: Oh, no, no. I haven't done [Brotherhood] since December. It's strange when it comes on the telly; I watched the DVDs and thought, "God, I remember that...." Michael is so miserable and tortured all the time — a huge weight lifted off my shoulders when it was all over!
TVGuide.com:
The ads have positioned the show as this "brother versus brother" thing, but that's not all it's about.
Isaacs: In many ways, the show is about a neighborhood and not a family. But there are things going on between these two siblings that we've probably all experienced. They grew up together, and from Michael's point of view in some ways he raised Tommy. The father was gone and he kept Tommy on the straight and narrow. Then when he comes back he is no longer the head of the family; Tommy is a big local figure with a lot of status and respect, which Michael is very proud of and, on some deep level, envious of. Similarly, Tommy was the little brother, and little brothers, no matter what kind of status they achieve, always have a chip on their shoulder and feel a need to prove themselves. Michael and Tommy are both control freaks and want the best and worst for each other. They both want to be at the center of the family, to be the one who works out the problems.
TVGuide.com
: Obviously you've been busy with theatrical work. How did you get recruited for a Showtime series?
Isaacs: I hadn't done many pilots before, but that year I had done a couple of episodes of The West Wing because it was my favorite show and it was a complex character in an interesting, grown-up story. That made me realize that what I was doing for my own entertainment was watching television. I was making films, and I will continue to do so, but most of the time the films were not for me, they weren't the kinds of things that I watch. The stuff I like to watch — provocative, adult and complicated stuff — I was always guaranteed to find on pay cable. When my agent came to me with this, he said, "Look, I know you don't read pilots, but it's being directed by [The Patriot's] Phillip Noyce." And that was it for me. It wasn't part of some plan; I just stumbled into it.
TVGuide.com
: What did you admire most about the script?
Isaacs: One of the things that intrigued me was that Michael's been away for seven years and when he comes back he's obviously a different man, and he has made these mysterious statements about what his plans are, about who he [is] now. When I went to meet Phillip and [executive producer] Blake [Masters], I said, "What do you think this is all about? Where has he been? What is his agenda?" They looked at each other, and then looked at me, and Phillip said, "I don't know. What do you think?" I thought, "Wow, this is not like the movies at all." This is open-ended and we don't have to answer all the questions within an hour. In the end, that conversation is what made me sign up for it.
TVGuide.com
: As I cued up the pilot, I was curious if the British Jason Isaacs would be giving us an Irish accent. Not quite.
Isaacs: [Laughs] What's amazing is that if you go to Providence, the first thing that hits you — and the American actors found this to be true as well — is, "What the hell are these people saying?" This is a very, very unusual accent. You can travel all over America and people sound pretty much the same — yes, the South sounds a bit different and we're used to the East Coast accents from the New York movies — but this is a really weird, idiosyncratic accent. Being British, I love doing dialects and accents, so as soon as I got there I was in my element. It's a really juicy sound to get your mouth around. Some actors, they get the clothes right; for me, I like to get a voice. Early on in the production I met a guy who I thought sounded perfect for Michael, and I walked around with [his recorded voice] on my iPod all the time. All of us did. Jason Clarke (Tommy) and I looked like the iPod twins, walking around listening to Providence people.
TVGuide.com
: Speaking of you and Jason Clarke, I can't decide if there is a "family" resemblance or not.
Isaacs: Just the eyes. We both have blue eyes. I'll tell you —and this was rather weird — I'd pick up his iPod and we'd have exactly the same songs. Or, we'd be sitting in a restaurant and order the same drink with the same food and the same fussy little [changes] we'd have them make. There was a whole host of stuff that made us realize it was spookily good casting.
TVGuide.com
: Did you get typecast as a baddie after
The Patriot
?
Isaacs: It's not so much typecasting as when you're casting a movie you think, "Who have I seen do this before?" — whether it's a priest or a murderer or a balloonist. Having just played a baddie, I was offered lots of baddies and I said no to them. I went straight from The Patriot to doing a drag queen in Sweet November. I didn't do another bad guy, in fact, until Harry Potter [and the Chamber of Secrets. That and Peter Pan came along in the same week, and I thought, "I've resisted doing bad guys for five years and suddenly there are these two choice parts." I agonized about which one to do, which one not to do, and I was going to say no to Harry Potter because Captain Hook obviously was a bigger part, when all of my godchildren and my friends' kids went ballistic and threatened me. So I ended up doing both!
Editor's Note: Go Kids! Yay!
TVGuide.com
: Where do you stand with the next Potter film,
Order of the Phoenix
? [Isaacs plays Lucius Malfoy, the father of Harry's archrival, Draco.]
Isaacs: I'm shooting [State Within in Canada] all of next month, and then I go home, unpack, get the mothballs off the wig, stick it on and start waving my wand about.
Editor's Note: Wave that thing over HERE! (
sorry...blushing and fanning myself
.....)
TVGuide.com:
A Potterphile pal of mine says fans are anxious to see how
Order of the Phoenix
handles the Battle of the Ministry, a "beyond huge" moment, I am told, in Potter lore.
Isaacs: I am, too. This is all as entertaining for me as it is for many of the fans. I turn up and they go, "OK, you materialize from here and you fly in over here, and then you point at this and it's going to explode...." I stand there with my jaw dropped. When I did [Chamber of Secrets], they said, "OK, there's going to be a little blue guy [Dobby the House Elf] walking next to you and then he's going to jump up to here...." [Laughs] On the first day of the first one I did, the first shot I had to do was storming out of a room, leaving the lovely Richard Harris (the original Dumbledore) and Daniel [Radcliffe, Harry]. [Director] Chris Columbus shouted, "OK, and then shut the door on your way out." I said, "Do I have to shut the door? I don't know what the rules are, but can I just wave my hand and the door shuts by magic?" Chris paused for a second and said, "Sure. If you like." That's when I knew I was going to have a great ride.
TVGuide.com:
Lucius must be pretty fed up with always being bested by those pesky kids.
Isaacs: Well, I know that I go to prison for No. 6 [Harry Potter and the Half-Blood Prince], so I suspect that I have time to build up another deep well of bitterness that hopefully will burst out in No. 7.
TVGuide.com
: Before we go, back to
Brotherhood
for a second. What's going on with Michael and Single-Earlobe Girl? Have we seen the last of her after he stormed out of their first date?
Isaacs: Um, he's gone into very deep water. This is a guy who's absolutely all about control, and he's hooked up accidentally with this young girl who might find it kind of sexy that he's a criminal, but is probably more unstable than he is. I think he's bitten off more than he can chew. He ought to know better.
Editor's Note: Yes he SHOULD. When there are such lovely (and NOT insane) women his own age. Ahem....
TVGuide.com
: If
Brotherhood
does well, are you open to a Season 2?
Isaacs: Oh, I don't have a choice. If the show does well they've got me until I'm on a walking frame. They might not want me back, who knows? Over the years I've been in things and your head gets turned and twisted by all the people who talk about what it's going to do when it comes out and how many people are going to watch it, and how it's going to change the lives of the people who are in it... crazy talk. When I was younger I listened to it, but over the last few years I've tried to enjoy the filming process and not really give a monkey's [butt] whether the thing even comes out. We've had amazing reviews so far for Brotherhood, and the people I've lent [the DVDs] to like it, but my job was six months last year in Rhode Island. What happens now is out of our hands. If I go back and do it, I hope that Michael continues to be surprising and interesting because the last thing the audience wants, and the last thing I want, is to have him be predictable.
Editor's Note: I've watched 3 episodes so far, and he is a VERY interesting character. And not bad to LOOK at either!