A couple of weeks' -worth of STAR WARS News
Editor's Note: I've been totally remiss...dweeblogging away, but nary a Star Wars item in sight! (Mustn't take my first love for granted. Shame shame).
This first bit of weirdness sent to us by dweebpal Gamemaster Dave.
"The Vader Sessions"
GamemasterDave opines:
moments of brilliance, here...
http://www.mcnblogs.com/thehotblog/archives/2006/07/the_vader_sessi.html
Editor's Note: Funny stuff. But more proof of what happens when people have a TAD too much time on their hands. (And by

PEOPLE,

I mean

DWEEBS

, of course).
This next item is not, strictly-speaking, SW, but sort of ties in. A bit.

Piqued by prequels (From 'Superman' to 'Saw,' tie-in comics enrich pics)
Most "Star Wars" audiences met the mysterious General Grievous in the opening scene of "Revenge of the Sith." But fans enthusiastic enough to watch Cartoon Network's animated "Clone Wars" series, which George Lucas created to bridge the gap between Episodes II and III, found little mystery in the villain with whom they were already well acquainted from the show.
And while average viewers thought nothing of Neo's spoon-bending acolyte from "The Matrix Revolutions," hardcore devotees instantly recognized him as "The Kid" character from "The Animatrix," a series of nine anime episodes commissioned by the Wachowskis (who penned four of the shorts themselves) to help connect the original pic with its two 2003 sequels.
Once redundant as merely franchise adaptations, today tie-in comics and cartoons frequently provide valuable supplemental details to the story and characters, rewarding fans who do their homework with key background information.
Editor's Note: Homework...but in a GOOD way!
Take Kevin Smith's four-part comic "Chasing Dogma" (1998), which explains how the Jay and Silent Bob characters went from New Jersey at the end of 1997's "Chasing Amy" to Chicago for the opening of 1999's "Dogma." Skip the comics, and the movies still make sense, but read the comics, and fans are rewarded with added insight.
With auteur filmmakers catching on that they can expand their mythologies offscreen -- and companies realizing there's additional money to be made through this continuing pop-culture phenomenon -- the trend is heating up.
Editor's NOte: Money, mythology, fan emmersion...EVERYBODY wins!
Comics-based "Superman Returns" was a natural for the treatment, yielding four special issues that sold out before Superman flew onto screens.
"
These prequel comics were the brainchild of (director) Bryan Singer and (screenwriters) Mike Dougherty and Dan Harris,"
says Gregory Noveck, senior VP of creative affairs for Warner-owned DC Comics. "
They wanted to fill specific gaps in the time frame between (1980's) 'Superman II' and their film, 'Superman Returns.'"

The comics focused on what Superman's friends and enemies had been doing before the film begins. Only by reading the prequel comics would auds know that Ma Kent covered for Clark's absence by forging postcards to Lois Lane (the cards even appear on Lois' desk in the film) or understand why Lois fell for Richard White in Superman's absence.
Editor's NOte: If our lovely local comic shop had been on top of things, they would have probably advertised this to movie/dweeb fans like moi, huh? Wonder if we can still get copies, cause some of the back-story would really have helped the enjoyment of this movie.
"
I think culturally when people find a world that they like, they want to immerse themselves in it
," Noveck says.
Editor's Note: Often beats the humdrum reality in which we loll, eh? (
Types the woman working on her dweeblog at work....ahem
....)
Graphic novels can also provide artistic refuge for filmmakers. When Brad Pitt dropped out of "The Fountain" in 2002, the production shut down, leaving writer-director Darren Aronofsky distraught.
"
After I licked my wounds, I immediately set up the graphic novel because I wanted the work of the artists from the film and (co-writer Ari Handel) to find an audience
," he recalls.
The pricey "Fountain" hardback sold out in fall 2005, while a moderately priced trade paperback will generate new awareness leading up to the pic's release.
"
Some people wondered if we were giving away the whole story and all of its secrets,"
Aronofsky says. "
I think the two works complement each other."

Other studios have also used comicbook tie-ins to hype their upcoming pics. For instance, Lionsgate released a graphic novel before "Saw II" that shed light on the Jigsaw character's mysterious origins, and New Line has similar plans for its "Texas Chainsaw Massacre" prequel.
Filmmaker Richard Kelly is taking a more ambitious approach with "Southland Tales," telling the first three episodes in three graphic novels, with episodes four through six told as chaptered segments within the film.
Each of Kelly's 100-page prequels covers a full day's events, providing heavy backstory on how these characters all came to arrive in Los Angeles for the beginning of the film, suggesting that auds' true understanding of the film may depend on whether they've read the books first.
Editor's Note: Ok, but in this case, where it isn't a story or author I'm familiar with, what is the incentive to invest in three books prior to seeing the movie? (I mean, other than OCD issues)?
"
'Southland Tales' was designed with the same kind of storytelling grammar that 'Donnie Darko' was made with,"
Kelly says. "
It's a big puzzle with a lot of characters that all fit into an intricate film that challenges the audience to engage in the narrative to try to solve the puzzle."

Smith, who appears in "Southland Tales," co-financed the graphic novels with longtime partner Bob Chapman of Graphitti Designs. At a cost of roughly $60,000 per issue, it was a risky venture, but as Chapman explains, they were investing in both the unique story and Kelly's strong fan base -- the same fans who practically willed a director's-cut DVD of cult favorite "Donnie Darko" into existence.
"
There really were no limits
," Chapman says. "
We told Richard to tell the story he wants to and that we'd facilitate making sure that story reaches audiences."

Kelly, new to the world of comicbooks, took advantage of the financial freedoms the page offers. Rather than taking $1 million out of the film's $17 million budget to create an elaborate dream sequence, Kelly accomplished it in his graphic novel. Now, as the director re-edits "Southland Tales" after its chilly reception at Cannes (possibly augmented by the crowd's unfamiliarity with the graphic novels), Kelly's found himself adding comic elements into the film.
"It's been a challenge to make sure that the film does not live or die based on whether or not you've read the graphic novel,"
Editor's Note: THAT would be nice. (especially given the spotty availability of many lesser-hyped comics titles).
he says. "
But at the same time, that was always what I felt was so cool about telling a story across different media."

Editor's NOte: And now....back to the Full-frontal STAR WARS stuff ----
Essential Update: Alien Cover Art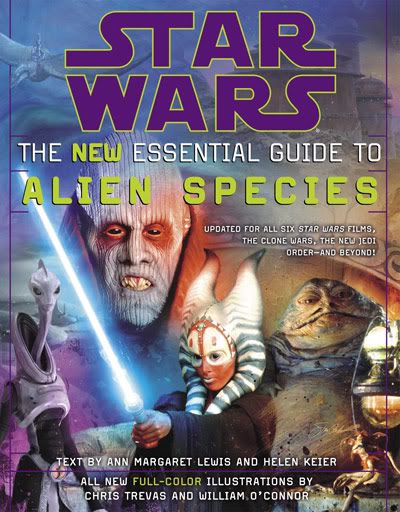 As previously reported, Del Rey Books will continue to update and expand their library of Essential Guides with the addition of The New Essential Guide to Alien Species by authors Ann Margaret Lewis and Helen Keier. The original story posted last February had preliminary cover art, but today's update shows the real deal -- the finished art by Steven D. Anderson.
The book will feature full-color interior artwork by Chris Trevas and William O'Conner. The text has been fully updated to encompass the entire Star Wars movie saga and the completed
New Jedi Order
series. Entries feature complete physical descriptions and official designations, specifics about homeworld, phonetic pronunciation, and a list of notable appearances. Plus, this brand-new edition includes a glossary of crucial descriptive terms.
Editor's Note: Crucial descriptive terms? How to say 'yo mamma' in Bothan?

The New Essential Guide to Aliens
is slated for paperback publication this fall from Del Rey Books
Editor's Note: Must have must have must have!!!!
New Star Wars: Dark Side Video slots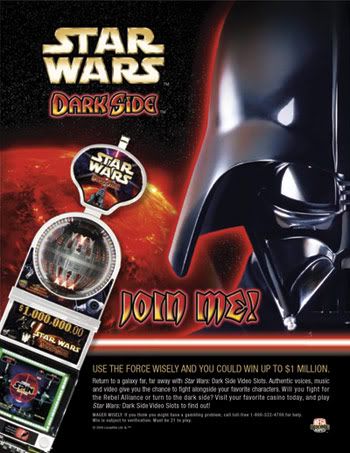 Star Wars: Dark Side
video slots are the latest addition to IGT's Star Wars slots series, and they're making their nationwide debut in casinos this summer.
Based on the most popular movie saga of all time,
Star Wars Dark Side
video slots are perfect for penny players and feature authentic characters, vehicles, footage, dialogue and sound effects from the films.
The Empire in Pursuit bonus, featuring Darth Vader, awards free spins and multipliers on the Death Star top box. Animated reel characters offer sound bites and special pays from movie favorites Darth Sidious, Tarkin and Boba Fett.
Editor's Note: I feel a sudden urge to GAMBLE coming on!!!

Star Wars: Dark Side
follows the successful 2005 debut of
Star Wars: Episode IV A New Hope
video slots. Beginning in fall 2006, you'll be able to enjoy a trilogy of Star Wars games when
The Empire Strikes Back
video slots are introduced.
These 5-reel, 30-line MegaJackpots games offer Instant Winners top awards of $1,000,000, depending on jurisdiction. A $3 maximum bet is required to capture the MegaJackpots Instant Winner award, which is won when five Star Wars symbols appear on the first payline.
Editor's Note: But only when the FORCE is with you? (or can you win at GAMBLING only when you harness the power of the DARKside?)
For more information on MegaJackpots locations, themes and current jackpot amounts, visit
igt.com
.
Star Wars Packaging Gets a New Look for 2007
At San Diego Comic-Con International, where Star Wars licensees such as Hasbro and LEGO revealed some of their product lines for 2007, fans got an eye-full of exciting new packaging designs that celebrate 30 years of Star Wars fandom.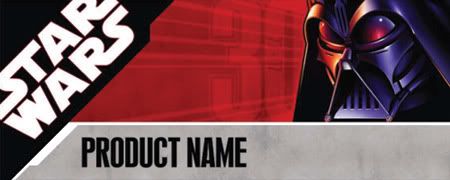 This sneak peek for starwars.com readers comes courtesy of Lucas Licensing and Hasbro, who are both very excited about the new face of Star Wars merchandising for 2007. This new design, which features angular styling, cropped text, and an edgier distressed look, will be installed across most branded merchandise next year, from toys to clothes tags.

Darren Phillipson, Lucas Licensing's Director of Global Product Development, worked with
PILOT
, a Boston based packaging design firm. Chris Ford and Bill Concannon, the firm's two principals, worked to find a look that met the needs of both the Lucas Licensing executive team and their respective licensees.
"

We wanted to ensure that the new line look was appropriate for the Star Wars brand and met the criteria we had initially established for 2007,"

says Phillipson. "

We really wanted to do something special with the packaging to mark our 30th anniversary."

While the anniversary design gives Star Wars merchandising a fresh new look, it also showcases the brand's enduring vitality. "

We chose a contemporary styling to the logo for a fresh look at the brand, and created a distressed architecture to celebrate its long heritage,"

says Pilot partner Chris Ford. "

It was important to deliver an ownable shape to the action figure packaging in particular

." adds Concannon.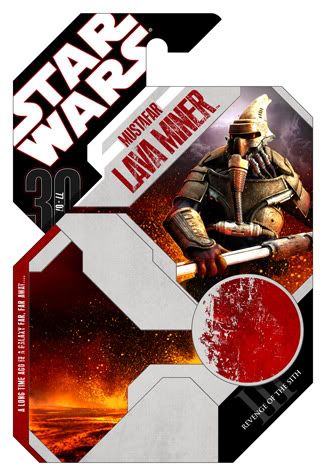 Edito'rs Note: Ooo...check it out! We get to buy are very own lava-planet day-laborer! (
bad QOTD, bad bad bad
....)
For the highly visible Hasbro action figure line, different pieces of artwork were devised for each figure's cardback, and discreet bits of text citing the saga's 30-year legacy, chapter title, and "A long time ago..." slogan were inserted.
"

For the collectors, I think the unique and visually appealing nature of the backer card artwork will encourage the collectability of the line,"

says Phillipson. "

This decision really came from the fact that we wanted to create a unique experience for the consumer every time they bought a different action figure.

Editor's Note: Thank heavens they put almost this same amount of thought into the toys themselves!
"

The same principle was applied to the vehicle packaging

," continues Phillipson. "

We wanted to make sure we placed an image of the character that would normally be associated with the vehicle on the box."

Editor's Note: Or else you'd accidentally have a WAMPA piloting a snowspeeder. (

which would be very very wrong. Everyone KNOWS Wampas prefer FORDS

).
In addition to striking new graphics, the vehicle boxes also received an added architectural enhancement -- an angled corner.
"This was a great idea that came from Bill and Chris at Pilot. The idea was to establish an interesting form to the box which would complement the angle of the Star Wars logo."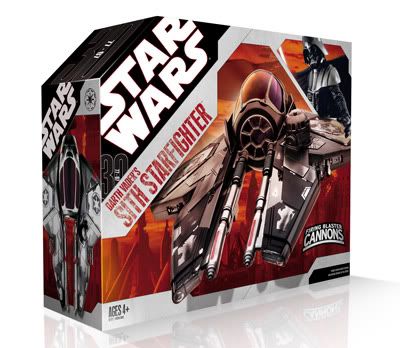 Beyond the action figures and vehicles, licensees such as LEGO will sport a unique, stylized Vader head graphic on their packaging.
"We wanted to add a graphic element that was visually arresting to the consumer and we thought the idea of creating a retro-inspired
Darth Vader
illustration would be perfect

," says Phillipson, who suggests the red pattern in front of Vader also reveals a subtlety of design.

"It reminds me of the Japanese rising sun graphic which is quite fitting based on the fact that some of Vader's styling originated from the Samurai warrior."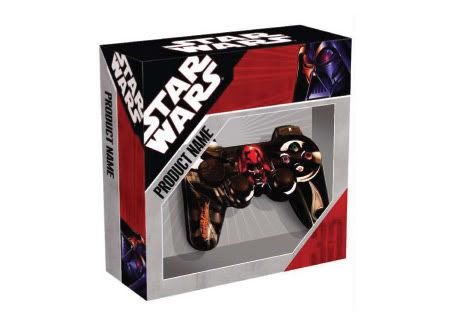 2007 is definitely looking like a stellar year for Star Wars, with an anniversary, a celebration, and a cool new merchandising look to commemorate the first 30 years of Star Wars! Editor's Note: Umm...Yay. (and the Wampa in his Taurus says yay, too!)
Industrial strength (F/x house ILM lines up slate of big pics)
Flush with positive reviews of the visual effects on "Pirates of the Caribbean: Dead Man's Chest" -- and basking in the reflected glory of its grosses -- Industrial Light & Magic is gearing up for a year of high-profile pics.
George Lucas'' vfx giant is the lead shop on Paramount's adaptation of fantasy book series "The Spiderwick Chronicles." Pic, based on the bestselling series of children's books, is skedded for release Christmas Day 2007.

Pablo Helman, Oscar-nommed last year for "War of the Worlds," is vfx supervisor on the pic, with Tim Harrington overseeing animation.

ILM also is retooling Tim Burton's "The Nightmare Before Christmas" into stereo 3-D for an October re-release from Disney. Editor's Note:Wowie zowie! Tim Burton in 3d!!! Hot dog!

Company continues as lead effects shop on the "Pirates" and "Harry Potter" franchises, both of which have releases skedded next year.

Supervisor John Knoll and animation director Hal Hickel, who oversaw "Dead Man's Chest," return for the third "Pirates" pic.

"Harry Potter and the Order of the Phoenix" also will see an encore for the effects toppers, as vfx supervisor Tim Alexander and animation director Steve Rawlins, who oversaw "Harry Potter and the Goblet of Fire," return at Warner's request.

In addition, the company will be working on Fox's holiday '06 fantasy "Eragon," Universal's "Evan Almighty," the "Bruce Almighty" sequel starring Steve Carell; and Par's "Transformers" for helmer Michael Bay.

ILM VP of production and marketing Mark Miller said the stereo 3-D business is an emerging market for the company.

ILM did the stereo version of Disney's "Chicken Little," which did boffo B.O. in 3-D theaters, and will be using the same process for "Nightmare Before Christmas."

Miller said, "It seems like most of the 3-D animated movies are considering 3-D stereo versions of their films, and studios like Disney are coming back with niche films like 'Nightmare' to bring them out in 3-D."

"Spiderwick Chronicles," from producer Kathleen Kennedy, is about three children who are drawn into a world of fairies and sprites. Pic in its early stages and ILM is helping design the digital characters.

Miller said ILM is reaping the benefits from its move to its custom-designed facility in San Francisco's Presidio.
"Something like the massive amount of work we put through on 'Pirates' at the end, we wouldn't have had the firepower to do that in our old facilities."

He said the facility and ILM's new production pipeline will make it possible to push through a similar crunch in order to get next summer's releases completed.

ILM contracted its staff after the completion of the "Star Wars" trilogy, and some in the vfx industry wondered about its future. But the company has invested heavily in infrastructure.

On "Dead Man's Chest," it unveiled new motion-capture technology that works on the set under first-unit conditions.

"As usual, there's an ebb and flow," Miller said. "We're looking for summer '08 stuff and for what else is out there for Christmas '07. But for next summer, we've got our hands full. It's a good situation to be in."

Star Wars Spectacular
The Force Comes to the 118th Tournament of Roses Parade
On January 1, 2007, denizens of a galaxy far, far away will march down the streets of Pasadena, California, in a one-of-a-kind "Star Wars Spectacular" during the 118th Pasadena Tournament of Roses Parade®.
More than 350 Star Wars characters, including stormtroopers, Imperial officers, Ewoks and Darth Vader himself will entertain the nearly one million people expected to line the streets of Pasadena to see the Parade in person and the tens of millions of more around the world who tune in via multiple television broadcasts. Editor's Note: This is GREAT! (Someone remind me to tape the parade! So far away, so much nutrasweet between now and then. EEEK). I wonder why they didn't do this LAST year in conjunction with the big movie-year-event?

The massive Imperial stormtrooper contingent will comprise members of the international 501st Legion, a costuming and volunteer organization made up of Star Wars fans. Some 200 stormtroopers from more than 20 countries will participate in the Tournament of Roses Parade, showcasing the emblems and colors of their local garrisons.

"During the global premiere of Star Wars: Episode III last May, George Lucas was deeply impressed by the presence of 501st Legion members around the globe, and we wanted to honor them for their loyal support of Star Wars and their global philanthropy," said Tom Warner, Senior Director of Marketing for Lucasfilm Ltd. Members of the 501st regularly volunteer their time to support local charitable efforts.

Providing musical entertainment in the "Star Wars Spectacular" will be the renowned Grambling State University Tiger Marching Band.
In keeping with this year's Parade theme "Our Good Nature," the "Star Wars Spectacular" will feature the Ewoks, residents of the forest moon of Endor, who will ride on a float showcasing their planet's unique environment with a plea to "Save the Trees." Editor's Note: Awww...TOO cute!!!! (come on, you cynics. ADMIT it......Ewoks Rock!)
The celebration of Star Wars -- which coincides with the start of the 30th anniversary of the epic Editor's Note: Ahhh...sooo...big anny celebration. Yeah, I guess that's a better reason than just one movie release., six-episode adventure -- will also showcase a float that depicts the romantic beauty of Naboo, the garden planet of the Star Wars galaxy. Editor's Note: Drewster! Isstinia! Your home planet on a parade float!! (Sorry Oddbob...NO Alderaan. Maybe if you look really closely at all the confetti, you can see PIECES of Alderaan?)
giggle....
"Being part of a grand tradition like the Rose Parade is a fantastic way to kick off this milestone year," Warner said.
Over Memorial Day Weekend 2007, a large fan convention, Star Wars Celebration IV, is expected to attract more than 30,000 worldwide fans to the Los Angeles Convention Center.

LucasArts and Sony Online Unveil Star Wars Galaxies: The Complete Online Adventures
LucasArts and Sony Online Entertainment today announced Star Wars Galaxies: The Complete Online Adventures, the most inclusive Star Wars Galaxies experience ever released. The Complete Online Adventures is scheduled to be available at retail stores nationwide November 2006 for a suggested retail price of $29.99. Editor's Note: This seems like a really good price! (I wonder if I could learn how to play this game without tearing out hair)?
The Complete Online Adventures features the base game, Star Wars Galaxies: An Empire Divided, along with all three of the game's expansions: Jump to Lightspeed(R), Rage of the Wookiees(TM), and Trials of Obi-Wan(TM).
In addition, Star Wars Galaxies subscribers will automatically receive a series of game updates that are scheduled to be released by LucasArts and Sony Online Entertainment throughout 2006, filled with new content, features and gameplay enhancements.
In addition to the hundreds of hours of gameplay included in The Complete Online Adventures, the game is also slated to include a bonus DVD filled with premium content including:
-- An exclusive in-game item for use while playing the game - a personal AT-RT vehicle as seen in Star Wars: Episode III Revenge of the Sith(TM);
-- A slide show Star Wars Galaxies screenshots and never-before-seen concept art, all set to beautifully orchestrated in-game music;
-- Interviews with Star Wars Galaxies production staff, detailing the incredible art, characters and music of the game;
-- Excerpts from the popular "From Pencil to Pixel" book that chronicles the art of Star Wars Galaxies;
-- In-game movie featurettes produced by Star Wars Galaxies fans;
-- Cinematic trailers and commercial television ads produced for Star Wars Galaxies;
-- A demo of the popular PC strategy game Star Wars: Empire at War(TM).
About Star Wars Galaxies
Star Wars Galaxies is one of the longest-running and most popular online experiences, bringing gamers of all ages and skill levels Editor's Note: ooo! All ages and skill levels! That SHOULD include even MY age and SKILL level, huh? together in the ultimate Star Wars journey. Jump into exciting adventures that lead you to legendary Star Wars locations including Jabba's Palace and the infamous Mos Eisley Cantina. Begin aboard the Millennium Falcon helping Han Solo and Chewbacca fend off the notorious Jabba the Hutt. Along the way, join with Star Wars characters on missions that span across the galaxy. Ally with the Rebels to fight against the Galactic Empire, or join forces with the Dark Side and crush the Rebel scum. Heroic adventurers can seek their fortune in space or on the ground as a Bounty Hunter, Smuggler, Jedi or a host of other unique Star Wars professions.
Throughout 2006 and into 2007 LucasArts and Sony Online Entertainment are scheduled to add a host of new content and features to Star Wars Galaxies through a series of downloadable adventures. Featuring such high-value enhancements as PvP upgrades, a character profession expertise system, new high-level quest series, and epic, server-wide events, these downloadable adventures provide players new content to explore and new ways to influence the entire Galaxy.
For more information on The Complete Online Adventures and the entire Star Wars Galaxies experience, please visit www.starwarsgalaxies.com

First Look: Return of the Dark Side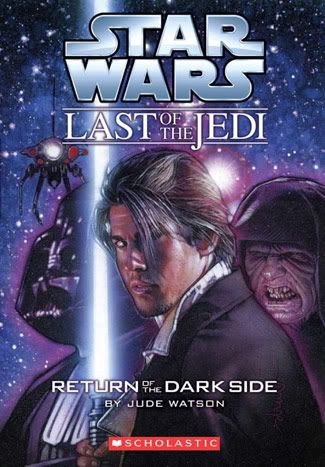 Here's a first look at the book's cover by renowned Star Wars poster illustrator, Drew Struzan.
Years ago, when they were both Jedi apprentices, Ferus Olin and Anakin Skywalker were rivals. Now, their paths are about to cross again...
Abandoning the Jedi order saved Ferus's life. As a result, he is the only one who can track down and save Jedi who have survived the rise of the Empire. He has rebellion on his mind, and hopes to bring about the fall of the Emperor.
Only Darth Vader stands in his way. Ferus may not realize it, but his old rival is now his new deadly enemy.
Find out more in book six of the Last of the Jedi series, Return of the Dark Side, by bestselling author Jude Watson.

This paperback is slated for release in December 2006 from Scholastic, Inc. Editor's Note: This series has been great, so far. The first couple had Obi-Wan dealing with his new loneliness and confusion just after the events of EP3. VERY poignant. Now Obi-Wan is back guarding baby Luke, and the stories are focused more on Feris. Filling in time-line gaps in very exciting, and often moving ways. (not just for kiddies).

Download the 1976 Poster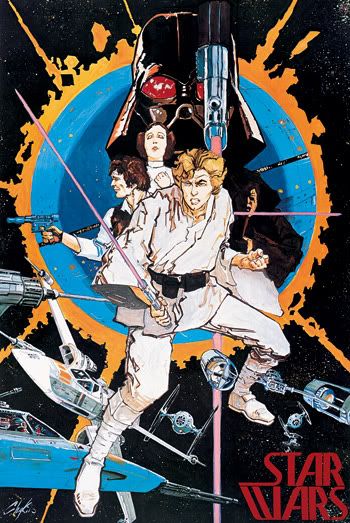 In the summer of 1976, the idea of promoting a film such as Star Wars at the San Diego Comic-Con (it had yet to acquire its "International" suffix) was unheard of, and considered a bit risky by some. What if the hardcore comic and science fiction fans scoffed at the notion of sound in space? Of laser swords with blades that magically stop at three feet? Of giant fur-covered starship co-pilots? Or of the self-anointed "science fantasy" genre the film was attaching itself to?
These questions undoubtedly vexed Star Wars Corporation publicist Charles Lippincott in July, 1976, when he brought a stack of publicity materials and a slideshow to the Southern California event that summer. From a small booth among a sea of comic, art, and science fiction exhibitors, Lippincott talked the film up behind a table topped with flyers and a stack of Star Wars Poster 1" prints, priced at a paltry \$1.75.
Armed with an intimate understanding of his audience, Lippincott had contracted up-and-coming comic artist Howard Chaykin to devise a piece of artwork that would appeal to comic and film fans alike, brimming with action and excitement. Thirty years later, that early poster -- of which only about 1,000 were made -- is now among the most sought after by collectors, demanding hundreds of dollars.

To celebrate 30 years of Star Wars at San Diego's Comic-Con International, starwars.com has resurrected Chaykin's classic artwork to banner our 2006 coverage of the event, and is providing this downloadable .pdf for fans to display at home.
Editor's Note: In case that link doesn't work, here's the web address:

http://www.starwars.com/community/event/con/f20060718/img/20060718_poster.pdf


EDITOR'S NOTE: AND NOW, Some PICS!

FIRST UP, MORE OF THAT SNEAKING PEAKING FOR 07----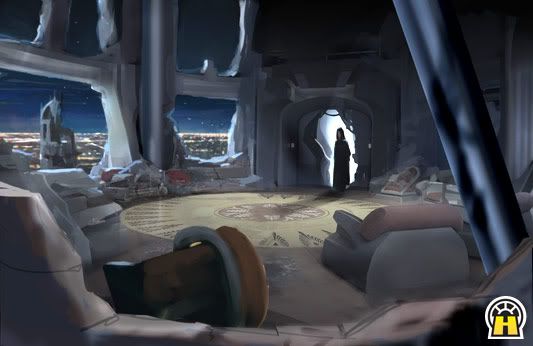 Some things are best left in the past.

And the other pics ---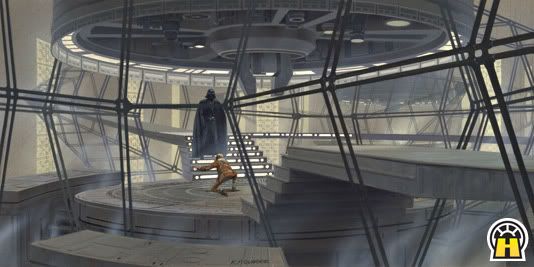 Luke Skywalker confronts Darth Vader in the carbon-freezing chamber in this production painting by Ralph McQuarrie.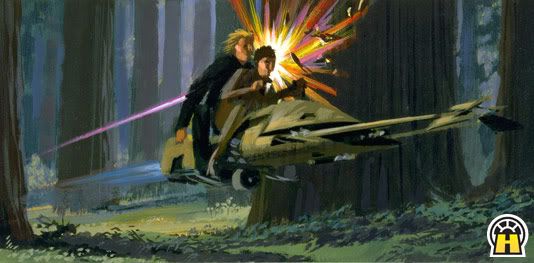 This rough Ralph McQuarrie painted sketch captures the rushing velocity of the Endor speeder bike chase.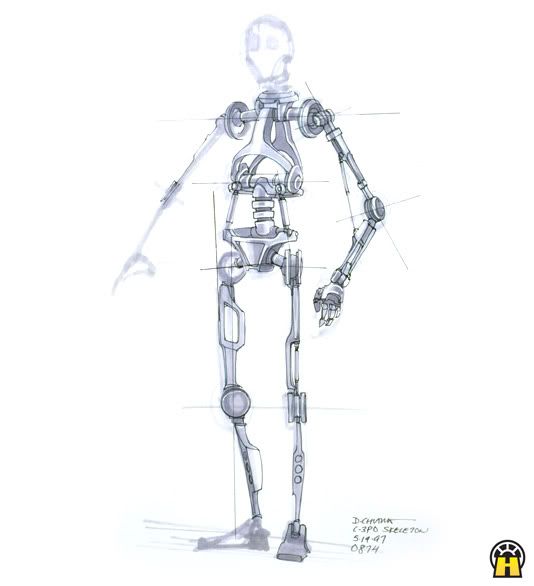 C-3PO's skeleton, as sketched out by Episode I Design Director Doug Chiang.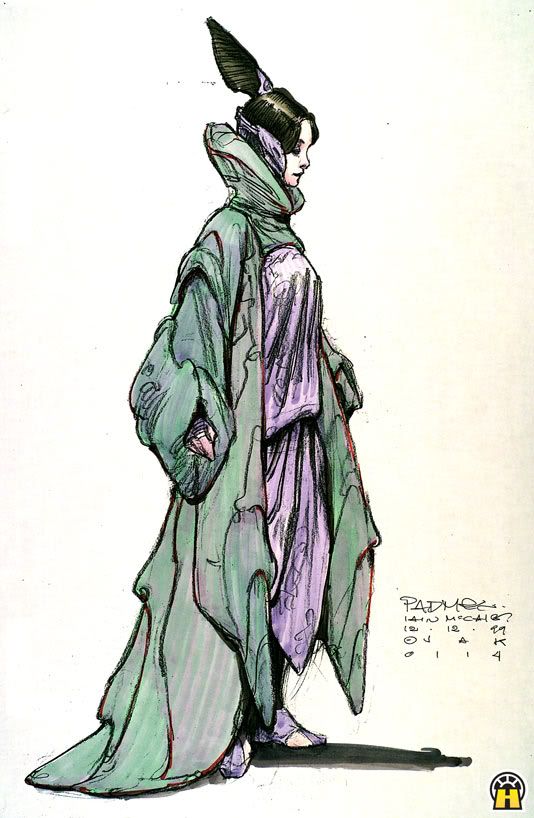 An otherwise unseen concept costume for Senator Amidala by Iain McCaig.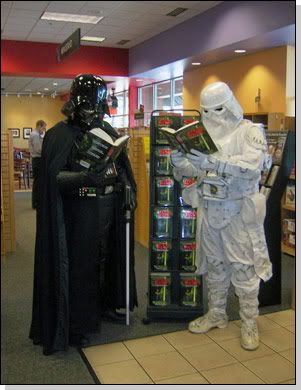 Read any good books lately? (Come ON, Kids! The darkside says READ!!!!)