Friday Potter'ing
Editor's Note: Just a few Harry Potter'ish items for this fine Friday.
First up, something for thesp AND potter dweebs. (
We post this KNOWING that we are risking going to a bad bad place, and knowing that OddBob has read ahead and is already THERE
....)
Naked stage role for Potter star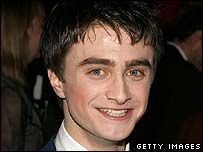 Harry Potter actor Daniel Radcliffe is to appear on the London stage next year, playing a stable boy who has an erotic relationship with his horses.
Richard Griffiths will co-star in the revival of Peter Shaffer's 1973 play
Equus
, to open in the capital in March.
Radcliffe and Griffiths are currently shooting the fifth Harry Potter film.
The role will require Radcliffe, 17, to appear naked and symbolically blind six horses. Richard Burton and Peter Firth starred in the 1977 film version.
Firth played disturbed stable boy Alan Strang in the original London stage production and later on Broadway.
Equus
will be directed by Thea Sharrock, director of the Gate fringe theatre in Notting Hill, west London.
The controversial play marks a departure for Radcliffe, whose only previous stage appearance in London was as a guest star in
The Play What I Wrote
, directed by Kenneth Branagh.
He recently completed filming
December Boys
, an independent Australian film about four orphans growing up in the 1960s.
"
This is an extraordinary play and, yes, there is a scene of nudity in it, but that's not what the play is
about," said Radcliffe's publicist Vanessa Davies.
"He finishes shooting 'Harry Potter and the Order of the Phoenix' in October or November and rehearsals are starting in January
," she added. The play is expected to open in March.
This is what Daniel Radcliffe had to say:

"
I'm really excited to be part of this production and thrilled to be working with Richard Griffiths (Uncle Vernon) again. This is obviously a huge departure for me as an actor, but Equus is such an amazing play that this really was an opportunity not to be missed. Rehearsal starts in January and I am very much looking forward to working with Thea Sharock who is an incredibly talented director. I only hope I do the role justice
."
The part of Alan is usually performed nude in several parts of the play. However, there have been multiple versions of
Equus
in which no nudity was involved. Whether Dan will play the part nude or not, we don't know at this early stage.
Editor's Note: Let's wait a sec till OB gets back from researching flights to London....
WARNER BROS. CONSUMER PRODUCTS NAMES NECA, INC. MASTER TOY, GIFT AND SPECIALTY PRODUCTS LICENSEE FOR THE HARRY POTTER SERIES THROUGHOUT NORTH AMERICA, LATIN AMERICA AND ASIA PACIFIC
Burbank, Calif., July 26, 2006 -- Warner Bros. Consumer Products announced today a multi-year licensing agreement that names NECA, Inc. the master toy, gift and specialty product licensee for the magical Harry Potter series throughout North America, Latin America and Asia Pacific.
New product is set to roll out in conjunction with Warner Bros. Pictures' latest Harry Potter feature film installment,
Harry Potter and the Order of the Phoenix
, scheduled to hit theaters beginning in July 2007.
The company will develop a range of gifts, toys and specialty products including collectible action figures, plush, mugs, wall décor and more, all inspired by the characters, creatures and themes from the Harry Potter stories.
Editor's Note: Stuff to buy, stuff to buy! (and you can buy a Harry Potter action figure, take off all it's clothes, and have it do nasty things to one of those plastic HORSIE toys!)
bad bad bad QOTD....punish me?
As the Harry Potter series has matured with each subsequent film, so has its audience.
Editor's Note: Ahem...apparently NOT......
The assortment of products being created by NECA will therefore be geared to appeal to older, loyal fans that have followed the stories over the years, while still offering something for younger fans that are new to the series.
Editor's Note: See...I was RIGHT. "ADULT" Harry Potter toys! (going away to

bathe

now....)
In
Harry Potter and the Order of the Phoenix
, Harry returns for his fifth year of study at Hogwarts and discovers that much of the wizarding community is in denial about the teenager's recent encounter with the evil Lord Voldemort, preferring to turn a blind eye to the news that Voldemort has returned. Fearing that Hogwarts' venerable Headmaster, Albus Dumbledore, is lying about Voldemort's return in order to undermine his power and take his job, the Minister for Magic, Cornelius Fudge, appoints a new Defence Against the Dark Arts teacher to keep watch over Dumbledore and the Hogwarts students.
But Professor Dolores Umbridge's Ministry-approved course of defensive magic leaves the young wizards woefully unprepared to defend themselves against the dark forces threatening them and the entire wizarding community. So, at the prompting of his friends Hermione and Ron, Harry takes matters into his own hands. Meeting secretly with a small group of students who name themselves "Dumbledore's Army," Harry teaches them how to defend themselves against the Dark Arts, preparing the courageous young wizards for the extraordinary battle that lies ahead.
About Warner Bros. Consumer Products Warner Bros.
Consumer Products, a Warner Bros. Entertainment Company, is one of the leading licensing and retail merchandising organizations in the world.
About NECA
NECA, Inc. is a recognized worldwide leader in the design, manufacture and marketing of fine collectible products. With headquarters in Hillside, New Jersey, NECA sells its products in more than 100 countries.
Potter's positive impact on kids' reading habits
We've all heard the story of the Harry Potter reader who had no interest in reading before HP came out, but for the first time, a report by Scholastic has quantified the huge impact the books have had on kids' reading attitudes and behaviours.
Here are some astounding facts discovered in the survey:
-
51% of HP readers, aged 5-17, say they had not read before for fun
- 65% say they're now doing better in school as a result of their newfound interest in reading
- More boys than girls read the books (57% vs. 51%) (surprising, seeing as more girls than boys visit MuggleNet)
- 62% of boys felt it important to read the books to feel "in" with their friends while only 44% of girls felt the same
- Almost 60% of 9 to 11-year-olds have read the books; 70% are interested in re-reading them
- 63% of 12 to 14-year-olds have read the books; 69% are interested in re-reading them
- 57% of 15 to 17-year-olds have read the books; 60% are interested in re-reading them
Editor's Note: Those percentages are kind of

amazing

, given the general level of illiteracy in this country these days. BRAVA JKR!
Yates discusses OOTP filming

Movie Web
has posted some quotes by David Yates and Daniel Radcliffe from their taped video shown recently at Comic-Con.
Yates had this to say:
"Harry is in a battle for his life and soul. There's a wonderful battle scene at the end for his life; it's absolutely amazing."
On Imelda Staunton as Professor Umbridge, he said:
"She's a cross between Doris Day and Freddy Krueger."
Editor's Note: LOL! Wonderful image!
They're also going to add some new creatures for this fifth version of the Harry Potter series;
"We're also bringing in these half-men/half-horse characters to the mix that are wonderful."
Editor's Note: Has he not SEEN the first HP movie? These 'new' creatures are called CENTAURS, and one of them made an appearance in "The Sorcerer's Stone". (Hope this doesn't bode ill for his grasp of the material).