Monday Buffet
Editor's Note: No, we haven't suddenly gone to "Margaritaville". But we need to post a little this-and-that, and it isn't quite ENOUGH for a cornucopia. So. A buffet? (ooooo....Maybe it's that INDIAN buffet dweebpal drewster was talking about last night.....mmmmmmm)
Universal buys NIGHTMARE ACADEMY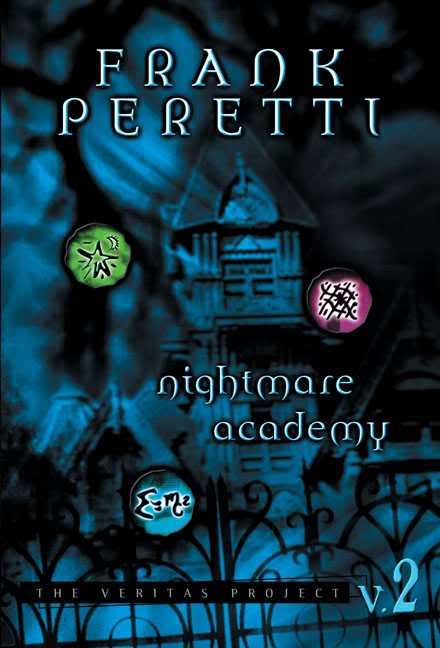 Universal has bought the rights to NIGHTMARE ACADEMY, the first installment of a trilogy of fantasy novels written by
Arrested Development
co-executive producer Dean Lorey.
The books follow a boy who realizes that bad dreams open portals allowing various creatures into the world.
Editor's Note:

Bad dreams

being a euphemism for

elections

?
Stephen Sommers (Van Helsing, The Mummy
Editor's Note: Stephen

"pay no attention to the movie on the left; MUMMY, GOOOOOOD!"

Sommers?
) is attached to produce the film.
Jim Broadbent Is Hairspray's Dad/Joins the musical cast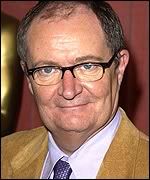 After the last casting announcement for the new
Hairspray
musical, we really thought we were done reporting it until the trailer arrived, or John Travolta strained a thigh in a bizarre fat suit accident. Oh, how wrong we were.
The cast of Adam Shankman's version of the musical based on the John Waters film just went up by one. Jim Broadbent has agreed to play Wilbur Turnblad, father to the lead character Tracy (newcomer Nikki Blonsky).
The shooting starts on September 5 and the film will arrive in December 2007.
Ryder and Six Other Thesps Join The Ten/Ten Commandments comedy grabs cast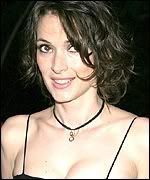 Editor's Note: Did Winona Ryder always have....umm...THOSE?
And lo, it came to pass that
The Ten
, a comedy poking fun at the Ten Commandments, added seven more cast members to its line-up.
Their names, according to scripture were thus: Winona Ryder, Famke Janssen, Gretchen Mol, Liev Schreiber,
The Daily Show's
Rob Corddry, Ron Silver and Oliver Platt. Already on board the previously announced comedy are Jessica Alba, Adam Brody, Ken Marino, Paul Rudd and Justin Theroux.
Lo, the film is already shooting in New York in Mexico, directed by David Wain (who did deliver unto us Wet Hot American Summer) from a script co-written by him and Marino.
Editor's Note: Hope the fun-making of the movie is funnier than the bilbical punning here?
Kiele Sanchez joins LOST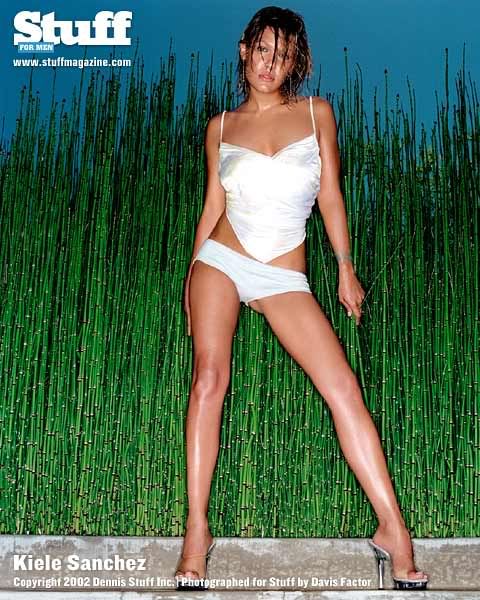 Editor's Note: Here's hoping this anorexic monster is the first one eaten by Vincent the dog! (yes, I'm old and bitter...and chubby...but that doesn't mean this vixen shouldn't be a puppy happy meal, right?!)
Kiele Sanchez has signed on to the hit ABC show LOST. The new castaway will play a woman named Nikki.
Sanchez joins Rodrigo Santoro and Elizabeth Mitchell as newcomers to the cast in season three.
According to Variety, Sanchez's character may be the love interest of Santoro's character.
Sanchez was most recently seen in the WB's RELATED.
Editor's Note: Which confirms my theory about all those preternaturally thin, puckered-lip whippersnappers on the WB....it's a mad scientist experiment gone horribly wrong. It's why they were forced to change the name of the network and merge with the less-attractive people at UPN....so the government didn't discover their diabolical schemes!
Reichblum is 'Dailies' planner
Former "Good Morning America" executive producer Bob Reichblum has been tapped to oversee the movie news program "Dailies," which will be the signature show of the new movie-themed network
ReelzChannel.
Reichblum has been named executive producer of the daily program, which will focus on contemporary movies in every window of release, including theatrical, DVD, video-on-demand, pay-per-view and premium cable, as well as those in various stages of development or production. It also will feature content about the moviemaking process and the decision-makers behind the films, among other items of interest to moviegoers.
"
Bob is a proven executive producer with fantastic credentials, having been the executive producer of 'Good Morning America,' which is a day-and-date show
," said Rod Perth, president of television at ReelzChannel.
"Most importantly, (his hiring) should make a statement to the studios and to the community that we're very serious about making 'Dailies' a quality show that becomes an entertainment authority on movies."

Editor's Note: So they're not even all that concerned if he shows up to WORK regularly, as long as he gives them 'credibility'?



The Nutty Professor Gets AnimatedJerry Lewis reclaims his creation
It was a classic Jerry Lewis comedy. Then it was remade – and franchised – by Eddie Murphy. But now Lewis is back to claim his creation.
Yes,
The Nutty Professor
is going all cartoony.
Editor's Note: Ummm...it wasn't alREADY cartoony?
The Weinstein Company will produce a direct-to-DVD version with Lewis lending his tonsil talents to his old role and at least one other part.
It only seems fair, since he wrote, directed, starred in and produced the original in 1963. With the rights having reverted back to him, he was free to shop a version around the studios.
Evan Spiliotopoulos is scribbling the new 'toon version, which will see a younger, modern-day version of the story, focused on the grandson of the original Prof (Lewis' Julius Kelp) cooking up a similar tonic and creating a cool but dangerous alter ego.
Actors get more for commercials
SAG/AFTRA and an ad industry committee have agreed to extend their current commercials agreement two years -- with a 6% pay hike -- to allow the unions time to hire outside experts to review how its members are compensated for such work.
In addition to the boost in actors' basic compensation, contributions to SAG/AFTRA pension and health plans will increase from 14.3% to 14.8% under terms of the extension. The agreement must be ratified by a joint national board and union memberships as well as by industry boards.
"Because of the tremendous growth of the Internet and digital technology, the unions have agreed to a two-year extension to conduct a comprehensive joint study that will allow us to determine whether existing pay structures should remain the same or be modified,"
SAG chief negotiator John McGuire and AFTRA chief negotiator Mathis Dunn Jr. said. "
This agreement also means that actors will have achieved increased opportunities for work and better wages and benefits. In a rapidly evolving media environment, our agreement demonstrates that performers and advertisers can work together to deal with change and build a stronger partnership that benefits us all."

Editor's Note: So now 5 of them will be employed instead of 4, and 2 of those 5 will be able to actually SUPPORT themselves at it. Yay.



Survey Said!
For readers of Theforce.net, If you are a Star Wars fan,
Editor's Note: Me me me!! Pick me!!!
you may be curious about how fans like yourself feel about the series.
John Tenuto, a sociology teacher at the College of Lake County in Grayslake, Illinois, whose classes include
Sociology of Star Wars
would like to ask you to share your opinions about the Star Wars phenomenon. Your answers will be reported in summary form only, along with the answers of others taking the survey. Your name or other identifying information will not be asked.
The results will be compiled and shared with students in sociology classes at the College of Lake County and elsewhere.
If you would like a copy of the report, please send an email during the month of December, 2006 to:
jtenuto@clcillinois.eduI
f you are under the age of 18, please do not complete this survey. It is designed for those 18 years of age and older.
Thank you for agreeing to complete this questionnaire.
The website for the Star Wars questionnaire is:
http://www.surveymonkey.com/s.asp?u=188252422932
.
The website for the Superman questionnaire is
http://www.surveymonkey.com/s.asp?u=379582422683
.
The website for the Star Trek questionnaire is:
http://www.surveymonkey.com/s.asp?u=189232419860
.
Confirmed: HBP movie release date
Editor's Note: yes....that says HBP (Half Blood Prince.....despite the fact that we haven't even gotten number FIVE out yet)
Box Office Mojo is reporting that the sixth film,
Harry Potter and Half-Blood Prince
, is set to be released on November 21st, 2008.
WB has confirmed to us that this is indeed the actual release date. Let the countdown begin!
Steve Kloves will return to write the screenplay for
HBP
. A director has yet to be chosen. The fifth film,
Order of the Phoenix
, will hit theaters July 13th, 2007.
Editor's Note: And let's close out the day with some whining....
M. Night Shyamalan On Lady In The Water
Exclusive: He didn't want his name on it
After a revelatory ghost tale, a supernatural comic thriller, a crop-circling tale of invasion and a mystical, creature-infested village, M. Night Shyamalan's latest movie –
Lady In The Water
– has been noted as something of a departure from the Director/writer's more calculated "scary" storytelling efforts.
Was this cartwheeling 'family' tale a deliberate attempt to confound the expectations of his audience?
Speaking at a press conference in London today, the auteur discussed some of the ways he's tried to avoid being "put in a box".
"The Sixth Sense was the first one of my movies that everyone got to see and it was a scary film – that was part of the subject matter. So when Unbreakable came out, I felt like everyone thought it was a mistake, but it wasn't necessarily supposed to be scary…I didn't realise I had been set in that vein already. However, if I worried too much about that I wouldn't be able to write. I'd love it if everyone could look at Lady In The Water as a lyrical parable, but there will be people that won't get it because they are coming at it with a certain lexicon of what to expect already in place"
.
"
So, I seriously thought about taking my name off [the film]. When I was thinking about doing Life Of Pi, I was very worried about putting my name on the project. It's an amazing book that has a twist ending, but if I put my name on it, it would immediately lose the balance of the novel. So it's something I struggle with. I said to my wife that 'Lady...' may have benefited from my name being removed. At least then it would have signaled to people to look at the movie with a new language in mind".
Editor's Note: I've heard that "Lady in the Water" is not a good movie. But not from people who would go into a M. Night movie with limiting expectations. It is possible that the movie has gotten bad reviews cause it isn't very good? Just possible?