Harry Potter........ potter potter potter
Editor's Note: This first item is excitement beyond what is bearable. (Well....
almost
). A) It is our first glimpse of Tonks....and I LOVE LOVE

LOVE

Tonks! and B) It is a

haircolor

I really really want for my own!
Life is good with these new meds, huh?
First picture of Tonks on OOTP set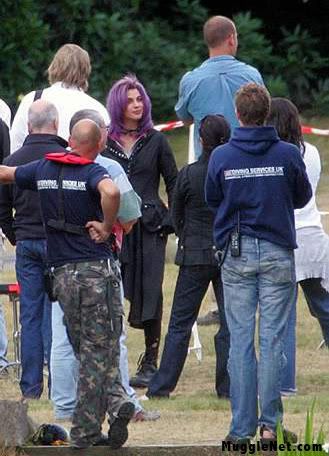 The first ever photograph of Natalia Tena sporting purple hair and in full Nymphadora Tonks costume has surfaced online. The picture, which was taken on the set of the fifth movie, can be seen here.
Matthew Lewis on OOTP
TLC's
PotterCast
recently conducted an interview with the Matt Lewis, who portrays Neville Longbottom in the HP films.
In the interview, Matt discussed Neville's character development that occurs in Movie 5:
"
It almost comes off as a different character this year.... He's not the Neville that we all know. He starts off that way then rapidly changes throughout the film. It's been a lot of fun. Definitely a change, but definitely a welcome one."
Matt also speaks of several new faces around the set, including Imelda Staunton, who is playing Dolores Umbridge:
"
She [as Umbridge] is the nastiest person you'll ever meet, on the film. She's just cruel and twisted and slightly mental.... You can see she's plotting something. She's plotting how she's going to kill you, later on, when your back is turned."

Editor's Note: Yep. That sounds like our 'beloved' High Inquisitor Umbridge!



Dan Radcliffe to undress for 'Equus' role
Editor's Note: Ok.......pausing for a few moments while OddBob, GamemasterDave, and all the other pervs (ok,

ME

included) deal with this bit of information.
And now we need to wait while they come back from planning their trips to London......
The Herald Sun recently conducted an interview with Dan Radcliffe, in which he discusses Movie 7, "Equus,"
December Boys
, and more. He mentioned that, although he talks to Jo about the Harry Potter books, he is never given any inside information on Book 7.
"
I think it will be quite exciting really. It may be the only way (the arch villain) Voldemort could be killed is if Harry dies as well because there is that very strong connection between them."
Editor's Note: no no no no! (Just my personal vote....)
We told you recently that Dan would play the starring role, Alan Strang, in London's West End play
Equus
. At the time, there was some confusion over whether or not Daniel would perform the part nude, as is usual.
"
All the other actors who have played the part have done that, so for me not to do it wouldn't really be playing the part. It would be a watered down version. It wouldn't be the same. I'll be incredibly nervous, but I think, 'It's in the script; it's got to be done'. I'm terrified, but excited."
Editor's Note: Go bathe, then come back and we'll move on without further comment.
Release date for GOF HD-DVD
DVD Town is reporting that the HD-DVD for the
Goblet of Fire
movie will be released on August 29th. We're currently working on verifying this date with Warner Bros.
Tom Felton discusses Harry Potter and life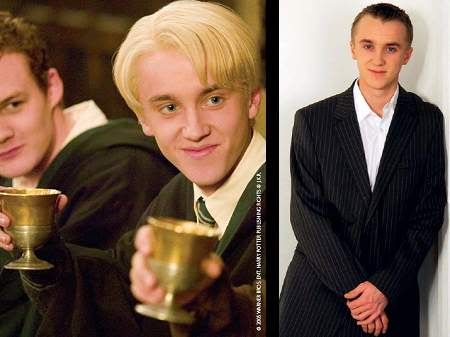 MOST people are faced with a career changing decision at some point in life but imagine how it feels if you're just seven years old. The choice was between going to America to film a TV commercial or playing Tiny Tim at the Thorndyke Theatre, Leatherhead. The decision – to go to the US – kick-started Tom Felton's career and put him on the cinema screens as Draco Malfoy, the bad boy of the Harry Potter series.
Tom was born at Epsom Hospital on 22 September 1987 the youngest of four brothers and is a Surrey boy through and through. He was educated until 13 at the Cranmore School in West Horsley and went on to Howard of Effingham school.
Tom, now 18, reflects: "
It was great, not only were there stacks of girls but they were all made to wear skirts. Having been at an all boys school for ten years, it was just the best
." Making up for lost time, he was quick to mix with them. "
I love female company and have loads of girl 'friends' but currently I am single and available."
Editor's Note: Only 18. Ah well...... Maybe the LEFT half of my body can date him, while the OTHER half does laundry, ...........or applies for social security. (

early,

mind you...)
This will be welcome news for his army of female admirers. He has a huge fan base and receives letters and photos as well as all sorts of gifts. Some are good luck tokens – the strangest, he says, are spoons from Japan. But he has also been sent Bibles from the US in reaction to his role as Malfoy.
In a Deep South accent Tom describes how one accompanying letter said 'Redeem Thyself Brother Tom, for the devil is within'.
"Don't these people know that I'm acting a role? It's crazy."
Editor's Note: In the deep south? No, they probably don't.
He gets so much mail that his mum Sharon, who is his manager, has to employ a team of helpers – Sally, Sarah and Miriam – to deal with it.
Tom was persuaded to get an agent by a friend who ran a drama summer school in Bookham. Within two weeks he was shooting the advert in the US for Commercial Union. He went on to do other TV ads including a series for Barclaycard.
"Then my agent heard about an audition for the 1997 film The Borrowers and I got the part."
He played the Peagreen Clock alongside Jim Broadbent, John Goodman and Celia Imrie in a role which demanded he had his hair dyed red and permed!
His next role was as Louis Leonowens in
Anna and The King
. He was 13 years old and played the son of Jodie Foster's character. It meant filming for four months in Malaysia, and Tom's mum recalls going behind the scenes to find him being taught how to use a Samurai sword by fellow actor Yun-Fat Chow who played King Mongkut in the movie.
Then came his biggest role with the first of J K Rowling's Harry Potter series. Tom was auditioned by director Chris Columbus and producer David Heyman for various roles, including Harry. But it was Draco Malfoy, the bad guy, that Chris and David decided was right for Tom and so with a slicked back, white-blond look he made the character his own.
Tom is currently filming the fifth movie,
Harry Potter and The Order of the Phoenix
, due for release next year.
He says filming is always fun but it's weird to watch the finished product: "
Obviously the scenes aren't shot in sequence and filming lasts so long that when I see it my first thought is 'where's the rest of it?' And sometimes I'm thinking 'oh yes, the next bit is really good' but then it doesn't happen or is somewhere else in the action."
At 18 Tom may be an international film star, but he is happiest at home. "
I love spending time at home with my friends. On a Friday night you'll find nine or ten of us sitting having a game of cards. I love cards: poker is favourite at the moment,"
he admits. "
But I'm a country boy. Surrey is the real garden of England for me. I'm well into fishing – have been since I was 11 – and regularly go to Bury Hill in Dorking and sling a rod out."
Editor's Note:

Bad

place, OddBob, bad bad

bad

!
His first real (or should this be reel) job at the age of 11 was at the fishery in Dorking. "
For 20 quid a day I'd pick up litter and tidy fishing gear. Actually, I only recently started to see my future in acting. My dream job has always been to own my own fishery."
He is a committed fisherman. "
On New Year's Eve I went out to celebrate with my friends until the bells struck midnight. Then by quarter past I was off fishing. I was still in my best clothes and it was minus 4!"
Tom is the youngest of four brothers and says he benefitted from that. "
By the time I did anything wrong, Mum had seen it all before and was used to it. I've had no special treatment at home where my acting was concerned, either. While filming The Borrowers I'd come home full of it all, and my brothers would tell me to sit down on the floor and shut up whilst EastEnders was on."
He is very close to 24-year-old brother Chris, who also acts as his PA. Eldest brother Jonathan, 26, is a chiropractor while Ashley, 22, is currently having a great time travelling in Australia.
"Lately he's been picking bananas! I hope to go out and spend some quality time with him soon."
He's bought his family cars to thank them for their support – cars being another of his passions.
"I bought my first car before I even learned to drive. It was a great motivator: I wanted something for the hours I put in at the studios and just seeing it on the drive made me appreciate everything. I passed my test within a month of my 17th birthday. It was my second attempt but everyone says second time drivers are better drivers!'
Editor's Note: I think it's only second timers that say that, but that's fine. Whatever makes your blondevil heart happy.