Nope, still only Wednesday
Editor's Note: Sigh....not Friday yet?
Sigh.....
William Shatner sponsoring online talent search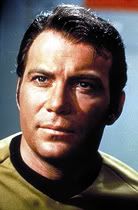 Editor's Note: Not a recent photo. (snicker...)
William Shatner is sponsoring an online contest to find the most talented SF personality in the USA.
Editor's Note: Being one of the orignal SF 'personalities' hisself, I guess he ought to know.
To enter, contestants must create a short video clip that shows why they are the heir apparent to the original Capt. Kirk and upload it by Sept. 30. Finalists will be chosen by the public, and the top 10 highest-ranked entrants will be named finalists, and given a chance to win William Shatner's Sci-Fi Challenge.
Seven judges will each select an additional finalist (for 17 finalists total), and Shatner himself will pick the winner. The judges include representatives from StarTrek.com, Ain't It Cool News, Planet Magazine, SCI FI Wire, the Slice of Sci-Fi Podcast, VideoDetective.com and Star Trek: Deep Space Nine cast member Chase Masterson.
Editor's Note: Chase Masterson....she makes me giggle. She has parlayed six and a half minutes on-screen and very perky....ummm....'attributes'......into a long-term, low-level career. Bless her heart.
The grand-prize winner will receive a large cash award and will be named the official spokesperson for the William Shatner Science Fiction DVD Club.
You can find the contest
here
.
Editor's Note: or HERE, if that link doesn't work -
http://shatner.blip.tv/
Neal McDonough joins HITCHER remake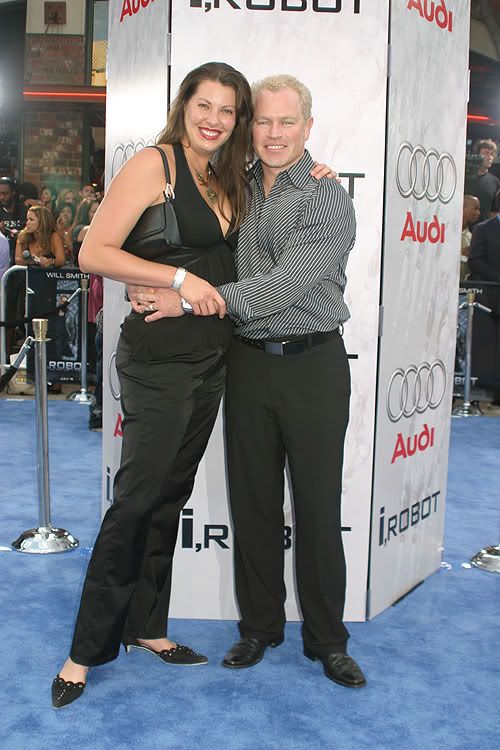 Editor's NOte: There's a reason you don't know who the woman is; that's his wife.
Neal McDonough has signed on to join the upcoming remake of THE HITCHER. He will join Sophia Bush, Zach Knighton and Sean Bean in the cast.
The script for the film was penned by Eric Bernt and follows a young couple (Bush and Knighton) driving across the country who become prey for a serial killer (Bean).
Editor's Note: Sean Sean Sean...always the mouth-breathing lunatic. Poor baby.
The killer blames all of his murders on the young man. McDonough will play a career lawman who tries to aid the distressed couple.
Platinum Dunes' Michael Bay, Andrew Form and Brad Fuller are producing the film.
McConaughey and Hudson team for FOOLS GOLD

Matthew McConaughey and Kate Hudson will star in the upcoming film FOOL'S GOLD for Warner Bros.
The adventure comedy evolves around a husband and wife who have spent eight years searching for a lost treasure and are on the brink of bankruptcy and divorce when a clue to the payday surfaces, forcing the couple to reunite to find their fortune.
Andy Tennant has signed on to direct the film. The script was written by Kenneth Lonergan from an original screenplay by John Claflin.
Paul Giamatti to play Philip K. Dick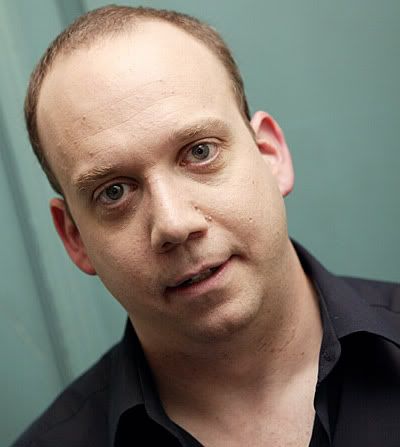 Paul Giamatti is in negotiations to star in an upcoming untitled biopic about sci-fi author Philip K. Dick.
Dick, who died in 1982, wrote more than four dozen books and numerous short stories, with at least seven being adapted for the big screen, including
Blade Runner, Total Recall
and
Minority Report
.
A Scanner Darkly
is in theaters now.
Editor's Note: Or NOT, depending on how quickly it tanked where YOU live.
The nontraditional biopic will interweave the prolific author's life with his fiction and incorporate elements of his last unfinished novel, "The Owl in Daylight."
Tony Grisoni (Fear and Loathing in Las Vegas) has signed on to write a screenplay for the film. Giamatti's newly launched Touchy Feely Films will produce along with Anonymous Content and Electric Shepherd Productions.
Editor's Note: By the way, in case you are having a case of Deja Vu (as I was when I read this item), this is SECOND movie based on some aspect of the life of Philip K. Dick. There is ANOTHER flic in the hopper with Bill Pullman tagged to play the weird/prolific author.
Leaving the movie universe.....
'Betty' moves; Noxon exits 'Sisters'
ABC is moving its promising new one-hour comedy "Ugly Betty" from Friday to 8 p.m. Thursday.
Meanwhile, Marti Noxon, the executive producer/showrunner of another new one-hour ABC series, the drama "Brothers & Sisters," has stepped down.
Editor's Note: Hmmmm....and Marti Noxon was one of the key reasons I was interested in that one. Not good....
"Betty," from Touchstone TV and executive producers Salma Hayek, Jose Tamez, Ben Silverman and Silvio Horta, has emerged as one of the buzzworthy new series after receiving a warm reception at the Television Critics Assn.'s summer press tour. In its new, high-profile position, "Betty" will open Thursday night for ABC, leading into the network's new Thursday anchor, the hot medical drama "Grey's Anatomy," at 9 p.m.
'Five Days' links HBO, BBC
HBO and the BBC are co-producing a miniseries titled "Five Days," a drama that revolves around the mysterious disappearance of a young mother in a family-friendly British suburb and the inexplicable circumstances that leave her children abandoned far from home.
The five-part miniseries, an HBO Films presentation in association with the BBC, features an ensemble cast including Nikki Amuka-Bird, Hugh Bonneville, Charlie Creed-Miles, Phil Davis, Patrick Malahide, Janet McTeer, David Oyelowo, Sarah Smart, Penelope Wilton and Edward Woodward.
Filming has begun in Hertfordshire, England, on the project, which focuses on the day of the woman's vanishing and four random days that follow. The story traces the ripple effects felt by her family, the police and the media during the course of the 72-day investigation.
Baldwin cast in 'Sopranos' Hollywood arc
Daniel Baldwin
Editor's Note: He's the kind of shlubby, unattractive Baldwin, right?
has been tapped for a potential recurring role in the final episodes of HBO's Emmy-winning mob drama "The Sopranos." Baldwin will play the star of the horror movie that aspiring filmmaker Christopher (Michael Imperioli) has been working on. Described by Christopher as " 'Saw' meets 'Godfather 2,' " the project centers on "a wiseguy with a big mouth and bigger dreams," as Christopher introduced it to potential investors in an episode this year.
Messing takes USA 'Wife' role
Emmy winner Debra Messing has signed on to star in USA Network's limited series "The Starter Wife," based on Gigi Levangie Grazer's best-selling novel.
The six-hour series, from NBC Universal Television Studio, centers on the quest of a divorced woman (Messing) to redefine herself after years of marriage to a Hollywood studio head. The project is set to begin production in Australia in the fourth quarter.
"
Debra Messing is both a superstar talent and America's sweetheart
," said Jeff Wachtel, executive vp original programming at USA. "
Her incredible range and comedic brilliance made her our first and only choice for this role."

Editor's Note: zzzzzzzzzzz I think I have PR Flack Narcolepsy; they speak, I snooze.



HBO plans more 'Curb Your Enthusiasm'
HBO is bringing back "Curb Your Enthusiasm." Larry David's Emmy-winning comedy series is finally on the books with the premium cable channel for a sixth season, which will begin production as early as September. All principal cast members including Jeff Garlin, Cheryl Hines, and Susie Essman are expected to return for an airdate sometime in 2007.
HBO confirmed "Curb" is returning, but did not indicate that the coming season is necessarily the last one. "Curb" last premiered in September 2005, and David has publicly waffled on whether he was interested in bringing the series back. Chris Albrecht, chairman and CEO of HBO, told reporters in July at the Television Critics Assn. press tour that he was close to re-signing David.
"
Larry was very unsure after last season
," Albrecht had said. "
He needed to be inspired
."
First introduced in 2000, "Curb" is produced by HBO Entertainment. The series earned five nominations at the upcoming Emmy Awards including Outstanding Comedy Series.
Editor's Note: Odds-n-ends..........
BAFTA/LA to fete Poitier, Minghella, Weisz
Sidney Poitier, Anthony Minghella and Rachel Weisz have been added to the list of honorees who will be feted Nov. 2 at the 15th annual BAFTA/LA Cunard Brittania Awards at the Regency Century Plaza Hotel.
The British Academy of Film and Television Arts/Los Angeles, headed by chairman Peter Morris, said Tuesday that Poitier has been selected to receive its award for Lifetime Contributions to International Film. Minghella will receive the John Schlesinger Brittania Award for Artistic Excellence, while Weisz, an Oscar winner for "The Constant Gardener," will be recognized as Artist of the Year. The group already announced that Clint Eastwood is on tap to pick up the Stanley Kubrick Brittania Award for Excellence in Film.
Canterbury Tale/ Prisoner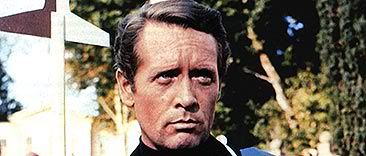 Bottom line: Michael Powell and Emeric Pressburger's "truly strange" and wonderful propaganda film comes to the States, long overdue.
The English mainstream loves its eccentrics, but purveyors of the strange had better watch their step.
British director Michael Powell saw his distinguished career shredded in 1960 with the release of the psycho-voyeur study "Peeping Tom." Reviled in its day, "Tom" found respectability of a sort in the decades since.
The director flirted with a similar fate 16 years earlier with the far-gentler but certifiably weird
"A Canterbury Tale
," one of several World War II-era efforts from Powell and his screenwriting partner Emeric Pressburger (aka "the Archers").
Just released in the States by the Criterion Collection, the stealth propaganda film is long overdue for consideration by U.S. film fanciers, most of whom have never heard of it.
"Canterbury" remains
"a truly strange film
," says film historian Ian Christie, who provides outstanding commentary on the double-DVD set (retail $39.95). The movie "
sets about its propaganda in an almost perverse and certainly playful way."
"Canterbury" contains no Churchill speeches, no demon Nazis, no fiery images of the blitz. Instead, its strategy seemed to be to unfurl a vision of a rural Britain so stirring that the citizenry could only get swept up in the war effort -- as their soldier boys do in the heart-swelling finale, marching off to the sound of a celestial "Onward Christian Soldiers."
Critics and audiences of 1944 weren't saluting. So poorly received was "Canterbury" that Powell quickly came to doubt one of his finest works, cutting out a half hour and adding dumb bookend scenes so American moviegoers could relate to it (they didn't).
Powell said it took years for him to appreciate "Canterbury" as one of his best.
"
Mickey (Powell) was very saddened by the reviews
," says Sheila Sim, who played the heroine. "
Who wouldn't be
."
"Canterbury" finally was restored to its original running time of 124 minutes in the late '70s; today, the movie is a regular on the British film fest circuit with its many Archers tributes. The "Canterbury" video footprint in the States barely exists -- an old VHS release on Home Vision, but apparently no Region 1 DVD.
The film begins with Chaucer's jolly 14th century pilgrims making their way to Canterbury in search of blessings. Time does a jig as a falcon in flight morphs into a Spitfire warplane (a transition that almost surely pleased young Stanley Kubrick).The film's trio of World War II pilgrims -- two soldiers, American and British, and a Women's Land Army girl -- meet in the middle of the night at a train station outside Canterbury. They're introduced in film noir-style lighting, a scheme that comes and goes throughout the film.
The twilight zone creeps in as the young travelers encounter a boogeyman who dumps glue on the hair of Kent's young women. Motive? To make them afraid of dating soldiers, especially the Americans.The Glue Man's low-rent B-story turns sublime, in time.
"I don't think the critics could fathom what it was about
," says Sim, who goes by Lady (Richard) Attenborough these days. (The boogeyman started out as a dress slasher, but the sexual overtones were a bit much even for Powell.)
Outside of sporadically trying to unmask the Glue Man, our pilgrims don't do much, really; most of the film concerns the countryside, hardworking villagers, the old ways living on, animals and insects, modest hopes and personal sorrows. Think Terrence Malick: "Canterbury" viewers must come equipped with patience.
The final scenes follow the soldiers, the girl and the elegant glue suspect (Eric Portman) to Canterbury, which was heavily damaged in the bombing but still is possessed of its towering cathedral, home of miracles.
Few propaganda films outlive their conflicts. What makes this one a robust time traveler, Sim speculates today, is "
the connection with history and the people who've gone before
." And, of course, "
the countryside
."
Amateur actor Sgt. John Sweet gives the film much of its sense of wonder, playing the simple but wise American. (One of the film's missions was to humanize G.I.s for local audiences.) Six decades later, the amateur actor returned to Canterbury for its Powell film fest. His visit is captured in a 2001 short film that is included as a DVD extra. He marvels at the town's transformation from a "
quiet kind of bleak place"
to a humming tourist attraction. "
It was fun to be a 15-minute celebrity,
" the old man says of his brush with movie fame.
Sweet and Sim regard Powell as a good but difficult man.
"
He ruled by fear
," Sweet recalls. Like "
a steel spring coiled."
Sim says Powell "
could be very tough on actors. ... He didn't know how they ticked
." Still, she calls him "
a man of immense charisma
."
Years later, Sim discovered her role had been written for Deborah Kerr, Powell's lost love.
"It must have been very hard for him,
" Sim says.
Another short film looks in on "A Canterbury Tale" day in Kent, a summer tradition since 1997. Powell- Pressburger fans wander about sites used in the film, reading from the script and catching rays.The bookends Powell added for U.S. release are included as well. They feature Kim Hunter as the G.I.'s young wife.The DVD extras conclude with a piece of video art built around a loop of Sim as she beholds the fields of Kent, sensing its ancestral ghosts. Best experienced as a museum installation, or not at all.Criterion's presentation of "Canterbury" looks divine, in silky black and white. Damage such as scratch lines and flashing do little to dull the effect of Erwin Hillier's landscape cinematography -- or of his powerful, noirish lighting. Allan Gray's music, a treat, sounds pretty good in the mono audio.* * * * *
Patrick McGoohan's "
The Prisoner,"
another fine oddity from England, never seems to go out of style.The show, which first confused and delighted viewers in 1967 and '68, enjoys a "Star Trek"-like following of those dedicated to its rat's nest of mysteries and intrigues.
"Prisoner" tells of a secret agent who resigns in anger, then finds himself velvet-coffined in a Kafkaesque seaside resort where people are known only by their numbers. Escapees are hunted down by what seems to be a giant marshmallow.
"I am not a number
!" McGoohan bellows. "
I am a free man!"
Hear, hear.
A&E has rereleased "The Prisoner" in a "40th Anniversary Megaset" (retail $139.95) sporting all 17 hourlong episodes. A&E's previous DVD release, from 2000, was spread across five volumes, sold separately or in a box set.
Alas, owners of the previous DVDs have no reason to upgrade: A&E has simply improved the packaging (dumping the clamshells for slim cases), throwing in a map of the Village and a nicely done 60-page episode guide. The DVDs' numerous but mostly unexceptional extras are ported over.The original discs looked OK, but it's a bloody shame this imaginative and colorful series didn't get the first-rate restoration it deserves. What's up, A&E No. 1?