Friday HUZZAH Huzzah!
Editor's Note: Ah sweet mystery of the work week....Friday, blessed Friday.
A few more mishmashed dweeb items----
Adamson to write and direct VOYAGE OF THE DAWN TREADER
Andrew Adamson has signed on to write and direct the third film in the CHRONICLES OF NARNIA series. Adamson wrote and directed THE LION, THE WITCH, AND THE WARDROBE and is currently gearing up to begin shooting on PRINCE CASPIAN. Mark Johnson will produce one again for the studio.
The filming for PRINCE CASPIAN is set to begin sometime in January in the forests of Europe. The film is expected to be released summer of 2008.
Hayden Christensen to star in JUMPER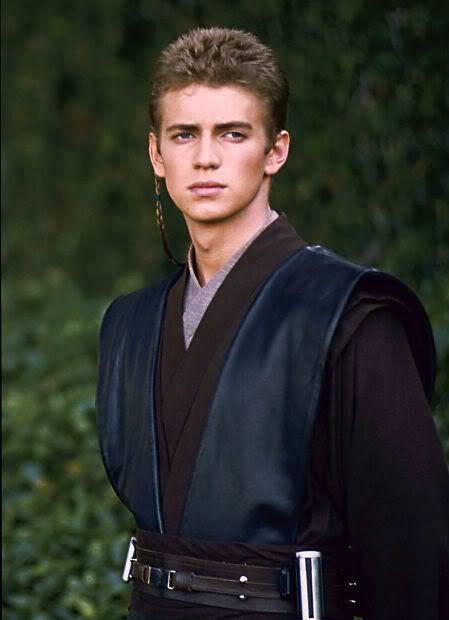 Editor's Note: STILLLLLLL so dreeeeeaaaammmmmy....
Earlier rumors prove true as Hayden Christensen officially signs to star in the upcoming film JUMPER.
He will join Samuel L. Jackson, Tom Sturridge, Jamie Bell and Teresa Palmer in the cast. Doug Liman (Mr. and Mrs. Smith) is attached to direct the sc-fi thriller for the studio.
JUMPER is based on a Steven Gould novel and follows a kid from a broken home who discovers that he has the ability to teleport. In his quest for the man he believes is responsible for the death of his mother, the kid draws the attention of the National Security Agency and another youth with the same abilities.
Jackson will be playing an NSA agent who tracks the jumper. The budget is rumored to be in the range of $100,000,000.
Mark Dindal to helm SHERLOCK'S SECRETARY
Mark Dindal (Chicken Little) will make his live-action directorial debut with the upcoming film SHERLOCK'S SECRETARY for Walden Media.

The film is based on the little-known fact that real letters are being sent to the fictitious home of Sherlock Holmes, the world's most famous detective and one of the 19th century's great literary creations.

Holmes famously resided at 221b Baker St., and the address -- now the Sherlock Holmes Museum -- has been receiving letters from people seeking Holmes' help in solving real crimes. The film will center on the person living at that address, whose world is turned upside down when he gets one of these letters and decides to take on a real case.

Julie Golden (The Calligrapher) is attached to write the script.

Editor's Note: And on the heels of the news of the DVD release of the Prisoner TV series, more info on the MOVIE ----

Nolan in negotiations to direct THE PRISONER
Christopher Nolan is in negotiations to direct the upcoming feature version of the classic TV series THE PRISONER.

The TV show lasted only 17 episodes in 1967 and followed a government agent who resigns, is kidnapped and placed on an isolated island known as the Village. He's then given a new identity -- Number Six -- and interacts with an island staff trying to get him to reveal why he resigned.

Janet and David Peoples (Twelve Monkeys, Blade Runner) are attached to write the script.

The plan is apparently for Nolan to helm this film after he finishes THE DARK KNIGHT, the sequel to BATMAN BEGINS.

Marvel updates upcoming films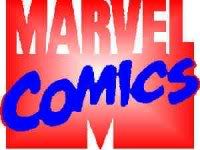 Marvel's senior executives recently revealed their agenda and goals for the upcoming slate of Marvel comic book movies.

Their plan is to self-finance two movies per year starting in 2008. They currently have 7 projects in development.

Some of the updates:
- Zak Penn (X-Men) will write a script for the live action feature film version of THE AVENGERS. Penn is also writing a script for Marvel's THE INCREDIBLE HULK.

- Marvel plans to release IRON MAN and THE INCREDIBLE HULK in 2008, with IRON MAN coming first.

- Louis Leterrier will direct THE AVENGERS.

- ANT-MAN will have two versions of the Marvel character, with small time criminal Scott Lang stumbling upon a supersuit once worn by Dr. Hank Pym. Edgar Wright will direct the film.

- THOR will have the Norse god of thunder banished to live as a human amongst mortal men. Mark Protosevic (I AM LEGEND)is writing the script.

- CAPTAIN AMERICA and NICK FURY are in development. David Self is writing CAPTAIN while Andrew Marlowe is writing NICK FURY. Editor's Note: My head is swimming. SO many superheroes, so little actual saving-the-universe actually happening. (Where are our REAL superheroes?!!!)
Weinstein Co. snatches PREY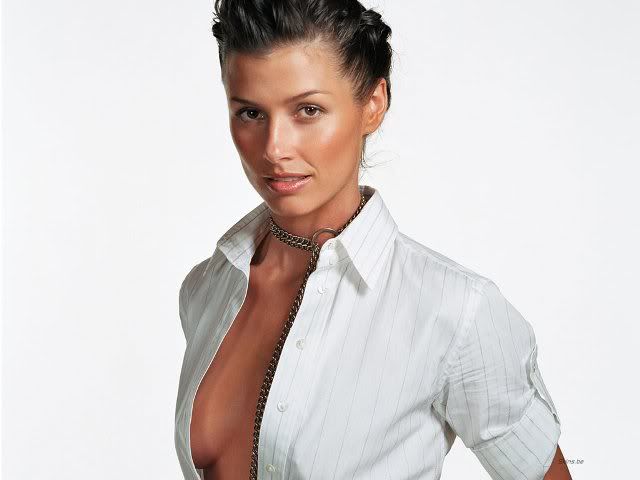 The Weinstein Co. has acquired the North American rights to the Darrell James Roodt thriller, PREY.
The film stars Bridget Moynahan and Peter Weller as the parents of a American family that visits a game reserve in Africa. Their holiday takes a deadly turn when they become lost in a game reserve and find themselves hunted by lions.
Editor's Note: GOOD kitty! NICE kitty! OUCH!
"
We are delighted to have concluded this deal for 'Prey' with the Weinstein Co.
," Distant Horizon president Anant Singh said. "
It marks a continuation of our relationship with Harvey and Bob Weinstein which began 15 years ago. We believe that the Weinstein Co. is the perfect distribution company for 'Prey' in the U.S."
Scott joins The Great Buck Howard
Gotta love Adam Scott. The young actor can seemingly do it all - and he's getting better by the film. He was superb in his short and sweet, but memorable, role in "The Aviator", thieved scenes from Morgan Freeman and Ashley Judd in "High Crimes", and had us rolling about in laughter - as he got into Jane Fonda's garb - in "Monster-in-Law". And despite how wonky the film was, he was pretty damn cool - playing against type as a rogue, too - in the actioner "Torque". Possibly the best thing in that movie, in fact. Editor's Note: Despite the fact that he looks only VAGUELY familiar to me.....

Tom Hanks obviously thinks he's a talent worth bothering with too. The actor, serving as producer, has cast Scott in "The Great Buck Howard", a new film that teams Hanks with his son, Colin.
Written and directed by Sean McGinly, the story revolves around a luckless magician and his assistant who struggle to reinvigorate his career. Blunt will play a self-assured publicist hired by Buck Howard (John Malkovich) to publicize an event that will put him back on the map.
Scott next appears in "The Return" opposite Sarah Michelle Gellar.
MI3 to hit DVD October 30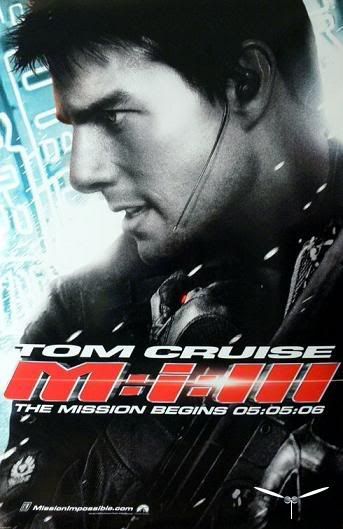 According to the USA TODAY, Paramount's MISSION: IMPOSSIBLE III will hit shelves on October 30 as a special collector's edition DVD. Interesting to note that the release date is a Monday, and not the typical Tuesday. The studio is calling it "Mission Monday."

The DVD will release simultaneously on DVD, HD DVD and Blu-ray disc formats. Each two disc set will include four behind-the-scenes featurettes and various deleted scenes.

The HD DVD comes with extra enhanced commentary by Tom Cruise and J.J. Abrams. Editor's Note: Oh goodie....commentary by Tom Cruise. (eek). I really enjoyed this movie. I just wish it starred someone else besides freakboy.

And speaking of J.J.Abrams (the REAL reason, I'm betting, that MI3 was so much fun despite weirdactors) ----

J.J. Abrams talks LOST and STAR TREK XI
TV Guide posted an interview with J.J. Abrams in which he talks about the upcoming season of LOST and his upcoming film STAR TREK XI.

TV Guide: What can you tell us about the new season?
Abrams: A lot of the season's already figured out, and it's incredible. The stories are amazing.

TV Guide: Will you have time to be involved in Lost's third season?
Abrams: I definitely look to be more involved this season, certainly more than I was last season [when directing Mission: Impossible III]. I look forward to directing an episode, and I'm planning on writing some.

TV Guide: C'mon. Give us something.
Abrams: Desmond will definitely be back. He's not dead.

TV Guide: How exciting is it to find yourself in charge of resuscitating the Trek franchise?
Abrams: It's sort of surreal but wonderful. I'm producing and may direct.
TV Guide: It's been reported that the film will focus on Kirk and Spock's early days and include their meeting at Starfleet Academy. You've said that was not entirely accurate. What parts are?
Abrams: I think we have an incredible story, but we've sort of promised each other we wouldn't talk about the specifics yet. But I can say that we're actively working on it, we're in the middle of breaking the story, and it's coming along great. I'd be happy to start sooner than Paramount thinks, but not a moment before it's ready.
TV Guide: Why the shroud of secrecy?
Abrams: It's way premature. Anything I say, people will read into it and make assumptions. But we have an incredible beginning of a really dramatic story, and it very much honors the canon of Star Trek. On the other hand, it won't be like anything you've seen before. Editor's Note: All good news. Canon good. The way things have been done before (at least RECENTLY) bad and in NEED of a good swift kick in the pants. All this teasing, however, VERY MEAN!
And speaking of TREK ----
TV LAND acquires STAR TREK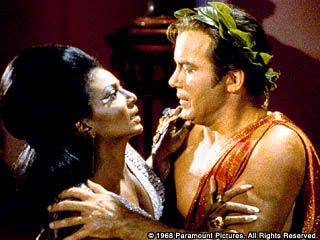 Editor's Note: Yeah, Kirk, the cruel aliens MADE you do it, but you KNOW you wanted to from the first moment you walked on the bridge and saw the cute way her very manicured nails fiddled with her communications ear-piece!
giggle....
According to Zap2It, TV Land has acquired the rights to the original STAR TREK series. The show will be added to the network's regular rotation starting on November 17.
The network will also air four episodes on September 8 to commemorate the 40th anniversary of the show's premiere on NBC.
The episodes aired will be: The Man Trap, the episode that began the series, City on the Edge of Forever, The Trouble With Tribbles and Plato's Stepchildren, which featured the first interracial kiss, between Kirk (William Shatner) and Uhura (Nichelle Nichols), on television.
Greenwood boards pilot from Milch
Bruce Greenwood is in final negotiations to star in David Milch's pilot "John From Cincinnati," which Emmy winner Mark Tinker has come aboard to direct.
Written by "Deadwood" creator Milch and author Kem Nunn, "John" is a drama set in the world of Southern California surfing. Greenwood will play the patriarch of the surfing family at the center of the show. Editor's Note: Sometimes....just SOMETIMES....I hate being old(er). Here is this very sexy, very charismatic actor who is relegated to the patriarch role. And they will no doubt hire interchangeable, unintersting twinkies...and yes, they're pretty in a vapid sort of way...to be his kids. And the storylines will be predominately about the tedious twinkies, and here's this MUCH more interesting, lovely guy on the sidelines.
Old, and CRANKY. SIGH.......
'Moon' rising with Forlani, Bisset, Hudson
Claire Forlani, Jacqueline Bisset and Oliver Hudson have been tapped to star in the Lifetime original movie "Carolina Moon," based on Nora Roberts' best-selling novel.
"Moon," from Mandalay TV and Stephanie Germain Prods., is one of four adaptations of books by Roberts that Lifetime plans to run back-to-back on Monday nights in February. The other three -- "Blue Smoke," "Angels Fall" and "Montana Sky" -- are in preproduction.
Editor's Note: And on a much more intriguing note ----
'Kushner' has seat in Balcony
NEW YORK -- Balcony Releasing will bring "Wrestling With Angels: Playwright Tony Kushner" to U.S. theaters in the fall.
Kushner is the Tony-winning writer of the Broadway play-turned-HBO miniseries "Angels in America." The feature from Oscar winner Freida Lee Mock ("Maya Lin: A Strong Clear Vision") will reach select cities in a platform release in October and November.
"I'm unspeakably embarrassed by it," said Kushner, who said he loathes seeing himself onscreen. "I had to be led kicking and screaming to watch the finished movie." Editor's Note: Giggle. Atta boy!