A few Quick Dweebings on this fine Thursday
Editor's Note: Chuckin out a few Dweeb items in between chore and duty....
Brett Ratner to direct THE BOYS FROM BRAZIL
Brett Ratner has signed on to direct a contemporized remake of 1978 thriller THE BOYS FROM BRAZIL for New Line. Richard Potter and Matthew Stravitz will write the script.
Based on the Ira Levin novel, the original film fit the mode of 1970s paranoid thrillers, with Laurence Olivier uncovering a diabolical plot by Nazis in South America to revive the Third Reich through the use of cloning. Gregory Peck played Dr. Josef Mengele, the plot's mastermind.
The writers pitched a take that sticks close to Levin's novel but sets the action in the present day.
THE BOYS FROM BRAZIL will be produced by Rob Green of Granada, along with Rat Entertainment partners Ratner and Jay Stern.
The hope is Ratner will make
Boys
his follow-up to
Rush Hour 3
, which New Line puts into production in late September for an August 10, 2007, release.
Editor's Note: Reserving judgement. But the original "Boys from Brazil" is pretty close to a classic and doesn't seem to NEED the update. IMHO.....
'Last King' to open London film fest
LONDON -- Oscar-winning documentary director Kevin Macdonald's first feature, "The Last King of Scotland," will open the 50th edition of the Times BFI London Film Festival, organizers said Wednesday.
Billed as a European premiere, Macdonald's movie will unspool Oct. 18 in the event's opening gala slot.
Based on the award-winning novel by Giles Foden, the movie stars Forest Whitaker as the tyrannical Ugandan President Idi Amin, alongside a cast that includes James McAvoy and Gillian Anderson.
Peter Morgan and Jeremy Brock adapted the book for the screen.
John C Reilly Goes For A Walk Hard
A musical biopic comedy
Since his success in
Talladega Nights
, John C Reilly has clearly gotten the taste for broader comedy.
Not only will be reunite with Will Ferrell and director Adam McKay for their next collaboration,
Step Brothers
, but he's also planning to star in
Walk Hard
.
It's a comedy biopic that apes the style of
Ray
and
Walk The Line
, featuring the crazed life and times of fake muso Dewey Cox (Reilly).
Jake Kasdan and
Talladega
Producer Judd Apatow are writing the script and Kasdan will call the shots next year.
"
It's an idea Jake had after seeing one too many musical biopics and feeling it was time to have some fun with that,"
Reilly told Variety. "
My character is an amalgamation of a number of classic musician stories, tales of excess, highs and lows and bad behaviour."

Editor's Note: It might end up being more like "Best in Show", where funny as it is, the REAL thing is (unintentionally) funnier.



Piven enters "The Kingdom"

Fresh from the latest season of HBO's "Entourage", Jeremy Piven has landed himself a brand new role with his "Very Bad Things" director, Petre Berg, in the upcoming thriller, "The Kingdom", reports "Variety".
Piven will play a Diplomat, who gets involved with an FBI team investiagting the bombing of a U.S. facility in Saudi Arabia.
With a story from Michael Mann
Editor's Note: Michael Mann writes STORIES? I thought he just blew things up and played loud music. (not that there's anything WRONG with that....)
, Piven joins the already impressive cast, which includes Chris Cooper, Jennifer Garner, Jason Bateman & Jamie Foxx.
Editor's Note: Oooo...

excellent

cast!
Berg most recently worked on the TV pilot for "Friday Night Lights", based on his 2004 film of the same name, and both Berg & Piven will be seen in Joe Carnahan's upcoming "Smokin' Aces".
Eric Balfour and Carlo Rota return to 24

According to TV Guide, both Eric Balfour and Carlo Rota will be returning to
24
for season six. They also report that Alexander Siddig will play a bad guy in the upcoming season.
Editor's Note: Siddig, in his Trek drag. (He was in "Syrianna" and he has aged REALLY nicely....FYI...)
TV Guide writes, "
Just got off the phone with my 24 mole and he/she informs me that Eric Balfour has signed on to reprise his Season 1 role as independent CTU contractor Milo Pressman. My spy wouldn't say how Milo would be re-introduced, but he'll be sticking around for awhile: Balfour will be credited as a series regular.

"In other 24 news, former Star Trek: Deep Space Nine doc Alexander Siddig is joining the cast as one of the evil-doers behind the big Season 6 plot. Additionally, Carlo Rota (aka Mr. Chloe O'Brien) will be back as a series regular."

You can expect to see
24
back on your TV this coming January on Fox.
Hopkins nabs 'Vanished,' 'Brothers'
Josh Hopkins has landed recurring roles on two high-profile new drama series, Fox's "Vanished" and ABC's "Brothers & Sisters," while Linda Hart has been tapped to co-star on Fox's midseason comedy series "The Winner."
"Vanished," from 20th Century Fox TV, chronicles the disappearance of a senator's wife. Hopkins will play an old flame of the missing woman.
"Brothers," from Touchstone TV, is a family soap about adult siblings starring Calista Flockhart, Rachel Griffiths and Sally Field. Hopkins will play a love interest to Flockhart's character.
Sci Fi Channel to air recap of BATTLESTAR GALACTICA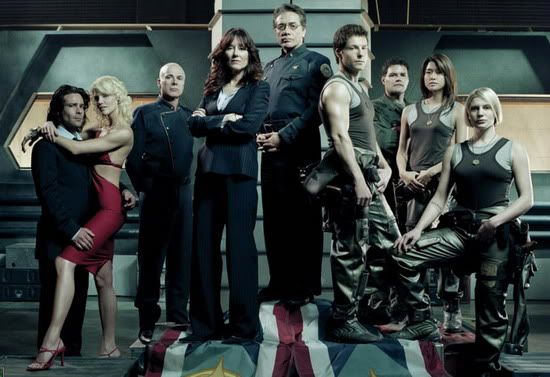 The SCI FI Channel and its sister NBC Universal networks will air a one-hour recap special of the original series
Battlestar Galactica
in advance of the show's October third-season premiere.
It will incorporate footage from the original SCI FI miniseries and the previous two seasons of the series. The special will be narrated from the point of view of Laura Roslin (Mary McDonnell), the resistance leader on Cylon-occupied New Caprica.
According to Sci Fi Wire, the special will be broadcast as follows
:
Aug. 13 at 10 p.m. on NBC West Coast,
Aug. 28 Free On Demand via SCI FI's cable affiliates,
Sept. 15 at 12 a.m. on USA Network,
Sept. 17 at 7 p.m. on Universal HD,
Sept. 18 at 9 a.m. on USA,
Sept. 22 at 8 p.m. on Universal HD,
Sept. 22 at 6 p.m. on Sleuth,
Sept. 29 at 7 p.m. on Bravo,
Sept. 30 at 11 a.m. on Bravo,
Sept. 30 at 4 p.m. on Universal HD,
throughout the month of September on SCI FI Pulse
and Oct. 6 at 7 p.m. on SCI FI.
Throughout September, it will also be made available for download via iTunes and XBox Live and will be distributed at Best Buy as a bonus DVD with the
Battlestar Galactica
season 2.5 DVD set and other genre titles from Universal Home Video.
The DVD will also be distributed to visitors to the Universal Studios theme parks, and snippets of the special will be available on YouTube.com, Google Video and other video portal sites.
Editor's NOte: Time to get all caught up on this and get my head back into the BG universe, I guess. Nice of them to enable this task! (You'd think the scifi channel actually CARED about us?)