Tuesday MishMash Dweebing
EDITOR'S NOTE: DWEEBING ON THE QUICK AND QT, SO WE'RE JUST GOING TO TOSS MOVIES AND TV AND ALL INTO A CLUMP. (A LOVELY CLUMP, BUT A CLUMP NONETHELESS).
FIRST UP, EARLY REVIEWS ON SUPERMAN.....THE QOTD MIGHT HAVE TO STAND CORRECTED. (OR SIT, CAUSE I'M KINDA

TIRED

THIS MORNING)
Superman Returns Reviews Fly In/Early 'net reactions say it soars
The cape is ironed, the boots polished and the pants still outside the tights.
Superman Returns
arrives next week and -almost all - early reaction to Bryan Singer's re-jigging of the world's most famous superhero says it's a flyer. .
"A worthy successor to
Superman: The Movie
and
Superman II
, if never quite as much fun. A darker take on Superman, the polished, character-driven narrative and Routh's fine performance ensure that the Man Of Steel will remain a magnet for moviegoers" - Empire
"Grandly conceived and sensitively drawn Superman saga. Sure to rate with aficionados alongside "Spider-Man 2" and, for many, "Batman Begins" on the short list of best superhero spectaculars...One can praise newcomer Routh very highly indeed" - Variety
"This is one summer blockbuster whose 150 minute-running time will fly by as fast as Superman himself" - Mike Goodridge, Screendaily.com
"This is the film I was hoping and dreaming for...The film is filled with love for more than just the previous movies, but the comics and even the classic George Reeves television show. This honors them all, while doing its own wonderful thing" - Harry Knowles
EDITOR'S NOTE: YEAH. IF BIGHARRY SAYS IT'S GOOD, WELL THEN.....
"Singer has made a much better film than [Superman] part I or part II - craftier, a bit dryer, more fully rendered, less comic book-y, and more deeply felt" - Jeffrey Wells, Hollywood Elsewhere
And because there's always one...
"Where to start on
Superman Returns
? It's terribly cast, poorly conceived, extremely light on action, features a romance that is not remotely romantic, doesn't feature a single memorable, "gosh, that was great" repeat-to-your-friends moment in a positive way (the blunder bits start early and often), will be crushed by
Pirates of The Caribbean II
and played out completely before August 1" - David Poland, Movie City News
TV NEWS:
William Fichtner joins PRISON BREAK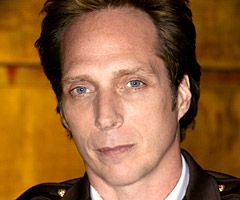 PRISON BREAK is adding a new nemesis in William Fichtner. Fitchtner will play a federal agent who must track down and apprehend the escaped convicts.
EDITOR'S NOTE: SO I'M GUESSING THEY GET AWAY FROM THE WHOLE RUNNING-FROM-THE-HELICOPTER THING THAT WAS THE SEASON-ENDING CLIFFHANGER? (CAUSE IF HE COULDN'T CATCH THEM WHILE HOVERING ABOVE THEM IN A COPTER, HE'S A PRETTY LOUSY TRACKER, HUH?)
The second season of "Prison Break" chronicles the manhunt for Michael (Wentworth Miller), Lincoln (Dominic Purcell) and the other inmates who broke out of prison at the end of Season 1.
Shooting for the second season should begin any day in Dallas. Production had to be postponed by a day until the deal with Fichtner was finalized.
Somerhalder setting sail in 'Polo' mini
Former "Lost" co-star Ian Somerhalder is taking on a new marine adventure as the title character in "Marco Polo," RHI Entertainment's miniseries about the Venetian traveler. Brian Dennehy and B.D. Wong also have been cast in the project along with Mark Jax and Alan Shearman.
"Polo," from "The Ten Commandments" writer Ron Hutchinson, chronicles Polo's (Somerhalder) 13th century travel to Mongolia, where he was accepted as an envoy into the court of Kublai Khan (Dennehy) and spent 20 years of perilous adventure. Wong will play Polo's servant and right-hand man, while Jax (NBC's "In the Beginning") and Shearman ("A Boyfriend for Christmas") will play Polo's father Niccolo Polo and uncle Maffeo Polo, respectively, who first traveled the Silk Road to China and met Kublai Khan when Marco Polo was a child and then made the trip again with him
Chris O'Donnell gets job at THE COMPANY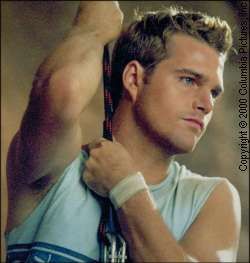 EDITOR'S NOTE: IS IT JUST ME, OR DOES THIS PIC LOOK TO ANYONE ELSE LIKE GAY PORN?
Chris O'Donnell has been cast in one of the lead roles for TNT's upcoming limited series, THE COMPANY.
The series is from Sony Pictures Television and is based on Robert Littell's best-selling book.
The series will be six hours long and trace the history of the activities of the CIA during the Cold War, telling the story of agents imprisoned in double lives, fighting an amoral, elusive, formidable enemy -- and each other -- in an internecine battle within "The Company" itself. O'Donnell will portray Jack McCauliffe, an idealistic Yale graduate fiercely loyal to America and it's ideals who is recruited into the CIA in 1954. Politics, betrayal and love will test his resolve.
EDITOR'S NOTE: YEAH. DON'T THEY

ALWAYS

?!
Berg, Harberts make a new 'Album'
Gretchen Berg and Aaron Harberts have been tapped as executive producers/showrunners on Fox's midseason series "The Wedding Album."
The two will rewrite the pilot, which will be recast and reshot.
EDITOR'S NOTE: SO....THEY BASICALLY PICKED UP THE TITLE AND A FEW TIDBITS OF PLOT, AND DUMPED EVERYTHING ELSE. WOULDN'T IT BE EASIER TO START FROM SCRATCH AT THAT POINT?
The original pilot, about a wedding photographer and his assistant, was written and executive produced by Andy Tenant and Wink Mordaunt and produced by Fox TV Studios. 20th Century Fox TV, where Berg and Harberts are under an overall deal, came on board to co-produce the project when it was picked up to series last month.
MOVIE NEWS (and things peripheral to movies and tv):
STAR WARS and INDIANA JONES News
EDITOR'S NOTE: THE SW AND IJ STUFF IS BURIED IN THERE. JUST DIG IT OUT.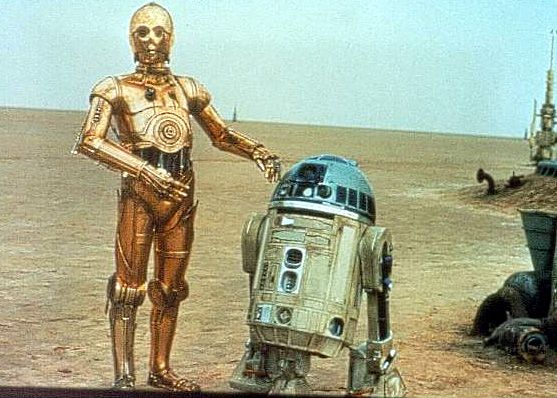 RANDOM DROID PIC.
(EDITOR'S NOTE: CAN IT EVER TRULY BE

GRATUITOUS

WHEN IT'S STAR WARS?)
"Multiplatform" is the buzzword this week for licensing mavens and retail executives converging in New York for the
Licensing 2006 International
trade show.Licensees and retailers are no longer anxious to place bets on movie properties that might not be able to sustain product on store shelves for much more than a six- to eight-week window.
Instead, they are turning to television, video games and original online and wireless content to find properties for the kinds of entertainment licensing deals that were once largely the province of Hollywood feature films.
While even blockbusters aren't assured the kind of audiences that used to be a given, there is a select group of mainstream properties that remain highly sought after: among them, Sony Pictures Entertainment's "Spider-Man 3," DreamWorks' "Shrek the Third," 20th Century Fox's "The Simpsons Movie," Buena Vista's planned 2007 release "Pirates of the Caribbean: At World's End" and Warner Bros. Pictures' "Harry Potter and the Order of the Phoenix."
"
People are investing their licensing dollars in established franchises or properties that have the potential to be established franchises,"
said Chris Byrne, editor at large at Royalties Magazine. "
People are losing money on movies that are one-shot deals. They are looking at what they can get on the shelf and keep on the shelf. There are so many properties out there now that movies don't have the same level of urgency that they used to."
Retailers attending the show, running today through Thursday at the Jacob Javits Convention Center, are looking for safer bets, such hit TV programs as FremantleMedia's "American Idol" on Fox, Endemol game show "Deal or No Deal" on NBC, Disney's breakout tween hit "High School Musical," Fox's "Family Guy" and "24," Cartoon Network's "Ben 10" and upcoming new animated "Star Wars" and "Fantastic Four" series are expected to make a strong showing this year.
Licensees and retailers are expected to seek out multiplatform properties at the show with the expectation that the more platforms a property appears on -- i.e., film, television, online, wireless, video games -- the greater the demand for licensed product.
"The push is for multiplatform
," said Joyceann Cooney, editor in chief of License Magazine. "
That is the way so many companies are approaching their licensing programs these days. Retailers are concerned about those platforms because they want the marketing buzz on a property in order for it to sell in-store, and licensees also need that marketing component."
Children's program distributor 4Kids Entertainment is looking to take advantage of the multiplatforming strategy with a new kids' show titled "Viva Pinata" that will premiere in September on 4Kids' Saturday morning Fox Box programming block. 4Kids partnered with Microsoft's Xbox to produce the show, based on Xbox's new video game of the same name -- scheduled for release in November.
"The multiplatform brand launch is a new trend
,"
EDITOR'S NOTE: AND AS WITH MOST TRENDS, THERE WILL BE A HANDFUL OF LEADERS, AND THEN A WHOLE

PASSLE

OF LEMMINGS.
4Kids CEO Al Kahn said
."I think it's very important in terms of what the future of licensing is going to hold,"
Kahn added. "
I think you need all these simultaneous touch points to reach kids so the whole ('Viva Pinata') property is designed with this in mind."
In another sign of the growing importance of new entertainment platforms, show organizers and exhibitors said they expect a significant increase in the amount of wireless and digital licensing activity at this year's event. On Monday, several hundred people from entertainment, Internet and wireless content companies were expected to attend a preshow digital and mobile licensing summit held at the Javits Center.
"The largest trend I see taking place in the industry right now is technology
," said Tim Rothwell, president of Marvel Entertainment's worldwide consumer products media group, which recorded $5 billion in worldwide retail sales of licensed product last year.
"Interactive games and wireless are becoming a huge, important part of licensing."
In the Internet space, AOL will have its own booth for the first time at Licensing Show for its KOL kids' brand and its Red teen brand. It will be seeking licensing partners for KOL's new preschool online cartoon "Pilar's Adventures" as well as KOL cartoon shorts "Kung Fu Academy," "Skwod" and "Princess Natasha," which also aired on Cartoon Network in February.
Malcolm Bird, senior vp and general manager of AOL Kids and Teens, said that because of its enormous success, "Natasha" was the first animated children's property "to go from online to TV to a fully licensed property."AOL hopes to repeat the licensing success of "Natasha" with its other cartoon shorts, including its Red brand title "Chubby Butter."
EDITOR'S NOTE: CHUBBY BUTTER? GIGGLE.
"The online platform is becoming as important as the TV platform in developing content and getting those shows out to an audience
," Bird said, noting that about 2 million kids watch and interact with "Natasha" every month.He said the attitude toward online content among licensees and retailers has "
completely changed
" this year compared to previous years. "
It's a new world with millions of people online. It's taken a while for the licensing industry to get that,"
Bird said.
With all the buzz about new-media platforms, studio consumer products executives acknowledged that it is getting increasingly difficult to license new film properties because of risk-averse retailers and this fierce competition from other media.
"The traditional film merchandise play is becoming more and more challenging and the mediums are changing so quickly that people are looking to figure out how to connect with kids beyond a movie or a TV show,"
Walt Disney Co. senior vp franchise management Vince Klaseus said
.
"Retailers have gotten very sophisticated and in my view overly conservative, just betting on safe properties
," Warner Bros. Consumer Products president Brad Globe said.
Despite the growing challenges in new film licensing, TV, franchise and multiplatform properties appear to be making up for any shortfalls. According to the Licensing Industry Merchandisers' Assn., sponsors of
Licensing 2006 International
, entertainment licensing retail sales and royalties grew about 2.4% last year. Royalties from the sale of entertainment licensed product rose from $2.565 billion in 2004 to $2.626 billion, while retail sales increased from $46.2 billion to $47.3 billion, LIMA said.
Advanstar Communications, producers and owners of Licensing Show, said preregistration was running 10% above last year, when about 23,000 people attended the show. Advanstar said about 500 companies representing nearly 6,000 brands and properties in 60 countries will be exhibiting at the show, with about 25% of those representing entertainment companies.
With the trend in licensing moving toward younger ages, preschool properties also are expected to attract a great deal of interest at the show. Nickelodeon will focus on its hit preschool programs "The Backyardigans," "Wonder Pets" and "Go, Diego, Go!" Disney will be seeking licensing partners for "Mickey Mouse Clubhouse," "My Friends Tigger & Pooh" and "Little Einsteins." Amity Entertainment will bring the popular preschool series "The Big Comfy Couch" to the Licensing Show for the first time.
Fox and Lucasfilm
are expected to make a splash at the Licensing Show by returning to the Javits Center for the first time in years. Lucasfilm hasn't been to the Javits Center in 10 years, while Fox, after an absence of many years, will have a small presence at the show as well as a larger presence at a photo studio across the street.
Fox will be focusing its licensing efforts on "Simpsons," "Alien vs. Predator 2" and "Die Hard 4," as well as "Family Guy," "24" and "My Name Is Earl" -- the NBC comedy produced by 20th Century Fox Television -- as it targets what Fox Licensing and Merchandising executive vp Elie Dekel calls "generation Fox," or 13- to 34-year-olds. In addition to "Simpsons Movie," set for release in July 2007, there also will be a new "Simpsons" video game from Electronic Arts out late next year and major marketing campaigns surrounding the 400th episode of the hit TV show in May.
"
There will be big tentpole initiatives supported across News Corp., Fox and their partners that will bring the world of 'The Simpsons' to a heightened awareness and a heightened relevance that I truly believe will be on an unprecedented scale for the property,"
Dekel said.
Lucas Licensing, which had its strongest year ever last year for "Star Wars" consumer products with about $3 billion in worldwide retail sales
EDITOR'S NOTE: AND WE HELPED! (ME. PERSONALLY. I HELPED A

LOT

)!
, said it will be discussing its upcoming entertainment and marketing initiatives for the franchise with some of its 500 worldwide licensees at the show.
Among those initiatives are the first CG-animated "Star Wars" TV series slated for 2008, a live-action "Star Wars" series in preproduction, a new video game from LucasArts tied to the 30th anniversary of "Star Wars" that will be released in fall 2007, the release of the original versions of the first three "Star Wars" films on DVD singles in the fall and a new Lego "Star Wars" video game based on the original trilogy, also scheduled for fall.
Howard Roffman, president of Lucas Licensing, said the Lucasfilm division also will be looking for licensing partners for the summer 2007 release of a new "Indiana Jones" video game from LucasArts and the summer 2008 release of a new "Indiana Jones" movie.
EDITOR'S NOTE: 2008 FOR THE MOVIE? THEY KNOW THIS FOR SURE? SHOULDN'T THEY HAVE A SCRIPT LOCKED DOWN FIRST? (JUST SAYIN.....)
"We're looking at the game as the equivalent of a film launch,"
Roffman said. "
It will be a major event."
EDITOR'S NOTE: EVERYTHING AT LUCASFILM IS A BIG EVENT. NOT A CRITCISM, BUT THAT'S JUST THE NORM.
Spielberg's next War
At long last, Stephen Spielberg will be returning to his fantasy roots – or so the rumour machine just foretold.
According to
JoBlo.com
, the "Munich" director will helm "World of Warcraft", a film based on the PC Game of the same name by Blizzard Entertainment. Legendary Pictures (the production troupe behind "Superman Returns" and "Batman Begins") will be bankrolling the thing.
No word on when the film will get underway, but with Spielberg attached to no less than four other films at the moment – including an Abraham Lincoln biopic, and the long-awaited fourth "Indiana Jones" movie – it's safe to say it won't be anytime right away.
Let's see how this rumour pans out.
Dave Meyers knows WITCH HUNTERS
Dave Meyers will direct the film WITCH HUNTERS for New Regency. Joe Ballarini will write the script.
WITCH HUNTERS is said to be a movie in the vein of PIRATES OF THE CARIBBEAN, but set in a world of witchcraft and black magic.
EDITOR'S NOTE: OFTEN, WHEN PRODUCERS SAY THEIR MOVIE IS GOING TO BE LIKE AN ALREADY SUCCESSFUL FLICK, THEY ARE ASKING TO BE COMPARED UNFAVORABLY AND HAVE A PROPERTY THAT HAS THE MEREST HINT OF WHAT MADE THE BIGGER MOVIE A HIT. COMPARE WITH CAUTION. (WE AREN'T EVEN SURE THE SECOND

PIRATES MOVIE

IS GOING TO BE 'IN THE VEIN' OF "THE PIRATES OF THE CARIBBEAN").
Meyers just started production on THE HITCHER earlier in June
Walt Disney has a MOTHER OF INVENTION
The rights to MOTHER OF INVENTION have been picked up by Walt Disney Pictures.
The film is to be a family comedy which is loosely based on a real-life spy. The woman the film is based on is a single soccer mom in San Francisco with two kids and a nanny. Her kids don't know she is a spy and she will retire before the movie is released.
The film will be produced by Andrew Gunn and Stacey Attanasio-Gonsalves.
Radha Mitchell joins FEAST OF LOVE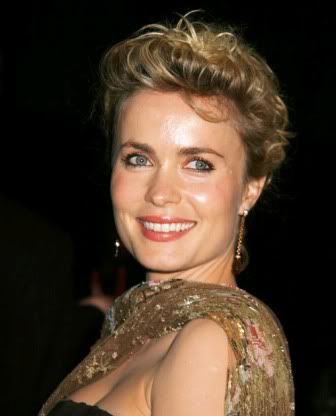 Radha Mitchell will star in FEAST OF LOVE for Lakeshore Entertainment. The cast includes Morgan Freeman and Greg Kinnear while Robert Benton is set to direct.
FEAST OF LOVE is based on a Charles Baxter novel and revolves around a community of friends in Oregon who navigate the sometimes painful incarnations of love. Mitchell will play a real estate agent, Diana, who has an affair with Kinnear's character.
Romola Garai Finds Atonement/Thesp and two others join drama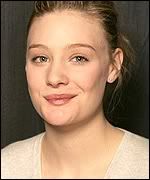 Joe Wright's adaptation of Ian McEwan's novel
Atonement
continues to draw in cast members like a fisherman with an Oscar-scented lure.
Already wriggling in the net are Keira Knightley, Narnia's James McAvoy and newcomer Saoirse Ronan, and now Wright has added Brenda Blethyn, Vanessa Redgrave and Romola Garai.
The pain-veined story focuses on a 13-year-old girl (Ronan) who shatters her family and those around her when she falsely accuses her sister's boyfriend (McAvoy) of assaulting her.
The film is shooting as you read this.
Regency reigns in WARDOGS

Regency Enterprises has picked up the action picture WARDOGS from Adam Grossman.
The story will follow four retired Vietnam vets who are called back into action when their former leader goes missing in Turkey. Grossman and Andrew Lazar developed the script together, Lazar is set to produce the film.
EDITOR'S NOTE: WASN'T THERE A SCHWARZENEGGER OR VAN DAMME (OR ONE OF THAT CROWD) MOVIE LIKE THIS? EXCEPT, WHEN THEY WENT BACK TO RESCUE THE FORMER LEADER THERE WERE ALIENS OR EVIL WOLVES OR SOMETHING? (
IF I JUST HALUCINATED THIS PLOT, FEEL FREE TO STEAL IT AND MAKE A BUNDLE
).
Josh Lucas is SMART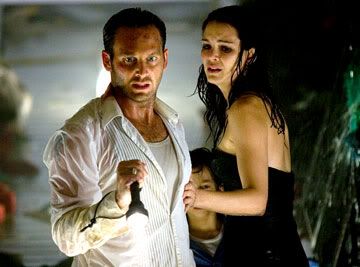 EDITOR'S NOTE: HE EVEN LOOKS CUTE ALL WET (FROM "POSEIDON"). AND TODAY IS HIS 35TH BIRTHDAY! (NO...I AM NOT KEEPING TRACK. IT WAS IN THE PAPER).
Josh Lucas will join the film SMART for Nash Entertainment and 2 Bridges Productions. He will play a fictional FBI investigator who attempts to infiltrate Smart's world.
The film is based on the life of GQ and Esquire magazine founder David Smart. Smart was known for his womanizing and affinity for shirtless photos of himself. His life was almost entirely consumed by a phobia of germs.
The lead role has not been cast. The screenplay was penned by Charlie Peters.