Dreaming of Disney (pins!)
EDITOR'S NOTE: FYI...IF YOU SEE THE WORD "PINS" AND IMMEDIATELY THINK OF THE WORD "SALTPETER", YOU ARE A CERTIFIED THEATER DWEEB.
WE NOW RETURN YOU TO YOUR REGULARLY SCHEDULED (SCIFI, ETC.) DWEEBING.
THE ART OF THE DISNEY PIN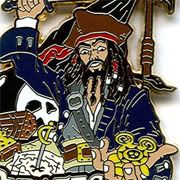 After six years, Disney pin trading is more magical than ever.
Disney pins are so much more than simple fashion statements.
Sure, you canwear them-one at a time, on a lanyard around your neck, on your hat, or all over your outfit-but you can also arrange them in an album, frame them as art, or lovingly stare at each little gem, marveling at their magic.
They tell little stories.
Disney pins commemorate events, recall memories, celebrate Disney Characters, and capture the essences of Disney classics.
They're fun to trade, and while some have been known to increase in value, the true worth of a pin is in the joy it brings.
One of Disney's newest traditions
With all this in mind, it's hard to believe that Disney pin collecting is only six years old. While Disney had created pins and buttons occasionallyin the past, the current phenomenon began in 2000 with the Walt Disney World Millennium Celebration. Millions of pins have followed since, each with its own specific style and charm, and each created in a very special way.
"It's a very collaborative process
," said Julie Young, Product Developer of Disney pins and trading accessories. "
There are many people involved in thecreation of a single pin. It usually takes about 180 to 200 days fromconcept to reality."
The search for pin-spiration
EDITOR'S NOTE: IS THERE ANY WORD IN

ANY

LANGUAGE THAT THE IMAGINEERS AT MOUSELAND CAN'T DISNEY'FY? (SHAMELESS MICE....)
"Ideas are everywhere
," said Julie. "
I may see a wonderful piece of art from another product developer and think, 'That would make a great pin!' I also get inspiration by visiting Disney Theme Parks and Resorts. Disney has a rich history of storytelling, so it makes my job pretty easy."
Concepts can pop up in unlikely ways. At a recent merchandise reviewsession, Julie spotted a pair of Disney Character sandals that was perfect for pins.
"
We were unsure if a pin vendor could create a metal cloisonné pin that looked exactly like a miniature sandal
," explained Julie. "
I thought by adding a plastic strap to the pins, they would stand out from the rest. So, I contacted our partner who works with our vendors on a daily basis. We found a vendor that made the pin exactly the way we wanted. The finished pin looks as cute as a button!"
EDITOR'S NOTE: UMMM...OR AS A PIN? (SEE FLIFLOP PIN PIC, BELOW)
Getting pin-volved with trading
EDITOR'S NOTE: STOP STOP STOP!!!!
Julie also develops accessories for Disney pin trading. One of the most popular is a
Pin Collecting Starter Kit
that includes a "loaded" lanyard sporting several specially designed pins. Guests can start collecting or trading on the spot, with family, friends and Disney Cast Members wearing special lanyards.
"
When Guests find a Cast Member with a lanyard, they can trade metal Disney pins for pins displayed on the Cast Member's lanyard,"
Julie said. "
It'sthat simple."
Guests are invited to trade two metal Disney pins per Cast Member, per day. Plus, Cast Members wearing special green-colored lanyards trade exclusively with kids ages 3 to 12.
Julie enjoys seeing her designs in Guests' pin collections.
"It's special for me to see a Guest with a pin I designed. I know that I helped create a tangible memory for a Guest of her or his vacation. It's part of the magic that I create as a Disney Cast Member."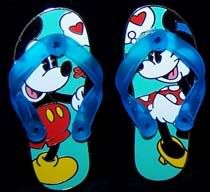 [For more information about the pins Julie has created or Disney pin trading in general, please visit disneypins.com <
http://www.disneypins.com/
> . - Ed.]