Weekend Hodgepodging
EDITOR'S NOTE: SOME ODDSNENDS LEFT OVER FROM THIS PAST WEEK FOR YOUR SUNDAY DWEEBING PLEASURE --
Hoffman's calendar filling quick
Philip Seymour Hoffman is on a real roll right now.
According to Variety, the "Capote" star has been signed for two new biggies, "Charlie Wilson's War" with Tom Hanks and Julia Roberts, and "Before the Devil Knows You're Dead" with Ethan Hawke and Albert Finney.
"War", from director Mike Nichols ("Regarding Henry"), is based on the book of the same name, about a rogue congressman and CIA agent (Hoffman) who found the means to secretly arm rebels to fight against invading Soviet troops in Afghanistan in the early 1980s.
"Dead", about two brothers who decide to rob their parents' jewellery store, starts shooting in New York next month. In addition to Hawke and Finney, Oscar Winner Marisa Tomei is also onboard.
It's also believed J.J Abrams (and probably Paramount) are keen to have Hoffman front-up for their new "Star Trek" film. Recent rumours pegged him playing a doctor in the film.
EDITOR'S NOTE; WELL OF

COURSE

J.J. WANTS PSH IN HIS MOVIE....WHO WOULDN'T. MR. H ROCKS!
Hartnett to join 30 DAYS OF NIGHT

Josh Hartnett is in negotiations to star in
30 Days of Night
for Columbia Pictures.
EDITOR'S NOTE: DO WE CARE WHAT HARTNETT IS DOING? WELL, NOT SO MUCH. BUT THIS GIVES US THE OPPORTUNITY TO KNOW WHICH MOVIES TO AVOID, RIGHT? (IT'S SOMETHING I LIKE TO CALL

'THE ADAM SANDLER RULE'

OF MOVIE-GOING).
The script, written by Stuart Beattie and Brian Nelson, follows a local sheriff (Hartnett) and his wife who is also a sheriff. It is set in Barrow, Alaska, the northernmost town in the U.S. where the sun does not appear for more than 30 days during the dead of winter. An evil force emerges from the darkness, striking terror into the town.
EDITOR'S NOTE: AN EVIL FORCE

BESIDES

HARTNETT'S LACK OF ACTING TALENT AND CHARISMA?
The husband and wife sheriffs are forced to choose between saving themselves and helping the town survive until daylight returns.
The film is based on the comic book by the same name and will be directed by David Slade.
Weaver is the 'Point' person for Col thriller

Sigourney Weaver is in negotiations to join the cast of Columbia Pictures' "Vantage Point."
Dennis Quaid, Matthew Fox, William Hurt and Forest Whitaker already have signed on to the thriller.
Helmed by Pete Travis from a Barry Levy screenplay, the story chronicles an assassination attempt on the U.S. president (Hurt) and is told from five points of view, unfolding in 15-minute increments. Weaver will play a TV news producer for a CNN-type network who will do anything to get the story.
Neal Moritz is producing, while Tania Landau is executive producing.
Shooting starts Sunday in Mexico City.
Andrea Giannetti is shepherding the project for Sony.
Weaver, who whose recent credits include "The Village," "Imaginary Heroes" and "Holes," is a three-time Oscar nominee. She next appears in network satire "The TV Set" opposite David Duchovny.
EDITOR'S NOTE: OOO....DUCHOVNY! LONG TIME NO SEE!
She also lends her voice to the Lionsgate ani tale "Happily N'Ever After."
'Sesame Street' to Get New Character

Abby Caddaby to Join Cast of Muppets

By Christopher Lisotta
For its 37th season premiere on Aug.14, Sesame Workshop's long-running PBS children's series "Sesame Street" is introducing a new character, its first new female muppet in 13 years.
The new character, Abby Caddaby, will use the catchphrase "that's so magic."
EDITOR'S NOTE: GET IT?! (SIGH.....)
The muppet is a pink "fairy-in-training"
EDITOR'S NOTE: AND I KNOW SO VERY MANY PEOPLE WHO COULD INSTRUCT HER! (BAD QOTD. BAD BAD).
who uses rhyme and magic to express herself. A Sesame Workshop release described her as "
a youngster who knows just enough about magic to get herself in a jam but not always enough to get out of trouble.
"
EDITOR'S NOTE: SOUDNDS LIKE THE KIDS IN HARRY POTTER!)
Building on a campaign from the current season to help children learn healthy habits, next season "Sesame Street" will also include new segments aimed at healthy eating, physical activity and hygiene.
Celebrity guests scheduled to appear next season include Oscar winner Jamie Foxx, singer John Legend, "Today" show host Matt Lauer, "Grey's Anatomy's" T.R. Knight and comedian Amy Sedaris.
EDITOR'S NOTE: IN MY PRIVATE (BUT NOW BLOGGING) HEART OF HEARTS, MY TWO BIGGEST WISHES WOULD BE TO BE A GUEST AT A DWEEBFEST (I MEAN, A PAID '

OFFICIAL'

GUEST), AND TO BE ABLE TO REALLY MEET THE MUPPETS. (OR JUST MISS PIGGY, EVEN. SHE'S MY HERO!)
I TYPED ALL THAT SO EVERYONE COULD READ IT, HUH?
SO MUCH FOR THE PRIVATE HEART OF HEARTS, THING.
The Princess Bride(Widescreen, Special Edition)

Release Date: 6/13/2006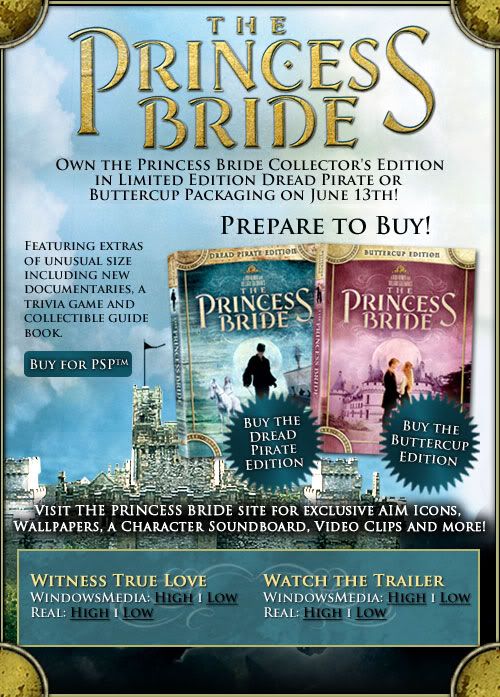 DVD Features:
Available Subtitles: English, Spanish, French
Available Audio Tracks: English (Dolby Digital 5.1), French (Dolby Digital 2.0 Surround), Spanish (Dolby Digital 2.0 Surround)

Commentary by director Rob Reiner
Commentary by author and screenwriter William Goldman

"As You Wish: The Story of The Princess Bride" featurette

"Dread Pirate Roberts: Greatest Legend of the Seven Seas" mockumentary

Behind the scenes footage shot on the set by Cary Elwes

"Love is Like a Storybook Story" featurette

"Miraculous Make-up" featurette

Original 1987 featurette

Quotable "Battle of Wits" trivia game

Photo gallery

Collective booklet: "Fezzik's Guide to Florin"


EDITOR'S NOTE: MUST HAVE MUST HAVE MUST HAVE! (JUST FOR THE DREAD PIRATE ROBERTS MOCKUMENTARY, IF NOTHING ELSE)



Trekkies forced to beam themselves
For the first time since 1987, there's no Star Trek series on TV, driving fans to fill the void with

Internet filmsBy DANNY HAKIM
New York Times
MASON NECK STATE PARK, VA. - Paul Sieber was wearing a Star Trek uniform in the deep Virginia woods when he found himself surrounded by a leathery-looking gang.
Fortunately, the ruffians were dressed up as Klingons, and Sieber was preparing to film them with a $6,000 digital video camera. At times like this, Sieber, the writer and director of Starship Farragut, must come to grips with the obvious — not all Klingons are trained actors — and bellow, "Quiet on the set!"
From these Virginia woods to the Scottish Highlands, Star Trek fans are filling the void left in a galaxy that has lost Star Trek. For the first time in nearly two decades, television spin-offs from the original 1960s Star Trek series have ended, so fans are banding together to make their own episodes.
Fan films have been around for years, particularly those related to the Star Wars movies. But now they can be downloaded from the Web, and modern computer-graphics technology has lent them surprising special effects. And as long as no one is profiting from the work, Paramount, which owns the rights to Star Trek, has been tolerant. (Its executives declined to comment.)
Up to two dozen of these fan-made Star Trek projects are in various stages of completion, depending what you count as a full-fledged production. Dutch and Belgian fans are filming an episode; there is a Scottish production in the works at
http://www.ussintrepid.org.uk/
.
There is a group in Los Angeles that has filmed more than 40 episodes, according to its Web site,
http://www.hiddenfrontier.com/
, and has explored gay themes that the original series never imagined. Episodes by a group in Austin, at
http://www.starshipexeter.com/
, feature a ship whose crew had the misfortune of being turned into salt in an episode of the original Star Trek, but has now been repopulated by Texans.
"
The fans are saying, 'Look, if we can't get what we want on television, the technology is out there for us to do it ourselves
,'" said Sieber, a 40-year-old engineer for a government contractor who likens his Star Trek project, at
http://www.starshipfarragut.com/
, to "online community theater."
EDITOR'S NOTE: NOT NECESSARILY A BAD THING. (FROM COMMUNITY THEATER SPRINGS GREAT THINGS. OCCASIONALLY.....)
And viewers are responding. One series, at
http://www.newvoyages.com/
, and based in Ticonderoga, N.Y., boasts of 30 million downloads. It has become so popular that Walter Koenig, the actor who played Chekov in the original Star Trek, is guest-starring in an episode, and George Takei, who played Sulu, is slated to shoot another one later this year. D.C. Fontana, a writer from the original Star Trek series, has written a script.
For many Trekkies, contemporary science fiction on television — such as Battlestar Galactica and the more recent Star Trek spin-offs — are too dark.
"Modern science fiction takes itself too seriously
," said Jimm Johnson, 37, who presides over Starship Exeter.
John Broughton Jr., who founded the Farragut project, agreed.
"
One thing about the classic Star Trek is at the end of the episode, it was pretty much a happy ending,"
he said. "
It was sort of like The Brady Bunch. It was all tidied up."
For Some, Man of Steel Has Messianic Echo
By JACOB ADELMAN,
Associated Press Writer
First there were the gospels of Matthew, Mark, Luke and John.
Now, for many Christian moviegoers comes another gospel.
As the hype machine shifts into high gear for the upcoming release of "Superman Returns," some are reading deeply into the film whose hero returns from a deathlike absence to play savior to the world.
EDITOR'S NOTE: YOU HAVE TO BE

KIDDING

?! (NOT SURE WHAT MY SAVIOR LOOKS LIKE...SOME DAYS, I THINK GEORGE BURNS. SOME DAYS I THINK ANGELA LANDSBURY). BUT I CAN GUARAN

TEE

YOU HE DOESN'T LOOK LIKE AN OVERLY-PRETTY PIN UP WITH CHUBBY THIGHS.
UNLESS HE

DOES

.
IN WHICH CASE, I HOPE THE SAVIOR ISN'T MAD AT ME?
"
It is so on the nose that anyone who has not caught on that Superman is a Christ figure, you think, `Who else could it be referring to?'
" said Steve Skelton, who wrote a book examining parallels between Superman and Christ.
EDITOR'S NOTE: COULDN'T IT JUST BE A CIGAR? JUST THIS ONCE?
As one of society's most enduring pop-culture icons, Superman has often been observed as more than just a man in tights.
In his early 1930's comic-book incarnation, he was a hero of the New Deal, aiding the destitute and cleaning up America's slums, said Tom De Haven, author of a book about Superman's status as an American icon and a novel about the hero's high-school days.
By the 1950's, fears of postwar urban lawlessness had turned him into a tireless crime fighter, while his early television persona envisioned him as an idealized father figure, De Haven said.
More recently, Quentin Tarantino had the villain of "Kill Bill: Vol. 2" wax philosophical about the Man of Steel: "
Clark Kent is how Superman views us... Clark Kent is Superman's critique on the whole human race."
EDITOR'S NOTE: WHAT'S WRONG WITH CLARK KENT THAT HE WOULD BE PERCEIVED TO BE A 'CRITQUE'?
Some have also seen the hero as a gay icon, forced to live a double life with his super-self in the closet. A recent edition of the gay magazine "The Advocate" even asked on its cover, "How gay is Superman?"
EDITOR'S NOTE: MAYBE THEY JUST MEANT THIS

NEW

SUPERMAN? (CAUSE IN THE TRAILERS, HE

DOES

SEEM KINDA GAY. UMMMM...NOT THAT THERE'S ANYTHING WRONG WITH THAT. JUST SAYIN.....).
But the comparison to Jesus is one that's been made almost since the character's origin in 1938, said Skelton, author of "The Gospel According to the World's Greatest Superhero."
Many simply see the story of a hero sent to Earth by his father to serve mankind as having clear enough New Testament overtones. Others have taken the comparison even further, reading the "El" in Superman's original name "Kal-El" and that of his father "Jor-El" as the Hebrew word for "God," among other theological interpretations.
EDITOR'S NOTE: CIGAR CIGAR CIGAR CIGAR!!!!
"Superman Returns," which premieres June 28, has been drawing its own comparisons to biblical accounts, especially after the appearance of its trailer earlier this year.
The preview shows the hero with his eyes closed as the voice of his father — Marlon Brando's, courtesy of 1978's "Superman" — tells him he was sent to Earth because humans "lack the light to show the way."
"For this reason," continues the voice, "I have sent them you, my only son."
Online message boards and Web logs quickly latched onto the biblical resonance of those lines.
"The allusion to Jesus Christ could hardly be accidental,"
wrote Christian blogger Tom Gilson.
"
Is this a new Superman for the new Evangelist red state America? Superman as Jesus
?" asked one contributor to the Portland-based blog site Urban Honking.
The premise of the new Superman movie alone has fueled speculation that it's wearing its biblical comparisons on its long, tight sleeve. Superman, in the film, returns to Earth after a long absence, a narrative that's been likened to Jesus' death and resurrection.
Meanwhile, news reports that "Passion of the Christ" star James Caviezel was originally in the running for the lead role in "Superman Returns," which eventually went to Brandon Routh, convinced others that the film's makers were playing up the New Testament comparisons.
Moviegoers who enter the theater looking for Christian imagery are unlikely to be disappointed.
At one point, Superman sustains a stab wound reminiscent of the spear jabbed in Christ's side by a Roman soldier. In another scene, Routh poses with his arms outstretched as though crucified.
Not everybody welcomes the Superman-Jesus comparisons.
"It's a misrecognition,"
said Amy Pedersen, who is writing her doctoral thesis in art history at the University of California, Los Angeles, on superhero comic books.
Pedersen said Jerry Siegel and Joe Shuster, who introduced Superman in 1938 in a comic book, were Jews who were inspired by the Old Testament story of Moses and the supernatural golem character from Jewish folklore.
The Christian allusions are recent innovations that compromise the integrity of the Superman myth, she said.
"
This does not need to be a consistent cultural form from its beginning to its present, but something has to be maintained
," Pedersen said.
"Superman Returns" director Bryan Singer said the notion of Superman as a messianic figure is simply another case of contemporary storytelling borrowing from ancient motifs.
Singer, who is Jewish, said his neighbors' Christianity played a powerful role in the community where he grew up.
"These allegories are part of how you're raised. They find their way into your work
," he said. "
They become ingrained in your storytelling, in the same way that the origin story of Superman is very much the story of Moses."
EDITOR'S NOTE: WHICH IS THE NICE JEWISH BOY'S WAY OF SAYING, 'WRONG TESTAMENT, BUT THANK YOU FOR PLAYING OUR GAME. (AND WE HAVE LOVELY MAZTO BALL PARTING GIFTS).
It's unlikely that studio executives, conscious of the size of the Christian audiences that were coaxed into theaters by the biblical echoes in "The Lion, the Witch, and the Wardrobe," would discourage religious associations.
"
The way in which the Christian population can get behind a movie that they can agree with is a huge push financially,"
said Skelton, who also distributes bible-study kits that draw scriptural lessons from classic television episodes. "
It's a smart move in terms of attracting an audience
."
At the same time, Superman is fixed firmly enough in popular secular culture so that the religious accents are unlikely to alienate a mainstream audience, said Craig Detweiler, who directs the film-studies program at Fuller Theological Seminary in Pasadena.
"Just like Jesus, in some ways (Superman) transcends parities and politics and can not be co-opted to serve the narrow interests of others
," he said. "
That could be one reason why studios aren't afraid to let Superman go that way, toward the religious."

EDITOR'S NOTE: IN OTHER WORDS, WHATEVER SELLS TICKETS?



AND SPEAKING OF SUPERHEROES TAKING ON NEW ROLES.....
Spiderman outs himself to the press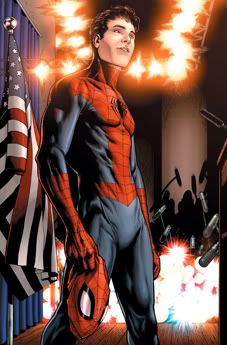 For a comic book hero, it's the ultimate taboo.
In the latest edition of the Marvel comic "Civil War" on sale, Spiderman does the unthinkable and removes his Spidey mask to publicly reveal his hidden identity.
"I'm proud of who I am, and I'm here right now to prove it," the legendary webslinger tells a press conference called in New York's Times Square, before pulling off his mask and standing before the massed ranks of reporters as newspaper photographer Peter Parker.
"Any questions?" Parker asks in the final panel of the issue, amid a barrage of camera flashes.
In a statement, Marvel trumpeted the revelation as "arguably the most shocking event in comic book history."
The seven-issue "Civil War" series, launched in May, sees Marvel's writers taking on the topical issue of civil liberties.
Following a showdown between a group of superheroes and supervillains in which hundreds of innocent civilians are killed, the government passes the Super-Hero Registration Act, requiring all superheroes to reveal their identities and register as "living weapons of mass destruction."
Marvel's roster of invincible crime fighters is split into two bitterly opposed factions, with one camp -- championed by the likes of Spiderman -- in favour of the new law and the other, including Captain America and his ilk, refusing to relinquish anonymity.
"It's about which side you are on and why you think you are right," said Marvel Comics editor-in-chief Joe Quesada.
EDITOR'S NOTE: THIS SOUNDS VERY COOL!!
AND FOR THE DWEEBS WITH A LOT...A LOT....OF TIME ON THEIR HANDS.....
Matchstick Hogwarts
Matchstick Marvels
has created yet another astonishing model, constructed solely from matchsticks: the
Hogwarts castle
. The model, which comprises over a half-million matchsticks and took a whopping three years to build, will be displayed at a Spanish museum in December.
You can check out some photos of this masterpiece below: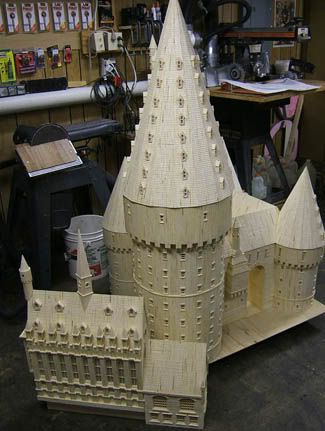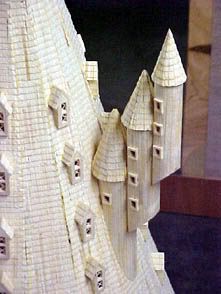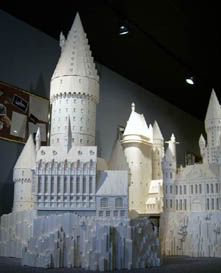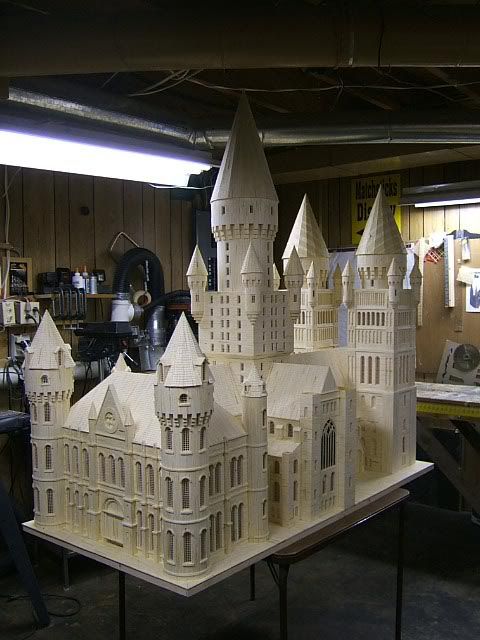 EDITOR'S NOTE: WOW! (PUTS MY NEW LITTLE JEWELRY PROJECT TO SHAME, LET ME TELL YOU!).
HOPE YOUR WEEKEND WAS

GRAND

, DWEEBPALS. BACK TO MY WINE (MY PREPARATIVE FOR THE GRUELING WEEK AHEAD).