Star Wars Disney Weekends 2006
EDITOR'S NOTE: SOME DAY SOME DAY SOME DAY.....I SHALL GO TO THIS. SOME DAY SOME DAY SOME DAY....
BUT UNTIL THAT SWEET AND BLESSED TIME, I TORTURE MYSELF FOR YOU, MY DWEEBPALS.
IT'S JUST THE SORT OF QOTD I AM.
SOME REPORTAGE FROM THE 4-WEEKEND EVENT, BUT MOSTLY COOL PICS!
Landing the Force in Orlando
Warwick Davis
(
Wicket
the
Ewok
) hosted the very special Star Wars event all four weekends.

Not only did Star Wars fans from all over the country travel to Florida to enjoy the four-weekend series, Lucasfilm's
X-wing starfighter
replica traveled from the Wings Over the Rockies Museum in Denver, Colorado, to be part of the event.

After a good "beauty treatment" from museum director Matt Burchett's crew, and members of the Rocky Mountain Fan Force and Mountain Garrison of the
501st Legion
, the X-wing traveled to Orlando. Crews at the Disney park, reportedly thrilled to have the X-wing there, put the starship together in "record time."

The Disney magicians have placed the X-wing in front of a 34'-wide greenscreen in the park's sound stage, the area that has been turned into a Star Wars shopping dream store for fans looking for collectible merchandise. Fans can have their picture taken with the X-wing with a variety of backgrounds like
Hoth
and the
Yavin 4
hanger.

"

We provide them props and robes if they desire

," says Patrick Flores of Disney. "
The X-wing is the first things that our guests see when they walk into the sound stage, and the reactions are really fun to listen to."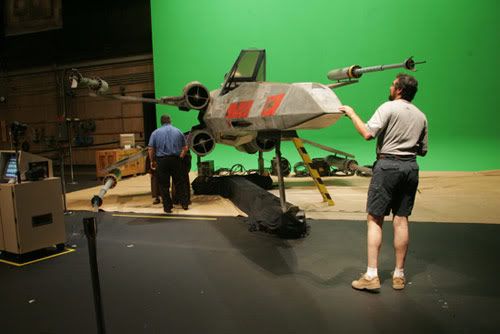 Disney staff installs Lucasfilm's X-wing replica in front of a greenscreen, where they'll take photos of fans and set them with different Star Wars background images during Star Wars Weekends.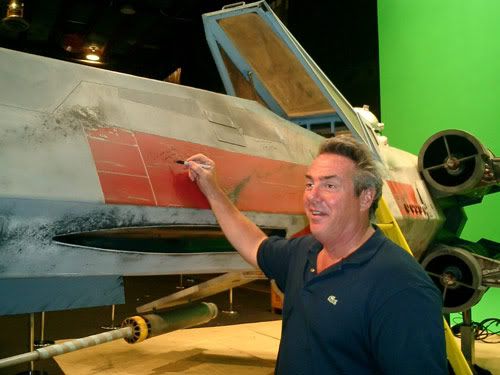 Star Wars prequels producer Rick McCallum signs the X-wing at Disney's MGM Studios, following a tradition of Star Wars celebrities signing the fighter. "

Rick is one of the coolest people I've ever met

," says David Iskra, Production Assistant at the park. "

He was so gracious to our team and guests that we can't stop talking about him."

Photo by Kristen Waidalowski

A Disney staff member gets ready to insert a Star Wars background into a fan photo with the X-wing.
Two young
Jedi Knight
s pose in front of the X-wing. Disney provided costumes for fans if they wanted to dress up for their photos.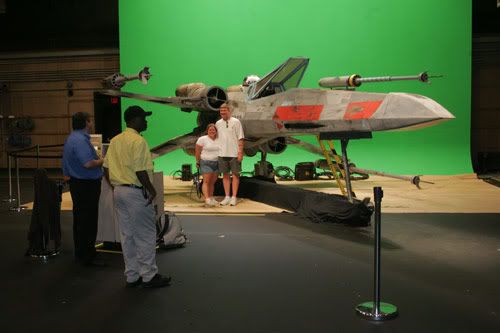 Ready for their close-up. Vacationing Star Wars fans pose with the X-wing.
EDITOR'S NOTE: TOO COOL TOO COOL TOO COOL!!!
EDITOR'S NOTE: AND NOW SOME PICS FROM THE WEEKENDS THEMSELVES ---
It's often hard to detect former
Jedi
-turned-bounty hunter
Aurra Sing
as she lurks in the shadows, awaiting her prey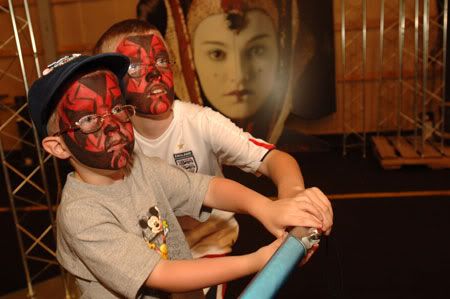 Master and Apprentice? Brothers Luke and Joshua team up to battle the dark side inside
Wicket
's Warehouse as they team up to play Hasbro's Star Wars
Lightsaber
Battle.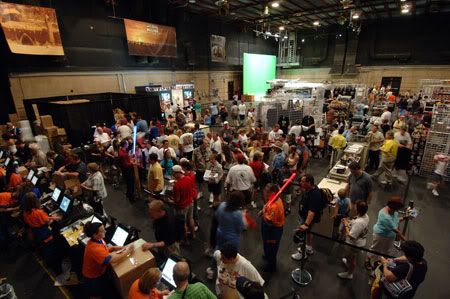 A treasure trove of toys and collectibles, Wicket's Warehouse is new to Star Wars Weekends 2006.
EDITOR'S NOTE: WHEN I DIE, THIS IS WHERE I WANT TO GO.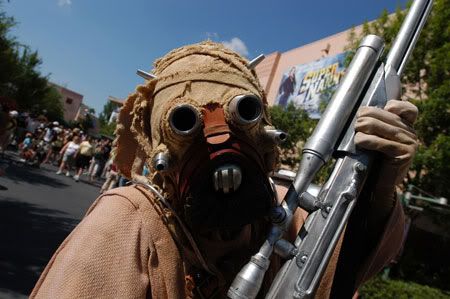 A long way from
Tatooine
, the nomadic
Tusken Raider
s can be seen at Star Wars Weekends
.
EDITOR'S NOTE: A TUSKEN RAIDER WHO IS ABOUT TO LEARN THAT IT ISN'T THE HEAT, IT REALLY IS THE HUMIDITY. (MOISTURE FARMERS WITH GUNS DON'T SCARE HIM. BUT THE

FLORIDA

MOISTURE IS LIKELY TO BRING THIS DUDE TO HIS KNEES).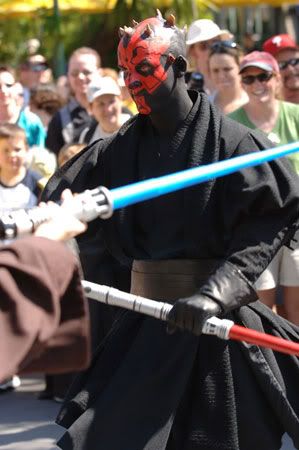 Darth Maul
takes on another youngling in
Jedi
Training Academy.
EDITOR'S NOTE: GO DARKSIDE!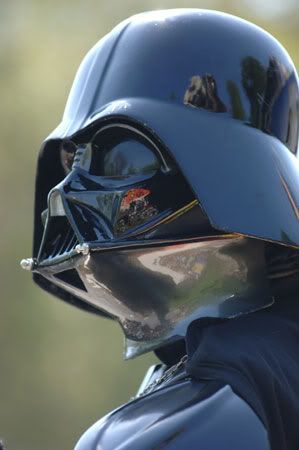 Darth Vader
surveys the crowd as he arrives at
Jedi
Training Academy
.
EDITOR'S NOTE: DO YOU THINK HE POLISHES HIS HELMET BY HIMSELF? OR DOES HE HAVE 'PEOPLE' FOR THAT?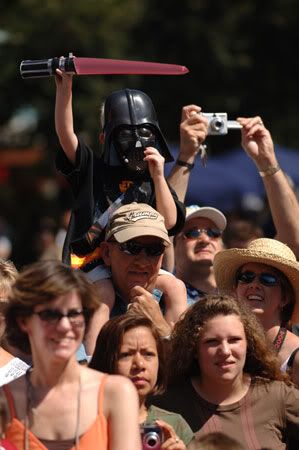 Darth Vader
is cheered on during his
Jedi
Training Academy battle by a young fan
EDITOR'S NOTE: HE SHRUNK!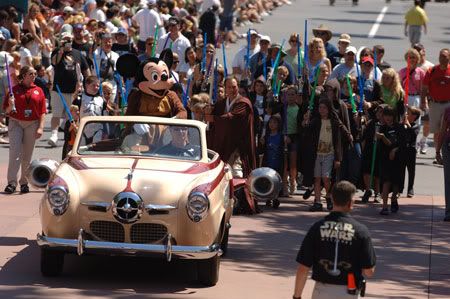 Padawan hopefuls follow
Jedi
Mickey down Hollwood Blvd. in the "Legends of the Force" parade.

EDITOR'S NOTE: OH. I THOUGHT MAYBE THE JEDI WERE FINALLY TURNING ON THE MOUSE.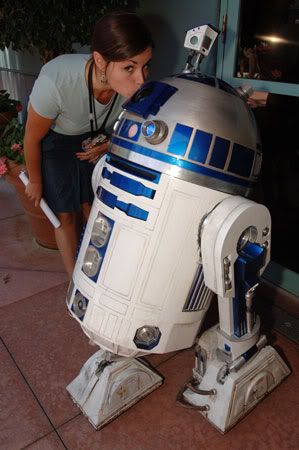 Artoo-Detoo
is a popular meet-and-greet character, as the brave and loyal
astromech droid
scores smooch from his newest fan, Sarah. EDITOR'S NOTE: THAT DROID IS

SUCH

A TEASE! (BESIDES, SHE'S JUST HIS 'BEARD'; EVERYONE KNOWS R2 AND 3P0 ARE....UMMM...'CONFIRMED BACHELORS')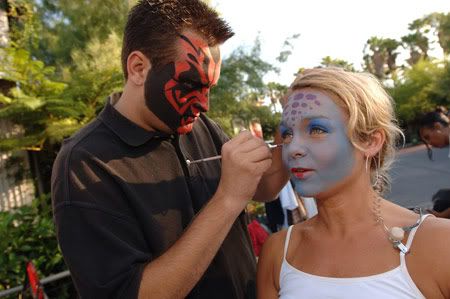 Face painting is a popular piece of any Star Wars costume.

EDITOR'S NOTE: OOO....COOL!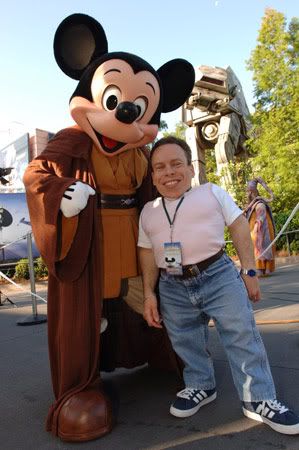 Jedi
Mickey and celebrity host
Warwick Davis
EDITOR'S NOTE: WOW. WHAT AN EXTREMELY LARGE MOUSE.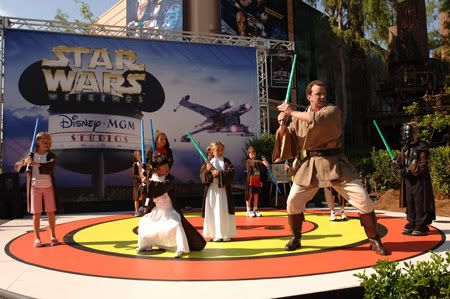 The
Jedi Master
takes the younglings through their paces in the Jedi Training Academy. EDITOR'S NOTE: AWW. LOOK AT THE CUTE LITTLE YOUNGLINGS. ALL SOON TO

DIE

AT THE HANDS OF VADER AND HIS TROOPERS. AWW.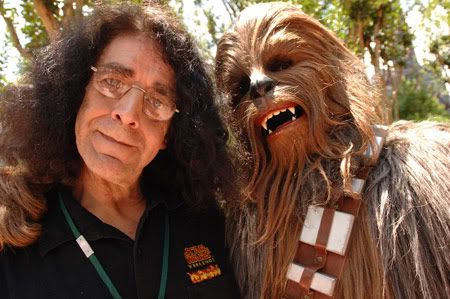 Celebrity guest
Peter Mayhew
get acquainted with an old friend.

EDITOR'S NOTE: OK. NOW I'M CONFUSED.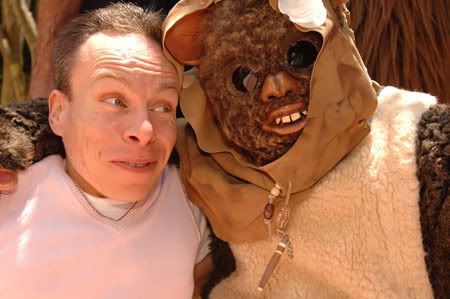 Celebrity host
Warwick Davis
is a favorite of the
Ewok
s at Star Wars Weekends.

EDITOR'S NOTE: MAN, THIS IS REALLY DISTURBING. FANTASY, REALITY. MY HEAD IS SWIMMING.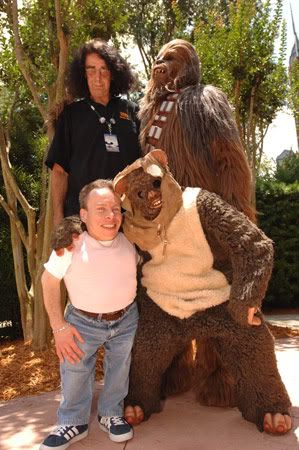 Peter Mayhew
and
Warwick Davis
and their furry friends.
EDITOR'S NOTE: STAR WARS. THE LONG AND THE SHORT OF IT.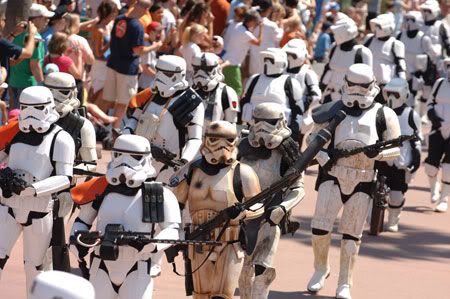 Stormtroopers
,
sandtroopers
and
scout troopers
, oh my!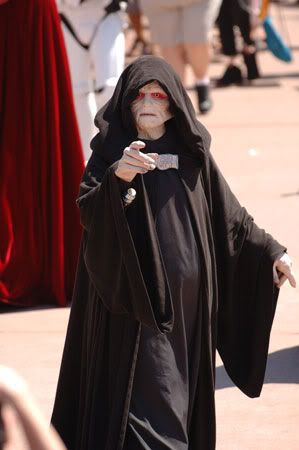 Palpatine
leads his forces from the dark side in the "Legends of the Force" parade.
EDITOR'S NOTE: CAUSE NOTHIN SAYS 'PARADE' LIKE A REALLY REALLY EVIL DUDE.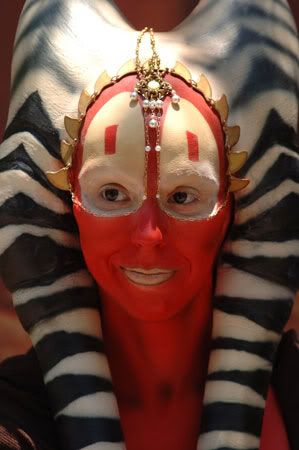 Jedi Master
Shaak Ti
, known for the beautiful markings, is among the more than 50 Star Wars characters meeting guests during Star Wars Weekends 2006.
EDITOR'S NOTE: WOW. HER MAKEUP IS

PERFECT

!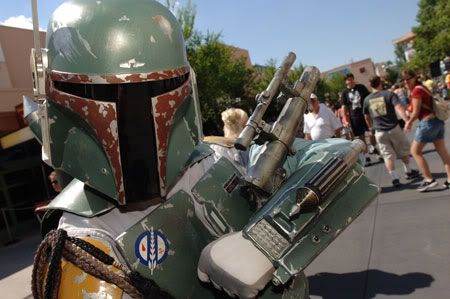 Battle-scarred and battle-tested,
Boba Fett
roams the streets of the theme park looking for prey.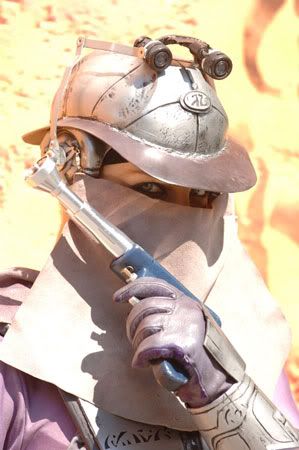 Swift and deadly,
Clawdite
bounty hunter
Zam Wesell
hides behind a veil of secrecy.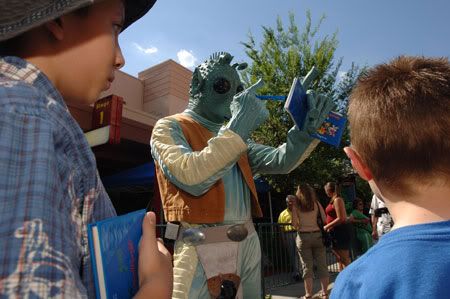 Who signed first?

EDITOR'S NOTE: CUTE. AND CHECK THIS POOR GUY OUT. HE CAN'T SEE THE AUTOGRAPH BOOK FOR THE MASK, AND HE CAN'T HOLD THE PEN FOR THE RODIAN GLOVES. POOR SEMI-EMPLOYED ACTOR GUY.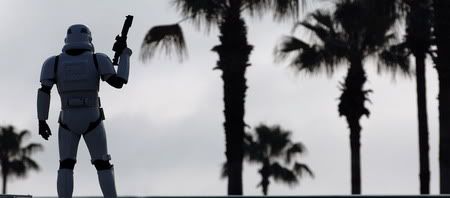 A stormtrooper stands watch over the Disney-MGM Studios entrance as the Florida sun begins to peek through the palm trees.

EDITOR'S NOTE: MY EMPEROR WENT TO FLORIDA AND ALL I GOT WAS A CHANCE TO MAIM AND KILL THE TOURISTS.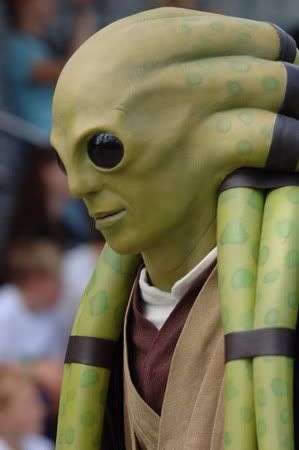 Everyone's favorite Nautolan Jedi, Kit Fisto, signs autographs and poses for photos near the event's Rebel Base stage.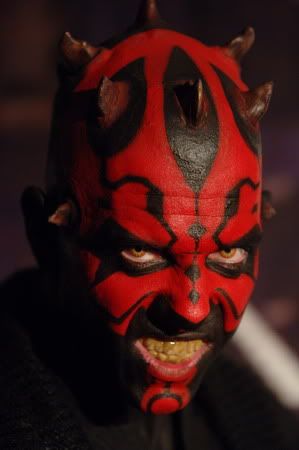 Sith apprentice Darth Maul, known for his tattooed face and Sith lightsaber, "smiles" for the camera.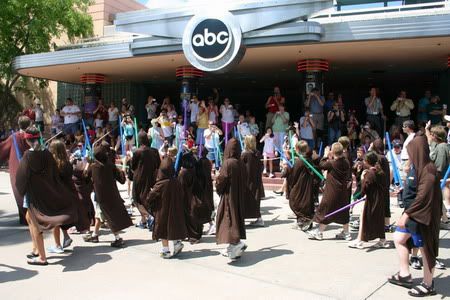 Guests cheer the latest class of Padawans from the event's "Jedi Training Academy."

EDITOR'S NOTE: A PARADE OF PUNY PADAWANS. A TRAIL OF TINY TRAINEES. A JANGLE OF JUNIOR JEDI?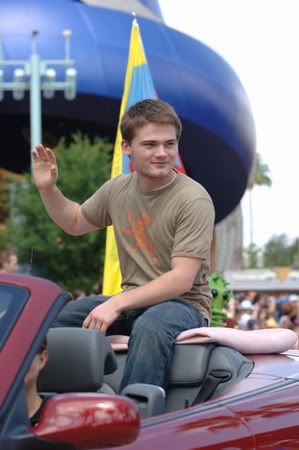 Also a return guest, Jake Lloyd once again was a popular autograph to have during Weekend #2.

EDITOR'S NOTE: NOT BAD. HE'S NOT EXACTLY GROWING UP TO BE A HUNK, BUT NOT BAD. (PROBABLY STILL CAN'T ACT, POOR BOY. BUT AT LEAST HE SEEMS TO BE SKIPPING PAST THE HORRIBLY AWKWARD PHASE).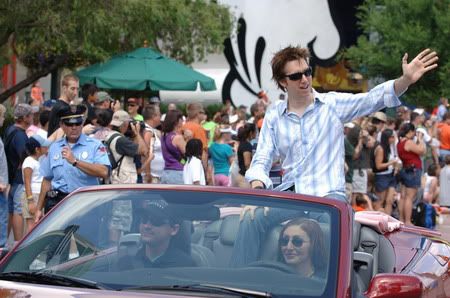 A return guest to Star Wars Weekends, Matthew Wood greets the thousands of fans along the parade route.

EDITOR'S NOTE: GENERAL GRIEVOUS IS A SURFER DUDE?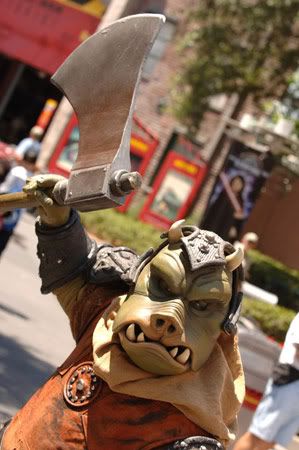 Jabba the Hutt's favorite enforcers -- the Gamorrean Guards -- were out in full force, this one raising his vibro-ax high above his head.

EDITOR' NOTE: OUR LOVE CANNOT BE DENIED.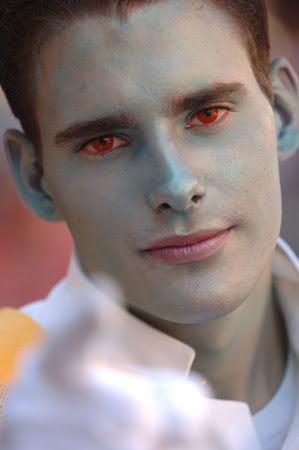 Grand Admiral Thrawn fan Joe pays tribute to the Expanded Universe novels with his costume.

EDITOR'S NOTE: SO. WHO KNEW THRAWN WAS SUCH A CUTIE. OR THAT HE WAS GAY.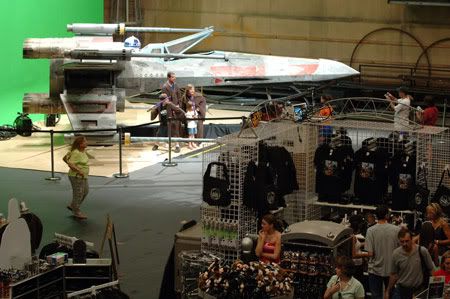 The X-wing feels right at home on Soundstage 1 at the Disney-MGM Studios, as guests pose for photos with it.

EDITOR'S NOTE: I JUST HAD TO SHOW IT AGAIN.....HOW COOL WOULD THIS BE??? POSING WITH AN XWING!!!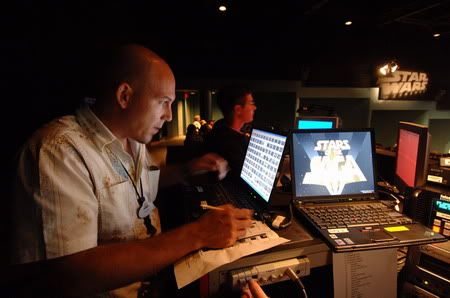 Mark Renfrow, Show Director for Star Wars Weekends, cues the thousands of photos that are part of the "Stars of the Saga" talk show. Each time a celebrity guest references a Star Wars moment, it's Renfrow's task to quickly find an image to cast on the theater's jumbo screens.

EDITOR'S NOTE: COOL BEHIND THE SCENES INFO, HUH?!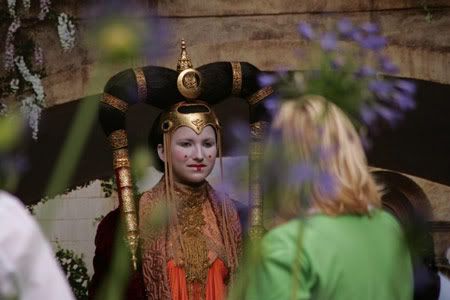 Queen Amidala
greets her royal subjects.
A FEW MORE DOPPLEGANGER PICS --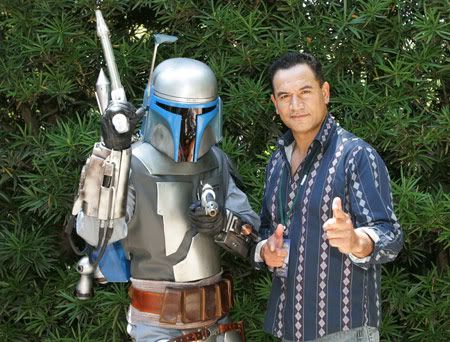 Will the real Jango Fett please stand up? Temuera Morrison poses with his silver-screen alter ego.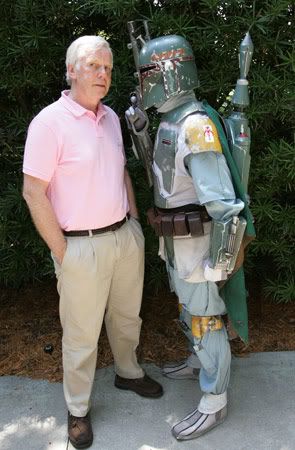 Boba Fett closely examines his off-screen personality. Are you really Jeremy Bulloch?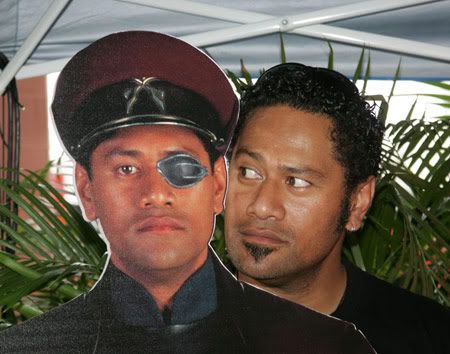 Since completion of Attack of the Clones and Revenge of the Sith, celebrity guest Jay Laga'aia lost his eye patch, but gained a soul patch .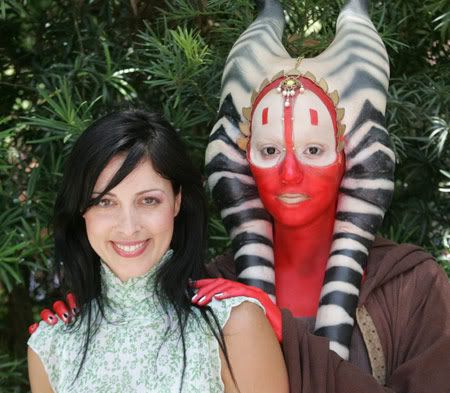 Celebrity guest Orli Shoshan poses with her silver screen alter-ego. This marked her first visit to Star Wars Weekends at the Disney-MGM Studios.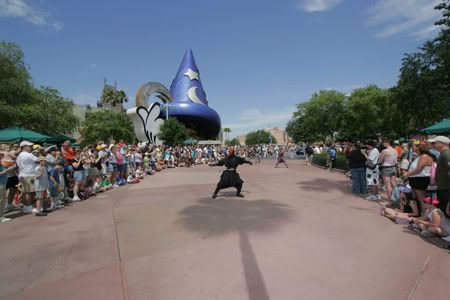 Darth Maul clears the way for the "Legends of the Force" parade as he crosses into the "dark side" of a palm tree. EDITOR'S NOTE: THIS IS A NICE ARTSY PIC, HUH?!