Catching up with Movie News (and a smidge of TV too)
STAR TREK XI Writers Talk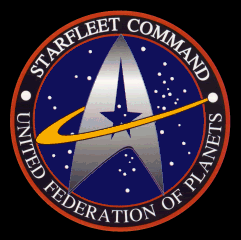 The writers for the upcoming prequel
Star Trek XI
discussed the project in a recent interview with Creative Screenwriting.
Question: I know you can't say much, but is there anything you could eventell us to interrelate you pick a starting point so vast and so rich as StarTrek?
A: There are pockets within the universe, and we know the mythology well,and we are fans of the novels that happen between the movies and all that kind of stuff, which aren't even counted as part of the mythology sometimes and we do know that there is a space to begin to see a lot of the origins of a lot of the things we know and we're going to start there.
We're very mindful of being totally true to the mythology and totally true to what's come there, and in a way try to embrace the fact there's such a rich history to it that this is not a case of trying to come in and be so clever that you're going to reinvent everything. It's a case of coming in and using the stuff you know is great and you know really works and not violating anything that's come before it.
EDITOR'S NOTE: WELL THAT SURE SOUNDS LIKE WE'RE IN GOOD HANDS, DON'T IT?!
Question: So, are we able to say that this is going to be with characters we know or new characters which preceed the characters we know?
A: It will be a bit of both, I think. It will be both.

Connery returns for Indiana Jones 4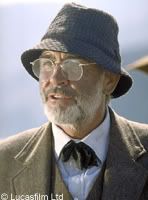 EDITOR'S NOTE: HI DAD! (HE LOOKS SO MUCH LIKE MY DAD...ALTHOUGH NOT AS MUCH IN THIS PHOTO AS IN SOME).
Here's something that came out of the AFI's big salute to Sean Connery.
Good news it is, too.
According to George Lucas, Sir Sean Connery - who has apparently retired, not that that ever means anything in Hollywood - will indeed be returning for "Indiana Jones 4", reprising his role as Indy's wise-old pop, HenryJones.
According to Lucas, Connery has been written into the script, so now it's just a matter of coaxing him into doing it.
"
I would love him to be in the next Indiana Jones...maybe I can push him into it,"
Lucas told the show. "
We are writing him in whether he wants to doit or not
."
Whilst Harrison Ford, and now Connery, are the only original cast members confirmed for the next instalment in the Spielberg/Lucas sequel, earlier rumours pegged series' love interests Kate Capshaw and Karen Allen returning for a scene, in which Indy is confronted by all his former flames - but since the script was been tweaked and tweaked again since that one surfaced,it's likely that's no longer a go.
EDITOR'S NOTE: DON'T WINK AT THE FANS TOO MUCH, GUYS. JUST MAKE A GOOD MOVIE, OR DON'T BOTHER. ("TEMPLE O'DRECK" NO. "LAST CRUSADE" YAY!)
Strause brothers in 'AVP' fold 20th Century

Fox has tapped Colin and Greg Strause to helm the sequel to the monster face-off "Alien vs. Predator."
The project marks the feature film directing debut of the brothers, who run award-winning special effects house Hydraulx, which provided the trick shots for such Fox hits as "X-Men: TheLast Stand," "Fantastic Four" and "The Day After Tomorrow." Greg Strause won a BAFTA Award for the effects work on "Tomorrow."
The Strauses also have created a name for themselves in the world of commercials and music videos because of their distinctive brand of helming, which nabbed them a VisualEffects Society Award for the Will Smith video "Black Suits Comin'.
EDITOR'S NOTE: ON THE ONE HAND, THESE VIDEO MUSIC DUDES ONLY OCCASIONALLY MAKE THE TRANSITION TO COHERENT FILM DIRECTORS. ON THE OTHER HAND, WE'RE TALKIN "ALIEN VS. PREDATOR"

THE SEQUEL

, SO COHERENT ISN'T LIKELY A BIG FACTOR.
"Memoirs of a Mulan
Zhang Ziyi, recently seen turning men to goo in "Memoirs of a Geisha", has signed a three-picture deal with Bob and Harvey (Weinstein), with one of the pics being a live-action version of "Mulan".
EDITOR'S NOTE: WITH THE SAME MUSIC AND THE SINGING/DANCING LIZARD OR DRAGON OR WHATEVER?
The movie, made into a Disney toon about eight years back. Wang Hui-ling ("Crouching Tiger, Hidden Dragon", "The Battle of Red Cliff") has been removed from the hip of John Woo long enough, to write the thing.
Another of the films that Ziyi is apparently in talks to do for the company is the recently-mooted "Seven Samurai" redo.
The new $20 million-dollar "Mulan" is scheduled to get underway in Feb 2007.
No start date on the "Samurai" Xerox, yet.
Timer Starts On 24: The Movie Script is commissioned
This news story takes place between the time you start and the time you finish reading.
It's official folks: the movie version of
24
has a greenli.... Well, it hasa scr....
Actually, it just has a deal in place for the producers of the show to write the script.
But while 20th Century Fox's film team will decid whether or not to proceed with the film based on the strength of creators Joel Surnow andRobert Cochran's script, it hardly seems likely that the company will pass up the chance to base a film on one its most popular TV franchises.
With US audience figures at an all-time high and fans in the UK lapping up Jack Bauer (Keifer Sutherland)'s bad days, it looks like we can expect a
24
film by 2007 or 2008 at the latest.
The current rough idea for the film is held in a vault so impenetrable Jackwould have to torture thirteen people and shoot down a helicopter before he got access, but we do know that the producers plan to shelve the real-time hook so that our hero can dash around the world (including, possibly London)and still find time to, you know, go to the toilet. And the plan is also to make sure it's watchable even for those who don't regularly catch the show.
EDITOR'S NOTE: THE WRITERS OF THE "XFILES" MOVIE BRILLIANTLY PULLED OFF THIS TRAPEZE ACT, BUT IT WEREN'T EASY.
The hunt for the new Hulk
Wanted: Man with the tendency to turn green when cheesed off (not just unleash his anger on an unsuspecting web audience), owner of a pair of shortpurple shorts, and with the smarts of Doogie Howser on his best day.Yep, sounds like Marvel is looking for a new big-screen "Hulk".
Avi Arad tells IF <
http://ifmagazine.com/
> Magazine that the new "Hulk"movie, "The Incredible Hulk", will not be so much a sequel to the first film(which starred Eric Bana in the dual roles of Bruce Banner/Hulk) as it'll be a remake.
"It's a "do-over". I loved the HULK movie, it was just a different approach,and it wasn't exactly the comic. We want to be much closer to the comic. It's what we would rather do".
I think that essentially rules out Eric Bana returning in the main role. If it's a total 'redo' then they'll be essentially ditching everyone and anyone connected to the first film. (David Duchovny was mentioned, at one time, as a possible replacement for Eric Bana). Fits in with what Bana's been telling me, too. Eric hasn't heard a thing from anyone at the studio, regarding the movie, and since they've got a writer, and, are apparently about to announce a director, you'd think they would have told Bana he was required back, too,by now - if they planned on using him. I think it's safe to say, Bana's"Hulk Smash" days are over.
The new movie, which is said to be truer to the character's comic book roots, will pit the Hulk against the equally large, Abominable.
EDITOR'S NOTE: SO MOVIES GET DO-OVERS? FOR THOSE OF US WHO STILL REMEMBER THE MIASMA THAT WAS THAT FIRST MOVIE, WHAT DO WE GET TO ENTICE BACK INTO A THEATER TO SEE THIS ONE? (FOOL ME

ONCE

, AND ALL THAT....)
Robot In The Sky
Transformers teaser poster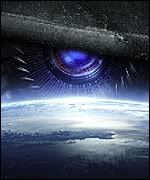 For a group of robots that were once advertised as "more than meets the eye", that's a gigantic eye.
Yes, the first teaser image from Michael Bay's
Transformers

EDITOR'S NOTE: "MICHAEL BAY. I DON'T NEED A SCRIPT CAUSE MY MOVIES ARE REALLY LOUD".
film has arrived, and it must be said... Paramount obviously through that the
War Of The Worlds
concept of a giant alien body part menacing our planet worked wonders, because for this we get a massive Decepticon eye malevolently observing us.
As well as the poster, the official site has gone live, though at the momentits limited to a countdown and an option to sign up for updates.
Find that here.
http://www.transformersmovie.com/
Given the countdown runs to 26 days, we have to wonder what it's counting down to - the first teaser trailer, perhaps?
Coens Find More Men
Harrelson and Root join Western
Saddle up! The Coen brothers have roped in two more thesps to join their next endeavour, the previously announced
No Country for Old Men
.
Woody Harrelson and comic acting genius Stephen Root have joined the Western thriller, which grabs its plot from Cormac McCarthy's novel dealing with dead bodies, a cache of stolen loot, and a man who makes a wrong choice and finds a whole load of trouble riding after him.
EDITOR'S NOTE: WRONG CHOICES AND A HEAP OF TROUBLE KINDA DESCRIBES

EVERY

COEN BROTHERS FILM, DOESN'T IT?
Tommy Lee Jones, Josh Brolin and Javier Bardem are already on board, and filming is already under way in New Mexico.
Uma's In Bloom
Thurman takes a thriller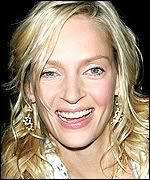 Uma Thurman, soon to be seen making Luke Wilson's life a nightmare in
MySuper Ex-Girlfriend
,
EDITOR'S NOTE: THE TRAILER FOR WHICH LOOK SUPER HORRIBLE.
will take the lead for
In Bloom
, a thriller that kicks off shooting in August.
The plot sees a woman's perfectly happy, settled life come crashing down around her ears after she survives a Columbine-style shooting at a school. Vadim Perelman, who last directed
House Of Sand And Fog
, is stepping behindthe camera for a script by Emil Stern based on Laura Kasischke's novel.
Jackman joins Nicole Kidman in Untitled film
Hugh Jackman will join Nicole Kidman in the upcoming film by writer-director Baz Luhrmann. A third lead role has yet to be announced.
The film is a romantic action-adventure which follows an English aristocrat(Kidman) who inherits a ranch the size of Maryland. When English cattle barons plot to take her land, she reluctantly joins forces with a rough-hewn cattle driver (Jackman) to drive 2,000 head of cattle across the country's most unforgiving landscape, only to face the bombing of Darwin, Australia,by Japanese forces.
EDITOR'S NOTE: EXCEPT FOR THE SET-IN-AUSTRALIA PART OF THIS (AND THE JAPANESE THING), DOESN'T THIS ALL SOUND LIKE HALF THE WESTERNS FROM THE 1950'S? (DEPENDING ON WHO WAS DIRECTING, EITHER IT ALL WORKED OUT IN THE END, AND THE WOMAN AND THE ROUGHHEWN GUY RODE OFF INTO THE SUNSET....WITH THEIR COWS....OR, HE DIED SAVING HER , AND AT THE END SHE WAS LEFT ALONE...WITH HER COWS).
The epic film is as of yet untitled and expected to begin pre-production in October with production to follow in Australia around February 2007.
Weir WalksHelmer leaves Shantaram
Peter Weir has pulled the eject lever on his next film and left Warner Brothers' Shantaram.
The studio is now searching for a director to take over the project, which adapts Gregory David Roberts' novel and will star Johnny Depp as a heroin addict who escapes from the slammer and re-invents himself as a doctor in the Indian slums. He eventually becomes a counterfeiter and gunrunner who clashes with invading Russian troops in Afghanistan.
There's some disagreement about what prompted Weir to ditch the film. Some said it was because Depp – who's producing – and Weir couldn't agree on the film's direction.
But a Warner Brothers spokesrobot told a different tale to Variety: "
Peter moved on from this film because his interpretation of it differed greatly than that of the studio and producers."
This comes hot on the heels of Eric Roth delivering the latest draft of the script to the studio.
Nic Cage Proves Bangkok Dangerous/Starring in another remake
Looks like Nic Cage is finally realising some of his dream projects. Now that he's finally gotten to play a superhero in
Ghost Rider
, he's moving onto an Asian remake.
He'd been rumoured for a while to be up for starring in the
Oldboy
remake,but now he's officially attached to a retake of 1999's Thai thriller
Bangkok Dangerous
.
The original film's directors - Oxide Pang Chun and brother Danny Pang - will step back behind the camera.With a script by Jason Richman, the film will see Cage's hit man travel to the city to assassinate four targets, but ends up falling in love with a local girl. The Pangs will shoot in August in Asia, once they've finished the last tweaks on their English-language debut
The Messengers
, which they've been making for Sony.
This is remake number four for Cage (don't forget
Kiss Of Death
and
City OfAngels
), and comes hot - well, warm - on the heels of contribution to Neil LaBute's adaptation of T
he Wicker Man
, which incidentally has a new trailer online, that you can see here<
http://www.empireonline.com/futurefilms/film.asp?id=11005
> .
Hail To The King/Dakota Fanning in new indie drama
Deborah Kampmeier has grabbed a heavyweight cast for her new indie film,particularly considering she doesn't yet have a title for it.
Dakota Fanning, Robin Wright Penn and David Morse have all agreed to take roles in the movie, which is set in the US South in 1961. Fanning will play a girl who triumphs over abuse through the precocious power of dancing and -really? - singing like Elvis.
Kampmeier is already shooting the movie in North Carolina.
War StoryTrue
Iraq tale optioned
Dusting herself off after the less-than-successful
Aeon Flux
, producer GaleAnne Hurd is backing an entirely different project.
Valhalla Motion Pictures and Legendary Pictures are adapting Matthew Bogdanos' T
hieves Of Baghdad
for Warners.
The book is a first-person account of recovering stolen artefacts and relics and returning hem to Iraqi museums. He also earned a Bronze Star for his role in helping with counterterrorist operations while serving two tours with the Marines in Iraq.
"
This is one of the most dramatic stories of the war in Iraq
," Hurd toldVariety. "
It's a compelling adventure, with intrigue, grit and pathos."

EDITOR'S NOTE: YES, BUT WHY SHOULD WE BELIEVE YOU; YOU'VE LIED TO US BEFORE.



Tamblyn Up For Spring Breakdown
Thesp joins comedy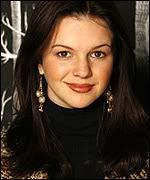 Earlier this week, we told you about
Spring Breakdown
, a new comedy to star Amy Poehler, Rachel Dratch and Parker Posey.
But there's an extra element - the three 30-something girls who travel to the college co-ed vacation spot end up running into the teenage daughter of one of the women's bosses. (Stay with us...) Turns out she's just as geeky as they are, and together they all help each other live, love and learn how to drink from kegs while upside down.
Or, you know, something equally associated with American college kids.
EDITOR'S NOTE: JUST A BITTER OLD BRIT WHO WISHES HE COULD GO TO AN AMERICAN COLLEGE AND LEARN IMPORTANT STUFF.... LIKE DRINKING UPSIDE DOWN. (CAUSE ONCE YOU'VE MASTERED THAT, YOU ARE PRETTY MUCH LINED UP WITH THE SKILL SET TO BE AN AMERICAN PRESIDENT).
Ryan Shiraki has written the script and is directing for Warner Brothers.
Philippe Called Up For Duty
Signs on for Stop-Loss

Director Kimberly Peirce has been on an epic search for an actor to fill the central role of her previously announced Iraq war drama
Stop-Loss
.
Ryan Philippe is starring in
Stop-Loss
, as asoldier who returns home to Texas and is called back via a contractual military procedure. Problem is, he, somewhat understandably, doesn't want to go back.
Abbie Cornish is already on board as the female lead, and Peirce can now start pencilling in a shoot date.
Hair Raising Job Offer
Uknown actress wins Hairspray lead
A 17-year-old New York actress/singer Nicole Blonksy will play Tracy Turnbladin the new
Hairspray
film.
And if that name had you saying "who?" at your computer screen, you're not alone.
Not that many people outside of Great Neck, New York know her name.
New Line has been conducting a nationwide search across the States to find a true unknown to take the lead role alongside Queen Latifah, John Travolta and the just-announced Amanda Bynes.
Blonksy has experience singing in musicals, but was apparently working at an ice cream shop when she scored the audition. Now all she has to do is survive working alongside Travolta in a dress.
Hairspray
starts shooting this year for a summer 2007 release.
EDITOR'S NOTE: AND SPEAKING OF "HAIRSPRAY" AND AMANDA BYNES.....
Bynes Finds Her Hairspray
Amanda joins the musical
Amanda Bynes, last seen in gender-bending rom-com
She's The Man
, has joined the cast of the new
Hairspray
musical movie.S
he'll play Penny Pingleton, the best friend to lead character Tracy Turnblad.
William Hurt and Marcia Gay Harden join INTO THE WILD
William Hurt and Marcia Gay Harden have joined the cast of Paramount's INTO THE WILD. They will join Emile Hirsch, Vince Vaughn and Catherine Keener inthe cast for the film.
The film is based on a non-fiction book and centers on Christopher McCandless (Hirsch), who graduated from college in 1992, abandoned his possessions and hitchhiked to Alaska to live in the wilderness and return to nature. He died four months later in an abandoned bus at a remote campsite.
Hurt and Harden will play McCandless' parents.
INTO THE WILD will be written and directed by Sean Penn.
Screen Gems planning THE RESURRECTION
Screen Gems is planning a feature film which will pick up where the biblical story of Jesus Christ's passion left off. The company is aiming for an Easter time release for the film.
EDITOR'S NOTE: EASTER? BUT WHAT DOES THE BUNNY HAVE TO DO WITH JESUS? (SNICKER)
It is being tentatively titled THE RESURRECTION and will use the bible for its source material.
EDITOR'S NOTE: CAUSE THE COPYRIGHT HAS EXPIRED?
It will tell the story of Christ beginning the day he died on the cross up until his ascension into heaven 40 days later.
A script is reported to have been commissioned by Lionel Chetwynd.
Introducing PROJECT 880
Casting has begun for James Cameron's first major motion picture since TITANIC, PROJECT 880.
The story of PROJECT 880 is set in the future and follows Jake, a paraplegic war veteran who is taken to another planet. The planet, Pandora, is inhabited by the Na'vi, a humanoid race with their own language and culture.
Moviecitynews posted the casting details and what they are looking for in each character.
For Jake, the male lead, they want: Early- mid 20's.Caucasian. Angry and jaded, he harbors a grudge against the world and his current situation. Highly intelligent and creative, he hides his softer side behind a thick wall of issues. Having suffered great tragedy, he is scarred both emotionally and physically. His encounters with the local indigenous culture changes his life.
PROJECT 880 is Cameron's first major motion picture since TITANIC. The film will use Cameron's new digital 3-D technology to film the movie.
EDITOR'S NOTE: UNCLE GEORGE WILL BE SO HAPPY TO SEE SOMEONE ELSE GET ON THE LUCAS DIGITAL TRAIN AT LONG LAST.
PROJECT 880 is aiming for a 2008 release with a sequel already in the works.
EDITOR'S NOTE: A SEQUEL ALREADY? SHOULDN'T WE HAVE THE CHANCE TO LET HIM KNOW IF WE LIKE THE

FIRST

ONE FIRST? (OR IS THAT CONVENTIONAL AND RIGID OF ME?)
TURISTAS scares Fox

Fox Atomic, a new division of Fox Filmed Entertainment which will deal with young-adult genre, has acquired the horror film TURISTAS.
TURISTAS was produced by 2929 Productions and tells the story of college-age backpackers who embark on a dream vacation along the Brazilian coast. After an accident leaves them stranded, they discover a beach side bar filled with revelers, only to wind up drugged by locals and two of them kidnapped.
"
We picked it up pre-emptively before anyone else saw it
," chief operating officer John Hegeman said.
The film stars Josh Duhamel, Melissa George and Olivia Wilde.
Zachary Knighton joins THE HITCHER
THE HITCHER has finalized its main cast with the addition of Zachary Knighton. Knighton will join Sean Bean and Sophia Bush in the cast for the film.
The film tracks the cross-country trajectory of Jim (Knighton) and Grace(Bush), two traveling college students who are tormented by mysterious hitchhiker John Ryder, a.k.a. The Hitcher (Bean).
Production for the film is set to begin this month.
TALENT at Universal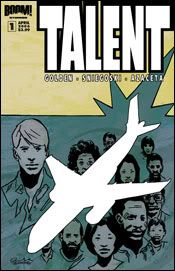 Universal Pictures has acquired the rights to TALENT, a Boom Studios comic book. Universal out bid five other studios vying for the rights.
The story follows a 34-year-old college professor who is the only survivor of a plane crash. He soon discovers that he has mysteriously acquired the'talents' of the people who died in the crash. The new-found attributes turnout to be both a blessing and a curse.
EDITOR'S NOTE: AIN'T IT ALWAYS THE WAY?
TALENT will be produced by Marc Platt, Ross Richie, and Andrew Cosby.
Screen Gems wants THE STEPFATHER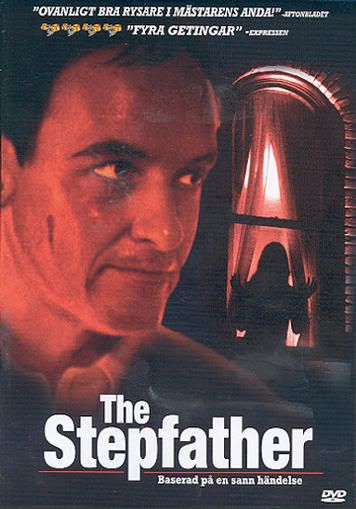 EDITOR'S NOTE: CHECK OUT THE YOUNG TERRY O'QUINN. (WHO HAS ONLY GOTTENSEXIER WITH AGE AND BALDNESS. IMHO....)
Screen Gems has grabbed the rights to the horror thriller, THE STEPFATHER.
The film is a remake of a film under the same name which was released in1987 and stared Terry O'Quinn. The film's title character is a man in search of the perfect family. He goes around from state to state and marries various widows. As each family fails to live up to his psychotic standards for perfection, he kills them and moves on to the next.
EDITOR'S NOTE: SOUNDS REASONABLE TO ME. I MEAN, WHAT ARE WE IF WE DON'T HOLD TO OUR PRINCIPLES? MONKEYS IN PANTS, THAT'S WHAT!
Greg Mooradian, Mark Morgan, and Guy Oseary will produce the film.
A TALE OF TWO SISTERS hits DreamWorks
Tom and Charlie Guard are in discussion to direct the horror thriller A TALE OF TWO SISTERS for DreamWorks. The film would be the directorial debut for the brothers.
A TALE OF TWO SISTERS will follow modern teenage sisters Anna and Alex Rydell who return home from a mental hospital only to find their recovery unraveling because of a cruel stepmother, clueless father, and a lingering ghost.
Production is set to begin this coming fall.
Mandylor is Manchester's Man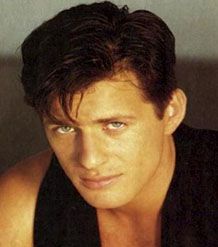 Internationally recognized actor Costas Mandylor will return to his native Australia to shoot a new untitled thriller – previously known as "Broken" – for acclaimed U.S filmmaker Eric Manchester.
The film, written by Manchester and produced by David Redman ("The Young Poisoner's Handbook"), is both Manchester's feature length debut, and the first time he's worked away from home.
Mandylor is best known for his role on TV fave "Picket Fences", and has also appeared in films such as "Virtuosity", "The Doors" and "The Greatest Game of Their Lives".
Set in Los Angeles, the film poses the question: 'What if a stranger decides to ruin your life'?
EDITOR'S NOTE: I THOUGHT THAT'S WHAT WE HAVE FRIENDS AND FAMILY FOR?! (OOOO...BAD CYNICAL QOTD. BAD. BAD.)
On an ordinary day in Los Angeles, two ordinary men have a random encounter. Daniel is a timid bookseller who struggles through the stress of everyday life. Steve (Mandylor) is a successful real estate agent who has everything going his way a wife, a child, a mistress. It should be a harmless interaction one of billions that occurs just like it every day. But this time is different.
In Steve, Daniel sees the symbol of all that is wrong in his life. Daniel starts to follow Steve and gradually finds his only release is the deliberate destruction of Steve's life. Steve is shocked. He has no idea what he has done. Steve's world collapses as he realizes that this unknown enemy will make him live out the remainder of his life as a frightened, hunted man.
When Steve's private investigator disappears and the threat of violence looms closer, Steve knows he must defend those who are dear to him before they are taken from him.
Australian actor Damien Richardson ("The Hard Word") will play Daniel.
BOONDOCK SAINTS 2 almost a go
The sequel to the cult hit, THE BOONDOCK SAINTS, is set to begin production. The cast is all set to return, excluding Willem Dafoe.
A box office flop and critical bomb, THE BOONDOCK SAINTS was written and directed by Troy Duffy. The film found a cult following once it hit DVD, making millions for Fox.
THE BOONDOCK SAINTS followed two Irish brothers turned vigilantes who wipe out the entire Boston underworld.
Fox will finance the sequel and Troy Duffy will return to direct the next installment.
Paul McGuigan to helm FOUR KNIGHTS
Paul McGuigann will direct The Weinstein Co's upcoming film, FOUR KNIGHTS.
The film, a historical drama, is set in 12th century England and follows four foul-mouthed knights sent by King Henry II to negotiate the peace with the troublesome but hugely popular Archbishop of Canterbury, Thomas Beckett. The knights' mission goes wrong when they murder Beckett and flee to a remote castle with the whole country baying for their blood.
EDITOR'S NOTE: I LOVE ME A SNARKY BOY IN A CHAINMAIL SKIRT! (ON A HORSIE!)
Paul Webb will pen the screenplay based on the play FOUR KNIGHTS IN KNARESBORO
Lionsgate is HAPPILY N'EVER AFTER
Lionsgate has acquired the domestic rights to the computer-animated film HAPPILY N'EVER AFTER.
HAPPILY N'EVER AFTER is a satirical retelling of several Grimm's fairy tales. The tales include the classic Cinderella story set in Fairy Tale Land, where the age-old balance between good and evil has been thrown out of whack. Led by Cinderella's power-mad stepmother, an unholy alliance of bad guys takes on the good guys. When Cinderella sees her own fairy tale take a radical turn, she sheds her damsel-in-distress trappings to lead the resistance.
The film stars Sarah Michelle Gellar, Sigourney Weaver, Freddie Prinze Jr., George Carlin, Wallace Shawn and Andy Dick.
EDITOR'S NOTE: MARVELOUS PREMISE. SIGOURNEY WEAVER NOTWITHSTANDING, KINDA STINKY CAST. AH WELL...
EDITOR'S NOTE: AND A WEE BIT OF TV NEWS
IT being developed for TV Movie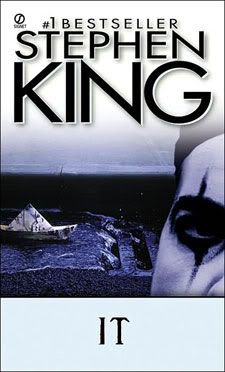 Stephen King's epic novel IT is being developed as a new TV movie. The script will be written by Peter Filardi. The Sci Fi Channel will air the film in what is reported to be a four-hour broadcast event. Reports suggest that Filardi will tell the story through the eyes of Beverly Marsh. There is no timetable for release as of yet.
EDITOR'S NOTE: IT. IT'S THE SCARY STORY OF ONE OF MY CURRENT EMPLOYERS, THE TECH (IT) DEPARTMENT AT RICE UNIVERSITY. VERY VERY SCARY.
Casting Call: Dormer, Blue Czerny join 'Tudors'
Natalie Dormer, Callum Blue and Henry Czerny have been added to the cast of Showtime's series "The Tudors," about the reign and marriages of England's King Henry VIII (Jonathan Rhys Meyers).
Dormer, who co-starred in"Casanova," is repped by ICM and U.K. agent Sam Meredith. Blue, best known for his roles on Showtime's "Dead Like Me" and in "The Princess Diaries 2:Royal Engagement," is repped by the Gersh Agency and Untitled Entertainment.
Czerny, who most recently appeared in "The Pink Panther," is repped by APA
and manager Perry Zimel.
EDITOR'S NOTE: GOT ALL THAT? CAUSE THERE

WILL

BE A QUIZ.
SPOILERS SPOILERS SPOILERS! (IF YOU WATCH THE 4400, AND HAVENT' SEEN THE FIRST EP OF THE NEW SEASON...WHICH I HAVE NOT...SPOILERS AHEAD).
What Happened To 4400's Lily?

Viewers of the June 11 third-season premiere of USA Network's
The 4400
learned the fate of a key character, and executive producer Ira Steven Behr told SCI FI Wire that the change came about unexpectedly as a result of a business issue with one of the show's regular cast members.
(Spoilers ahead!)
In the two-hour premiere, "The New World," the character of Lily Moore, previously played by series regular Laura Allen, aged suddenly by 50 years and was played by guest star Tippi Hedren (The Birds). At the end of the episode, Lily died. Allen was seen only in a brief flashback as the young Lily, and Allen won't be back.
Behr said in an interview last week that it wasn't his initial choice not to have Allen or Lily back. "
At the beginning of the season, when we met with the network to start talking about the new season, we pitched the series that had Laura Allen in it,"
Behr said in his office in West Hollywood, Calif. "
And events kind of took hold on their own, and I was basically told that she wasn't going to be back. And we [came] back to [rewrite] the opening two hours, and we had to, you know, change course
."
Behr didn't detail the issue that led to Allen's departure from the show, but confirmed that it was "
a business thing. Yeah. It was not a creative decision, ultimately. It was a business decision. And, as I was saying, there's ... just so many things that I'm sure you hear all the time from people on shows. They're just money decisions and business decisions, and there's a lot of people with a lot of say in all these things. A lot of people who have to answer to a lot of other people who don't have any dealings with [us], and it just ... got out of hand. And, suddenly, there you go. So you just move on."
EDITORS' NOTE: SO DID ALLEN WANT MORE MONEY? WAS THE PRODUCTION TEAM ORDERED TO CUT BACK ON CAST TO MAKE THE PER-EPISODE COST LESS? (AND YES, DESPITE THE SPOILERS FOR ME, WHO HASN'T YET WATCHED THE SEASON PREMIERE, I READ THIS ARTICLE. CAUSE THAT'S THE KIND OF QOTD I AM. FOR YOU, DWEEBPALS, ALLLLLL FOR YOU).
Had Allen remained with the show, Behr said, it's possible her character would have aged in any case.
"
I will say this, though,
" he said. "
One of the stories we had for her did involve her getting older, so that was going to be in there, but that was going to be an arc that was going to end in a slightly different way. But, you know, these things happen all the time
."
EDITOR'S NOTE: THIS MAKES ME SAD. SHE WAS A GOOD ACTRESS, AND I REALLY LIKED HER CHEMISTRY WITH THE MAN WHO PLAYS HER HUSBAND. (AND THE FACT THAT THEIR RACIALLY MIXED REALTIONSHIP WASN'T EVEN REALLY COMMENTED ON; THE FACT THAT THEY WERE 4400 RETURNEES WAS THE ONLY ISSUE).

The 4400
airs Sundays at 9 p.m. ET/PT. USA is owned by NBC Universal, which also owns SCIFI.COM