A bit of dweebing of GREAT interest...and some OTHER stuff
EDITOR'S NOTE: WELL IT APPEARS MY MAGICAL THINKING MERCREDI SOIR DID THE TRICK! WHEN I CHECKED WEDNESDAY'S POSTING, THE PICTURES SEEM TO BE BACK. (

AND THEY SAY CHANTING AND LIGHTING INCENSE AROUND YOUR COMPUTER DOESN'T WORK

!?)
TRYING TO CRAM IN AS MUCH DWEEBING AS POSSIBLE THIS WEEK, SINCE YOUR QOTD IS VACATIONING AVEC FAMILLE FOR A WEEK STARTING TOMORROW.
YOU MISS ME ALREADY?
HOW CAN YOU MISS ME IF I HAVEN'T LEFT YET?
AND WHAT IS WITH THE FRENCH STUFF? (JE NE SAIS PAS, MES DWEEBSAMIS).
SO, AS MUCH AS WE CAN DWEEB TODAY. ONE WE ALL CARE ABOUT (I BELIEVE I CAN SPEAK FOR ALL ON THIS). AND THEN SOME OTHER STUFF OF POSSIBLY(?) LESSER IMPORT.
Matt Damon is Captain Kirk?
EDITOR'S NOTE: HOW COOL WOULD

THIS

BE!!!???
Yahoo!'s The Insider
reports that J.J. Abrams is very interested in casting Matt Damon as Captain Kirk in his upcoming STAR TREK Movie.
Marc S. Malkin of The Insider writes,
"
Will MATT DAMON get beamed up? Could happen. I'm told J.J. ABRAMS is very interested in casting the Oscar-winning Damon as a young Captain Kirk in the upcoming 'Star Trek' movie that he's directing and producing. He's so interested that he's apparently already sought support from the original Kirk, WILLIAM SHATNER. "Shatner gave his blessing," my source says. "J.J. got his approval."
Damon first popped up in Trekkie circles as soon as the Abrams-'Star Trek' deal was announced. Rumor had it that the new movie would center on Kirk and Spock's early days at a space academy. "J.J. wants Damon as Capt. Kirk," my source reports. "He really loves the idea."
This is of course, all unsubstantiated. Time will tell.
Keith Richards a lock for Pirates 3
EDITOR'S NOTE: I CAN REALLY SEE THE RESEMBLANCE, FRIGHTENINGLY ENOUGH. IT IS LIKE CAPT. JACK SPARROW ON A VERY VERY

VERY

BAD DAY.
Finally. The ink is dry. The deal is done. The rocker will learn to sail.
Keith Richards, who producers have been in talks with for years to play the role of Captain Jack Sparrow's pop, has finally agreed to star in a "Pirates of the Caribbean" movie.
"Hopefully, he won't fall out of any more trees
," producer Jerry Bruckheimer said yesterday, referring to Richards's palm tree mishap a few weeks ago that injured his brain, requiring surgery and weeks of recuperation.
EDITOR'S NOTE: NO GUARANTEES ON THAT ONE. I MEAN, FALLING OUT OF A TREE WAS HOW HE GOT TO EARTH TO

BEGIN

WITH, WASN'T IT? (AND EACH FALL JUST MAKES THE NEXT ONE MORE LIKELY, TOO).
According to
The Star
, Richards will probably film his "Pirates of the Carribean 3" role in August, whilst The Rolling Stones are taking a respite from their tour.
Director Gore Verbinski said with a wink that Richards' role would be "
open to interpretation."
Though Internet scuttlebutt had it that producers tried to get Richards for "Pirates of the Caribbean: Dead Man's Chest" (due out next month), it was stated that the plan was always to get the rocker to do an appearance in the third film, and the third film only. In other words, it all went according to plan (or so, they care to admit).
My Big Fat Greek Sequel?
Having angered a few investors over her last film, the financially bust "Connie & Carla", Nia Vardalos is considering doing on a sequel to the film that aligned her purse with the green stuff initially, "My Big Fat Greek Wedding".
EDITOR'S NOTE: AWW...DON'T MALIGN "C&C"; I

LOVED

THAT MOVIE. (ONE OF OUR FAVORITE QUOTES COMES FROM "C&C" - "

YOUR VOICE IS GIVING ME SHINGLES

"!

GREAT

STUFF).
According to PR Inside, the actress isn't saying for sure that there will be a sequel, but she's throwing about ideas for one.
"
I ran out of ideas! So I took some time off. I waited and finally some ideas came to me and I've started writing again. I'm not saying there
will for sure be a sequel, but I'm not saying there will for sure not be a sequel
" Vardalos says.
EDITOR'S NOTE: THAT CLEARED IT ALL UP?
If it comes off, she says it won't be called "My Big Fat Greek Divorce", but rather "
something like My Big Fat Greek Baptism or My Big Fat Greek Lunch or My Big Fat Greek Thighs – there are lots (of options!)".
In the 2002 comedy hit, which Vardalos wrote & starred in, the actress plays a young Greek woman falls in love with a non-Greek and struggles to get her family to accept him while she comes to terms with her heritage and cultural identity.
Vardalos is currently working on Marilyn Manson's new film "Phantasmagoria: The Visions of Lewis Carroll", with Daryl Hannah and Tim Roth.
Rumors surround MIAMI VICE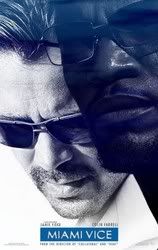 The upcoming film MIAMI VICE is currently surrounded by various rumors, and they aren't the good kind.
EDITOR'S NOTE: THIS SURPRISES ANYONE? I MEAN, I HATED THE
TRAILER.
An unfinished cut of the film was screened to a select few on May 30th at the Jack London Cinema in Oakland. The cut was 2 hours and 40 minutes long, reportedly had unfinished music, a few spots of missing dialogue, and was set to be re-edited after the screening with a possible ending change.
The reviews that have creeped in are not good. No drugs, boring (or hilarious depending on which report) sex scenes, and parts that put the audience to sleep.
The movie cost a reported $125 million to make, and a source at Universal Pictures told Fox News correspondent Roger Friedman, "
that's just what we're admitting to. It's probably more like $150 million."
EDITOR'S NOTE: FOR A MEASELY ONE MIL I FIGURE WE COULD MAKE A VERY ENTERTAINING MOVIE. HECK, WE COULD MAKE A TEST PATTERN WITH DOGS BARKING IN THE BACKGROUND, AND THEY'D BE OUT LESS MONEY THAN WHEN THEY HIRE MICHAEL MANN!
Apparently, Mann is busy editing the film in an attempt to save it. I personally was really looking forward to the film, will be there opening weekend, and hope it isn't as bad as the early reviews. At least reviews for SUPERMAN have been nothing short of stellar.
War Stories/Gary Cole in indie drama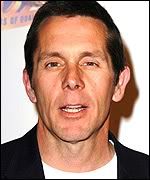 Gary Cole, fresh from a guest star stint on
The West Wing
, has signed on to indie drama
The American Pastime.
Despite the title, it's not about eating contests,
EDITOR'S NOTE: HA HA. THIS IS A BRIT WEBSITE. AND THEY ARE A FAIRLY PASTY/LUMPY FOLK THEMSELVES, EH?
it's actually a World War II-set plot that follows two Japanese families in a Utah internment camp. Cole is playing a guard at the camp who has his own prejudices and baggage – his son died at Pearl Harbour.
Desmond Nakano is writing and directing.
Before that Cole will crop up in something entirely lighter – he's playing Will Ferrell's dad in racing comedy
Talladega Nights.

IRON MAN gets a release date
EDITOR'S NOTE: IS IT JUST ME, OR DOES THIS GUY KINDA LOOK LIKE A LOT OF

OTHER

COMIC BOOK GUYS? AM I GETTING JADED? IS IT TIME FOR MY SUMMER VACATION?
Similar to other Marvel comic book films, IRON MAN will be released in early May.
The film from Paramount Pictures and Marvel Entertainment has staked claim to the May 2, 2008 release date.
EDITOR'S NOTE: SO WE DON'T NEED TO GO STAND IN LINE JUST YET?

Iron Man
will be helmed by Jon Favreau and is based on the Marvel Comics character where an accident leaves alcoholic billionaire Tony Stark to create a suit of armor to save his life.
EDITOR'S NOTE: SO KIDS. IF YOU ARE GOING TO DRINK TO EXCESS AND THEN OPERATE SOME SORT OF VEHICLE, MAKE SURE YOU ARE A BILLIONAIRE WITH INVENTOR SKILLS!
BUT WAIT...MORE COMICS AT THE MOVIES!
Snyder gets duty on WB's 'Watchmen'
Zach Snyder has come aboard to develop and direct "Watchmen," the seminal DC Comics limited series created by Alan Moore and Dave Gibbons, for Warner Bros. Pictures. Alex Tse is writing the script of the long-gestating project, which is being produced by Larry Gordon and Lloyd Levin.
"Watchmen" has a development history almost as epic as the story the comic tells. The project has seen such studios as Fox, Universal and Paramount come and go and has seduced and vexed such filmmakers as Terry Gilliam, Darren Aronofsky, Paul Greengrass and screenwriter David Hayter.
Sources say Snyder has impressed Warners with "300," an adaptation of a Frank Miller graphic novel that he directed and co-wrote. Snyder shot the movie -- a Greek epic about the battle of Thermopylae in 480 B.C. -- on soundstages in Montreal using partial sets and greenscreens, similar in technique to Robert Rodriguez's "Sin City."
Proyas returning to Dark City?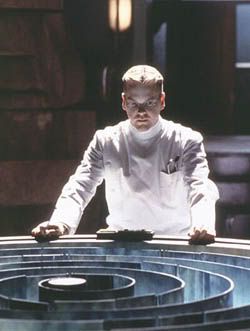 According to
JoBlo
, Australian director Alex Proyas may be eyeing a sequel to his 1998 sci-fi film "Dark City", starring Kiefer Sutherland, Jennifer Connelly and Melissa George. (Just trying getting that cast back together now, though).
It'll only happen though, if you all invest in a copy of the forthcoming special edition DVD release of the first film, he says.
"
I am more and more interested in the idea of a sequel, and who knows, after the special edition comes out, with everyone's support behind it, a sequel... maybe who knows... but I've already said too much."
The film, only a moderate success upon its initial release, begins with a man (Rufus Sewell) waking in a hotel room with no memory, which soon proves to be but one of many troubles. He is being sought by police, who believe him to be a serial killer, and also by a group of strange men with psychokinetic powers. Furthermore, something appears to be wrong with the world at large: time, memory, and identity behave in unusual ways.
EDITOR'S NOTE: SORT OF LIKE WE FEEL NOW, IN THE SECOND TERM OF A CERTAIN ADMINISTRATION?
Granted, Proyas waxed lyrical about plans for a sequel to "I, Robot" that never came to fruition, so don't reserve you tickets for "Dark City 2" just yet.
McConaughey doubling up for New Line
New Line Cinema is in negotiations to sign Matthew McConaughey to a two-picture deal, with one being a resurrected "Ghosts of Girlfriends Past" and the other a Southern-fried comedic action movie titled "The Grackle."
In October 2003, "Ghost of Girlfriends Past" was four weeks away from production -- with Ben Affleck attached to star -- when its studio, the Walt Disney Co., pulled the plug, putting it into turnaround. New Line is now in negotiations with Jon Shestack, one of the original producers, to serve as a producer. New Line had a similar project in development but liked the idea of pairing a high-concept-driven romantic comedy with McConaughey, a proven rom-com star
EDITOR'S NOTE: HOLLYWOOD-SPEAK FOR 'HE'S A CUTIE'.
, seeing the project as something that could have broad appeal.
Dunne the one to helm indie 'Only'
Griffin Dunne is attached to direct the romantic comedy "Only Ever You" for NALA Films. Mike Petzold is writing the script and will co-produce. NALA chairman and CEO Emilio Diez Barroso and president Darlene Caamano Loquet are onboard to produce.
The romantic comedy centers on a young widower who can't get over the death of his wife. It isn't until his life takes a series of mysterious events, promising encounters and twists of fate that he discovers the freshness of life. Thom
EDITOR'S NOTE: NOT 'TOM'. 'THOM'. THIS MAKES HIM MORE ROMANTIC, I GUESS?
learns to live fully again by getting over death and opening his heart to a new relationship.
"
Petzold has a great sense of humor and Nala and I have had great fun working on this new draft
," Dunne said.
An Offer He Couldn't Refuse/Besson producing mob novel adaptation
Luc Besson has plans to produce an adaptation of Tonino Benacquista's mob novel
Malavita
. And he's picked someone with just a little experience of gangster fiction – Sopranos staff writer Michael Caleo.
EDITOR'S NOTE: WOW. TWO OF MY FAVORITE THINGS TOGETHER AT LAST.....MOB MOVIES AND LUC BESSON. MAYBE IT COULD STAR TOM CRUISE OR JOSH HARNETT. THEN

I

COULD PAY

THEM

NOT TO MAKE ME SEE IT!Malavita
follows an American mob boss who's spirited away to France under the witness protection programme. Soon after arriving in a small, quiet town, he starts getting back into his old ways and trying to run the place, much to the annoyance of the FBI.
"
The book focused more on the fish-out-of-water tale, but the movie will focus more on the manhunt for Giovanni Manzoni (the main character), and how he rose through the ranks to become who he is,"
Caleo told Variety. There's no director attached yet, but whoever takes the job will apparently have to handle shooting half in English and half in French, with subtitles where needed.
EDITOR'S NOTE: AND IN SOME FURRIN LANGUAGE. EVEN BETTER! (GIGGLE).
Hayley Atwell Joins Allen's next
Woody Allen's still untitled "Summer 2007 Project" is gaining momentum. The tale of two brothers encouraged into a life of crime, only for it to go badly wrong, now has a female lead.
Young Brit actress Hayley Atwell, best known so far for the recent mini-series T
he Line Of Beauty
, will star alongside Ewan McGregor, Colin Farrell and Tom Wilkinson.
EDITOR'S NOTE: WILKINSON AND MCGREGOR JUST MIGHT MAKE IT WORTHWHILE GOING TO SEE A WOODY ALLEN MOVIE AGAIN.
AND HERE'S A GOOD SEGUE FROM MOVIES TO TV...A FUN TV SHOW (IF YOU HAVEN'T SEEN IT, CHECK IT OUT; THE NEW SEASON STARTS THIS WEEK ON AMC) MAKES A BIGSCREEN FLICK.
The Con Is On ScreenHustle movie planned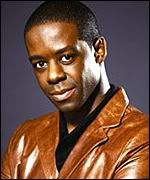 EDITOR'S NOTE: ADRIAN LESTER. ONE OF THE LOVELY, CLEVER BRITS WHO STAR IN THE SHOW.
The BBC's Hustle crew are conning their way on to the big screen.
The show, which is generating healthy interest in the US via the AMC channel, will make the leap to the big screen thanks to Fox 2000. There's no word on casting yet, but Empire's voodoo dolls are primed and ready should the studio think about replacing regular team Adrian Lester, Marc Warren, Jaime Murray, Robert Glenister and Robert Vaughn. EDITOR'S NOTE: INDEED!
At least the man with the scripting job is legit from the start – co-creator/writer Tony Jordon will be on screenwriting duty. Regular director Bharat Nalluri might be called upon for the movie, but right now all other details – including a plot – are still swirling in the rumour mill.

BLADE the TV series is almost here
BLADE, the TV series, is set to debut on June 28th with a two-hour premiere on Spike TV. Eleven more one-hour episodes have been ordered, and there's already talk of a second season. EDITOR'S NOTE: FYI, IT GOT A PRETTY STINKY REVIEW IN TV GUIDE. (FOR WHAT THAT'S WORTH?)

A contest to publicize the show was recently won by Jason Bravener from WI. He managed to win a night on the town in Vancouver and a visit to the set of the show.EDITOR'S NOTE: SECOND PRIZE WAS TWO NIGHTS IN VANCOUVER? Ten other lucky winners received Blade 1, 2, and 3 on DVD as well as Blade Oakley sunglasses.

The show's writer, Geoff Johns, recently said that the show's story was "more grounded in the first film. Exploring the mythology, how he got the tattoos, what he did before he was Blade, as well as fleshing out what the Vampire Nation is. Blade is a great character in the comics, but he's never sparked as much as he did in the films. I love the character because he's a tortured character that kicks ass. I like morally gray characters."

"Everyone knows that sustaining a series of movies is difficult to do," said John Kroll from New Line. "As a television series, you can continue to explore the characters and the world in a lot more depth. We felt that this was the time to have the franchise make the transition, and fortunately Spike TV was ready." EDITOR'S NOTE: READY? EASY?

Be sure to check out the site, and don't forget to watch the premiere on June 28th.

Comedy Central Revives 'Futurama'
Latest Fox Project to Reappear on Cable
By James Hibberd




Three years after Fox canceled the show, Matt Groening's "Futurama" will resume production for a 13-episode run on Comedy Central. The new episodes will be added to the network's library of 72 "Futurama" episodes previously licensed from 20th Century Fox Television. Voice talent Billy West, Katey Sagal and John DiMaggio will return for the new episodes, which will debut in 2008.
"There is a deep and passionate fan base for this intelligent and very funny show that matches perfectly with our audience and it is great that we can offer them not just the existing library, but something they've never seen as well," said David Bernath, senior VP, programming, Comedy Central.
"Futurama" marks the third Fox project revived by basic cable in recent years. New episodes of "Greg the Bunny" are being ordered by IFC, and Fox resurrected "Family Guy" after the series found success on Cartoon Network's Adult Swim.
Wolf, HBO on 'Wounded Knee'
In their first collaboration, "Law & Order" mastermind Dick Wolf has teamed with HBO to develop a movie about the plight of American Indians during the 19th century.
The HBO Films project is based on the best-selling book "Bury My Heart at Wounded Knee: An Indian History of the American West," by Dee Brown.
The nonfiction book, first published in 1970, is an account of how the American Indians were displaced as the U.S. expanded west. Specifically, the book uses council records, firsthand accounts and other resources to tell the saga of the American Indian during the latter half of the 19th century, including the battles, massacres and broken treaties.
Wolf is executive producing "Wounded Knee" with Tom Thayer. Yves Simoneau is attached to direct, while Daniel Giat is the writer.
Daniel 'Game' for CW spinoff
Brittany Daniel has been tapped to star in the CW's new comedy series "The Game," a "Girlfriends" spinoff about the women in the lives of professional football players. On the show, from CBS Paramount Network TV and Grammnet Prods., Daniel will play one of the wives, Kelly Parker. The role has been recast. Jennifer Baxter played the character in the pilot, which aired as a "Girlfriends" episode this past season
Romano is HBO's new moneyman
Ray Romano is back on the clock with "24" creators Joel Surnow and Bob Cochran. The "Everybody Loves Raymond" star is looking to return to television as the lead in an HBO limited comedy series from Surnow and Cochran.
Talks are under way for the 10-episode single-camera project, now in early stages, that would star Romano as a fortysomething billionaire who has six months to live.
Dennis Klein, co-creator of one of HBO's signature comedies, "The Larry Sanders Show," is onboard to write the show, with Surnow and Cochran supervising as well as executive producing. Romano and Klein also are expected to executive produce the limited series.
EDITOR'S NOTE: AND JUST A SMIDGE OF HARRY POTTER. (EVIL....THE HANDSOME SIDE....)
Isaacs to begin OOTP filming in September
Jason Isaacs (Lucius Malfoy) recently did an interview with the LA Daily News, noting that he will be filming for Movie 5 in September and October.
He also discussed why he enjoys portraying the nasty character:
"I torture myself by always trying to be interesting and human on screen, but every now and again it's great to be in 'Harry Potter' and just rip it up and be as singularly evil and unpleasant as possible."EDITOR'S NOTE: WELL YES, EVIL. BUT NOT UNPLEASANT. REALLY MORE LUSCIOUS (LUCIUS IS LUSCIOUS....OOOOO, GIGGLE) AND EVIL, DON'T YOU THINK? (YUMMY)
Filming for Order of the Phoenix is expected to recommence next month.
EDITOR'S NOTE: AND SPEAKING OF OOTP FILMING -----
First promotional image for 'Order of the Phoenix'
Ain't It Cool News was at the New York Licensing Show yesterday, where a promotional banner for Order of the Phoenix was spotted.
EDITOR'S NOTE: KIND OF A SMUDGEY PIC, BUT WE ARE IN THE LULL BETWEEN GOOD HP STUFF, SO WE'LL TAKE ANYTHING WE CAN GET, EH? (NEXT YEAR....AND EMBARRASSMENT OF GREAT RICHES!)
The picture depicts Harry holding his wand with Hogwarts in the background. Although this is a generic promotion for the next film, one major difference in this film appears to be Dan's hair.

Return Of The Rings/Yes, more LOTR DVDs




More Lord Of The Rings DVDs?

While we knew this was coming – Peter Jackson admitted as much around the release of the Return Of The King's Extended edition.Three new, two-disc "Limited Edition" sets will be released in August which will all come boasting an exclusive Making Of Documentary, which between them will provide more than 300-minutes' worth of fresh material. Oh, and the discs will also present the ability to watch both the theatrical cut and extended edition of each film via branching.

Start saving those pennies, completists. EDITOR'S NOTE: IS THIS GOOD NEWS? I LOVE HAVING THE WORLD ON A STRING (OR, IN THIS CASE, DVD). BUT I CONFESS I'VE NEVER EVEN GOTTEN THRU ALL THE EXTRAS ALREADY AVAILABLE. THE PRESSURE, THE PRESSURE!!!

SOMETIMES, ADVERTISING CAN BE QUITE CLEVER -----

That's Not a Dirty Coffee Cup, It's an Ad
Sephora Campaign Promoted Store Opening With Well-Placed Lipstick Smear
By Willow Duttge Published: June 21, 2006 NEW YORK (AdAge.com) --
Some New Yorkers patronizing street vendors for their morning boost of caffeine are being handed the coffee in a white cup -- smeared with a bright pink lipstick mark near the rim.



The dirty imprint on the cup was part of a campaign to promote cosmetics retailer Sephora's latest New York store opening.
Photo Credit: Hoag Levins

Makeup retailer
The promotion, hyping the latest store opening of makeup retailer Sephora, is a relatively inexpensive way to gain attention in a market where it's particularly hard to cut through all the outdoor clutter.
But could it risk grossing out consumers and causing the effort to backfire, especially because it's part of a campaign about beautifying the market called the "New York Pretty"?
Sephora, which created the ad in-house, has not received any negative feedback from the campaign, said Allison Slater, VP-retail marketing.
"You realize pretty quickly that it's not a dirty cup," she said. The imprint isn't on the exact top of the rim, so it's not intended to look exactly like someone had drank out of it, she said.
Manhattan financial district
Coffee cups worked with this particular store opening, because the location is in Manhattan's financial district, where people work long hours and drink coffee, she said. "No one ever wants their clients or future clients to be grossed out but you definitely [want to] get their attention and got to break through the clutter with something unique and creative and fun," Ms. Slater said. The campaign was first implemented in Seattle with no complaints, she said.
PromoMedia Concepts, which produced and distributed the cups, however, did hear some apprehension from a few coffee vendors. But there was no major backlash, said Evan Topilow, director of marketing.
Does it stand for the brand? "I think it has a lot of stopping power," said Jose Reyes, partner and creative director at Turbulence, an advertising agency in Miami, "I'm just questioning if it's a brand that stands for ultimately making things more beautiful, because there probably was a more effective execution of that." EDITOR'S NOTE: SPOKEN BY A RIVAL AD GUY WHO IS A) JUST BITTER HE DIDN'T THINK OF IT FIRST, AND B) HAS LOTS OF 'CONCEPTS' BUT VERY LITTLE ROI TO SHOW FOR IT. (SEE...THE QOTD CAN TALK BIZBS TALK WHEN SHE NEEDS TO!)
The 250,000-cup campaign in New York cost Sephora around $18,000, according to Mr. Topilow's estimates, was launched at the end of April and was intended to last one month. Print ads also ran as part of the "New York Pretty" campaign in telephone kiosks and on billboards showing a woman's face in makeup and iconic visuals of New York such as the Statue of Liberty and Empire State Building. EDITOR'S NOTE: THE SECOND PART OF THAT SOUNDS LOVELY, BUT A TAD BORING. MEANWHILE, THE COFFEE CUP IDEA GOT A LOT OF FREE PR, AND ONLY COST 18K FOR ONE MONTH. IN NYC, THAT IS CHUMP CHANGE!