A dweeb fond Farewell
EDITOR'S NOTE: MAY THEY REST IN PEACE.....
Andreas Katsulas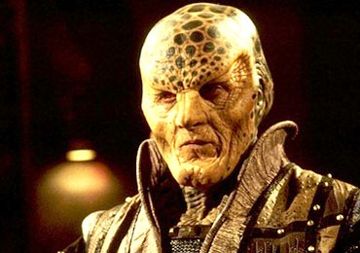 EDITOR'S NOTE: ANDREAS KATSULAS AS G'KAR ON "BABYLON 5"
It is with great sadness that I pass along information that Andreas Katsulas has passed away.
He was a tremendous talent, a kind and gentle man. He and only he, could have bring the passion and spiritual capacity to the role of G'Kar. He forged a character of strength and integrity that will not be equalled.
Here is a statement by JMS on Andreas' death. He, and Babylon 5 fans everywhere, mourn the passing of an wonderful actor, a caring father and husband and steadfast friend.

Just over a year ago, Andreas Katsulas --
who loved smoking with a passion that cannot be described -- was diagnosed with lung cancer, which by then had already spread to other areas. He quit smoking at once and went on a healthy diet and vitamin program, but there was little hope of a good resolution even though the new regimen was very good for him. When we spoke about it, he laughed, and said, "Now that I'm dying I've never felt better!" His spirits were always up and positive, putting everyone at ease about his condition, because...well, that's the kind of person he was. A couple of months ago, he and his wife convened a dinner with me, Doug, and Peter Jurasik, which was filled with laughter and stories and good food. He wanted to know all the stories we never told him because, as he said, "Who am I going to tell?" So we did. Because we knew we were saying goodbye, and there would not be a second chance. Last night, in the company of his wife and family, Andreas closed his eyes and went away. He lived an amazing life...full of travel and wonder and good work...was part of the world renowned Peter Brook company...he saw the planet, loved and was loved, ate at great restaurants, smoked too many cigarettes...he lived a life some people would die for. And, sadly, due to the last part of that equation...he did. Memorial arrangements are still being worked out, but will doubtless be private. Andreas is gone...and G'Kar with him, because no one else can ever play that role, or ever will. I will miss him terribly

J. Michael Straczynski



Uncle Owen Lars from 'Star Wars' Dies


Actor Phil Brown died Thursday of pneumonia at the age of 89 in Woodland Hills, California. He was best known for playing Luke Skywalker's Uncle Owen Lars in 'Star Wars.'

The Massachusetts-born actor died at the Motion Picture and Television Country House and Hospital in Woodland Hills, California on Thursday, according to his widow Ginny.

After starring in movies and TV shows in the 1940s, Brown moved to London in the 1950s after he was wrongly blacklisted during the Communist scare in the United States.

Star Wars director George Lucas cast Brown while filming scenes for the 1977 sci-fi epic in London, and his fame playing Uncle Owen in the movie led to his return to America.

Brown is survived by his widow Ginny, their son Kevin, two grandchildren and a great-grandchild.