Catching up...a hodgepodge
EDITOR'S NOTE: I THINK I WILL PROBABLY NEVER CATCH UP. SIGH.... SO HERE'S A MISHMASH TO GET US AT LEAST A LITTLE 'BACK IN THE SWING'.
HARRY POTTER:
Oldman to Take the 5th?
Warner Bros. Pictures is in talks with actor Gary Oldman to return as Sirius Black in HARRY POTTER AND THE ORDER OF THE PHOENIX.
Though rumors of his not returning surfaced in the British press, producer David Heyman noted, "
We're not shooting his part for quite a while, and as is always the case, you begin with the parts that are most pressing. We have every intention of having Gary Oldman play Sirius Black."

EDITOR'S NOTE: SO FOR THOSE OF YOU WHO SENT ME THE SCARY NON-OLDMAN RUMORS, DEEP CLEANSING BREATHS. (AND CROSS FINGERS)!
More OOTP casting news
CBBC Newsround reports today that after their absence from
Harry Potter and the Goblet of Fire
, the Dursleys will return in the fifth movie.
EDITOR'S NOTE: YAY!
Newsround also reveals who will play some of the more minor roles in the film:
Amelia Bones
: Sian Thomas will play the Head of the Magical Law Enforcement Office. She's appeared in several productions for the Royal Shakespeare Company, as well as roles in TV and film.
Dudley's gang:
Piers Polkiss
will be played by Jason Boyd, and Richard Macklin will play
Malcolm
.
Young Wormtail:
The Peter Pettigrew Harry sees in Snape's Pensieve will be played by Charles Hughes.
Dawlish
: Richard Leaf will play the Ministry Auror.
Nick Shim: He's set to play
Zacharias Smith
.
TV NEWS:
CBS, NBC make schedule shifts
CBS announced a flurry of midseason changes to its schedule Wednesday.
EDITOR'S NOTE: ALL TIMES EST.
The eye is giving "The New Adventures of Old Christine" the Monday 9:30 p.m. slot after "Two and a Half Men" beginning March 13. "Christine," which stars Julia-Louis Dreyfus, will mark the third sitcom in that slot this season, following "Out of Practice" and "Courting Alex." Beginning March 22, those two sitcoms will move to Wednesday from 8-9 p.m., replacing the pairing of "Yes, Dear" and "Still Standing." Neither of those series is being yanked early; both will have fulfilled their episode orders for the season.
Also new to the CBS schedule is the new drama "The Unit," which starts Tuesdays at 9 p.m. beginning March 7.
On Tuesday, NBC declared its intent to keep the lights on at "The Office" through the rest of the season. The peacock reconsidered its intent to end the sitcom's current season March 30, scheduling the season finale for May 11
Goldblum is SEEING RED for NBC
NBC is in final discussions with actor Jeff Goldblum to star in SEEING RED.
Goldblum will play an eccentric, brilliant cop with the ability to talk to dead victims, who help him solve his cases.
Frank Darabont will direct from a script by Graham Yost
EDITOR'S NOTE: FRANK DARABONT! (THEN AGAIN, DO I WANT GOLDBLUM IN MY HOUSE EVERY WEEK? GOTTA PONDER THAT ONE).
Polo climbs aboard CBS' 'Jungle'
Teri Polo is set to topline CBS' comedy pilot "Welcome to the Jungle Gym."
Meanwhile, Connie Britton has been tapped to star opposite Kyle Chandler in NBC's drama pilot "Friday Night Lights," while Daryl Sabara of "Spy Kids" fame has landed the lead in TBS' comedy pilot "Boy's Life," with Nancy Travis on board to co-star.
Additionally, Ben Shenkman (HBO's "Angels in America") has joined the ABC/Touchstone drama pilot "Twenty Questions," Rachel Blanchard (WB Network's "7th Heaven) has been cast in the ABC/Touchstone comedy pilot "Our Thirties" and Riley Smith (CBS' "Joan of Arcadia") has been cast in the CBS/Sony Pictures drama pilot "The Way."
In pilot pickups, ABC has given the greenlight to "The Guys."
Ponyboy and Leland Palmer come to 24
Some interesting new faces are headed to CTU.
Former 80's icon C.Thomas Howell ("The Outsiders") will follow up his recent guest-stint on TV's "E.R", with an appearance on "24". Howell is apparently a good friend of star Kiefer Sutherland, so the hot-shot actor/producer pulled a few strings and got him a gig playing a therapist friend on the show.
Also enlisting for duty is former "Twin Peaks" nutter Ray Wise, who has signed to play Vice President Hal Gardner.
MOVIE NEWS:
Mikkelsen Turns Villian for Bond
Sony Pictures has (finally) cast Mads Mikkelsen to play Bond's nemesis Le Chiffre in CASINO ROYALE.
In Fleming's book, James Bond matches wits with Le Chiffre while playing high-stakes baccarat.
Chiffre, also known as the "Number" or the "Cipher," is a banker for terrorists and criminals with a penchant for torture.
The character is rumored to have been inspired by British occultist Aleister Crowley.
Fillion Hears WHITE NOISE Too
Nathan Fillion has been cast to star in WHITE NOISE 2: THE LIGHT. Discussions are taking place with actress Katee Sackhoff to join him.
EDITOR'S NOTE: GLAD MR. FILLION HAS FOUND POST-"FIREFLY" WORK. SORRY IT'S IN SOMETHING SO DRECK'ISH (AND THAT I HAVE NO INTENTION OF EVER SEEING).
In the sequel, a man's family is murdered, but he is brought back from the brink of death. The man realizes he has changed and can now identify those among the living who are about to die. When he tries to save people from their fate, he discovers there is a price to paid for interfering with the natural order.
EDITOR'S NOTE: SOMETHING SIMILAR HAPPENS TO THE CAREERS OF PEOPLE WHO ACT IN THESE MOVIES?
Matt Venne wrote the script. Patrick Lussier will direct.
Murphy Takes off in STARSHIP

20th Century Fox has set Eddie Murphy to star in STARSHIP DAVE. Peter Segal will direct.
The story centers on a crew of miniature human-looking aliens who are seeking a way to save their doomed world.
David Friendly, Marc Turtletaub, Jon Berg, Tom Komarnicki, and Michael Ewing will produce.
Weinsteins Look to ESCAPE FROM PLANET EARTH
The Weinstein Co. has picked up the rights to Tony Leech and Cory Edwards' pitch ESCAPE FROM PLANET EARTH.
The CG animated family comedy centers on a prison break from Area 51, a mysterious government facility where the inmates are a ragtag group of imprisoned aliens from around the universe.
EDITOR'S NOTE: SOUNDS FUNNY. MIGHT BE EVEN FUNNIER AS REAL-ACTION, NON-ANIMATED THOUGH? (AND WHAT A FUNKY THING FOR THE BROTHERS WEINSTEIN TO TAKE ON!)
Leech and Edwards will write the script. Tony Leech will direct. Preston Stutzman, Jonathan Shestack, Brian Inerfeld and Gregory R. Little will produce.
What Alec Baldwin's doing is Forbidden

Baldwin will follow-up his plum supporting roles in "The Aviator", "Elizabethtown" and "Fun with Dick and Jane", with the lead in the thriller "The Forbidden City".
The film, written by Don Ethan Miller, will tell of the Chinese and the American working together to capture Japanese war criminals in 1949, says
CJAD
. Andrei Konchalovsky ("Runaway Train") will direct.
Baldwin has signed on to headline the pic, based on the book 'The Last Mandarin' by Stephen Becker, with producers now on the hunt for a female lead. It's believed that South Korean actresses Lee Yeon-Ae, Jun Ji-Hyun and son ye jin are on the short list.
The $15 million dollar film will shoot mainly in China, with one pivotal scene being filmed in the Forbidden City itself. Shooting is expected to begin this May, with a 2007 release planned.
Double the Affleck EDITOR'S NOTE: MY IDEA OF CASTING

HECK

.
By the sounds of it, Ben Affleck's not going on a wide-casting call to fill the spots in his directorial but, "Gone, Baby, Gone".
For the lead role, Affleck has reportedly cast his brother Casey, according to
FilmForce
and
The Boston Herald
.
The "Ocean's Eleven" star would play one of two private eyes in the film, which centers on the hunt for a missing child, with Michelle Monaghan ("Kiss, Kiss, Bang, Bang") playing the second.
Based on the novel by Dennis Lehane, "Gone, Baby, Gone" tells of two Private investigators Patrick Kenzie and Angela Gennaro, who reluctantly accept a case to find a missing girl. They risk everything — their relationship, their sanity, and even their lives — to find the lost child.
The film, scheduled to begin towards the end of May in Boston, was once going to star Ben Affleck and Jennifer Lopez in the leads, back when. (Yep, it's been in the works for that long). It's not known whether big Ben will have an acting role in the film still.
Damon will be permanently on the run
Though it'll really depend on Matt Damon's willingness to be typecast, Frank Marshall, producer of all three "Bourne" films, says the series might possibly spawn a further two sequels – excluding the forthcoming "Bourne Ultimatum".
Though the books on which the film series are loosely based on ended with "Ultimatum" (well, the ones Robert Ludlum wrote did), Marshall says he can envision five "Bourne" films in all.
"
It's kinda up to Matt [Damon]
," Marshall tells
MTV
. "
Maybe to five [films] ... At some point, he's [Jason Bourne] gotta find out who he is."
EDITOR'S NOTE: I SURE DO HOPE ALL THE FUTURE ONES ARE BETTER THAN THE SECOND. (PLEASE PLEASE PLEASE)?
According to Marshall, writers are being brought in to suggest possible scenarios for the fourth and fifth "Bourne" films.
The new film, "The Bourne Ultimatum", starts shooting in August, and is expected to be in theatres in Summer 2007.
DiCaprio in The West Wing?
Seems so. A scooper for
Aint it Cool
says director Martin Scorsese is looking to cast his new go-to boy in the role of Theodore Roosevelt.
Originally, the trades said DiCaprio was only going to produce the film. Now, it seems, he's wearing the trousers of the titular character too.
Nicholas Meyer ("Star Trek II : The Wrath of Khan") is writing the script, based on the book "The Rise of Theodore Roosevelt", which will chronicle the formative years of Roosevelt as he reinvented himself from a slight and privileged New York politician with a Harvard degree to the burly commander of the Rough Riders, a track that would lead him to the New York governorship, the vice presidency and the White House, when William McKinley was assassinated.
Arad to Captain new Superhero movie
The next big masked hero to invade a mesh screen will be Captain America, it seems.
Avi Arad, the zillionaire Marvel magnate in charge of such properties as "Spider-Man" and "X-Men", tells that the all-round American hero will be fronting his own movie in the very near future.
The new "Captain America" movie won't be the first time the shield-gripping superhero has been the subject of a film. A direct-to-video offering surfaced in 1991 that starred unknown Matt Salinger as Capt. America/Steve Rogers, "Robocop" fave Ronny Cox as President Tom Kimball and Scott Paulin ("Teen Wolf") as The Red Skull.
Arad says with recent events in history, it's the perfect time to bring the patriotic hero back to the screen.
It's the "
perfect time in history
" to raise the Cap flag again, Arad tells
ASAP
.
"
Contrary to popular belief, people want this way of life
," he says. "
They want democracy. They want freedom. Captain America takes us one level farther because he's a man out of time. You go through the mind of someone who is emotional and a believer."
So what can we expect as the basis for a film? Origin story? Captain America Vs.Predator?
"
Without giving too much away, obviously there'll be a little bit of the origin and then we come into our real world,"
Arad says. "
What makes Captain America such a compelling character is that it allows you to judge history so you see where he came from and you see what he stood for."
Although the script by an unnamed writer isn't finished and Arad doesn't anticipate "Captain America" arriving in theaters before 2009, he does have a director and leading man in mind. Of course, he's not declaring the independence of those details just yet.
Rumours surfaced a couple of year's back that Brad Pitt was someone the studio was interested in to play "Captain America". Whatever the case, you can guarantee it won't be Matt Salinger behind the blue mask.
"
Every day there's a new interesting actor coming out…of somewhere",
says Arad. "
Whoever we bring in, is going to be in these movies for three movies…. [maybe] more".
"
One of the things our movie is going to deal with is what happened in 60 years
," says Arad. "
Which world was better? Sixty years ago or now? Within, obviously, a kick-ass plot and all the stuff that you've come to expect from a superhero movie."
EDITOR'S NOTE: YEAH. OBVIOUSLY. SMIRK....
Vanessa Redgrave, meet Bruce Wayne
Screen legend Vanessa Redgrave might be mixing it up with Batman.
Batman-On-Film.com
reports that the "Camelot" and "Howards End" star is being linked to a role in the forthcoming "Batman Begins" sequel, playing a "female character close to Bruce Wayne and Alfred".
Redgrave's best role of late has been as Dr. Erica Noughton on the series "Nip/Tuck". She just finished shooting a role in Robert Hardy's "Cowboys for Christ" opposite Christopher Lee and Sean Astin.
They're going to have to hang a "Full House" sign out the front of this baby soon. If any of these casting whispers are correct - we're going to have one star-sudded sequel.
Already touted for roles in the film - besides returning stars Christian Bale, Gary Oldman, Katie Holmes and Michael Caine - are Jake Gyllenhaal as D.A Harvey Dent, Paul Bettany as The Joker,
EDITOR'S NOTE: OH, SO THIS HAS BEEN CONFIRMED?
Brad Dourif as Dr.Arkham, Emily Watson as Dr. Harleen Quinzel , and Bob Hoskins as mob boss Sal Maroni.
The film is quite a spell off yet, so anything and everything is likely to happen before then though.
DISNEY STUFF:
Kwan hired as Disney spokeswoman
Days after dropping out of the Winter Games, ending her epic quest for Olympic gold, figure skating champion Michelle Kwan accepted a new job Thursday as celebrity representative for the Walt Disney Co.
Kwan, who recently declined an offer from rival media company NBC Universal to join its Olympics broadcast, will take part in promotions, advertising and public service messages involving all of Disney's businesses, the company said. The deal also calls for her to make guest appearances on original TV programming and make personal appearances at live company events. Financial terms of the multiyear agreement were not disclosed.
EIGHT BELOW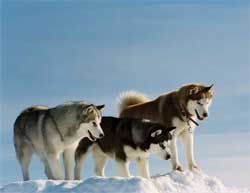 Hollywood goes to the dogs -- Maya,Max, and Truman, three of the caninestars of "Eight Below
."
"I'm attracted to stories about people overcoming impossible odds
," says director Frank Marshall. "
And I'm attracted to stories that are a challenge to make - I don't like to be on a stage, I like to be outside. I like challenging production situations - being on mountaintops, or in harsh conditions."
By those criteria, he could hardly have found a more perfect project than "Eight Below."
In "Eight Below," the new film from Walt Disney Pictures, eight sled dogs are inadvertently abandoned in Antarctica - possibly the most brutal physical environment on earth. The dogs must work together to survive an Antarctic winter - and their trainer, Jerry Shepard (Paul Walker) must forge a partnership of friends and colleagues to return to the frozen continent and retrieve the animals.
Both threads of the story are studies in triumph over incredible obstacles. And with filming taking place almost entirely outdoors, largely in the snowy surroundings of a Canadian winter, the creation of "Eight Below" was accomplished against some pretty steep obstacles itself.
"
The first challenge was, how do we put the audience in Antarctica? The easy way is to go to Antarctica and shoot the whole movie down there but that's impossible!"
laughs Frank, "
so it's my job as the filmmaker to create the illusion."
With Antarctica off limits, he searched for the next best thing. "
Robin Mounsay, a mountaineer and guide, is the number one expert in finding these kinds of locations. He looked all over the world and he remembered doing a commercial in Smithers, Canada, and that there was this sort of plain on top of the ski resort.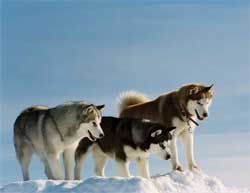 "
So we created a backlot of Antarctica - we built six locations - and then sent the second unit to Greenland and Norway. I wanted penguins in the movie, and I wanted the really stark and harsh landscapes you can only find down there, so I bought some documentary footage of Antarctica, and we cut it all together."
The finished result looks absolutely convincing (it helps that, as Frank observes "
on camera, white is white
!") - and absolutely forbidding, as well as beautiful. The severity of the landscape is no illusion of the camera - according to Frank, conditions were rough for the human cast and crew.
"It's cold, it's windy, it's very very bright. You can get frostbite or sunburned very easily, and you can get snow-blind from the reflections off the snow. We had a lot of challenges that you don't get with an ordinary movie."
One set of castmembers, however, found the conditions on location to be just about perfect - 32 dogs, huskies and malamutes, portrayed the eight-dog team of "Eight Below."
For these cold-adapted breeds, Smithers was a vacation paradise - and getting them to rein in their sheer joy at romping in the snow might have been the single greatest challenge Frank faced on the shoot.
"
The hardest thing was to get them to walk slowly, as though they were tired, hungry, and worn-out. But they just loved being out in the cold! They wanted to run around all the time!"
Frank recalls. "
There's a series of shots that took a whole day, to get them just walking along behind Maya, the lead dog, who has her hurt leg. To get all of them to walk slowly at the same time was the hardest scene in the movie. That required two trainers for each dog - one to let each dog go, and one to be in front of them, so there were twelve extra people to try to keep out of frame. I didn't want the shot to be limited to close-ups, so I had to get the dogs to listen to the trainers, who had to be far away enough to not be in the shot. Then we had footprint problems."
And not just footprints - "
There was a lot of yellow snow
" to work around, he admits with a laugh.
For Frank, however, working with the dogs was also the greatest joy of making "Eight Below."
"It was fantastic! I loved coming to work every day. What better than to have 32 happy pups greet you every morning?
" he asks.
The owner of two golden retriever/poodle crosses, Frank is a wholehearted dog lover. Frank was committed to making each dog on the "Eight Below" team express a distinct personality, while still showing them to be purely dogs - these pups never "act cute" or seem anything less than canine.
Creating characters who never talk, whom the audience can easily recognize, was a challenge.
"
I tried to cast each dog with a different look - a different color, a different size, a different personality. When I talked to the dog trainers and Mike Alexander, we talked about which dogs have the right look - but on the other hand, which dogs are the best actors."
On February 17, audiences will thrill to the adventure of "Eight Below." And all the hard work will bear fruit on the screen. For Frank, however, the greatest rewards have come from making the film and getting to tell this inspiring tale:
"It was an incredibly rewarding experience for me. It was a fun movie to make, and I think we tell an inspiring and emotional story as well."
EDITOR'S NOTE: THIS IS A DISNEY FILM, SO I ASSUME IT ALL WORKS OUT FOR THE DOGGIES. BUT JUST THE

TRAILER

HAD ME WEEPING. THERE IS NO WAY I CAN WATCH THIS MOVIE IN A THEATER. IT WILL HAVE TO BE ON CABLE WHERE I CAN CLUTCH MY DOGGIE TO ME FOR THE ENTIRE FILM. (
SOMETHING HE WILL LIKELY OBJECT TO....UNLESS I SMEAR MYSELF WITH PEANUT BUTTER, OR SOMETHING
).