Oscars Prelude....the awards marathon begins
EDITOR'S NOTE: TOMORROW AM, THE NOMINATIONS ARE ANNOUNCED.
SO TODAY IS OUR LAST DAY OF INNOCENCE, WHERE

ALL

THINGS ARE STILL POSSIBLE.
YES,

YOU

TOO

COULD BE AN

OSCAR

NOMINEE! (WHAT? YOU HAVEN'T MADE A MOVIE? PSHAW. DETAILS. DETAILS).
SAG winners recall early struggles, good fortune
"Capote" topliner Philip Seymour Hoffman, who now can add another best actor statue to his mantel, said he has experienced professional high points this awards season. But nothing compares to the feeling he experienced when, as a 24-year-old novice, he landed a part in "Scent of a Woman."
"I don't think I've been more joyful since that moment
," recalled the six-time SAG nominee and first-time winner ...
"
I never thought I'd be an actor
," Reese Witherspoon said after her lead actress win for "Walk the Line." "
I never knew any actors. And it wasn't a serious profession where I was from."
Even as recently as seven years ago, she said, her mom was asking, "
Are you going to make another one of your little movies?"
and wanting to know whether she was going to choose a profession when she finished college ...
EDITOR'S NOTE: FUNNY...SHE DOESN'T

LOOK

JEWISH. (AND YET, SHE HAS A JEWISH MOTHER)!
Even as Rachel Weisz continues to rack up pre-Oscar accolades, including SAG's best supporting actress award, she insists that there is something missing. "
It's beyond my comprehension (why co-star Ralph Fiennes has been overlooked on the awards-season circuit
)," said the "Constant Gardener" star, who earned her first SAG win with her first nomination
'Syriana' now an original
The Academy of Motion Picture Arts and Sciences has reclassified Stephen Gaghan's screenplay for the film "Syriana" as an original rather than adapted screenplay.
Although the Academy confirmed the switch Wednesday, a spokeswoman said the decision was made in late December by AMPAS' writers branch executive committee. She said, however, that neither the filmmakers nor studio Warner Bros. Pictures was formally notified. Instead, she said the Academy's reminder list -- which listed "Syriana" as one of more than 100 original screenplays -- was mailed with Oscar ballots on Dec. 29, signifying the change.
"I'm in shock,"
said writer-director Gaghan, who received his ballot Tuesday and only realized the reclassification Wednesday evening. "
A phone call would have been nice, or an e-mail or letter. I understand it's a gray area, but I'm saddened. Just let us know."

EDITOR'S NOTE: WHY IS HE SADDENED? BECAUSE THE AUTHOR OF THE ORIGINAL PIECE THE SCREENPLAY WAS ADAPTED FROM NOW DOESN'T GET CREDIT?



December 4, 2005


Here's to Postwar America, We Never Really Knew Ye


By
A. O. SCOTT
ONCE again, we find ourselves in the thick of the biopic and costume drama season, during which actors, directors and production designers stake their Oscar hopes on the detailed reconstruction of the past. Period movies are nothing new, of course - playing historical dress-up has been part of filmmaking since the beginning - but there seems to be, at present, a curious obsession with a single period.
The three high-profile movies about real people that opened this fall - George Clooney's "Good Night, and Good Luck," Bennett Miller's "Capote" and James Mangold's "Walk the Line" - take place mainly in the hard-to-define, decade-straddling era between Korea and Vietnam.
Mr. Clooney's movie, the most concentrated of the three, flashes back from 1958 to 1954, a pivotal moment in the career of its subject, Edward R. Murrow. Mr. Miller's begins in 1959, with a murder in rural Kansas, and ends in 1966, with the publication of "In Cold Blood," Truman Capote's book about the crime. "Walk the Line," the most conventionally biographical of the three, charts the rise of Johnny Cash, dwelling for most of its running time on the span of his career between 1955, when Sam Phillips signed him up at Sun Records, and 1968, when he married June Carter and performed his famous concert at Folsom Prison.
This might seem like more of a coincidence if last year's biopics - "Ray," "Kinsey," "Beyond the Sea" - had not also concerned American celebrities of the postwar era, and if a passel of other recent period pictures, from "Mona Lisa Smile" and "Far From Heaven" to "What Lies Beneath" and "Brokeback Mountain," did not mine the same historical ground. Everywhere you look, it seems, you see women in A-line skirts and men in narrow-lapelled sack suits, smoking unfiltered cigarettes and drinking highballs, talking on black rotary-dial phones and traveling the country in wood-paneled buses, accompanied by a soundtrack of appropriate pop, country and R & B tunes. And some of the era's cachet surely resides in the deep reservoir of visual and aural styles it offers. In a way that subsequent decades are not, the late 50's and early 60's seem permanently cool.
But that perception is itself most likely the product of a particular generational perspective. The years in question coincide with the formative years of the baby boomers, a cohort whose endless self-discovery has dominated American popular culture for as long as some of us can remember.
Perhaps more relevant, for Americans born in the 1960's - including Mr. Clooney, Mr. Mangold, Mr. Miller and this critic - the Eisenhower and Kennedy years lie just over the horizon of living memory, and therefore are likely to exert a particular fascination. Characters like Johnny Cash, Ray Charles, Edward R. Murrow and Truman Capote are at once tantalizingly close and intriguingly remote. We may recognize their names, faces and voices, but still wonder where they came from and who they really were.
Watching these movies, with their painstaking detail and their trompe l'oeil leading performances, we may also wonder how we got from there to here, a line of inquiry that the pictures frustrate by means of their elaborate visual fidelity. The difference between a period film and a historical film, in other words, is that while a historical film implies a continuity with the present, the period film, far more common in Hollywood, seals the past in a celluloid vitrine, establishing a safe distance between then and now.
EDITOR'S NOTE: THIS IS A VERY INTERESTING AND WELL-ARTICULATED DISTINCTION. OF COURSE, MOST FILM DOES PRESENTATION BETTER THAN ANALYSIS, SO THIS STANDS TO REASON.
And the period in question, eventful and tumultuous though it may have been, also represents a zone of safety - if not of comfort, exactly, then at least of clarity. The notion of the Eisenhower years as a time of dullness and conformity - a dubious revisionist legacy of the 1960's in any case - has been replaced by a series of images and stories that emphasize both ferment and stability. When these movies deal with political and social issues, it is almost always with the optimism of hindsight.
The prejudice and repression that figure in "Brokeback Mountain," "Kinsey" and "Far From Heaven" will eventually be overcome, the major evidence for this progress being the existence of the movies themselves. The specter of McCarthy, whose scowling visage haunts "Good Night, and Good Luck," will be expunged, as will the racism that casts its shadow over "Ray."
EDITOR'S NOTE: I THINK THIS IS VERY MUCH A SIMPLIFICATION. I DON'T THINK MOST OF THESE MOVIES ARE IMPLYING THAT THE PAST IS PAST AND THE PROBLEMS ARE FIXED. THE MESSAGE I GOT MOST ESPECIALLY FROM "GOOD NIGHT AND GOOD LUCK" WAS IN FACT JUST THE OPPOSITE....THAT WE ARE IN A SIMILAR TROUGH PERIOD OF REPRESSION AND FEAR-IMPOSED CONFORMITY. (THE FILM SEEMS TO HOLD OUT A LITTLE BIT OF HOPE IN THAT THE ERA DEPICTED SURVIVED THOSE DARK TIMES, SO MAYBE SO CAN WE?)
It is interesting that all of these movies, while gesturing toward various manifestations of social change, evade or stop short of the upheaval and rebellion now commonly thought of as characterizing the 60's. That story may be at once too thoroughly assimilated into the cultural memory and, at the same time, still too contentious to engage the imaginations of today's filmmakers.
The ideological and culture fractures of the present, moreover, feed a nostalgic longing for images of consensus. It is not just that Ray Charles and Johnny Cash, mavericks in their own day, have become objects of universal admiration, but also that the stories of their ascension to stardom are, implicitly, stories about the public that has such people in common.
The greatest nostalgia these films express is for the culture that produced characters like Charles and Cash, Murrow and Capote - all of them creations of a celebrity-driven mass media at an early phase of its dominance, and all of them distinguished, at least in retrospect, with a kind of self-invented, all-American authenticity that seems to have vanished from the cultural scene. That authenticity may not have been visible at the time, but if movies can't synthesize authenticity, what good are they?
EDITOR'S NOTE: OOO...CYNICISM IS SUCH A NAUGHTY THING!
Remember when television news was a bastion of integrity? When nonfiction pieces in glossy magazines changed the way people thought about journalism and literature? When the music charts were dominated by innovators who gave traditional American forms a modern, personal spin?
Neither do I. That's the point.
EDITOR'S NOTE: AND WAS IT EVER

REALLY

THUS? EVER

REALLY

THAT SIMPLE? PROBABLY NOT.
Oscar Historian Awaits Nominations Morning

By SANDY COHEN, AP Entertainment Writer
Weathered plastic crates crammed with papers, books and binders cover the floor. Cardboard boxes compete for space atop four large filing cabinets lining one of the walls. Piles of manila envelopes and official-looking brown folders fill every visible bit of desk space, except for a tiny area around the computer mouse.
This is ground zero for the Oscars' most important and detailed research: finding film factoids for the worldwide media to use in the endless stream of stories leading up to the March 5 Academy Awards show.
At 9 p.m. Monday, academy Historian Patrick E. Stockstill and his team will be locked inside the Academy of Motion Picture Arts and Sciences' headquarters — their phones and e-mail capability shut off — and presented with the names of this year's Oscar nominees. By 5:38 a.m. Tuesday (when the nominations are announced on TV), they will have transformed Stockstill's mess of papers, plus 1,860 file drawers filled with Oscar history, into a tidy collection of facts and figures for film fans to chew on.
It's a task Stockstill first dreamed of doing when he was 14 years old.
That's when he started keeping track of Oscar stats. He'd watch the Academy Awards and scribble the names of nominees and winners on 3-by-5 cards.
When he'd amassed more than 10,000 cards, young Patrick decided to become Oscar's librarian.
"
I heard that the academy had a library and said, 'I'm going to go work there
,'" the 56-year-old says, his smile hidden behind a full white beard. "
It's the one job in the world that I wanted to get."
EDITOR'S NOTE: WHAT A NIFTY GIG!
He got busy earning degrees in film and library science, and was named Academy Historian in 1983.
Now, after decades of immersion in movie stats, his mind works like an infinite database.
"Nobody even dares play Trivial Pursuit with me now,"
he says, smirking.
___
Oh, but we'll try.
So, Patrick, how many films are eligible for the Oscars this year?
"Three hundred eleven,"

he says instantly.

"It's the most in a long time. I had to put it in my statistics book."
___
Stockstill and his staff could potentially be asked to provide facts on any of those 311 films on nominations morning. And that takes a lot of research. They spend all year mired in movieana. There is no slow time. With every Academy Awards show, statistics change and databases need updating.
They start with the Academy's list of eligible entries, then the brainstorming begins. But it's not an entirely blind quest.
"
We also have ears. We have eyes. We read newspapers. We hear people talking
," Stockstill says. "
There are various other organizations already giving out awards. We keep an eye on stuff like that."
Working with fellow librarians Lucia Schultz and Libby Wertin, Stockstill compiles a collection of historical facts about each of the nominees, to be presented to the press — and the world — on nominations morning.
It's the most pressure-filled night of the year, he says.
"
We don't know what our nominations are going to be, so we have to consider as many things as possible."
___

Anyone happen to know which actor has won the most awards?
"
Katharine Hepburn has the most wins with four
," Stockstill says.
"But Meryl Streep has the most nominations,"

Schultz adds.

"She has 13."
"
Katharine Hepburn and Jack Nicholson are tied at 12 nominations each
," Wertin says. "
Jack Nicholson has three awards. So in terms of someone tying Katharine Hepburn's record of four statuettes, we're looking at Jack."
EDITOR'S NOTE: HERE'S HOPING HE RETIRES. (NICHOLSON UNSEATING HEPBURN SEEMS VERY VERY WRONG).
Ah, The Three Musketriviasts.
"If you really want to stump us,"
Wertin says, "
just ask a basic question, like who won lead actor last year."

___
Once the nominations are announced, the team begins phase two of its Oscar research, because every nominee is a potential winner during the big show.
Schultz collects biographies and credits for each of the nominees, plus the spelling of any name a winner is likely to mention during an acceptance speech.
"
Hilary Swank thanks her makeup artist (Tania McComas
)," Schultz says, noting that Swank is in the two-trophy club.
Since 1990, Schultz has worked in the press room during the Oscar broadcast, answering last-minute questions from reporters and feeding details to workers updating the Oscar.com Web site.
___
OK, Patrick, what was the longest Oscar broadcast?

"Four hours and 24, 25 minutes
," he responds in a nanosecond. "
Laura Ziskin was the producer."
(The year: 2002.)
___
Since 2003, the Academy also has offered a searchable database online for anyone curious about movie history. The Margaret Herrick Library, where Stockstill's cluttered office is located, is also open to regular folks, who are free to peruse tomes as diverse as "Aviation in the Cinema" and "Big Bosoms and Square Jaws: A Biography of Russ Meyer, King of the Sex Film."
Reference librarians will research questions that aren't easily answered in the library or online, such as a recent inquiry about a snake that escaped during an Oscar show.
Wertin discovered that a performing reptile (name: Saapa), destined to participate in a production number, slithered off during rehearsals (in 1993).
"
He wasn't found for six months,"
she says. "
The understudy snake (Aladdin) actually had to go into the production."

EDITOR'S NOTE: "42ND STREET". BUT WITH SNAKES.



___
Betcha don't know this one, Patrick. Wait, let's not bet:
What was the shortest screen time that led to an acting Oscar?
"
Four and a half minutes
," he says in less than four and a half seconds. "
Supporting actress Beatrice Straight for 'Network.'"
Never mind that the film came out in 1976.
___
So how does he remember all this stuff?
It helps that he spends most of his time in a place he characterizes as "
the finest specialized film library in the world."
But, as Wertin points out, the best information isn't necessarily found in the files.
"
One of our biggest resources at the library
," she says, "
are the people who work here."
And, by the way: Last year's best-actor winner was Jamie Foxx. And we didn't even have to ask.
___
On the Net:
http://www.oscars.org
EDITOR'S NOTE: FROM DWEEBPAL BOSTONLAURA ----

In pictures: Making the Oscars

The statuettes handed out at the Oscars by the Academy of Motion Picture Arts and Sciences are among the world's most recognisable trophies.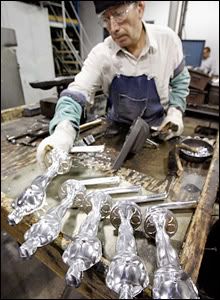 The statues are cast in pewter alloy britannium before being treated with copper, nickel, silver and 24k gold. It can take up to a day to make each one at RS Owens studio in Chicago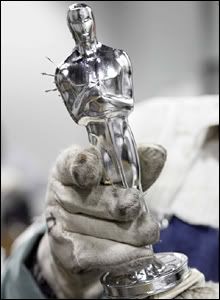 The entire collection of new trophies was stolen in 2000 en route to Los Angeles. Most were later recovered but RS Owens managed to rush through a replacement batch in time.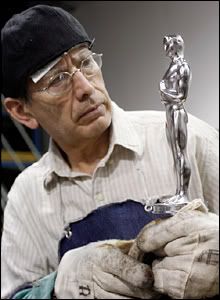 Instead of having a quality control checker, each member of the production team is able to reject a piece if they think it is not up to standard.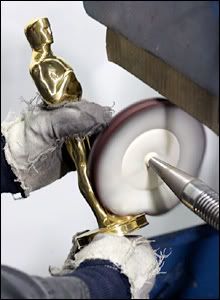 The company also repairs any statues that get damaged. This is usually down to people trying to clean it with harsh chemicals, rubbing through the lacquer into the gold.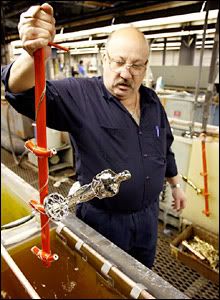 Between 50 and 60 statuettes are made each year, although it is not known until the ceremony how many will be handed out because there may be multiple winners in a category.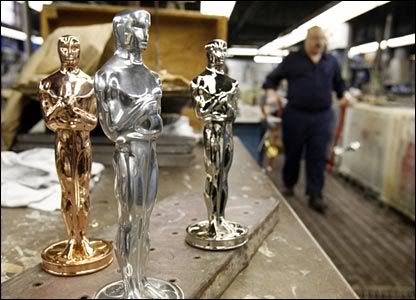 The company also engraves the name plates for the statues. Because the winners are not known until the event these are created after and attached by the Academy.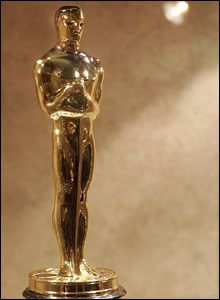 The exact reason why the trophies are called Oscars is not clear. It is thought an Academy member remarked in the 1930s that it looked like her Uncle Oscar.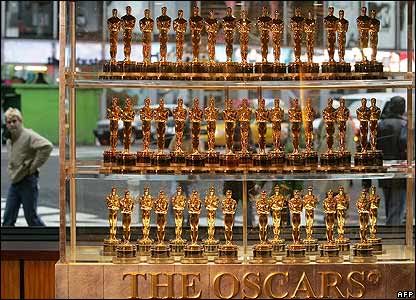 The completed statuettes are now on display in New York's Times Square until 1 February. They will then be transported to Los Angeles ahead of the Academy Awards ceremony.