Catching up...Monday Star Wars
EDITOR'S NOTE: A MISHMASH OF STAR WARS'Y STUFF.
FIRST UP, A COUPLE OF CHANCES TO VOTE FOR ROTS IN TOTALLY POINTLESS COMPETITIONS. (
BUT AT LEAST IT'S SOME PLACE WHERE YOUR VOTE

COUNTS

...NOT LIKE NATIONAL AMERICAN POLITICS, EH
?)
Moviefone Moviegoer Nominees

With EP3 nominated as best picture, Hayden as both best actor and vilest villain, Ian also as the vilest villain and Ewan as biggest Badass, there's a lot to vote for in our favorite franchise.
Cast your votes here.
http://movies.aol.com/moviefone_moviegoer_movie_awards/2006?ncid=AOLMOV00150000000003
Vote For Best Adventure Or Science Fiction Film Of The Year
Mat from Paris, France writes in:
There's an interesting website that asks users to vote for the best adventure / sci-fi film of the year 2005.
The nominees are:
Batman Begins, King Kong, Man to Man, Sky Captain andthe World of Tomorrow, Star Wars: episode III -Revenge of the Sith
and
War of the Worlds
Let's help out by voting for
star wars!
Click here to cast your vote!
http://www.julesverneaventures.com/jva/bestfilm/index.php?lang=en
EDITOR'S NOTE: AND NOW FOR SOMETHING COMPLETELY DIFFERENT...HAN SOLO IN CARBONITE. IN LEGOS!
From dweebpal chewy andy:
3 pics..han solo in lego
http://nathanbrickartist.com/largegallery.html
'Faith' flowers in April
(Fiennes drama set for Booth Theater)
Broadway's got faith in April.
The Gate Theater production of Brian Friel's "Faith Healer," starring Ralph Fiennes, has set April 18 as the start date for a 15-week run at the Booth Theater. Opening night is May 4.
Production, helmed by Jonathan Kent, co-stars Cherry Jones and Ian McDiarmid. Fiennes plays the title healer, with Jones, who left her Tony-winning role in "Doubt" Jan. 8, as his lover and McDiarmid as his manager.
Fiennes won a Tony for his last appearance on Broadway, a 1995 production of "Hamlet" staged by Kent.
Kent previously directed McDiarmid in a 2001 production of "Faith" at the Almeida Theater, which the pair used to run.
For the new production, Jonathan Fensom provides sets and costumes, with lights by Mark Henderson.
Production, with Ingrid Craigie in the role that will be played by Jones, begins a run at the Gate in Dublin Feb. 2.
Empire's new clothes link 'Sith' to original 'Star Wars'
Designer Biggar appreciates technology's impact on costuming
By
ELLEN WOLFF
A long time ago, the "Star Wars" galaxy was a far simpler place.
With "Star Wars: Episode III -- Revenge of the Sith," costume designer Trisha Biggar faced the unique task of bridging George Lucas' three prequels to the landmark 1977 film -- a transition that came down to the moment Anakin Skywalker becomes black-helmeted Darth Vader.
Biggar remembers the filming of Vader's sleek black costume and iconic mask. "
Even for the crew it was a big moment,
" she says. "
The set was swarming with people who'd sneaked inside."
Whereas Vader's original helmet had to be hand-sculpted and was therefore never perfectly symmetrical, Biggar's team used computers to design -- and modify -- the version that appears in "Sith."
"
Everybody thinks Darth hasn't changed over the years, but distinct variations have been made to the costume
," she says. "
I wanted Darth to have a newly 'machined' look because this is the first time Anakin is embodied in this costume."
Having worked on all three prequels, Biggar appreciates technology's impact on costuming. The textures of her fabrics became especially evident when Lucas shot them in hi-def.
She also faced the challenges of creating costumes that ILM could approximate for CG characters. "
We'd provide fabric, and ILM would gamely replicate things like fringing. But then they got so good at cloth simulation they didn't need references!"
EDITOR'S NOTE: KINDA SCARY, ACTUALLY. SO, DO THE ACTORS SHOW UP NAKED, AND THE CG FOLKS DRESS THEM LIKE COMPUTERIZED PAPER DOLLS?
In another nod to the original trilogy, "Sith" features a cameo by one of the series' most popular alien races. "
We'd never been to the Wookie planet before
," says Biggar, who designed their armor and bandoliers. "
I sourced various synthetic fur samples, and we designed a color palette for the Wookies."
EDITOR'S NOTE: I'M THINKING MOST WOOKIES ARE AUTUMNS.
Throughout "Sith," Biggar took pains to presage Luke Skywalker's and Princess Leia's comparatively modest fashions from "Episode IV." "
We tried to visually link the costumes, using similar types of fabrics and leg wraps,"
she says. "
We even had Leia's 'doughnut' hairdo on Padme when she tells Anakin she's pregnant. It was great fun to add details that 'Star Wars' fans would notice!"
EDITOR'S NOTE: AND NOW....STAR WARS SHOPPING!

Break the Jedi Code this Valentine's Day
Give that Jedi (or Sith Lord) in your life a special card thanks to Paper Magic Group's latest assortment of Star Wars Valentines.
The Paper Magic Group has produced a set of 32 cards with 8 different designs featuring Episode III imagery and fun messages.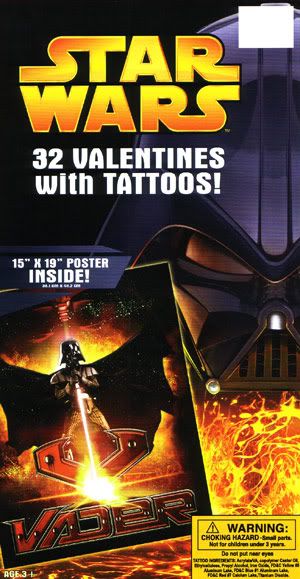 Sample messages include Darth Vader's promise "You have my allegiance," Yoda's heartfelt "My trusted ally, you are," and R2-D2's flirty beeping "You can fly with me anytime."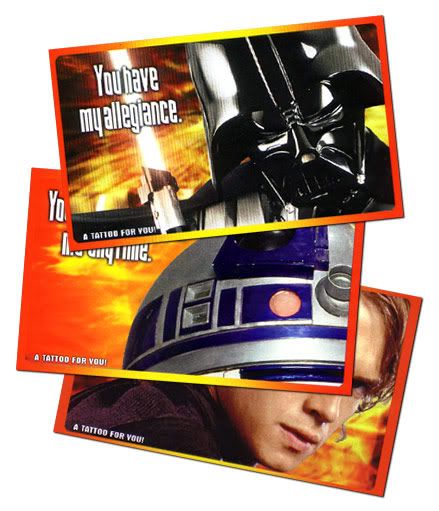 Also included in the card set is a 15" x 19" poster of Darth Vader and a sheet of removable tattoos featuring clone troopers, General Grievous, Darth Vader and more! EDITOR'S NOTE: YOU HAD ME AT 'REMOVABLE TATTOOS'.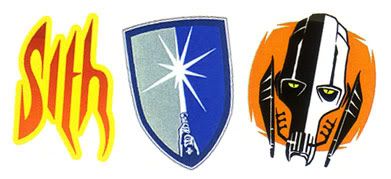 With this set available from The Paper Magic Group (on participating store shelves now), you should have enough Star Wars-themed messages for fellow Padawans, a few Jedi Masters, and your favorite misunderstood Sith Lord. EDITOR'S NOTE: 'MISUNDERSTOOD SITH LORD'. I'M THINKING ODDBOB. WHY? WHY ASK WHY?

Kit Fisto
Sideshow Collectibles is taking pre-orders for their Kit Fisto STAR WARS 12-inch figure.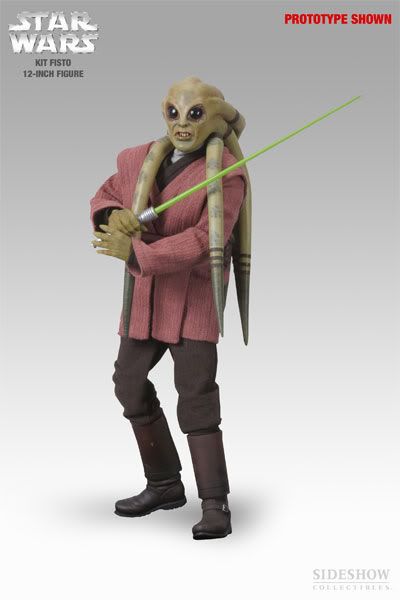 The figure includes:
Fully articulated male body EDITOR'S NOTE: BE STILL MY HEART..... with 30+ points of articulation Detailed Kit Fisto portrait Authentic costume including: Undershirt Tabbard Tunic Pants Jedi Robe Boots
Accessories including: Detailed belt w/ opening pouches and lightsaber clip Jedi Food Capsules Jedi Holoprojector Jedi Communicator Lightsaber hilt Lightsaber hilt w/ ignited blade Unique Kit Fisto hands 12-Inch Figure
The figure will ship in the second quarter of 2006 and comes with a price tag of $54.99. EDITOR'S NOTE: FULLY ARTICULATED MALE BODIES AIN'T CHEAP, HUH?!

The Empire Strikes Back 25th Anniversary Print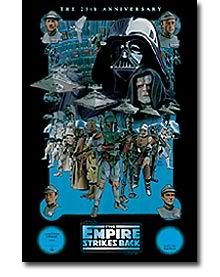 25 years ago, fans eagerly awaited the release of the first Star Wars sequel, The Empire Strikes Back, hoping it would live up to its predecessor in terms of imagination and scope. To the delight of fans and critics alike, Empire not only served up the Star Wars universe in richer, deeper tones, but also introduced audiences to some of the saga's most memorable attributes.
Characters such as Yoda, Boba Fett, Emperor Palpatine, and Lando Calrissian would debut in Empire, as would settings like Cloud City and the Dagobah swamps, vehicles including AT-ATs, Super Star Destroyers, and Slave I, and signature themes such as the "Imperial March", "Yoda's Theme", and "Han Solo and the Princess".
The Empire Strikes Back was a clear indication that the Star Wars saga was classic storytelling at its best, and was here to stay.
To commemorate Empire's silver anniversary, prolific Star Wars artist Matt Busch has composed a striking lithograph showcasing the sinister agents of the sequel trilogy's darkest chapter, paired with the original period Empire logo.
Vader and Palpatine dominate a rogue's gallery of Imperial officers, bounty hunters, stormtroopers and snowtroopers, all set against the cool blue tones of Cloud City and Hoth.
Available exclusively at StarWarsShop, each Empire anniversary lithograph will be signed by the artist and numbered from an edition size of just 750.
Celebrate one of the saga's most beloved chapters with this striking limited edition print by one of Star Wars' most gifted illustrators.

Our Price: $45.00
http://shop.starwars.com/catalog/product.xml?product_id=104466;category_id=334
EDITOR'S NOTE: AND THE PIECE DE RESISTANCE.....

Playskool Mr Potato Head R2D2Tater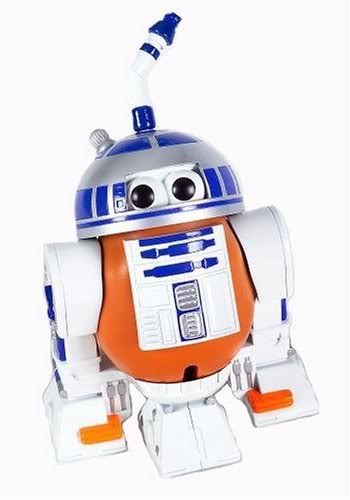 EDITOR'S NOTE: TOO TOO TOO TOO CUTE!
Here are some detailed pictures of the upcoming R2-D2 version of Mr. Potato Head.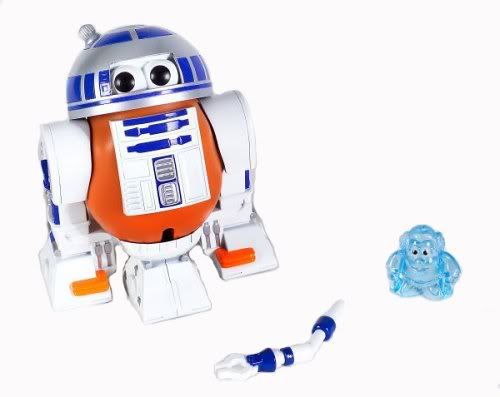 Be sure to check out all the extras which includes a mini holo "spud leia"! EDITOR'S NOTE: THE MINI SPUD LEIA IS KINDA PUSHING THIS INTO THE MUST-BUY CATEGORY, DON'T YOU THINK?!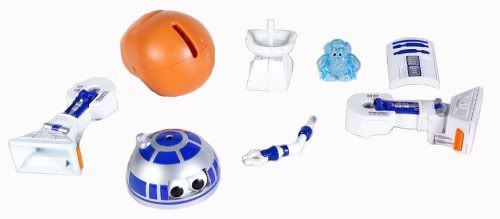 This item is currently available for pre-order at Amazon.co.uk and is scheduled to start shipping April 20th, 2006. Look for a similar listing soon on Amazon.com in the U.S.