All about Harry...POTTER
Alan Rickman to begin filming OOTP in April
A fan of the actor who plays Severus Snape in the Harry Potter movies wrote to his assistant, Melanie Parker, and was informed that Alan would return to England in April in order to film
Harry Potter and the Order of the Phoenix
.
Today also marks the 60th birthday of the actor. Happy birthday, Alan!
EDITOR'S NOTE: Tuesday, February 21, 2006
Julie Walters attends Irish screening of 'Driving Lessons'
I have just returned from an advance screening of
Driving Lessons
(which I attended on behalf of MuggleNet and our Rupert site,
RupertGrint.net
) starring Rupert Grint (Ben) and Julie Walters (Evie).
EDITOR'S NOTE: WHOSE BIRTHDAY....#56....IS TODAY (WED.)!
The screening took place as part of the fourth Jameson Dublin International Film Festival, and was attended by Julie Walters, who also played Mrs. Weasley in the first three Harry Potter movies. At the end of the very touching film, Julie did a 40-minute public interview at the top of the theater.
Some tidbits:
Julie told her daughter (who's a huge HP fan) that she'd been offered the role of Mrs. Weasley in the first Harry Potter film, and her daughter urged her to accept the part.
"Rupert is an excellent actor."
In response to the interviewer's saying, "
So you were in HP movies 1-3, but were cut from 4?"
Julie said,
"I know
! I was very, very disappointed indeed
." Later when some fans told her about their anger at her being cut from GOF, she said, "
Thank you, thank you. You write to Warner Bros. and tell them how you feel!"
Among some of the many fascinating biographical stories Julie told was one of how she had to wear a seed-padded bra while playing Mrs. Weasley in the Harry Potter films. In the first movie, she remembers the shock she received while filming the scenes at King's Cross because of the owls and pigeons following her.
EDITOR'S NOTE: AND HERE SHE THOUGHT IT WAS THE TWINS PLAYING TRICKS ON HER, HUH?
Only while filming the third flick did Dan Radcliffe say curiously to her: "
What's your bra padded with?"
Filming
Becoming Jane
in Ireland this April. She will start filming
OotP
in the summer.
First interview with Evanna Lynch
The Drogheda Independent has conducted an interview with 14-year-old Evanna Lynch, who has been cast as Luna Lovegood for the fifth installment in the Potter movie series. In it, Evanna talks about why she loves the books, saying,
"...
sometimes I'm stressed and I'm sick of things and I need to forget about them for a while, so in Harry Potter you're taken to this wonderful imaginary world where everything is so different."
She also discusses her reaction to finding out she landed the coveted part on January 23rd, beating a whopping 15,000 other hopefuls:
"
I was completely shocked, I thought it was some awful joke or they were testing me or something but I still got so excited."
I had to keep it quiet for days and pretend everything was normal which was hard considering my dream had just come true. When I went home that day I had to study for my French test as if everything was normal."
Rumor: Dursleys, Dementor attack and trial in OotP
Snitch Seeker
has heard from a "reliable source" that the fifth movie will contain the scene where Harry saves Dudley from the Dementors on Wisteria Walk; SS notes that Arabella Figg witnesses the event.
In addition, the Wizengamot trial will be included, and Madam Bones and Mundungus Fletcher will appear in the film although we don't yet know who has been cast for those roles.
We'll let you know what WB has to say but treat this as a rumor for now.
EDITOR'S NOTE: HEY...WE'RE MORE THAN A YEAR OUT ON THIS MOVIE...RUMORS ARE ALL THE FUN WE'LL GET FOR A

WHILE

!
JKR answers FAQ poll
In
JKR.com
's latest FAQ poll, the question most voted for was "
What happens to a secret when the Secret-Keeper dies?"
Jo has now answered this,
(SPOILER WARNING)
What happens to a secret when the Secret-Keeper dies?
I was surprised that this question won, because it is not the one that I'd have voted for… but hey, if this is what you want to know, this is what you want to know!
When a Secret-Keeper dies, their secret dies with them, or, to put it another way, the status of their secret will remain as it was at the moment of their death.
Everybody in whom they confided will continue to know the hidden information, but nobody else.
Just in case you have forgotten exactly how the Fidelius Charm works, it is "

an immensely complex spell involving the magical concealment of a secret inside a single, living soul. The information is hidden inside the chosen person, or Secret-Keeper, and is henceforth impossible to find -- unless, of course, the Secret-Keeper chooses to divulge it

" (Harry Potter and the Prisoner of Azkaban)
In other words, a secret (eg, the location of a family in hiding, like the Potters) is enchanted so that it is protected by a single Keeper (in our example, Peter Pettigrew, a.k.a. Wormtail).
Thenceforth nobody else – not even the subjects of the secret themselves – can divulge the secret.
Even if one of the Potters had been captured, force fed Veritaserum or placed under the Imperius Curse, they would not have been able to give away the whereabouts of the other two. The only people who ever knew their precise location were those whom Wormtail had told directly, but none of them would have been able to pass on the information.

Toy Fair 2006 features new Potter dolls

Held annually in New York City, last week's Toy Fair included some new dolls inspired by
Goblet of Fire
.
Our friends at MillionairePlayboy.com have taken several great pictures of the items. You can check out new dolls made by Tonner (the Trio dressed in Yule Ball outfits and more) here .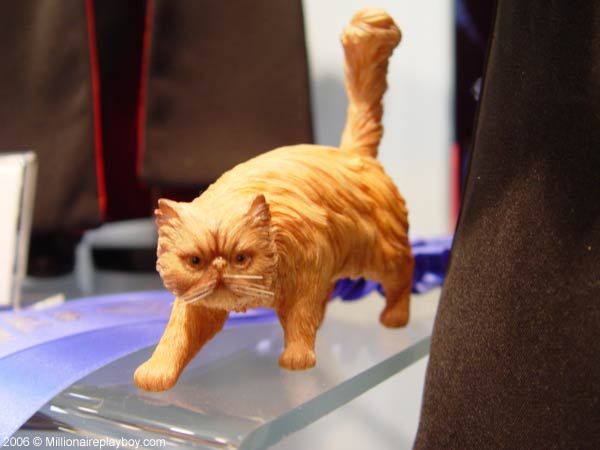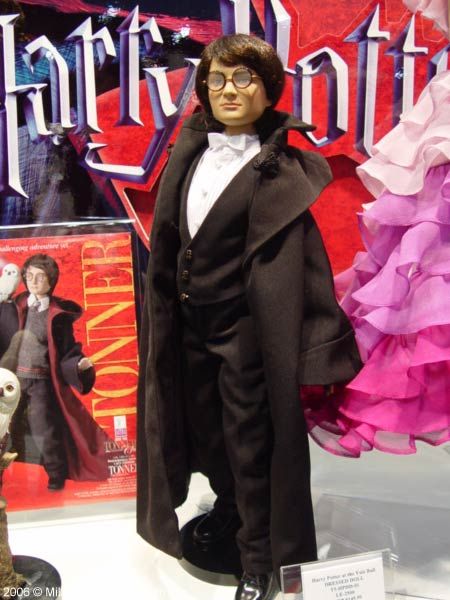 EDITOR'S NOTE: IS IT JUST ME OR IS HARRY'S POSTURE KIND OF ODD AND DWARFISH HERE? A LITTLE CREEPY?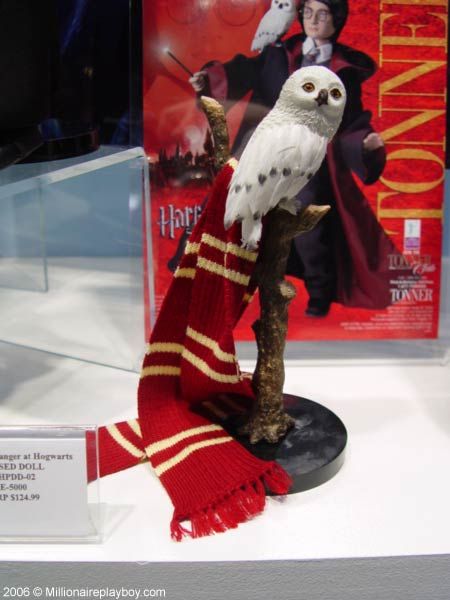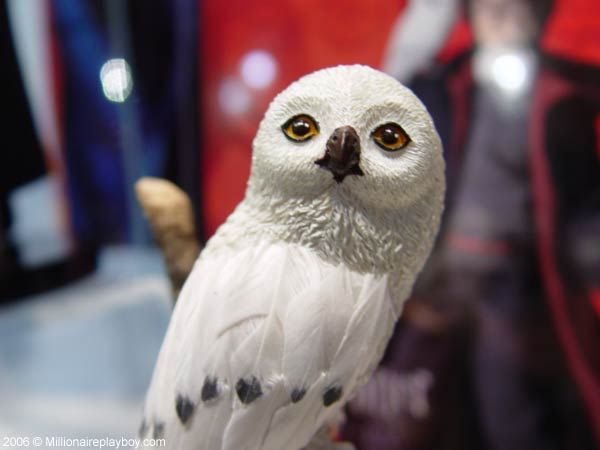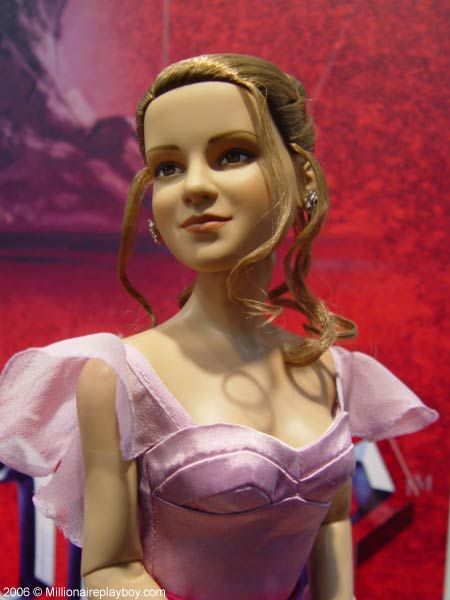 EDITOR'S NOTE: VERY PRETTY LIKENESS OF HERMIONE. I THINK I KNOW WHAT WE CAN GET DWEEBPAL SAMANTHA FOR HER BIRTHDAY?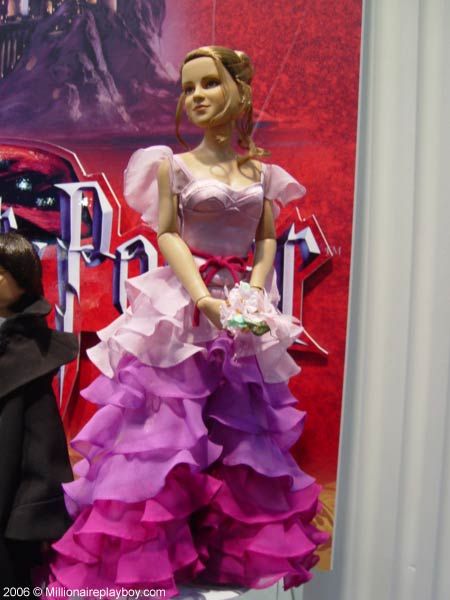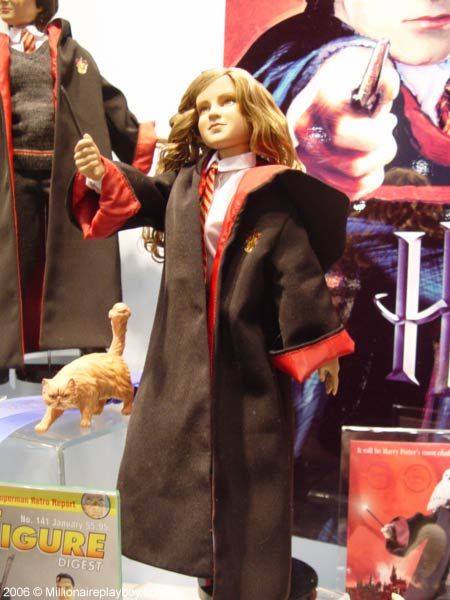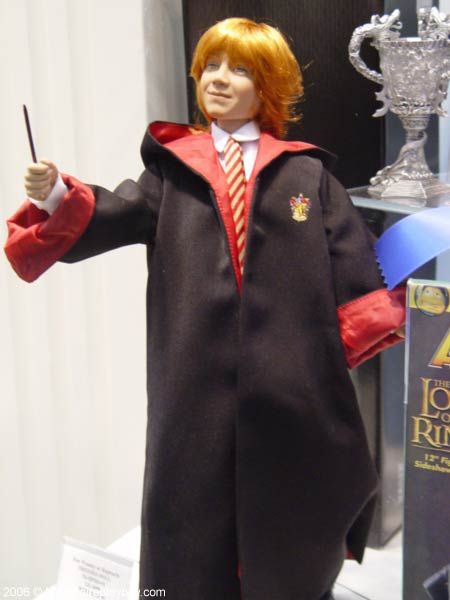 EDITOR'S NOTE: ASLO A GOOD SCULPT!