Winnie-the-Pooh...and Disney, too
EDITOR'S NOTE: FIRST THE DRAB, SAD BUSINESS STUFF. (ONE ITEM). THEN WE CAN GO BACK TO OUR HAPPY PLACE WITH OUR FURRY FRIENDS.
Disney settles wrongful-death suit
The Walt Disney Co. has agreed to settle a wrongful-death lawsuit brought by the family of a 22-year-old man killed on a roller coaster at Disneyland in 2003.
Disney said Friday it accepts responsibility for incorrectly performing maintenance on the
Big Thunder Mountain Railroad
ride.
An axle assemble came loose on the ride on Sept. 5, 2003, causing the first passenger car to jackknife and slam into the lead car, which is shaped to resemble a locomotive.
The accident caused the death of Marcelo Torres of Gardena, who suffered severe blunt force trauma and extensive internal bleeding. Terms of the settlement were confidential.
EDITOR'S NOTE: I GUESS I SHOULD COUNT MYSELF LUCKY THAT THE RIDE JUST MADE ME QUEASY. (OF COURSE...AS JOEL WOULD BE THE FIRST TO POINT OUT...WHAT

DOESN'T

?)!
80 YEARS OF WINNIE-THE-POOH
It's hard to believe it, but the eternally childlike Winnie the Pooh was created nearly 80 years ago.
A.A. Milne's first stories of the honey-loving bear and his devoted friends were inspired by Milne's son, Christopher Robin Milne, and his collection of stuffed animals.
Upon publication of the first Pooh book, "Winnie-the-Pooh," on October 14, 1926, the world took to the lovable teddy bear and several other books followed.
Pooh's upcoming anniversary will be celebrated in grand style at Disney throughout 2006, with special merchandise, new Pooh-themed music on CD, and special events.
The Insider thought this would be a good time to take a look back at some highlights of the famous bear's career.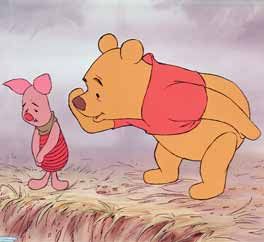 • Milne's young son, Christopher Robin, was fascinated by a black bear named Winnie during a visit to the London Zoological Gardens. This inspired Milne to create a series of adventures for Christopher's stuffed bear Edward and his other stuffed-animal companions. Piglet, Owl, Eeyore, Kanga, Roo, and the rest were all based on the boy's toys. Pooh, Piglet, Kanga, and Tigger were eventually donated to the New York Public Library, where they can still be visited today.
• E. H. Shepherd's beautiful pen-and-ink and watercolor illustrations for the Pooh books were based on the scenery of Sussex's Ashdown Forest - where the bridge from which the characters play the game of "Poohsticks" was restored in 1979.
EDITOR'S NOTE: LET'S GO TO ENGLAND. WE COULD VISIT ALL THE HARRY POTTER SITES, THEN TOSS POOOHSTICKS OFF THIS BRIDGE!
• Walt Disney was attracted to the Pooh stories and wanted to film them because he had read Milne's books to his own daughters, Sharon and Diane.
• Sterling Holloway provided an unforgettable voice for Pooh in the Disney shorts (which were later bundled and released as a feature movie, "The Many Adventures of Winnie the Pooh.") Sterling was a versatile voice performer for Disney - among other memorable characters, he can be heard as Kaa in "The Jungle Book," the Stork who delivers "Dumbo," and the narrator of "Peter and the Wolf."
• The irrepressibly bouncy Tigger did not join the Hundred Acre Wood friends until the second Winnie the Pooh short, "Winnie the Pooh and the Blustery Day" (1968). This is appropriate enough, since Tigger is a latecomer to the Pooh stories, not appearing until the story "Tigger Comes of the Forest and Has Breakfast" in 1928's "The House at Pooh Corner." In spite of this late arrival, he is one of the best beloved off all the Pooh characters. Although Tigger was one of Christopher Robin's stuffed animals, Milne modeled the character's personality on a hyperactive dog named Chum, owned by a friend.
As a tribute to Pooh's 80 years of friendship and adventure, The Walt Disney Company has planned a series of events, promotions, and special-edition products throughout 2006 featuring the world's most beloved bear in his signature red shirt.
EDITOR'S NOTE: WELL OF

COURSE

THEY HAVE. (I'M NOT COMPLAING; I LOVE THE OPPORTUNITY TO BUY AFFECTION AND REMEMBRANCES. BUT WE DIDN'T

REALLY

THINK UNCLE WALT AND HIS STILL-LIVING ASSOCIATES WOULD MISS ANY CHANCE TO SELL US SOMETHING, DID WE?)
Pooh's 80th kicked off with Pooh's stage debut at the "Pooh Live!" show on December 7 at the Beacon Theater in New York.
Pooh fans can tune into Playhouse Disney and watch Pooh specials throughout the year, with a special Friendship Day tribute in August.
Look out for the release of "Pooh's Grand Adventure: The Search for Christopher Robin," available for the first time on DVD on April 4.
From January through March, Radio Disney's Playhouse Disney block will feature Pooh's Days Tuesdays, playing favorite Pooh tunes.
Pooh fans can also hear the new Pooh song, "My Friend Pooh," from "Ralph's World" - the release date should be some time in spring 2006.
And for those who would like to bring those 80th keepsakes home, Disney stores will be offering an exclusive plush, snowglobe, and gift with purchases starting in January.
EDITOR'S NOTE:

NOW

WE'RE TALKIN!
All in all, it's an appropriately big bash for a bear who never forgets his friends and always manages to have fun.