Closing out the Week - A few more ODDs-N-Ends
EDITOR'S NOTE: HARD TO BELIEVE, BUT WE MUST NOW HAVE OUR FIRST OSCAR CONVERSATION. OR TWO.
Ladies and gentlemen, start your screenings
By Scott Bowles, USA TODAY
LOS ANGELES — With less than a month left to qualify for Academy Award consideration, all but one of the leading candidates for best picture have begun screening for Oscar voters and the media.
So, naturally, the unseen film is the one most on their minds.
Munich
, the Steven Spielberg movie about the 1972 Olympics that opens in limited release Dec. 23, doesn't get its first screening until next week.
But "
when it's Spielberg and serious subject matter, you have to pay attention
," says Sasha Stone of the website Oscarwatch.com. She named Munich the leading contender for best picture.
"His track record is so strong, it's the movie that shapes the race."
Still, several films are emerging with analysts as worthy competitors.
Brokeback Mountain
, the Ang Lee film about gay cowboys, leads the pack, according to moviecitynews.com, which polls 13 film writers every week. The movie opens in limited release Dec. 9.
"It's hitting on a powerful demographic in the Academy (of Motion Picture Arts and Sciences): women and homosexuals,"
says David Poland, who runs moviecitynews.com.
Other films gaining early momentum:
•
Walk the Line.
The Johnny Cash biography has done well with critics and audiences, taking in $56 million as it enters its third weekend. "
That musical biopic is a genre Oscar loves
," says Tom O'Neil, of The Los Angeles Times awards site theenvelope.com.
EDITOR'S NOTE: YEAH. MORE IS THE PITY. SNORE.
•
Peter Jackson's King Kong
. Rob Alarcon of Cinema Confidential (www.cinecon.com) saw it Wednesday night. "
I came in here thinking, 'No way in hell.' But I was really impressed with the quality across the board. It had everything you would be looking for" — emotion, story, acting and action.
•
Memoirs of a Geisha.
It opens Dec. 9 and has scored well in screenings, O'Neil says. "
It's epic, it's adapted from a beloved book, and it's a love story. It will need to really stumble at the box office to not get nominated."
•
The New World.
Terrence Malick's take on Pocahontas, opening Dec. 25, won raves from the Los Angeles Times but is dividing others. "
His films are always so meditative
," says Jeffrey Wells of the site hollywood-elsewhere.com. "
It can be hard to get a consensus."
EDITOR'S NOTE: 'MEDITATIVE'. THAT'S HOLLYWOOD SPEAK FOR

BORING

.
•Good Night, and Good Luck
,
Capote
and
Match Point
. These smaller films are duking it out for what is typically Oscar's single seat for such fare at the best-picture table.
Night
and
Capote
have done reasonably well commercially, while Woody Allen's drama, opening Dec. 28, is "
screening well
," Poland says. "
The question is how many small films there's room for."

EDITOR'S NOTE: BOY, I'D TAKE ANY NUMBER OF THESE 'SMALLER' ONES, OVER THOSE BLOATED, EPIC MONSTERS. MY DERRIERE IS ALREADY GETTING SORE THINKING OF ALL THOSE OVER-WROUGHT TEARS-FESTS I'M GOING TO HAVE TO WALLOW THRU IN THE NEXT MONTH. URP.
AND WHILE WE'RE TALKING OSCAR....HERE ARE THE POSTERS FOR THIS YEAR. (YEP...THERE'S TWO OF EM) ---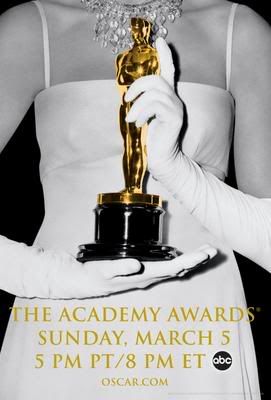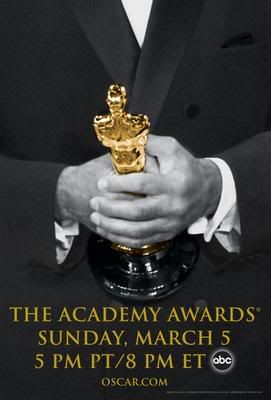 EDITOR'S NOTE: AND NOW FOR SOMETHING COMPLETELY DIFFERENT ----
The Forbes Fictional 15
Collectively, we are fascinated by the super-rich. We devour their biographies. We hang on their advice. Maybe we even hope for their downfall. But in our attempts to explain the ultra-rich--and their super-inflated bank accounts--we are often guilty of reducing real people to mere caricatures. There is the monopolist. The oracle. The genius. The thief. With the Forbes Fictional 15, we have taken the opposite approach--fiction's caricatures are elevated to the status of real people

The List
Santa Claus
Lex Luthor
Net Worth: $10.1 billion
Source: Defense, Software, Real Estate
Age: 52
Marital Status: Single
Hometown: Metropolis, U.S.A.
Education: Metropolis University, B.S; Massachusetts Institute of Technology, Ph.D.
A year after his term as president ended in scandal, Luthor returned to the helm of LexCorp unbowed. Inventor of personal jetpack, robot guard dog said to be back in the lab. Singles out negative reporting by former friend and Daily Planet writer Clark Kent as "worst kind of tabloid journalism." Spent childhood in idyllic Smallville, Kans.; moved to Metropolis at age 21; built LexCorp into world's largest defense and software firm. Claims "superpowered do-gooders" are plotting to take over the world. Prominent supporter of "extropian" life-extension research. Member since 1940.

C. Montgomery Burns
Bruce Wayne
Net Worth: $6.5 billion
Source: Inheritance; Defense
Age: 32
Marital Status: Single
Hometown: Gotham City, U.S.
A Wealthy playboy took family business Wayne Enterprises private earlier this year; SEC still investigating; valuable military prototypes said to have "disappeared." Watched parents gunned down, age 8; spent years in hiding. Returned to Gotham, age 25, assumed control of Wayne Enterprise board. Lives in stately Wayne Manor despite municipal worries about giant sinkholes beneath foundation. Short-lived romances with famous faces: photographer Vicki Vale, socialite Silver St. Cloud and heiress Talia Al Ghul. Rumors continue to swirl over long-time habit of keeping teenage boys as wards. EDITOR'S NOTE: SNICKER... Member since 1939.
Willy Wonka
Net Worth: $2.3 billion
Source: Candy
Age: 57
Marital Status: Single
Hometown: Kent, England
Reclusive chocolate-factory owner was hit hard by low-carb diet craze, but has seen fortunes improve in recent months thanks to innovative new sweets conceived by protégé Charlie Bucket. Currently under investigation by British authorities for illegally importing unregistered laborers from Loompaland, paying them only in cocoa beans. Authorized autobiographical 2005 film in attempt to rehabilitate image; revealed that as the son of a dentist, was long forbidden to eat chocolate. Member since 1964.
Net Worth: $1 billion
Source: Inheritance, Antiques
Age: 37
Marital Status: Single
Hometown: Wimbledon, England
Education: Cambridge University
Daughter of a British lord; raised in luxury. Gained fame and even more fortune by crawling into dusty tombs, charging through jungles and getting into gun fights. Archaeologist and author of travel books; responsible for numerous discoveries, including the lost city of Atlantis and Pandora's Box. Experienced windfall this year by licensing name to endorse variety of products, from handguns to hot pants. Rumored to have fought, killed Bigfoot.

Cruella De Vil
EDITOR'S NOTE: THIS ONE WARRANTS A PICTURE, N'EST CE PAS?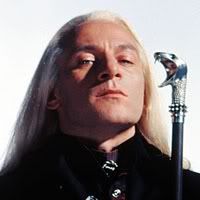 EDITOR'S NOTE: EVIL CAN BE SO VERY YUMMY.....
Net Worth: $900 million
Source: Inheritance
Age: 51
Marital Status: Married, one child.
Hometown: Wiltshire, England
Education: Hogwarts School of Witchcraft and Wizardry
Patriarch of ancient wizarding family is known for his luxurious white hair, advocacy for pureblood magicians, and violent hatred of Harry Potter. Family stores of gold and illegal Dark Arts artifacts amount to significant fortune, most of which is used to buy influence within the magical community. Caught red-handed burglarizing United Kingdom's Ministry of Magic; currently incarcerated in Azkaban prison. Once asked: "What's the use of being a disgrace to the name of wizard if they don't even pay you well for it?"