A little bit of THIS, a little bit of THAT
EDITOR'S NOTE: IF THE HEADLINE FOR THIS POSTING DOESN'T MAKE THE SONG "ANATEVKA" RUN ENDLESSLY IN YOUR HEAD....WELL, LUCKY YOU. (AND IT MEANS YOU MIGHT BE A

DWEEB

....BUT YOU AIN'T A

THEATER

DWEEB).
AGAIN, LUCKY YOU.
ANOTHER MISHMASH POST -----
FIRST UP, I CHOOSE TO BELIEVE THAT THE DWEEBLETTER VOTERS PUT MY BELOVED STAR WARS OVER THE TOP ON VOTES YESTERDAY. THE FINAL IMDB DAILY POLL TALLY?
The Star Wars movies or the Lord of the Rings movies?
Star Wars
!
8662 (40.2%)
Lord of the Rings
!
8267 (38.4%)
I like both equally!
3380 (15.7%)
I really like neither
1212 (5.6%)
A total of 21521 votes were collected.
EDITOR'S NOTE: OR ONE GUY WITH NOTHING BETTER TO DO THAN VOTE 21,521 TIMES.
SAD NEWS:
'Hulk' cast member Jack Colvin dies at 71
Actor Jack Colvin, best known for his role as tabloid reporter Jack McGee in the 1970s television series "The Incredible Hulk," has died. He was 71.
Colvin died Thursday in North Hollywood of complications following a stroke, said his longtime friend, actress Maaren Edvard, an instructor and administrator at Michael Chekhov Studio USA West, which was founded by Colvin.
"
Jack was, in every sense of the word, a consummate artist,"
Edvard said. "
He wrote, painted and read philosophy, but he always came back to acting."
Colvin appeared in numerous TV shows, including "The Rat Patrol," "Kojak," "The Six Million Dollar Man," "The Rockford Files," "Cagney and Lacey" and "Murder, She Wrote." He also had minor roles in several films, including "Scorpio" and "Rooster Cogburn.
WHEDONING:
Joss Whedon talks Serenity 2

If I were a betting man, I'd say the sequel to "Serenity" will most likely be direct-to-DVD. But, if I were a man of faith, I'd also be collapsing on my knees, bringing the hands together and praying to the high heavens that we get (at least) one more cinema excursion of the crew.
EDITOR'S NOTE: YEP. ON ALL COUNTS. MORE MORE MORE!
Whatever-will-be-will-be I guess – and as Whedon says, nothing will be decided until the monkeys tally up the returns from the forthcoming "Serenity" DVD – but regardless, Whedon has some ideas for the sequel.
EDITOR'S NOTE: IT WAS ALL CARLIE'S DREAM AND PREACHER AND ALAN TUDYK'S CHARACTER'S ARE BOTH ALIVE? (SNIFFLE)
Though he didn't go into specifics, Whedon tells
moviesonline.ca
that there's a couple of characters he'd like to revisit : Jubal Early, the bounty hunter in the final episode of "Firefly", and Shepherd Book, who only had a small part in "Serenity".
Whedon says that Early's still around ("I know he survived") and that he's keen to use the character again because "I love that character".
EDITOR'S NOTE: YEAH. HE WAS VERY WEIRD AND WONDERFUL.
He says he might also "one day tell" Book's back-story.
EDITOR'S NOTE: YES
PLEASE.
So is the big man disappointed that "Serenity" didn't set alight the box office?
"
It wasn't a horrible bomb. Yes it did struggle. It's a question of how do you market a film that doesn't have any stars. Or a film that's just not one thing, that is generally diverse. Ultimately, I'm enormously surprised that people came out and saw it. That's what matters".
A LITTLE TREK'ING:
Bryan Singer's Star Trek?
If there's one man that might be able to breath lungs into the dying corpse of "Star Trek" it's blockbuster boy Bryan Singer.
The "Superman" and "X-Men" helmer tells
Sci Fi Wire
that he's very keen on filling the Enterprise tank up and give it a spin around the Nexus.
"
We're huge Trekkies. And we've always talked about what we would do, and what would I do, if I were to make a film in that universe",
says Singer.
EDITOR'S NOTE: GOOD LUCK GETTING ANY OF THE KEEPERS OF THE TREK FLAME (OR RATHER, THE DOUSERS OF THE TREK EMBERS) TO LISTEN TO ANYONE'S DECENT IDEAS. THEY SEEM RATHER SET ON DRIVING THE SHIP RIGHT INTO THAT ICEBERG DESPITE MANY OFFERS OF BETTER PILOTING.
"
Again, you know, it's the same thing: X-Men, Superman, Logan's Run, all these things: There are these incredible universes, really,
" Singer said, adding: "
You kind of wish you could play in them all. I mean, I got to do a cameo in the la
st Star Trek film; that was a thrill. I got to be on the Enterprise when it was under attack."
As for what he would do in his version of a Star Trek movie?
"[That's] a longer story
," he said.
"It would involve ... it would be big. It would be very big."
EDITOR'S NOTE: NOT THAT SIZE MATTERS. AND THAT'S WHAT THEY

ALL

SAY.
Meanwhile, some good news for those who loathed the idea of the next "Trek" movie being a prequel.
According to Patrick Stewart, that's no longer the plan. According to him, you'll indeed see Jean Luc-Picard and the cast of "The Next Generation" back on the holodeck.
"
About four months ago at a meeting in Los Angeles the subject was raised quite seriously from a very interesting point of view. I have been saying for four years now that it's over. No fantasies about it coming back, the space suits have been hung up for good. But there are weighty people in Hollywood who are very interested in one more run around the holodeck. There are serious plans. I was told this may happen two or three years down the road, by which time I'll be able to sit again in the captain's chair, but then again, it's not all that far away and if I'm in good shape I'd love to do it",
he tells teletext.
AND A FEW COMPLETELY RANDOM ITEMS:
TOYOTA VEHICLES TO BE INTEGRATED INTO FOX'S '24'
Series Has Previously Been Closely Identified With Ford
LOS ANGELES (AdAge.com) -- The Fox network's conspiracy thriller "24," which has been closely identified with Ford Motor Co. vehicles, will get its first Toyota brand integrations in the upcoming fifth season of the show.
The deal kicks off with a mini-movie attached to the DVD release of the program's fouth season. The 10-minute piece, co-created by Toyota Motor Corp. and the producers of "24," will be exclusive to the DVD set. A making-of special, which shows how the mini-movie was filmed, is airing on the Fox Movie Channel.
Car chase
The short film is intended to bridge the gap between season four and season five, which launches early next year. It revolves around a car chase with the lead character, Jack Bauer, played by Keifer Sutherland, behind the wheel of a Toyota Avalon. A Prius also makes an appearance in the mini-movie.
EDITOR'S NOTE: HOPEFULLY NOT AS JACK BAUER'S GETAWAY VEHICLE. (THE PRIUS IS A GREAT CAR, BUT WOULDN'T BE MY SPEEDY-ESCAPE CAR OF CHOICE)
Loyal "24" fans are rabid for extra content, especially exclusive bits that tell the back story or give clues to the show's twisting plot, said Rob Donnell, president of brand entertainment firm Brand Arc, which represents Toyota. They're upscale viewers who watch the content closely, making them good targets for the marketer, he said.
Toyota wanted to do more than just embed its cars into the show, working with the producers to come up with new content that moves the story along. "
We wanted a fresh way to get involved with the show,"
Mr. Donnell said. "
This is a short film that really shows off the cars."
Avalon sedan
The mini-movie portrays the midsize Avalon sedan as an easily maneuvered car, a brand attribute that the marketer stresses in its advertising of the model.
Toyota has stepped up its brand integration activity, said Mark Simmons, the marketer's national manager of advertising strategy and media, with a focus on TV. Various models have popped up on "Six Feet Under," "The O.C." and "Three Wishes." Such deals will be increasingly important as Toyota rolls out a number of new models in '06, he said.
The Fox series works well because it has a "
passionate, loyal fan base that's very attentive to what goes on in the show
," Mr. Simmons said.
Mr. Donnell said it is not yet decided how many episodes will feature Toyota models. Toyota will not be the exclusive car partner for the drama, and Ford likely will continue to supply vehicles for product placement. American-made sedans and sports utility vehicles make particularly good choices for government cars, which abound in the critically-acclaimed series.
Ford F-150
Ford's F-150 truck and other models have been closely associated with "24" in past seasons and Ford sponsored a commercial-free premiere of the show in fall 2003. The truck was featured in much of the on-air promotion surrounding the series.
It's Billi, SIR BILLI for Connery
Actor Sean Connery is teaming up with Glasgow Animation to produce a 3D CGI animated short film entitled SIR BILLI THE VET. Connery will lend his voice to the film.
The story centers on an eccentric veterinarian working in a remote Scottish village.
Connery joins a voice cast that already includes Alan Cumming, Miriam Margolyes, Richard Briers, Ruby Wax, Barbara Rafferty, Alex Norton, Gail Porter and Scottish comedian Ford Kiernan
EDITOR'S NOTE: EVERY TIME I READ ONE OF THESE VOICE-CAST LISTINGS, IT MAKES ME WISH THEY WERE CAST IN SOMETING TOGETHER NON-ANIMATED. I REALIZE THE APPEAL TO THE ACTORS IS THAT THEY

ARE

ANIMATION AND THUS CAN BE PERFORMED IN A BATHROBE SANS MAKEUP AND HAIR (IN CONNERY'S CASE, HAIR-

PIECE

). STILL...THESE CARTOONS GET THE BEST MIX OF FOLKS, HUH?!
USPS Announces Super Hero Stamps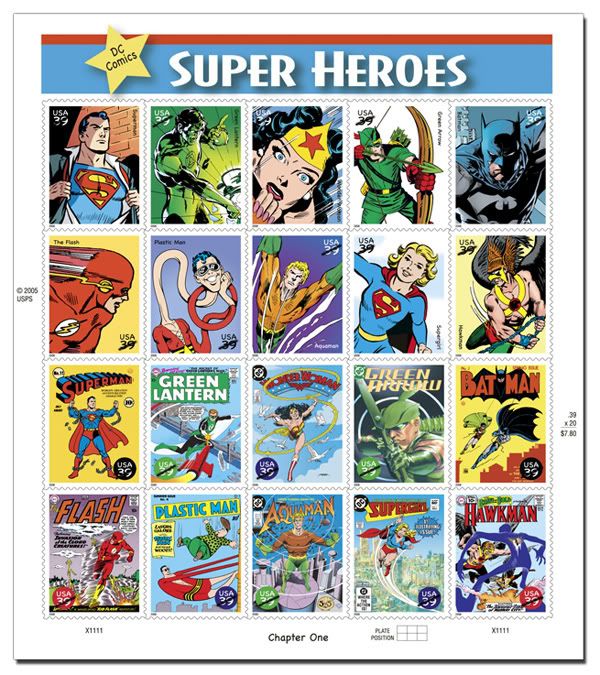 The United States Postal Service has unveiled their 2006 Commemorative Stamps. One of the sets will honor super heroes. This is the first stamp pane (20 stamps) honoring comic book super heroes to be issued by the Postal Service.
Half of the stamps on the DC Comics Super Heroes pane show portraits of characters; the others show covers of individual comic books devoted to their exploits. Beginning with the classic covers, a separate paragraph below briefly comments on each stamp.
Ever since Superman was introduced to readers in 1938, super heroes have been nearly synonymous with the comic book medium. Their fantastic adventures provide an escape from the everyday while simultaneously encouraging readers to feel that individuals can make a difference.
DC Covers

Plastic Man #4 Summer 1946
Art by Jack Cole Cartoonist Jack Cole flexed his creative muscles with the always pliable, ever-reliable Plastic Man, who debuted in August 1941. Cole enjoyed a 15-year stretch experimenting with fun, unique story twists and graphics for his expandable protagonist and stout sidekick, Woozy Winks.
Batman #1 Spring 1940
Art by Bob Kane Batman made his debut in Detective Comics #27 in May 1939 before swinging into action - with Robin, the Boy Wonder, by his side - with his own title series in the spring of 1940. The Dark Knight's distinguishing characteristics were intellect, skill and grim determination.
EDITOR'S NOTE: NOT TO MENTION THAT BOY-WONDER-BY-HIS-SIDE THING....AHEM.....

The Brave And The Bold #36 June/July 1961
Art by Joe Kubert Hawkman returned in 1960, a reincarnated hero from the earlier "Golden Age" of comics. The new Winged Wonder and his spouse Hawkgirl were intergalactic police officers from a distant planet, meting out justice to the villains terrorizing Midway City. (Editor's note: The Golden Age of Comics took place from the late 1930s to the early 1950s.)
Green Lantern #4 Jan./Feb. 1961
Art by Gil Kane & Joe Giella As readers entered the Space Age, so did comics. Ace test pilot Hal Jordan took flight as Green Lantern, a galactic peace officer with an emerald power ring that could create virtually anything. Willpower and fearlessness marked Jordan as a hero for the times.
The Flash #111 Feb./Mar. 1960
Art by Carmine Infantino & Joe Giella The Flash is capable of moving at speeds so great he can make himself invisible or travel through time and between dimensions. His fast-paced adventures highlight pseudo-science while pitting the hero against an extensive "Rogues' Gallery" of villains.
Wonder Woman #22 (2nd series) Nov. 1988
Art by George Pérez As a worldwide ambassador of peace, Wonder Woman soared to new heights in the late 1980s. The character returned to her roots as an Amazon warrior from Paradise Island, land of heroic women. Her special powers were gifts from the Olympians.
EDITOR'S NOTE: AND WONDERBRA.

Aquaman #5 (of 5) Oct. 1989
Art by Curt Swan & Al Vey Aquaman defends both land and sea with great strength, speed, and the ability to communicate telepathically with all marine life. His ultimate goal is to help both realms put aside their natural prejudices and unite in peaceful coexistence.
EDITOR'S NOTE: GOOD LUCK WITH THAT.

The Daring New Adventures of Supergirl #1 Nov. 1982
Art by Rich Buckler & Dick Giordano Moments before the destruction of Argo City, Kara Zor-El was rocketed to Earth and reunited with her cousin Kal-El, the hero known throughout the galaxy as Superman. Developing incredible powers and abilities, Kara chose to follow her cousin's example and fight for good.
EDITOR'S NOTE: BUT MOSTLY BECAUSE SHE LIKED THE CUTE LITTLE OUTFIT.

Superman #11 July/Aug. 1941
Art by Fred Ray Destiny brought the infant Kal-El from Planet Krypton to Smallville, USA, where he was raised by kindly farmers. Though gifted with extraordinary powers, Kal-El - now Clark Kent - expresses true strength in the compassion and moral responsibility he displays in the guise of Superman.
Green Arrow #15 Sept. 2002
Art by Matt Wagner Trapped on a deserted island, billionaire playboy Oliver Queen learned to hunt with a bow and arrow. He escaped and became Green Arrow, a modern-day Robin Hood who uses his unparalleled skill as an archer on behalf of the underprivileged.
EDITOR'S NOTE: WHO, COMPLETELY UNIMPRESSED WITH THAT WHOLE BOW-AND-ARROW THING, END UP SHOOTING HIM WITH A AK47.

Character Shots

Batman Art
by Jim Lee & Scott Williams After the brutal murder of his parents, young Bruce Wayne mastered nearly every known form of combat and employed his vast wealth to equip himself with the tools essential to his crime-fighting crusade as Gotham City's Dark Knight, Batman.
Wonder Woman Art
by Ross Andru & Mike Esposito Wonder Woman has been an iconic inspiration for countless women since her debut in All Star Comics #8 in December 1941. The most recognizable female character in comics, created by William Moulton Marston, remains a figure of strength, beauty and courage.
Plastic Man Art
by Dick Giordano Eel O'Brian was a small-time gangster before an accident at a chemical plant gave him the uncanny ability to stretch and alter his shape at will. Renouncing his criminal past, O'Brian became Plastic Man, the longest arm of the law.
Superman Art
by Curt Swan & Sheldon Moldoff Ever since his debut in the pages of Action Comics #1 (June 1938), the Superman character created by Jerry Siegel and Joe Shuster has been an icon. The big red "S" on his shirt is among the most recognized symbols in American pop culture.
Green Lantern Art
by Neal Adams In 1970, writer Dennis O'Neil and artist Neal Adams launched a new era of relevance in comics, crafting stories in which the Green Lantern-accompanied by his friend, Green Arrow-addressed important issues then considered taboo for the typical "comic book."
The Flash Art
by Carmine Infantino & Murphy Anderson An explosive mixture of lightning and laboratory chemicals endowed police scientist Barry Allen with superhuman speed, transforming him into the "Silver Age" Flash, the Fastest Man Alive. The Scarlet Speedster was first set into motion in Showcase #4 (September/October 1956). (Editor's note: the Silver Age of Comics, from the mid-1950s to the early 1970s, reflected a period of artistic advancement and commercial success in mainstream comic books.)
Aquaman Art
by Jim Aparo The memories of Aquaman's personal tragedies run deep after he loses his son, his wife, and his monarchy. Nevertheless, the former King of the Seven Seas remains determined to protect both the Atlanteans and surface dwellers from those who endanger them.
Hawkman Art
by Murphy Anderson Powered by the mysterious "Nth metal" in his artificial wings, Hawkman soars through the sky above Midway City. When grounding the city's worst predators, the Winged Wonder relies on his mastery of Earth's ancient weapons, among them his mace and shield.
Supergirl Art
by Curt Swan & Stan Kaye An impressionable teenager when she first arrived on Earth, Supergirl operated as her cousin Superman's "secret weapon" while adjusting to life on her new planet. Eventually, her existence was revealed to the world, which welcomed the Girl of Steel with open arms.
Green Arrow Art
by Jack Kirby & Mike Royer Green Arrow made his debut in More Fun Comics #73 (November 1941). Since then, the Emerald Archer's most notable escapades were in stories drawn by legendary comics creator Jack Kirby in Adventure Comics #250-256 and World's Finest Comics #96-99 (spanning 1958-1959).