Closing out the Week - A few more TELEVISION items
EDITOR'S NOTE: FIRST UP, NEWS THAT MAKES MY HEART HAPPY.
Serenity 2 going straight to TV?
Sounds like there's enough spacedust to sprinkle on the wonky old galactic transporter yet.
Despite some disappointing box office figures – it didn't do too bad, but disappointing performances in some countries led to others cancelling its theatrical outing altogether – the brilliant "Serenity" looks set to spawn a sequel.
That's the good news. The bad news? It won't be in 35mm.
EDITOR'S NOTE: WHO CARES!? WE GET MORE. THAT'S ALL THAT MATTERS!
According to
IGN FilmForce
, Joss Whedon's space-serial might continue as a telemovie series, with "Serenity 2" going straight to the tube – the SciFi Channel, in fact. The SciFi Channel is part of the NBC Universal family.
EDITOR'S NOTE: WHY WOULD THE SCIFI CHANNEL PLAY IT? I MEAN, IT'S KINDA, WELL....

SCIENCE FICTION

. DO THEY PLAY THAT NOW ON SCIFI?
NO. I'M NEVER GETTING PAST IT. NEVER NEVER NEVER.
Though Joss Whedon's camp – that's his camp, not the man himself…yet – has denied that a plan for a lower-budget telemovie sequel is in the works, it's still possible that there is something simmering away here.
And yes folks, they would have to have Whedon's approval if they were to do it, even if he didn't helm it.
EDITOR'S NOTE: OK. STILL SOUNDS A LITTLE TOO AMORPHOUS AND UP-IN-THE-AIR FOR MY TASTE. LET'S MAKE THIS HAPPEN, PEOPLE!
TNT Will Give You NIGHTMARES
TNT has announced it will air NIGHTMARES & DREAMSCAPES: FROM THE STORIES OF STEPHEN KING next summer.
The eight-hour series will star William H. Macy, Kim Delaney, William Hurt, McKenzie, Samantha Mathis, Jeremy Sisto, Ron Livingston, Henry Thomas, Tom Berenger and Marsha Mason. Directors for the installments include Rob Bowman, Mike Robe, Mikael Salomon, Sergio Mimica-Gezzan and Brian Henson.
EDITOR'S NOTE: WOW. GREAT CAST, GREAT DIRECTORS. DESPITE THE FACT THAT I FEEL LIKE WE MIGHT HAVE BEEN BEATEN WITH THE STEPHEN KING STICK ONCE TOO OFTEN, THIS PROJECT'S PEDIGREE IS TOO GOOD TO NOT PAY ATTENTION. (
PLUS, IT'LL AIR IN THE SUMMER, AND WHAT ELSE WILL WE WATCH, IF NOT THIS
?)
The collection of short stories was first published in October 1993.
Parks Expands COMFORTS for BBC America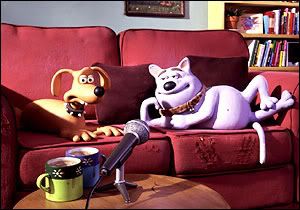 Nick Park and his Aardman Studios has expanded the concept of his 1989 short film CREATURE COMFORTS (1990) into nine 30-minute episodes for BBC America.
EDITOR'S NOTE: STARTING

TONIGHT,

I BELIEVE!
The opener short, along with two other segments, will kick off the series, which will feature stop-motion critters pigs, alligators, dogs, monkeys, birds, etc. Sea lions will speak out against liposuction, a horse explains that he sleeps alone because of a flatulence problem, and so on.
For the series the animators asked members of the public their opinions about everything from aliens to holidays and then put their answers into the mouths of animated animals.
Parks said in an interview,
"I have had this project in mind for a few years now. CREATURE COMFORTS was one of the first films I made and, upon reflection, I feel that it was never fully explored. There is a whole world outside the zoo to explore and empathise with; there are many parallels between humans and animals all around us."
EDITOR'S NOTE: EXCEPT OF COURSE THAT THEY ARE BY AND LARGE

SMARTER

THAN WE ARE.