Some STAR WARS odds-n-ends
EDITOR'S NOTE: I'M JUST NOT IN THE MOOD TO BE TOO TERRIBLY ORGANIZED. SO....RANDOMNESS FROM THE STAR WARS UNIVERSE ----
LEGO STAR WARS: REVENGE OF THE BRICK
Animated Movie Got TV Premiere and Drove Kids to Web Site

NEW YORK (AdAge.com) -- The final film in the second Star Wars trilogy was a major event and many brands had promotions tied to the tale of Anakin Skywalker's transformation into Darth Vader.
To coincide with the launch of "Star Wars: Revenge of the Sith," Lego created a range of models and building sets. Merchandising and product sales tied to the movie were estimated to be worth around $1.5 billion, so Lego needed to ensure its products stood out.
It created an animated movie, "Lego Star Wars: Revenge of the Brick," to act as the hub of an online presence that would enable children to get involved in the brand's Star Wars Universe and make sure it got its fair share of merchandise sales.
The clever part of the campaign was to leverage this content to gain the best possible media value for the brand, as well as coordinating the movie's release across a region that included media markets as diverse as U.K., France, Spain, Hungary and Sweden.
Carat worked with Jetix -- a pan-European children's channel -- to treat the film as a premier in its own right with a movie trailer broadcast on Jetix to build excitement for the actual release of the film in the two weeks leading up to its screening.
The film was broadcast in children's prime-time on Saturday, May 14, with a Sunday re-run across all 11 markets. It was edited to end on a cliffhanger, with the full ending available only online.
The central strategy was built on by local markets with extra activity in-store, using PR as well as TV and print advertising.
The site attracted more than 100,000 unique users and there were nearly 32,000 competition entries.
EDITOR'S NOTE: YES, BUT DID IT MAKE EVERYONE HAPPY??!!! (THAT'S THE AD BIZ THESE DAYS....ALL NUMBERS, NO HEART).

Thanks to the DVD release of Episode III, viewers have been able to see more of Bail Organa in his historic role as co-architect of the Rebel Alliance. Though his part in Episode III's theatrical cut is substantive -- being the adoptive father of Leia and Yoda's getaway speeder driver are nothing to be balked at -- there was originally more Bail in Revenge of the Sith.
EDITOR'S NOTE:MORE JIMMY SMITS...ALMOST ALWAYS A GOOD THING.

The demands of the personal tragedy of Anakin Skywalker meant that the political tragedy of the Republic ended up considerably trimmed. "

I knew going in that this politician would go through some transformation,"

says Jimmy Smits, reflecting on his role. "

This character has scenes that have that political tenor, but he's much more conspiratorial and suspicious and wanting to be more active."



The politics behind Imperial ascension is a story told many times throughout history, and writer George Lucas distills many real world precedents in Palpatine's rise, particularly events in ancient Rome. Though the Republic backroom politics were largely edited out of Episode III, their impact can still be felt in the movie, says Smits.

"

George is really quite eloquent about the whole demise, about how you start as a Republic, and without the proper checks and balances, total power can corrupt totally,"

Smits says. "

Those are chords that run deep in the film without hammering in that this is a philosophical point."



Helping Smits get into the role of Organa were such accomplices as the intricate wardrobe of the character, and the exotic and varied colleagues he surrounds himself with.



"Trisha Biggar is incredible, what she has done with all the costumes. They make you feel regal and noble, walking around in them. It totally puts you into what that character is supposed to be,"

he says. "

Also, you're working with this international cast. You have accents from different places, which is what you'd find in another universe with all these characters from different worlds. All of that comes together."



Bail Organa -- Viceroy of the Royal House of Alderaan, father of Princess Leia, founder of the Rebellion -- these are the makings of a very important character in the Star Wars mythos. But to Smits, the role's significance was far closer to home and heart.

"
To be involved in something that I saw as a young person, in terms of watching the films, and having my children see the subsequent Star Wars films, was really cool for me."

EDITOR'S NOTE: A HANDSOME DWEEB. YUMMY. (AND ALL I REALLY WANT FOR CHRISTMAS, ACTUALLY)
Obey Vader: Shepard Fairey Print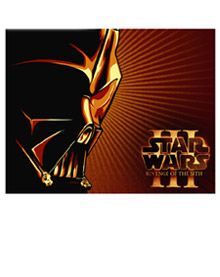 EDITOR'S NOTE: VERY COOL PIC. PITY I'M RUNNING OUT OF WALL SPACE.
Our Price: $11.99
Initially only available to Best Buy Reward Zone members when purchasing the Ep III DVD
Created by the well-known artist, Shepard Fairey
Very limited quantities available
Measures 14" x 11"
In Stock Now

Give any Star Wars art collection a shot of street cred with this unique portrait of Darth Vader created by underground "Obey Giant" artist Shepard Fairey. To celebrate the DVD release of Star Wars: Episode III Revenge of the Sith, Fairey designed a one-of-a-kind print initially available only to Best Buy Reward Zone members. Now, this amazing piece is available to you here!
Originally made infamous for plastering abandoned city buildings with 8-foot-high wheat paste posters and expansive sticker bomb tributes to the late professional wrestling legend Andre the Giant, Fairey has a knack for giving pop culture icons the proper hipster treatment.
Since then, Fairey and his design firm have created unique posters and designs for such clients as Black-Eyed Peas, Red Bull, Levi's, among others.
The Vader poster print designed by Fairey measures 14" x 11" and features Darth Vader with subtle accents of the legendary Andre the Giant Obey logo patterned throughout the background.
EDITOR'S NOTE: PURTY DARNED COOL!
MORE ADVERTISING....BELIEVE IT OR NOT, IT'S ALMOST TIME TO TALK OSCARS (EEK)! -----
For Your Consideration Episode III Ads


As the year winds down, the motion picture industry takes stock of the acclaimed movies produced over the previous 12 months.
With an eye towards next year's announcement of Academy Award nominees, studios often take out captivating full-page advertisements in trade publications to remind Academy voters of cinematic achievements worth considering.
EDITOR'S NOTE: SORT OF AN ADVERTISING NUDGE.
Lucasfilm has begun placing "For Your Consideration" ads for Star Wars: Episode III Revenge of the Sith.
Here is a sampling of ads, highlighting the contributions of the cast and crew of the final Star Wars movie. They will appear in trade publications such as Variety, Hollywood Reporter, and Cinefex.
Some ads cover multiple categories, but the accomplishments in four categories have been singled out with individual ads:
Best Costume Design (Trisha Biggar), Best Visual Effects (John Knoll, Roger Guyett, Rob Coleman and Brian Gernand), Best Makeup (Dave Elsey, Lou Elsey and Nikki Gooley) and Best Supporting Actor (Ian McDiarmid).

Next week, Hollywood Reporter will feature a five-page For Your Consideration ad that begins with an imposing full-page image of Darth Vader, complete with voice chip that recreates the eerie rasping breathing sound of the Dark Lord.

EDITOR'S NOTE: MUST HAVE MUST HAVE MUST HAVE! (IMAGINE EATING YOUR WHEATIES. YOU HAVEN'T HAD A FULL CUP OF COFFEE YET. AND SUDDENLY, YOUR NEWSPAPER STARTS RASPING AT YOU. THANK GOODNESS FOR SPRAY-N-WASH, HUH?!)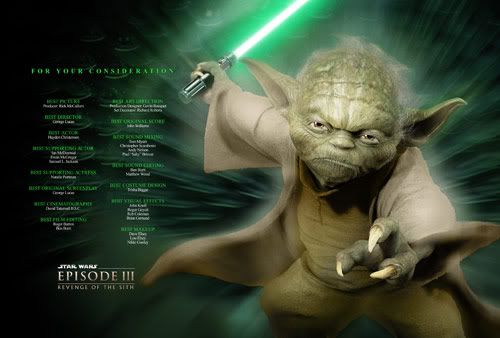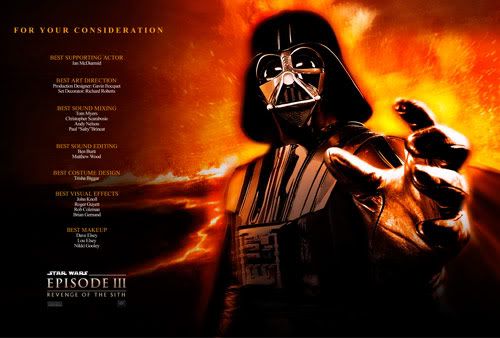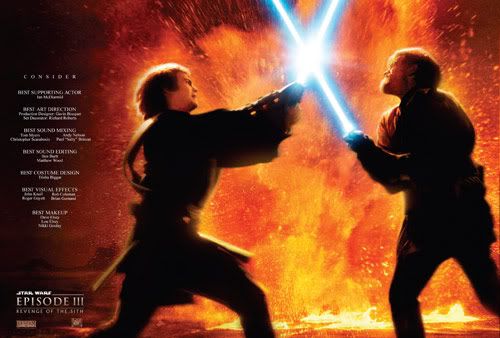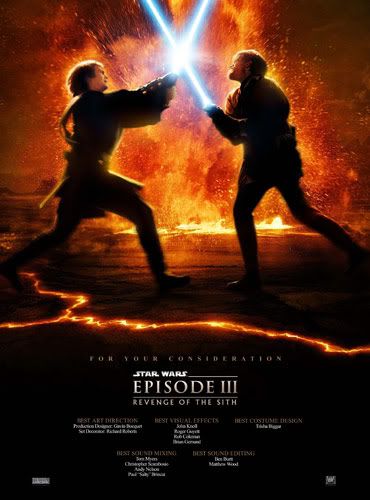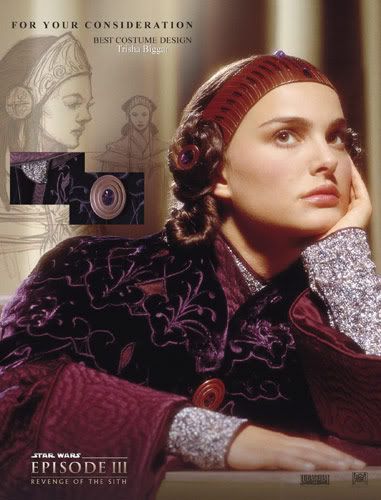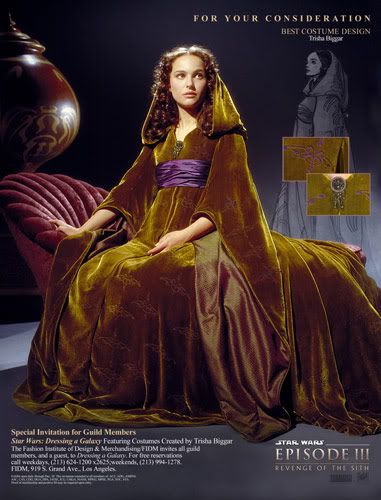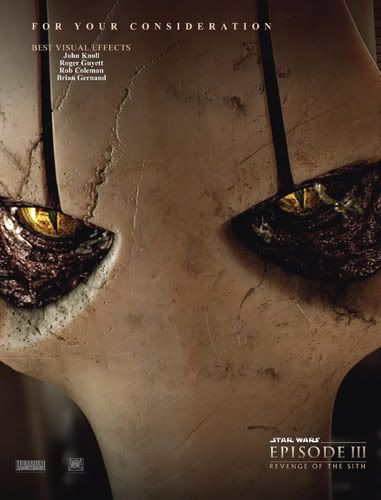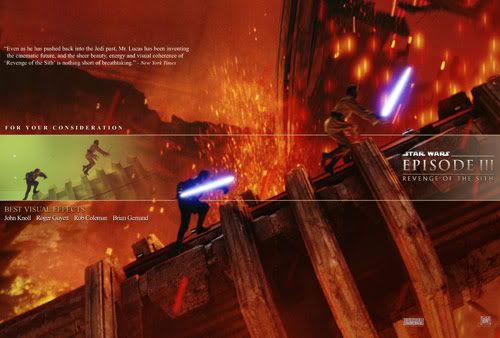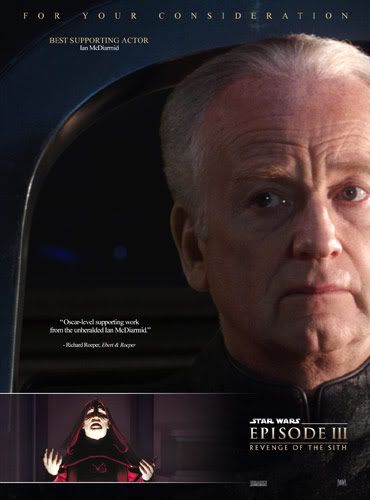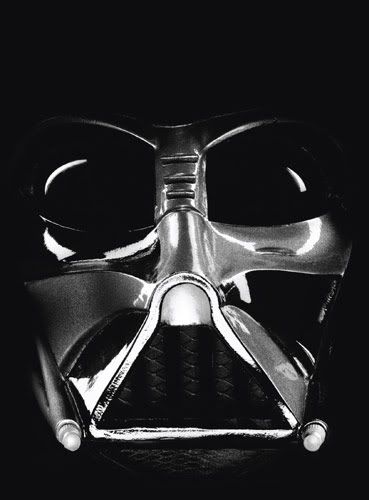 EDITOR'S NOTE: WHETHER OR NOT YOU WANT THE MOVIE TO GET OSCAR NOMINATIONS, YOU'VE GOT TO ADMIT THE PUBLICITY DEPARTMENT AT LUCASFILM KNOWS HOW TO KNOCK OUT VERY WONDERFUL PICS, HUH?! THIS LAST ONE IS MY FAVORITE. GORGEOUS!



Check your local newsstand that carries the Hollywood Reporter on December 13th.

EDITOR'S NOTE: TRYING TO SCORE THIS SECTION FROM AN L.A. FRIEND. (ANYONE KNOW WHERE ELSE I MIGHT FIND IT?)



For Your Consideration
Best Picture: Producer: Rick McCallum
Best Director: George Lucas
Best Actor: Hayden Christensen
Best Supporting Actor: Ian McDiarmid; Ewan McGregor; Samuel L. Jackson
Best Supporting Actress: Natalie Portman
Best Original Screenplay: George Lucas
Best Cinematography: David Tattersall, B.S.C.
Best Film Editing: Roger Barton, Ben Burtt
Best Art Direction: Production Designer: Gavin Bocquet, Set Decorator: Richard Roberts
Best Original Score: John Williams
Best Sound Mixing: Tom Myers, Christopher Scarabosio, Andy Nelson, Paul "Salty" Brincat
Best Sound Editing: Ben Burtt, Matthew Wood
Best Costume Design: Trisha Biggar
Best Visual Effects: John Knoll, Roger Guyett, Rob Coleman, Brian Gernand
Best Makeup: Dave Elsey, Lou Elsey, Nikki Gooley
EDITOR'S NOTE: GOOD LUCK WITH THESE, UNCLE G.
I MEAN, I CAN'T IMAGINE SHORT OF HECK FREEZING OVER THE 'INDUSTRY' GIVING MUCH OF ANY PROPS TO ANYTHING STAR WARS. (AND NO, I DON'T REALLY THINK IT SHOULD GET A SCREENWRITING NOM).
BUT MCDIARMID AND MCGREGOR SHOULD

DEFINITELY

BE CONSIDERED.
AND THE MOVIE

ITSELF

SHOULD SURELY BE NOMINATED....A) BECAUSE IT'S A WONDERFUL MOVIE (IMHO) AND B) BECAUSE OF THE SAGA AND ITS IMPORT.
AND THEN OF COURSE ALL THE TECH AND COSTUME STUFF SHOULD DEFINITELY GET A NOD, AS SHOULD JOHN WILLIAMS.
NOT THAT ANYONE ASKED ME.....MORE IS THE PITY.