Star Wars SHOPPING
EDITOR'S NOTE: ALTHOUGH BRINGING OFFERINGS TO THE QOTD IS ACCEPTABLE....YAY,

ENCOURAGED

...YEAR-ROUND,

THIS

TIME OF YEAR IT IS

ESPECIALLY

NICE TO PAY HOMAGE WITH GIFTIES.
FYI, FOR THOSE OF YOU WONDERING ABOUT THE PROTOCOL ON THESE THINGS.........
Exclusive 9-Feet Tall Inflatable Darth Vader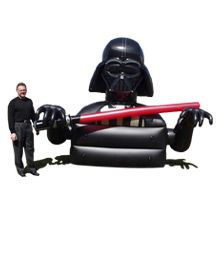 Our Price: $499.99
Measures 9-feet in heightIncludes full set-up instructions and foot operated air pump
Very limited quantities available
For fans and collectors who like to make a big impact with their Star Wars collection, StarWarsShop has got the ultimate Sith exclusive for you.
StarWarsShop has arranged to be the exclusive distributor of Burger King's limited remainder of enormous inflatable Darth Vader displays -- the same giant Vaders that were used on rooftops of BK restaurants participating in their extremely successful Episode III summer promotion.
Just think of all the ways to display your inflatable Vader -- how about a headboard for your bed, or behind your big-screen TV? It's also great for Star Wars party photo-ops, or for leering out over your apartment balcony on special occasions.
Darth measures 9 feet tall, and includes full set-up instructions. Foot-operated air pump is included.
This is an exclusive special order item. Once your order is placed a member of the StarWarsShop.com team will contact you to complete the order and make special shipping arrangements.
EDITOR'S NOTE: OOOO...SPECIAL SHIPPING ARRANGEMENTS. THEY USE THE

FORCE

, I BET!
JEDI Luke Skywalker - Regular Edition
Sideshow Collectibles has released images of the upcoming Jedi Luke Skywalker - Regular Edition action figure.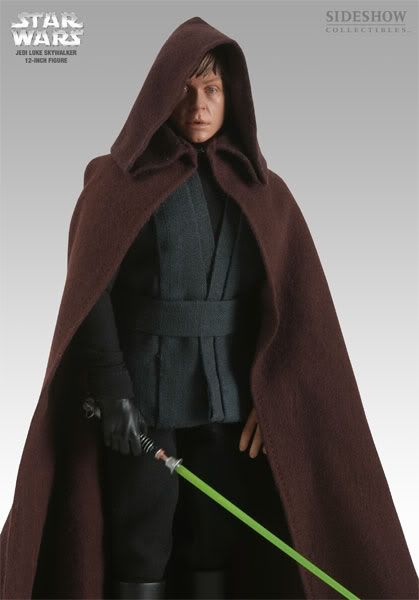 EDITOR'S NOTE:

GREAT

FACE SCULPT, EH?!
The 12-inch Jedi Luke figure includes:
• Authentic likeness of Mark Hamill as Luke Skywalker from Return of the Jedi
• Fully articulated 'short' male body with 30+ points of articulation
• Authentic costume includes the grey tunic, black shirt & pants, and boots
• Accessories include:
Hooded cloak
Detailed belt w/ lightsaber hook
Lightsaber hilt
Lightsaber hilt w/ ignited blade
Femur bone from Rancor battle
Multiple interchangeable hands, including: -Force Wield left hand -Gloved right hand -Blaster damaged right hand -Lightsaber grip left hand -Lightsaber grip right hand
The figure stands 12 inches high and will retail for $49.99.
EDITOR'S NOTE: YES. I COULD GO TO A BAAAAAD PLACE TALKING ABOUT 12 INCHES OF MARK HAMILL. BUT I WON'T. NOT ME. NO WAY.
AHEM.....
Star Wars Pewter Yoda Bottle Opener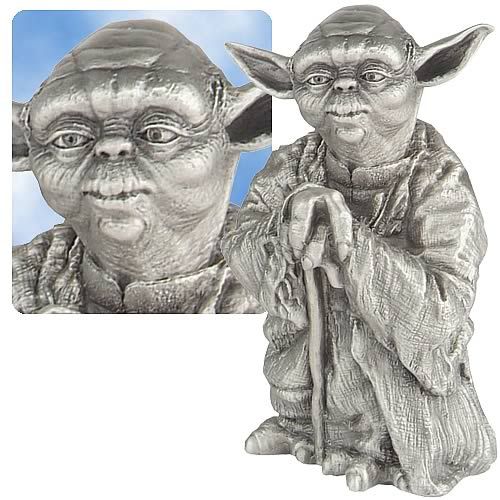 Estimated Arrival: January 2006(subject to change)
Price: $64.99
Star Wars Pewter Darth Vader Corkscrew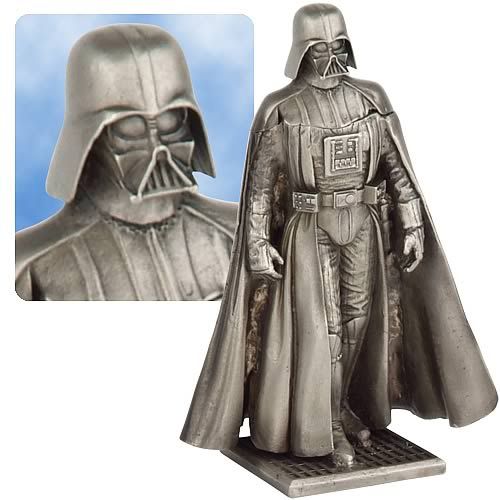 Estimated Arrival: January 2006(subject to change)
Price: $124.99
Star Wars Pewter R2-D2 Bottle Opener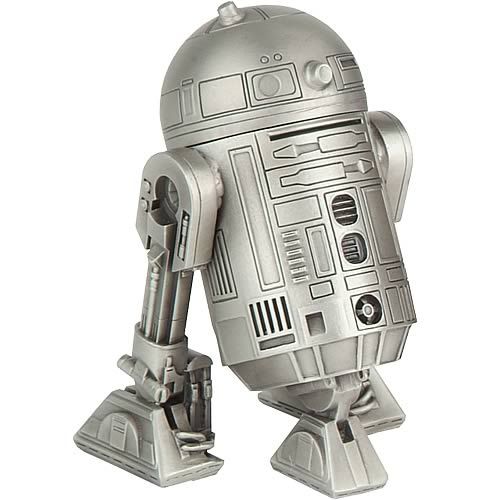 Estimated Arrival: January 2006(subject to change)
Price: $84.99

Star Wars Pewter C-3PO Foil Cutter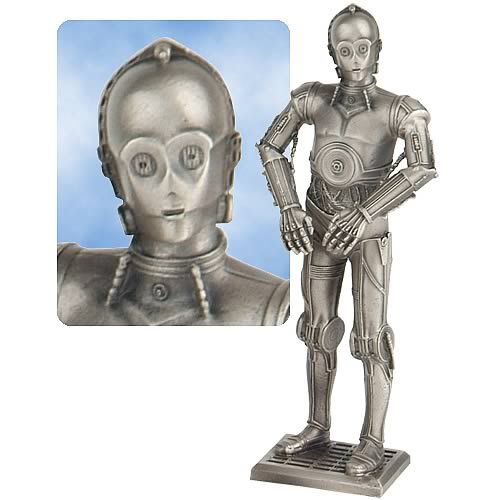 Estimated Arrival: January 2006(subject to change)
Price: $84.99
More Than Meets the Eye: Star Wars Transformers
The power of the Force meets the power of the Allspark with a new assortment of Star Wars vehicles from Hasbro that are actually robots in disguise. Star Wars Transformers combine the classic characters and vehicles from a galaxy far, far away and transforms them into mighty mechs with seamless Star Wars alt-modes. This first wave of unique crossover toys includes four 'bots, with a mix of good and evil to wage shapeshifting battles among your other Star Wars or Transformer toys. Each figure also comes with a miniature pilot.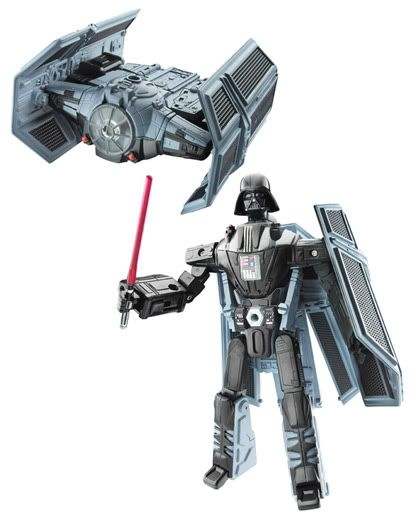 Darth Vader could give Megatron a run for his Energon when it comes to evil leadership, and he isn't likely to stomach dissention in his ranks -- Starscream would likely find himself the victim of a throat-crunching Force throttle. This mecha-fied Dark Lord transforms into his TIE Advanced x1 starfighter mode, and comes equipped with two lightsaber missiles that really fire.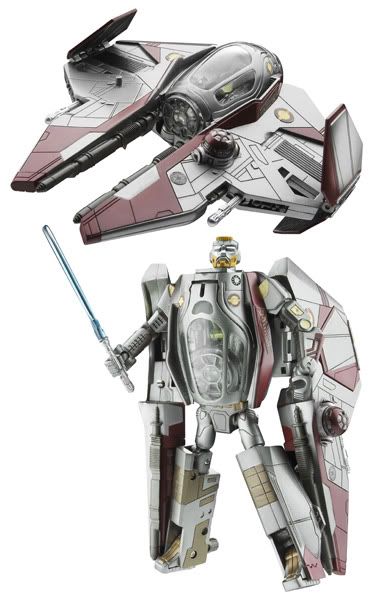 Obi-Wan Kenobi was never a fan of flying, but he better get used to it because now he's actually a Jedi starfighter. The Jedi Master transforms into the Episode III fighter design, and comes equipped with a lightsaber and two missiles that actually launch.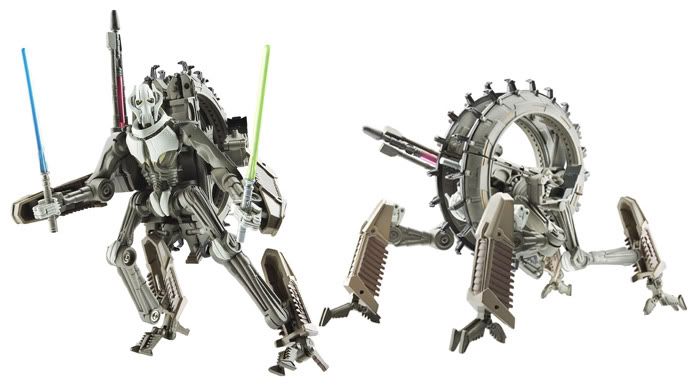 General Grievous has sowed enough metal-crunching mayhem to earn him a spot among the Decepticon ranks. Now, the evil Separatist leader can transform from robot to ground-tearing wheel bike and back, armed with twin lightsabers and a firing missile launcher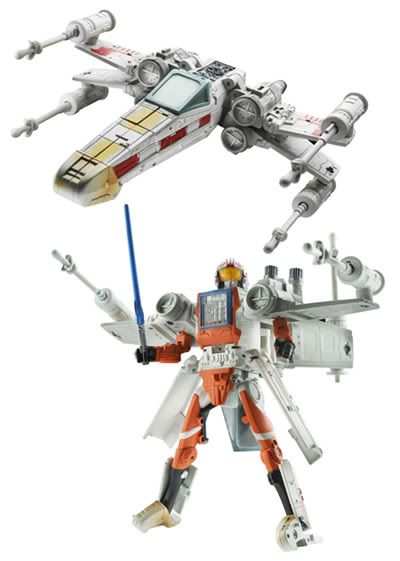 When the Death Star menace became the Rebel Alliance's darkest hour, Luke Skywalker had the touch to defeat the massive battle station by trusting the Force in his speedy X-wing fighter. This Transformers-incarnation of Luke twists and turns into an Incom T-65, complete with lightsaber and four firing missiles.
This first wave of Star Wars Transformers is expected to hit store shelves in January 2006. Keep checking starwars.com as well as Hasbro's official site for more information about these and other exciting new products. May the Force be with you... till all are one.
2006 Hasbro Preview: Battle of Geonosis
Following the Battle of Carkoon and Battle of Hoth, the third wave of Hasbro's Star Wars 2006 Saga Collection figures features characters from the Battle of Geonosis.
Each figure comes with a base and a randomly-selected bonus hologram figure.
EDITOR'S NOTE: OOOOO. AAAAAHHHH.
They will be available at retailers everywhere starting in early 2006.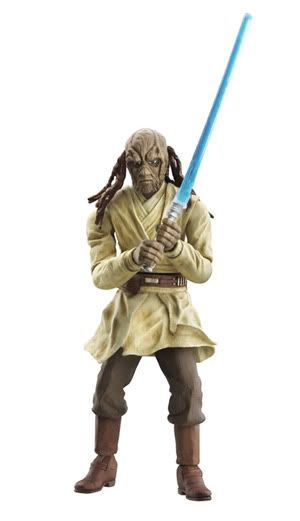 Sora Bulq. This fierce Weequay Jedi is part of the forces sent to Geonosis to save Anakin Skywalker, Obi-Wan Kenobi and Padmé Amidala from execution. Thanks to his Jedi skills, he helps to ensure that the mission is successful.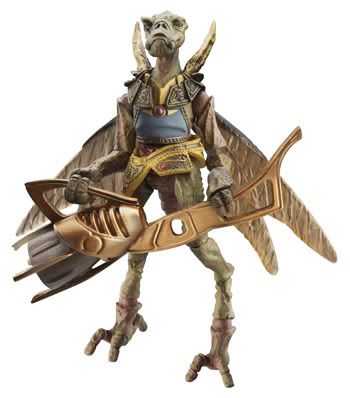 Sun Fac. Sun Fac believes that Anakin and Padmé are guilty of treason, and so agrees that they should be put to death for their crimes. But the captives and their Jedi friends have other plans. Includes
Geonosian blaster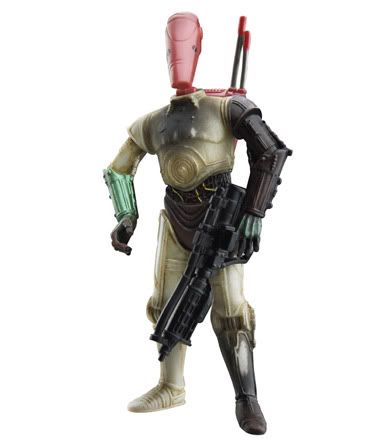 C-3PO
with Battle Droid Head.
EDITOR'S NOTE: SEEING THIS TOY REMINDS ME OF THE FEW THINGS I REALLY DIDN'T ENJOY ABOUT AOTC. (MUCH AS EVERY BIG BATTLE SEQUENCE NEEDS A KNOCK-OFF LAUREL & HARDY ROUTINE IN THE MIDDLE OF IT....)
R2-D2
is always getting C-3PO into trouble. Artoo pushes Threepio onto a conveyor belt at the massive
droid factory
on Geonosis, where his head is swapped with that of a
battle droid
. But Artoo makes it right by getting Threepio's proper head reattached.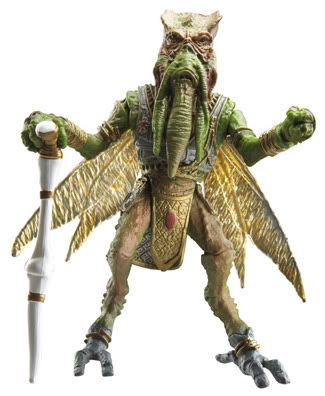 Poggle
the Lesser.

EDITOR'S NOTE: POOR POGGLE. HE DIED NEVER GRADUATING TO BECOME POGGLE THE GREATER. OR EVEN POGGLE THE ALMOST THERE.

This
Geonosian
sentences Anakin and Padmé to death for treason after they are caught trespassing in the
Separatists
' droid army factory. He orders their immediate execution, but little did he know that it would not go exactly as planned.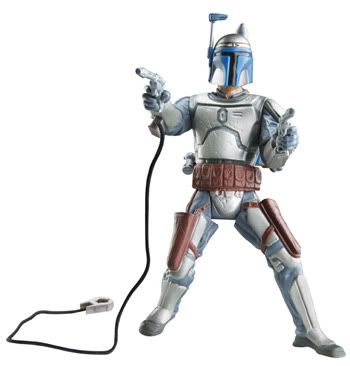 Jango Fett
.

EDITOR'S NOTE: CAUSE A GIRL JUST CAN'T HAVE TOO MANY JANGOS. (SOUNDS NAUGHTY, HUH?)

Jango Fett is commissioned by Lord Tyranus to be the template for a massive droid army being built in secret on
Kamino
. His extensive career as a bounty hunter is put to an end at the Battle of Geonosis at the hands of
Mace Windu
, leaving his one unaltered clone Boba to carry on the family bounty hunter tradition. Includes grappling hook and removable helmet.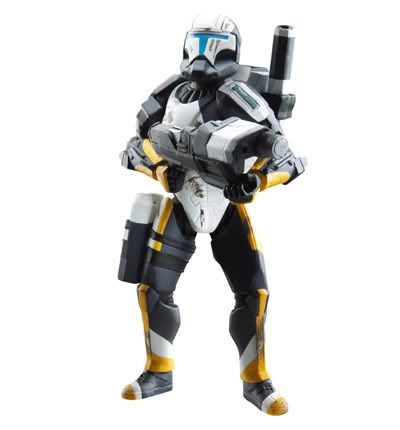 Scorch, Republic Commando. Scorch fights the droid army on Geonosis when the Republic's clone army is sent to rescue Anakin, Obi-Wan and Padmé. While he is a highly skilled explosives technician, accidents do happen -- such as the one in which he earned his nickname by scorching off his eyebrows!
EDITOR'S NOTE: PROVING ONCE AGAIN THAT, HUNKY THOUGH THEY MIGHT BE, CLONES SHOULD PICK THE NAMES.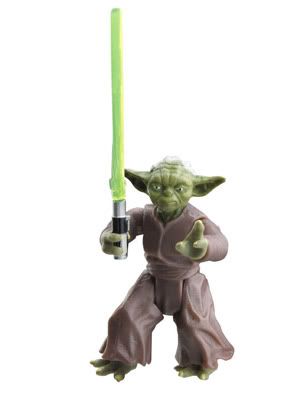 Yoda
. Yoda leads the Republic's newly-discovered clone army to Geonosis to stop the execution. He fights to save his friends first in the arena and then in the dark hangar bay where
Count Dooku
has defeated Obi-Wan and Anakin.
EDITOR'S NOTE: IS IT JUST ME, OR DOES THIS LOOK LIKE YODA IN HIS UNDIES? (JUST ME?)
AND FOR THOSE OF YOU WHO HAVEN'T GOTTEN OUT TO BK YET, RUN! THE PROMOTIONS/GIVE-AWAYS ARE JUST ABOUT DONE, AND THESE TOYS AND WATCHES ABSOLUTELY

ROCK

!
Back at Burger King: Episode III



Still reeling from the rush of all the Revenge of the Sith DVD hoopla and retailer exclusives?

Well, take a minute to catch your breath, then hightail it out to your local Burger King to get one of six Star Wars Destiny Watches or a free Super D character or vehicle with the purchase of a Kid's Meal!

As previously reported, 17 all new collector toys are being added to Burger King's popular Star Wars Super D line which launched last May. Starting today

EDITOR'S NOTE: THIS IS A REPRINT OF A BLOG ITEM FROM EARLY NOVEMBER, ACTUALLY.

, collectors can start adding these new characters and vehicles to the already expansive line, which now totals 48 toys in all!

True to the spirit of celebrating the Star Wars saga as a whole, Burger King is also offering a set of six Destiny Watches, each themed specifically to one chapter in the Star Wars saga and packaged in attractive embossed collector tins.

The Super D toys and Destiny Watches will make perfect stocking-stuffers for new fans or old, so make sure Burger King is first on your list of shopping destinations this holiday season.



Checklists


With all this information, it's sure easy to get confused.

To help you kleep track of what you have and what you need, Rebelscum reader Alex Pineda has created checklists for each of the promotions that you can download and print out.
EDITOR'S NOTE: BECAUSE ALEX LOVES US AND WANTS US TO BE HAPPY. (THESE CHECKLISTS HAVE PICTURES...WHICH I FOUND VERY HELPFUL WHEN ON-THE-HUNT AT BK LOCATIONS WITH NON-DWEEBS WORKING THE COUNTER)
· Super D Toys Checklist
http://www.rebelscum.com/BK/BK_%20DVD-Collection-list.doc
· Destiny Watches Checlist
http://www.rebelscum.com/BK/BK_Destiny-Watches-list.doc
.