Post-Rita Movie News
Buffy's pop is a Goner
If there's one guy who can keep his gob zipped ever so gracefully - unlike most artistes who, even against their PR's wishes, don't have a problem with spilling the beans on anything that'll adorn their name in the future - it's Joss Whedon. The mouse of the movies.
The "Serenity" director - starts next week by the way, and it's a wild, wild ride - has announced he'll be writing and directing a flickeroo called "Gone".
Based on his own script, the movie is the "
story of a young woman's journey that involves a great deal of horror and some heroics. It's certainly darker than 'Serenity,' and there are a lot of left turns along the way. It is something I had in mind for a while, and it just poured out of me when I finished my film."
"Goner" will again be man-handled by Universal Pictures, who have done a spankin-good job at spreading the word about "Serenity".
Also on Whedon's 'to do' list - "Wonder Woman", which he'll write and direct for Warner Bros, and a "Spike" telemovie, which will air on the WB.
Disney and Walden Build BRIDGE TO TERABITHIA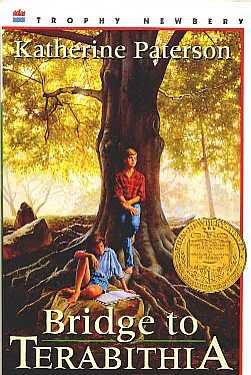 Walt Disney Pictures and Walden Media are teaming up to produce a film based on Katherine Paterson's BRIDGE TO TERABITHIA.
Walden acquired rights to the book over three years ago. After talks fell through with 20th Century Fox, Walden headed for Disney.
The story centers on an 11-year-old boy who befriends the class outsider, a tomboy. They find a sanctuary and create the imaginary world of Terabithia, a land with giants, trolls and other magical beings.
Gabor Csupo will direct from a script by Jeff Stockwell. Lauren Levine and David Paterson will produce.
Filming will begin in early 2006 in New Zealand.
EDITOR'S NOTE: CAUSE IN NEW ZEALAND THEY DON'T HAVE TO IMPORT THE GIANTS, TROLLS, AND OTHER MAGICAL BEINGS, SINCE THAT'S WHERE THEY LIVE.
They hope to have the film ready for a spring 2007 release.
Ann-Margret unwraps role in 'Santa 3'
Ann-Margret has joined the cast of Walt Disney Pictures' "The Santa Clause 3."
Tim Allen is returning as Santa in order to save Christmas from Jack Frost while trying keep his family life in order. Martin Short already has been cast as the evil Frost. Ann-Margret will play Allen's mother-in-law, who is waspish and very critical of her daughter.
And the Spider-Man 3 villains are....
Seems the cute blonde has let slip Spidey's secret.
Everyone's been trying to guess who the villains are - all we know is that they're being played by Thomas Haden Church and Topher Grace - and today, Kirsten Dunst let slip the answer.
"
We have really great people though as the villains in this film, Thomas Haden Church and Topher Grace -- Venom and Sandman
," Dunst tells
Zap2it.com
. "
Maybe I wasn't supposed to say that,"
she added before reversing her claim.
Church is playing Sandman, Grace is Venom.
The cuter-than-cute Mary-Jane apparently hasn't got the script yet, but "
know[s] the general story. There's a lot that they're trying to fit into this one."
EDITOR'S NOTE: JUST STAY ON THE GREAT TRACK YOU WERE ON IN SPIDEY DEUX, AND YOU'LL HAVE ANOTHER WINNER!

Fox 2000 Goes for NIGHT THINGS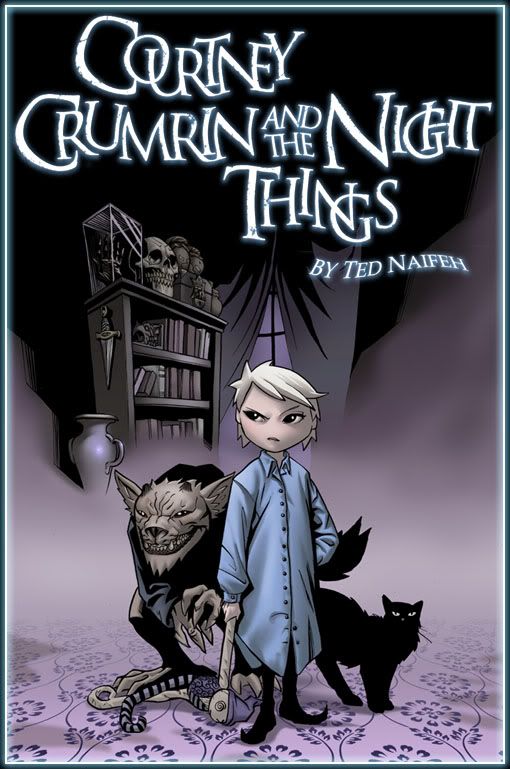 Fox 2000 and New Regency will produce a feature film adaptation of Ted Naifeh's COURTNEY CRUMRIN AND THE NIGHT THINGS.
The story of a young girl who moves into her eccentric uncle's house, where she's thrown into a world of warlocks, witchcraft and goblins. Meanwhile, she must solve the mystery of why all her classmates are disappearing.
EDITOR'S NOTE: AS LONG AS THEY TAKE THE CHEERLEADERS, WHO CARES?! (AND THAT SNIPPY CHICK WHO ALWAYS GETS A .2 BETTER GRADE. YES, I'M BITTER. BUT WE'RE STILL FEEDING HER FIRST TO THE GOBLINS).
Graham Tallman will write the script. Stan Winston and Brian J. Gilbert will produce.
Fox Wants STAR CHAMBER Remake
20th Century Fox and Hyde Park Entertainment are teaming up for a remake of the 1983 thriller THE STAR CHAMBER.
EDITOR'S NOTE: WRITING

NEW

STUFF IS SO DRAINING.
In the original, an idealistic judge frustrated by having to let dangerous criminals go free because of legal loopholes, joins a secret society of judges bent on taking justice and punishment into their own hands.
Matthew Baer and Frank Spotnitz will produce.
Nicole Kidman leading the Headhunters
If there's one actress in Hollywood taking such rather unorthodox routes it's Nicole Kidman, and she's just taken another unsurprising turn off the Hollywood offramp.
The Oscar Winner
,EDITOR'S NOTE: SMIRK
…. who this year slummed it in Sony's "Bewitched", and next stars in a remake of "Invasion of the Body Snatchers", has shaken hands with Jules Bass, agreeing to turn her comic novel "Headhunters" into a movie, according to Variety.
The film, set up at Fox 2000 and Regency Enterprises, will star and be produced by Nickers, with Sibling screenwriters Jez and John Henry Butterworth penning the screenplay.
The movie tells of four New Jersey Women who head to Monte Carlo, pretending to be rich heiresses, in the hope that they will snag wealthy husbands. There, they're targeted by four down-on-their-luck guys masquerading as rich playboys.
EDITOR'S NOTE: AND NOW FOR ACTORS I CARE ABOUT A WHOLE LOT MORE THAN MS. KIDMAN -----
Henson bringing back Fraggle Rock
"
Dance your cares away, Worry's for another day. Let the music play, Down at Fraggle Rock"...
Yep, the popular afternoon-screened Henson series (1983) is getting reworked for the big screen, according to
Muppet Central News
.
According to the site, "Fraggle Rock", the film, will see the "
Fraggles having to come out into "outer space" (a.k.a. the human world). The group will have a wild adventure as they find themselves in this weird and wild new world, far away from Fraggle Rock".
The Henson troupe are determined to make the film as appealing to adults as it will be to ankle-biters.
EDITOR'S NOTE: THE HENSON COMPANY IS KIND OF MASTERS AT THAT. (ALTHOUGH, THEY NEED THE DELICATE HAND OF THEIR DEPARTED-AND-MUCH-MISSED FATHER)
.
The original characters from the TV series -Doc, Gobbo, Marjorie the Trash Heap, Pa Gorg, Boober, Uncle Matt, Cotterpin, Mokey, Red, Sprokett, Scooter - will be present for the gang's first big-screen outing.
The film, which starts shooting next year, is being eyeballed for a 2008 release. Should the film be a success, the Henson company may bring the TV series back to the tube.
Sony says Brosnan may return for Royale
Can I make a prediction? Pierce Brosnan will indeed be back as sir superagent in "Casino Royale".
EDITOR'S NOTE: NOT THAT ANYONE REALLY CARES ANYMORE, BUT THIS HAS SEEMED LIKELY FROM THE GET-GO, HASN'T IT? WITH ALL THE CASTING HEMMING-AND-HAWING?
CommanderBond.net
have now got word from the studio - that'd be Sony, for those keeping up - that Brosnan will "probably" be playing James Bond in the next 007 movie, despite being unceremonisly dumped from the role last year.
According to the site, a senior Sony executive has told a member of the Casino Royale production team that Brosnan, who the studio planned to dump in favour of a younger replacement, could indeed be strapping on the holster again for the forthcoming film.
Brosnan sounds optimistic too. He recently told
CityBeat
that "
Until someone like Daniel Craig steps in or until someone like whomever the next man is or until they ask me back the story is still open. For me it's unfinished business and we might get to stand there again
."
Funnily enough, the script for "Casino Royale" apparently features a 28-year-old Bond. If Brosnan is asked back - there's going to be a real shortage of hair dye in the shops.
EDITOR'S NOTE: NOT TO MENTION GAUZE AND PETROLEUM JELLY TO PUT OVER THE CAMERA LENS. (HANDSOME MAN, OUR MR. BROSNAN, BUT TIME AND WIND IS HAVING ITS WAY WITH HIS CRAGGY….LOVELY, BUT CRAGGY…..FACE).
Meantime,
IGN FilmForce
has unearthed news on who might be slipping on the pantyhouse of "Bond girl" Vesper Lynd in the film : Jude Law's former flame and "Alfie" co-star Sienna Miller. According to the site, 23-year-old Miller is currently appearing in a play called "As You Like It". Guess who came to see her in that? Yep, Bond producer Barbara Broccoli.
EDITOR'S NOTE: ON THE OTHER HAND…..(AND NOT THAT ANYONE CARES) ---

Australia's Sam Worthington up for 007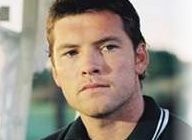 Though rumours persist that Pierce Brosnan's going to be asked back, producers of the future 007 movie "Casino Royale" aren't going to cave in - just yet.
According to Variety, they're still testing actors, and it's possible that one of them will indeed win over EON.
Testing for the first time is hot Australian actor Sam Worthington - about the finest performer in the country right now - who's seemingly the perfect age to play a younger (believed to be 28-years-old in this movie) version of the super-spy.
For those not familiar with Sam's work - check out "Bootmen", "Dirty Deeds", "Thunderstruck", or TV's "Love My Way". Worthington's also a judge on the current series of Australia's "Project Greenlight", and recently wrapped the highly-anticipated "M", an urban version of Shakespeare's "Macbeth" co-starring Lachy Hulme.
In addition to Worthington, Daniel Craig, Henry Cavill, and Goran Visnjic are also testing for the decision makers this week. According to the trade, a decision should be made within a week or so.
EDITOR'S NOTE: THANK HEAVENS. CAUSE I REALLY WANT TO GET ON WITH MY LIFE. (WHAT'S

LEFT

OF IT….)

Is Mel Gibson the new J.R Ewing?
Sounds like some offers have started to go out in little yellow envelopes from the "Dallas" production office.
According to Variety, some big names are being sought for the lead roles in the film version of the popular TV series, being directed by Australia's Robert Luketic.
Mel Gibson, Catherine Zeta-Jones and Jane Fonda are just three of the actors close to scoring roles in the soapy turned silver-screen blockbuster.
Up for the role of J.R Ewing are Kevin Costner, Tommy Lee Jones and the abovementioned Gibson. Gibson, whose a little picky these days with what he does, is one of the only guns not to have shown reluctance, so sounds like he's in with a chance.
Catherine Zeta-Jones is the leading candidate to play Sue-Ellen, though Demi Moore and Jennifer Lopez are also semi-interested in the role.
Owen Wilson and Matthew McConaughey are being eyeballed to play the role of Bobby Ewing.
For the role of Pamela - Drew Barrymore and Reese Witherspoon are the faves, whilst for Lucy, Lindsay Lohan, Jessica Simpson and Mandy Moore are believed to be on the wish-list.
Jane Fonda is being touted for the role of Miss Ellie. Considering director Luketic worked well with Fonda on the recent "Monster-In-Law", there's a good chance she'll sign something soon in this regard.
EDITOR'S NOTE: APRIL FOOLS? (DARN. IT'S SEPTEMBER. SO THIS MOVIE MUST BE REAL).


The title of the next Batman movie is...
According to the finest slab of Caped Crusader news on the net,
Batman-On-Film.com
, the sequel to this year's "Batman Begins" may be titled "Batman Attacks" or "Batman Strikes".
Plain, yes. Could it work? Um, "Batman 'Begins'" anyone?
Meantime, an insider told the site that the "
film is further along than people think. Hell, you've got actors (and their agents) scrambling to get a role in the sequel - it's going to be huge! Just look at all the talk about casting The Joker already. There are a lot of actors that covet that role".
The dude in the trenchcoat adds, "
From what I've heard, Nolan [director Christopher] and Goyer [screenwriter David] knew what they wanted to do in the sequel before BATMAN BEGINS was filmed. I know that Nolan hasn't signed on, yet, but that is just a matter of time. This is why you are hearing about cast candidates and possible screentests. Things are lined up so that when that [Nolan returning - Jett] does happen, they'll be ready to roll. There is no doubt that they have their ducks in a row."
As previously reported, Paul Bettany and Lachy Hulme are the faves to play the clown prince of crime, The Joker, in the sequel, whilst Liev Schrieber ["Scream"] is the frontrunner for the role of D.A Harvey Dent.
Duncan tests out 'School' for Phillips
Michael Clarke Duncan is in negotiations to co-star with Billy Bob Thornton and Jon Heder in director Todd Phillips' comedy "School for Scoundrels" for the Weinstein Co.'s Dimension Films.
Duncan would play Lesher, a cohort of Thornton's character. Jacinda Barrett already has signed on for the project, which centers on a down-on-his-luck meter maid (Heder) who enrolls in a confidence-building class in order to woo the girl of his dreams. The class ends up being more than he bargained for when he finds out his professor (Thornton) is interested in the same girl.
EDITOR'S NOTE: SOMETIMES I REPORT EM, AND THEN WANT TO BATHE AFTERWARDS. (THIS

OFTEN

INVOLVES BILLY BOB THORNTON, COME TO THINK OF IT).