Post-Rita TV News
Sci Fi Moves Forward With EUREKA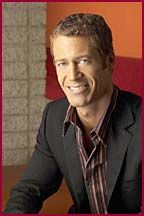 EDITOR'S NOTE: COLIN FERGUSON. WHO SEEMS TO LOOK ALMOST EXACTLY LIKE THE SEMI-STUDLY GUY WHO IS THE LEAD ON "THE 4400". (IS THERE SOME SORT OF FACTORY FROM WHENCE THEY CHUCK OUT THESE SQUARE-JAWED WONDERS?)
The Sci Fi Channel has greenlit thirteen episodes of EUREKA. The show will air in the summer of 2006.
The show stars Colin Ferguson as a federal marshal who gets stranded in the small northwestern town of Eureka. He quickly discovers the town is composed of oddball geniuses assembled by the government to conduct top-secret research -- a clustering that may inadvertently put their lives at risk.
EUREKA was written by Andrew Cosby and Jamie Paglia. The pair will also executive produce.
A Sci-Fi spokesman said that the channel would "
like to expand beyond space and aliens. Frankly, those are things you can get on the broadcast networks now."
EDITOR'S NOTE: AND

WHY

CAN YOU GET THESE THINGS ON THE BROADCAST NETWORKS NOW? A) BECAUSE IT IS A FAD THAT WILL LAST….IF WE ARE LUCKY….TWO OR THREE WEEKS, AND B) BECAUSE THE SO-CALLED SCIFI NETWORK WAS ASLEEP AT THE WHEEL FOR SEVERAL YEARS. (AND MAYBE STILL IS)
HARUMPH......
Lifetime has new 'Recipe' for holidays
Lifetime is cooking up an original movie titled "Recipe for a Perfect Christmas," with Christine Baranski, Carly Pope and Bobby Cannavale set to star.
The movie, set to air on the cable network Dec. 5, is described as a romantic culinary comedy that centers on first-time food critic JJ Jenner (Pope), whose life is turned upside down when her uninhibited mother, Lee (Baranski), shows up unannounced to stay for the holidays.
To get her mother off her back, JJ sets Lee up with an ambitious young chef (Cannavale) in exchange for her reviewing his restaurant, but problems arise when JJ realizes her true feelings for him.
EDITOR'S NOTE: LIFETIME. TELEVISION FOR PEOPLE WHO AREN'T AFRAID OF DIABETIC COMA.
Forest Whitaker behind the Shield
The always versatile Forest Whitaker ["Good Morning Vietnam, "Species"] is heading to the Idiot Box.
According to The Hollywood Reporter, the actor turned director is set to join "The Shield", becoming a regular next season.
Whitaker will play Detective Jon Kavanaugh, an ambitious newcomer to the Los Angeles Police Department's Internal Affairs division who is tasked with investigating rogue cop Mackey, played by series star Michael Chiklis, and the strike force he leads.
Whitaker was pursued for "Shield" duty by series creator and executive producer Shawn Ryan. "He's going to be a great foil for the guys on our show," Ryan said.
"
Forest has always impressed me with his range. He's got an incredible sweetness and soulfulness but also strength. It's a rare combination for an actor and that appealed to me with this character."
The fifth season of "The Shield" begins in Jan.
EDITOR'S NOTE: THIS SHOW IS SO INTENSE AND VIOLENT AND CRUDE, I JUST COULDN'T STICK WITH IT PAST THE FIRST SEASON. BUT BOY HOWDY, THEY SURE DO ATTRACT SOME HIGH-POWERED TALENT, HUH?

Whedon bringing back Illyria?
Former "Angel" star Amy Acker has all but confirmed –to Kristin, at
E Online
- that Joss Whedon's looking to bring back "Illyria", in addition to Spike, for a telemovie too.
Best news?
Sounds like Blondie Bear and Fred 2.0 two will be sharing the screen together.
"
He has mentioned it a couple of times,"
Acker, who joins "Alias" this season, says. "
I mean, the last time, I talked to him a couple weeks ago and said that I had heard that Tim Minear was gonna write and direct the Spike movie, the Spike-Illyria movie, so he said that they want to do that still. I think he's just overwhelmed a bit right now with the press for Serenity and everything!"
The "Spike", or "Spike and Illyria" movie, is believed to be the first of a series of new Buffy/Angel telemovies that Joss is keen to do. All, I assume, will air on The Frog.
EDITOR'S NOTE: THIS IS ALL KIND OF WHEDONESQUE/GREEK TO ME. JOSS, THE WONDER BOY CAN APPEASE THE BUFFYITES AS MUCH AS HE WANTS. SO LONG AS HE KEEPS THE SERENITY/FIREFLY FLAG FLYING FROM TIME-TO-TIME AS WELL. (THAT'S MY BOTTOM LINE, AND I'M STICKIN TO IT).