Post-Rita STAR WARS News
Eight Charged in REVENGE Theft
Federal officials have charged eight people with several crimes related to the illegal theft, copying and Internet distribution of STAR WARS: EPISODE III -- REVENGE OF THE SITH.
Before the film even opened, an illegal copy was available for download online and it was traced by to an editing facility in Lakewood, California.
"
The U.S. Attorney in Los Angeles filed a copyright infringement charge against Albert Valente, 28, of Lakewood, California, for taking the STAR WARS copy from the post-production house where he worked. He has pleaded guilty."
EDITOR'S NOTE: SO….IF THE EMPIRE TRACKS YOU DOWN WITH THE HELP OF THE DARKSIDE OF THE FORCE, BUT YOU DID A GENUINELY BAD THING AND ARE TRULY GUILTY…..IS THIS BAD OR GOOD? (AND CAN WE PUNISH HIM WITH FORCE-LIGHTNING?)
Six other people were charged with copyright infringement and other misdemeanors for copying & distributing the illegal copy.
A Huntington Beach man was charged with a felony for putting the movie on the Web where it could be downloaded by anybody.
EDITOR'S NOTE: OH, DEAR. HE WASN'T EVEN

SELECTIVE

IN HIS CRIME! (FORCE LIGHTNING IT

IS,

THEN!)
He could face up to as much as three years in jail.
AFI's 100 YEARS OF FILM SCORES
American Film Institute (AFI) revealed the top 25 film scores of all time in
The Big Picture--AFI's 100 Years of Film Scores,
a one-night only presentation on September 23 produced by the Los Angeles Philharmonic Association in cooperation with AFI.
A jury of over 500 film artists, composers, musicians, critics and historians selected John Williams' iconic score from the classic film STAR WARS as the most memorable film score of all time.
EDITOR'S NOTE: WE'RE NUMBER ONE, WE'RE NO.1!!!!!
John Williams is additionally noteworthy as the most represented composer on the list with three scores making the top 25.
EDITOR'S NOTE: ONLY 3?
AFI's 100 YEARS OF FILM SCORES

FILM TITLE YEAR STUDIO COMPOSER
1 STAR WARS 1977 Twentieth Century Fox John Williams
2 GONE WITH THE WIND 1939 MGM Max Steiner
3 LAWRENCE OF ARABIA 1962 Columbia Maurice Jarre
4 PSYCHO 1960 Paramount Bernard Herrmann
5 GODFATHER, THE 1972 Paramount Nino Rota
6 JAWS 1975 Universal John Williams
7 LAURA 1944 Twentieth Century Fox David Raksin
8 MAGNIFICENT SEVEN, THE 1960 United Artists Elmer Bernstein
9 CHINATOWN 1974 Paramount Jerry Goldsmith
10 HIGH NOON 1952 United Artists Dimitri Tiomkin
EDITOR'S NOTE: ONE OF MY PERSONAL FAVES. ("DO NOT FORSAKE ME, OH MY DARLIN"……)
11 ADVENTURES OF ROBIN HOOD, THE 1938 Warner Bros. Erich Wolfgang Korngold
12 VERTIGO 1958 Paramount Bernard Herrmann
13 KING KONG 1933 RKO Max Steiner
14 E.T. THE EXTRA-TERRESTRIAL 1982 Universal John Williams
15 OUT OF AFRICA 1985 Universal John Barry
16 SUNSET BLVD. 1950 Paramount Franz Waxman
17 TO KILL A MOCKINGBIRD 1962 Universal Elmer Bernstein
18 PLANET OF THE APES 1968 Twentieth Century Fox Jerry Goldsmith
19 STREETCAR NAMED DESIRE, A 1951 Warner Bros. Alex North
20 PINK PANTHER, THE 1964 United Artists Henry Mancini
21 BEN-HUR 1959 MGM Miklos Rozsa
22 ON THE WATERFRONT 1954 Columbia Leonard Bernstein
23 MISSION, THE 1986 Warner Bros. Ennio Morricone
24 ON GOLDEN POND 1981 Universal Dave Grusin
25 HOW THE WEST WAS WON 1962 MGM, Cinerama Releasing Alfred Newman
Spanning a century of film music and counting down from 25 to number one throughout the evening, Principal Conductor John Mauceri and the Hollywood Bowl Orchestra performed excerpts from each of the winning scores, many of them accompanied by favorite movie scenes shown on the Bowl's big video screens.
While television broadcasts have announced the previous eight installments of AFI's 100 Years... series, this event marks the first time an AFI countdown was revealed before a live audience.
EDITOR'S NOTE: SO NO JUNE CBS TV SPECIAL? (IT'S THE FIRST HARBINGER OF SUMMER. AND ONE OF THE FEW ON SUMMER TV WORTH WATCHING).

Trove of Behind-the-Scenes Extras on Episode III DVD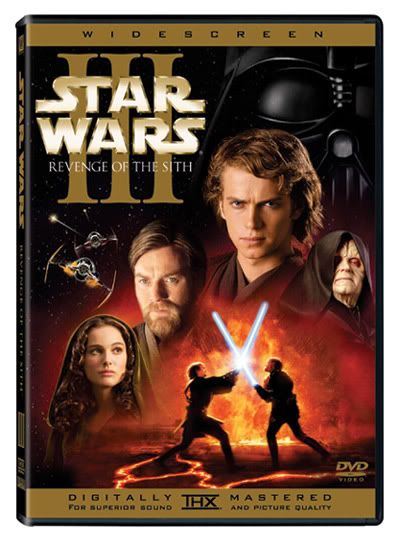 On November 1,
Revenge of the Sith
will be coming to DVD.
EDITOR'S NOTE: SORRY DWEEBPAL SAMANTHA….I THOUGHT IT WAS ON NOVEMBER 8TH? (IT'S BEEN MOVED TO THE 1ST?)
All the action, spectacle, drama and emotion of the Star Wars finale will be available for home viewing with unprecedented picture and sound quality, mastered directly from the digital source material. Aside from the movie itself, the DVD release contains a wealth of behind-the-scenes bonus material that examines the making of Episode III.
The bonus material is found on disc two, the centerpiece of which is a newly produced feature called
Within a Minute
. Envisioned as a "
mini-film school
," the documentary takes a 49-second sequence of the movie and examines all the work that went into its creation. From pre-production artists to costume designers, from camera operators to make-up artists, from sound designers to musicians and more, the cast and crew of Episode III are featured in this documentary hosted by Producer Rick McCallum.
EDITOR'S NOTE: THE LEAST ARTICULATE PERSON IN THE LUCASFILM EMPIRE IS DOING THE NARRATION? INTERESTING CHOICE….
"
There are hundreds of names and jobs in the end credits of Revenge of the Sith, but hardly anyone understands just what all of those people do and what an enormous contribution they make to the movie,
" says Tippy Bushkin, director of
Within a Minute
. "
By focusing on less than 60 seconds of the movie, Rick McCallum and George Lucas examine the entire process of making Episode III in a fun and fascinating way."
In addition to
Within a Minute
, there are two other documentary featurettes --
The Chosen One
, which examines Anakin's transformation into Darth Vader; and
It's All For Real
, a look at the stuntwork of Episode III. There are also 15 installments of the popular
Making Episode III
web documentary series that premiered on starwars.com Hyperspace.
Also among the bonus material on disc two are deleted scenes that expand the story of Episode III.
Already, members of Hyperspace: The Official Star Wars Fan Club have sneaked glimpses of three of them.
"
The deleted scenes include one that fans have been waiting a long time to see, one that shows Yoda arriving on the swamp planet of Dagobah,"
says Jim Ward, Senior Vice President of Lucasfilm and Executive Producer of the DVD release.
EDITOR'S NOTE: OOOO!!! YESSSS!!!!
"
George worked with Industrial Light & Magic and Producer Rick McCallum to finish most of these scenes with complete visual effects and sound design, and they bring a new perspective to the movie."
For the complete behind-the-scenes look at Episode III -- including webcam footage of production as it happened, bonus videos, behind-the-scenes diaries, and first looks into the DVD -- you'll need to be a member of Hyperspace: The Official Star Wars Fan Club.
EDITOR'S NOTE: TOUCH ME. I'M A MEMBER. (DID THAT SOUND WRONG???) HMMM…… MOVING ON…….
Sith Deleted Sceen Screen Captures
Originally shown on Sci-Fi.net, they are being hosted now over at
Aintitcool.com
.Check them out.
http://www.aintitcool.com/display.cgi?id=21422
EDITOR'S NOTE: EVEN JUST THE

SCREEN CAP

OF YODA ARRIVING ON DAGOBAH GIVES MAJOR MAJOR GOOSEBUMPS!
Lucas to be honoured by ESA at charity fundraiser

Star Wars creator to receive 2005 Champions Award at Nite to Unite event
Legendary film director George Lucas, creator of the Star Wars universe and founder of LucasArts, is to be honoured by the ESA at a charity event next month.
The Nite to Unite fundraiser will include a dinner and a silent auction and will take place in San Francisco on October 18. Lucas will receive the ESA's 2005 Champions Award at the event.
"
Though George Lucas has long been recognized for his tremendous contributions to the world of film, he has also been a leader in the video game business, creating amazing game experiences for players around the globe through one of the industry's most successful companies
," said ESA president Doug Lowenstein.
"
Our industry and its consumers have benefited greatly from Mr. Lucas' work over the years, and we are proud to recognize him as this year's 'Champion' honoree."
The 2005 Nite to Unite event will be co-chaired by former Activision president Kathy Vrabeck, LucasArts president Jim Ward and Midway CEO David Zucker.
Now in its sixth year running, the event has raised more than USD 6.5 million for charities including the Juvenile Diabetes Research Foundation, National Students Against Violence Everywhere, Boys and Girls Clubs of America and the Starlight Starbright Foundation.
EDITOR'S NOTE: FOR OUR BOSTON DWEEB-CONTINGENT ----

Where Science Meets Imagaination Gala
It won't be cheap to attend, but even George Lucas will be in attendance.
OPENING GALA
Saturday, October 22, 20056:00 p.m.
Museum of Science, Boston
Star Wars: Where Science Meets Imagination
is an exhibition developed by the Museum of Science, Boston, and Lucasfilm Ltd. The world premiere is in Boston, and the exhibition runs from October 27, 2005 to April 30, 2006.
The Opening Gala for the
Star Wars: Where Science Meets Imagination
exhibit will be Boston's most prestigious black tie event of the year.
Note, the site doesn't mention GWL's attendance, but it's on the written invitation...
Opening Gala - Passports
Individual Intergalactic Passport - $750 - entitles the bearer to:
· Out of this world Cantina cocktail reception
· Exclusive access to the exhibit
Star Wars: Where Science Meets Imagination
· Seated dinner with menu personally designed and presented by celebrity chef Wolfgang Puck
· Live Auction hosted by Anthony Daniels, the actor who plays C-3PO
· Special Star Wars performances throughout the evening
PLUS
· MIT Musical Theater Guild
· Costumed Star Wars Characters
· Snappy Dance
And much, much more...
Imperial Stormtroopers Table of 10 - $7500
· Includes Intergalactic Passport entitlements for each guest as noted above plus
· VIP Parking
Jedi Masters Table of 10 - $10,000

· Includes Intergalactic Passport entitlements for each guest as noted above plus
· Name recognition of host in the Star Wars exhibit as a Patron of the exhibition while it is in Boston
· Exclusive photo opportunity with special Star Wars guests (details to follow)
Sponsorship
For more information on becoming a sponsor of the Gala and/or the
Star Wars: Where Science Meets Imagination
exhibit, please contact Doug Burbo at 617-589-0233 or
dburbo@mos.org
.
Tax Deductibility Contributions in excess of $150 per person are tax deductible.
Proceeds from the Gala will directly support:
The creation of the Museum of Science's exhibition,
Star Wars: Where Science Meets Imagination,
and its associated, broad-reaching educational programs serving students, teachers and visitors of all ages. Lucasfilm, Ltd. and the Museum's distinguished design team are integrating science, technology, art and fun to produce a world-class exhibition and visitor experience that will travel both nationally and internationally.
Gala Contact Information
For additional information, please contact the special events information line: 617-589-0185 or
rsvp@mos.org
Museum of ScienceSpecial Events DepartmentScience ParkBoston, MA 02114