Harry Potter on Tuesday
Eric's long life of laughter


Ian Wylie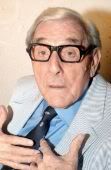 Eric Sykes
ERIC Sykes loosens his tie on a warm day in Soho.
At 82, the comedy legend and national treasure has just one ambition left. "
To die peacefully,"
he smiles. "
I think that's all one can ask for. I'm only grateful that I've been able to last the course. And I'm still working.
"
So if an offer comes through tomorrow - as long as it's not on a trapeze - I shall be happy to accept it. But I don't think I've got any other ambitions left
."
EDITOR'S NOTE: I'M MUCH YOUNGER THAN 82, AND I DON'T THINK I WANT THAT TRAPEZE GIG, EITHER.
Oldham-born Eric is one of the last survivors of a golden generation of comedians. His career started in the 1940s when he began writing for Frankie Howerd in the hit comedy radio show
Variety Band Box.
He went on to write for almost every top post-war comedian from Tony Hancock to Peter Sellers and co-wrote some of
The Goons
with lifelong friend Spike Milligan.
Eric later became one of the nation's best loved performers, particularly in the classic BBC TV sitcom
Sykes
, with Hattie Jacques, the Dawn French of her day. It was a huge success, running for 20 years until Hattie's death in 1980.
"We never had a cross word. She was a real life and soul of the party. And I wasn't. I'm a bit of a recluse."
Although you can buy a DVD of the first colour series of
Sykes
, Eric thinks it deserves a wider audience. "
What does bother me a little bit is the fact it's not shown on BBC1 or BBC2, like other series, because, personally, I would like people to see what happy days we had in olden times
.
"
I don't know why they're not shown. But I do know that at the time I was doing them, the Head of Light Entertainment couldn't understand what was the secret. And as there's no formula for comedy, I'm not surprised.
"All I want to do is to make people laugh. There's no angle to it. It's the same philosophy that Laurel and Hardy had, and they were my role models. We were sent to entertain. We are meant to make people forget the worries of life for half-an-hour."
Virtually deaf and registered blind, Eric is honoured with a special profile in next Sunday's edition of ITV1's
The South Bank Show
, which bills him as the last great British vaudevillian.
Presenter Melvyn Bragg laughed so much, he had trouble getting through an interview filmed at the London Palladium.
He may need audio-enhanced black spectacles to help him hear, but Eric is still on top form as he talks to the M.E.N. After a 60-year career, he shows no sign of retiring.
In recent years he performed his first Shakespearean role, directed by Sir Peter Hall, and appeared in the hit film,
The Others
, with Nicole Kidman. Later this year he'll be seen in
Harry Potter And The Goblet Of Fire
, playing gardener Frank Bryce.
"I learned more on The Others and Harry Potter than I think I have in my whole career in films.
"There were one or two comments on Harry Potter that I was the best person they'd ever seen die. And I said it wasn't the first time I'd died on stage.
Enjoyable
"
It was so enjoyable. I thought it was all going to be shot in half a day and it went on for a couple of weeks. They kept adding little bits until it's my scene coming down the stairs, and that's the opening of the picture.
"They wanted him to be so well known so that when he dies after the first five minutes, all the audience would go, `Ahhh'."
Although he can no longer watch television, Eric still keeps up with the latest generation of comedy performers.
"
The only difference about modern day is that, now, it is mandatory for everyone in the country to have a sense of humour.
"Even on the broadcasting side, if you're reading the news or you're forecasting the weather, they always have to finish with, or put a witty remark in the middle of it.
"If they don't have laughter in the studio, they feel they're not successful. But why? Being a doctor or violinist isn't mandatory. But to purvey humour seems to be what everybody can do. And that's the trouble. There's so many people now being humorists, that poor professionals have really got to be brilliant."
EDITOR'S NOTE: THIS PRESUMES THAT THE NEWBIES AND AMATEURS ARE ANY GOOD AT IT. (IN MY EXPERIENCE, THERE IS A BELL CURVE HERE, JUST AS WITH ALMOST EVERYTHING ELSE).
Eric's autobiography -
If I Don't Write It, Nobody Else Will
- is published next month. "
It's taken me nearly two years to write and 50 years off my life.
"
My manager, Norma, was trying to get me to write it for at least 10 years and being the reclusive person I am, I wanted people to judge me for what they saw on the television, on the films or on the stage. And what I did apart from that was my own affair. So to write my autobiography was, to me, an anathema."
He changed his mind after the death of Spike Milligan. Eric read an article by his friend's "biographer" - a man Spike had never met.
"
It was a scurrilous attack. It was the dark side of Spike. And Norma said to me, `Do you want that to happen to you when you're dead?' And I said, no."
The book includes fond memories of working on stage with Jimmy Edwards at Manchester's Palace Theatre - "
ignoring the play
" - when mounted police had to hold back crowds wanting to see the duo.
Now silver-haired, Eric's sense of comic timing has rarely let him down. But he does have one regret.
"
I didn't meet Laurel and Hardy
," he reflects. "
I was in a hotel in San Francisco and the manager came to me and said, `Stan Laurel lives just two blocks away from here. Why don't you go and say hello?' And I hadn't got the courage to go.
"If only I could have done. My philosophy is the same as theirs. They weren't there to make any political points or to be clever.
"They were there just to make people laugh."
Emma to star in 'Airborn'
IMDb
is reporting that Emma Watson will play the role of Kate De Vries in the movie
Airborn,
which is to be released in 2006.
Here's the plot synopsis:
Matt Cruse works as a cabin boy on the passenger cruise ship Aurora. When pirates attack the ship, he sets off with Kate de Vries on an adventure that takes them to an uncharted island that was once explored by Kate's grandfather.
IMDb hasn't always been the most credible source, so just to be safe we should all treat this as speculation for the time being.
Harry hits Times Square
Thanks to MuggleNet reader Jennifer and her friend for sending in two pictures of a brand new
Goblet of Fire
billboard ad in Times Square, New York City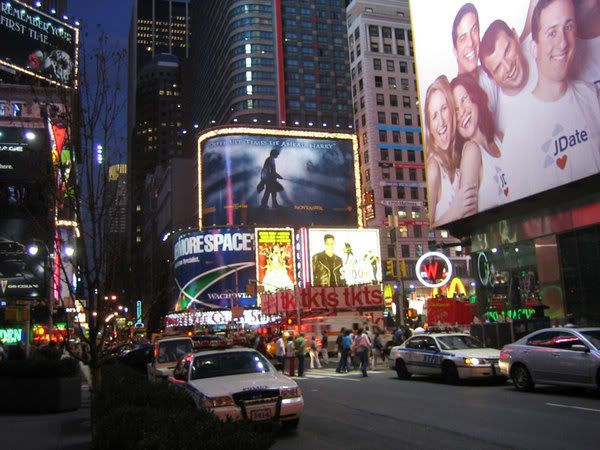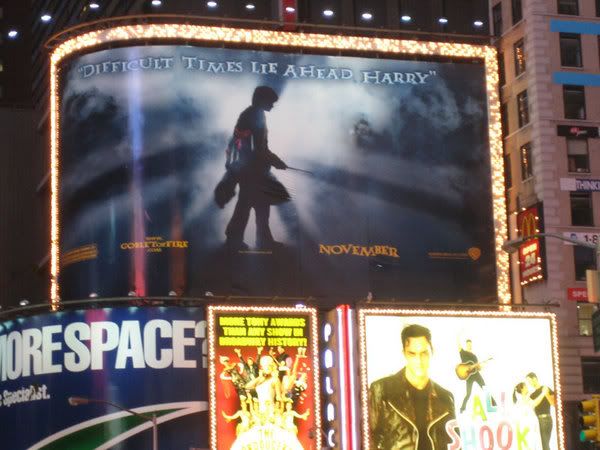 EDITOR'S NOTE: CHECK OUT THIS NEW HP GAME! ----
Harry Potter Scene It? Deluxe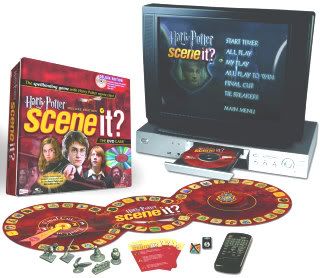 Mfg:
Screenlife
Our Price $34.92 You Save 30%
Scenes from all movies including Goblet of Fire!
This is it Harry Potter Fans, the Deluxe Scene It Harry Potter game you've been waiting for.
This brand new deluxe edition is the only version that comes with Exclusive Harry Potter trading cards in the game.
4 Official Harry Potter trading cards from Artbox, exclusive to this game - one from each movie! The deluxe version also has more movie question cards & more tokens for larger games and lots more fun.
You read right, Harry Potter Scene It Deluxe includes scenes from all four movies, including the not-yet-released
Harry Potter and the Goblet of Fire
.
This Scene It Deluxe Harry Potter Tin Game includes:
· 1 Harry Potter Scene It Game DVD
· Party Play Feature
· 1 Harry Potter Scene It Flextime Game Board
· 6 Collectible Metal Tokens (2 are exclusive to this deluxe version!)
· 200 Trivia Cards
· 30 Buzz Cards
· 4 Reference Cards
· 1 Six-Sided Die
· 1 Eight-Sided Die
· 1 Instruction Sheet for Harry Potter Scene It
· Over a thousand Harry Potter Scenes, stars, images and trivia challenges
· HP Scene It Deluxe comes in a high quality collectible tin with stunning images!
-->Attention Muggles: Test your knowledge on everything from Quidditch and Quaffles to Transfiguration and the Dark Arts - Order this spellbinding dvd trivia game chock full of Harry Potter movie clips today!
(Harry Potter Scene It DVD Game requires use of a DVD player)
Try it before you buy it, click here to play the Harry Potter Scene It Demo!

http://www.games-for-less.com/scene-it-harry-potter.asp
EDITOR'S NOTE: I DID PRETTY WELL. GOOD ENOUGH TO QUALIFY AS A WIZARD (IF NOT A HOGWARTS PROFESSOR).

List Price:
$49.99
Our Price:
$34.92 (Save 30%)
Manufacturer's Item #:
852877000559
Recommended Ages:
8 years and up
Number of Players:
2 or more players
Main Category:
DVD Board Games
Shipping Weight:
4 lbs.