Dissecting the Summer of our Discontent (2005 Hollywood Whining)
EDITOR'S NOTE: ALMOST AS ENTERTAINING AS THE MOVIES THEMSELVES (

AND AS EVER, BETTER THAN "THE HULK

") MORE ON THE SUMMER OF HOLLYWOOD'S DISCONTENT -----

Summer 2005 boxoffice wrap
The force takes a dive
EDITOR'S NOTE: NO, THE FORCE TAKES A 'BOW'. A DIVE WOULD HAVE BEEN A BAD THING FOR ROTS. (AND…YAY US…THAT DIDN'T HAPPEN).
A handful of films hit big, but whether due to distracted audiences or a less interesting release slate, many struggled.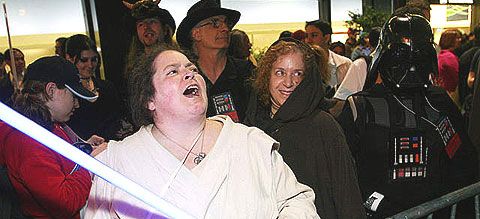 EDITOR'S NOTE: YEAH. OK.

SOME

OF US LOOK LIKE THIS. BUT SOME OF US ARE CUTE AND A LOT LESS SCARY. (

REALLY

).

I KNOW WE'VE BEEN TALKING ABOUT ALL OF THIS AD NAUSEUM, BUT SOME OF THIS RE-HASHING IS QUITE WELL-WRITTEN. FYI….
By Gregg Kilday
Hollywood learned the hard way during the embattled summer of 2005 that its standard operating procedures no longer pack their customary punch.
For the past four summers, boxoffice grosses had risen steadily, and so there was an understandable temptation for the movie industry to believe that it had perfected a nearly foolproof formula: Pick a title with popular name recognition (preferably a sequel or a remake), cast it with A-list stars or, in lieu of that, a media-friendly personality who commands multiple magazine covers; pump it up with lots of special effects and augment it with brand-name product placements and promotional tie-ins; launch a media blitz (when it comes to the biggest summer movies, the media are only too happy to play along); spend millions on wall-to-wall TV advertising; and book it on as many screens as possible. Finally, stand aside and let the opening-weekend throngs pour in.
EDITOR'S NOTE: NOTICE NOWHERE IN THERE DO THEY MENTION WRITING A GOOD SCRIPT OR PUTTING TOGETHER AN ENTERTAINING MOVIE. (COULD THIS HAVE ANYTHING TO DO WITH THE PROBLEM,
PERCHANCE? HMMMMMM????)
True, not every would-be blockbuster delivers.
Last summer, for example, a few movies like, "King Arthur," the medieval adventure tale, came up short.
EDITOR'S NOTE: ATTRACTIVE, TALENTED CAST. COOL COSTUMES. (IN KEIRA KNIGHTLEY'S CASE, LITERALLY COOL…AS IN BRRRR). NOISY. NO SCRIPT. (BAD BOX OFFICE COINCIDENCE?)
But as long as summer grosses rose steadily, the rising tide lifted most of the boats, and the few big-budget losers could be dismissed as anomalies.
Not this summer, though. Suddenly, business as usual wasn't a guarantee of boxoffice riches. The biggest movies this summer weren't as big as the biggest movies last summer, and the midrange movies were more middling.
EDITOR'S NOTE: ACTUALLY, MY UNDERSTANDING WAS THAT THE BIGGEST MOVIES WERE EVERY BIT AS BIG, BUT THAT THERE WERE NO MIDRANGE FLICKS
.
Most weekends, the cumulative boxoffice take fell short of the comparable summer last year. The giddy sense of euphoria that accompanied breaking boxoffice records in previous summers turned into an uneasy sense that the whole enterprise of mass-marketing summer movies had soured.
To be sure, the media exaggerated the downturn.
EDITOR'S NOTE: DUH
. When, in mid-June, the weekend boxoffice fell below that of the same weekend a year ago for the 17th week in a row -- tying a similar statistical string of weekend shortfalls last seen in 1985 -- the Monday morning boxoffice quarterbacks decreed Hollywood was witnessing "the worst slump in 20 years."
In fact, it wasn't quite that bad.
Once all the numbers were crunched, summer 2005 was merely the worst summer in four years in terms of boxoffice grosses and the lowest summer in terms of estimated admissions since 1997.
Depending on how observers sliced and diced the numbers, it was even possible to argue that one or two movies could have made the difference. Last year, for example, the year-to-date totals were bolstered by two unexpected boxoffice breakouts -- "The Passion of the Christ" ($370 million) and "Fahrenheit 9/11" ($119 million) -- which had no counterpart in 2005.
EDITOR'S NOTE: THOSE TWO MOVIES PAIRED IS KINDA FUNNY, IF YOU PONDER IT. (SO MANY WAYS TO GO WITH THE JOKE, AND MOST OF THEM WOULD OFFEND SOMEONE. WRITE YOUR OWN JOKE AND GIGGLE TO YOURSELF FOR A BIT).
This summer's lineup was further hampered when some key pictures failed to perform on crucial dates. For instance, 20th Century Fox attempted to jump-start the season with "Kingdom of Heaven," its epic Crusades movie from Ridley Scott, on the first weekend in May. But the movie opened to a weak $19.6 million on its way to just $47.4 million. By contrast, last year Universal Pictures used the comparable date to launch "Van Helsing," and though the performance of that horror tale was judged a disappointment, the movie still opened to $51.7 million on its way to $120.2 million.
EDITOR'S NOTE: MAKES ME WISH I'D SEEN "KINGDOM OF HEAVEN" JUST TO KEEP A SEQUEL OF "VAN HELSING" FROM IMPINGING ITSELF ON OUR STILL-BLEEDING EARS. (I

MEANT

TO SEE MISTERS BLOOM AND NEESON, AND JUST NEVER GOT TO IT FOR SOME REASON).
Still, it's cold comfort to argue that there was nothing wrong with this summer's business that a handful of hits couldn't have cured.
For the cost of production and marketing studio releases isn't cheap. In March, the MPAA announced that the average studio investment to make and market a movie amounted to $98 million, a slight drop from 2003's $103 million, the highest year on record.Lower boxoffice grosses mean tighter profit margins -- even with the benefit of DVD and subsequent aftermarkets. And fewer admissions means less foot traffic at the multiplex -- which, in turn, means fewer tubs of popcorn sold. The public's declining interest in the movies created a definite air of tension.
EDITOR'S NOTE: OOO….A GOOD DRAMA NEEDS SOME TENSION. (WAS IT

SEXUAL

TENSION? DROOLING AND RUBBING MY SWEATY PALMS TOGETHER IN ANTICIPATION…..)
Privately, studio executives have been floating the idea of moving closer to releasing movies simultaneously in theaters and on DVD -- that would allow them to realize home video income immediately, while also piggybacking DVD marketing costs on top of the millions being spent on a theatrical launch.
But when the Walt Disney Co.'s CEO-elect Robert Iger broached that notion in an earnings call in August, he triggered a stern rebuke from John Fithian, president of the National Association of Theatre Owners.Fithian, in a rare moment of candor amid an industry much more accustomed to ballyhooing its wares, stated bluntly,
"I'm not sure who was asleep, but it wasn't the exhibition industry. Here's what we know about 2005: The movies are not as good. They're not terrible; they're just not as good. And so the industry has experienced a temporary drop-off compared to 2004, the biggest boxoffice year in movie history."
He went on to reject any notion that tampering with the established theatrical and home video windows offered a solution, saying that compressing windows would result in a world with "
no viable movie theater industry ... at least not a theater industry devoted to the entertainment products of Hollywood."
EDITOR'S NOTE: NOT '

DEVOTED TO THE ENTERTAINMENT PRODUCTS OF HOLLYWOOD'

. WHOSE PRODUCTS WOULD YOU BE DEVOTED TO, THEN? I KNOW BOLLYWOOD AND MEXICO ARE BIG NICHE MARKETS….AND GROWING… BUT THEY

AIN'T

GONNA SUPPORT THE MASSIVE MULTIPLEXES.

AND BY THE WAY, WHETHER THE WINDOWS ARE COMPRESSED OR NOT, AND IF SO, WHETHER IT'S NOW OR LATER, THE MOVIE-THEATER INDUSTRY IS DUE FOR SOME MAJOR CHANGES. YOU CAN'T

POSSIBLY

LAY ALL THIS AT THE FEET OF THE MOVIES THEMSELVES. HOME THEATER IS MAKING A DENT; THIS WORLD IS CHANGING, AND STICKING YOUR HEADS IN THE SAND AIN'T GONNA MAKE THAT GO AWAY
.
As the post-mortems proceed, it's always possible to second-guess why individual movies failed to connect with audiences.
Take the rush to remake old TV titles -- it's no guarantee of success. The unapologetically escapist "The Dukes of Hazzard" turned up some juice, scoring $75 million to date. But the self-conscious "Bewitched" might have been too clever for its own good: The movie about the remaking of a TV show hit a $62.3 million ceiling. (In effect, it topped out at just about the same point as last summer's equally self-conscious "The Stepford Wives," which grossed $59.4 million). And while "The Honeymooners" might be one of the most venerated comedies in the sitcom pantheon, reviving its premise with a black cast headed by Cedric the Entertainer proved pointless: It spoke neither to aging fans of the original show nor to contemporary audiences for whom the title carried no resonance.
But dissecting specific films doesn't speak to the broader, systemic changes that may well be under way.
Although it's possible to argue that this summer's chilly boxoffice is part of a cyclical process that will ultimately right itself, it's hard to ignore all the anecdotal evidence that suggests moviegoing patterns are shifting as consumers make their entertainment choices from a far larger menu than they've had in the past.
Movie theaters aren't just competing with the home video industry. Cable TV, the Internet, music downloads, even ringtones all are claiming a slice of the entertainment dollar.
EDITOR'S NOTE: RINGTONES? (OF COURSE, IF YOU SIT AND WATCH THE GRASS GROW WHILE LISTENING TO RINGTONES, YOU HAVE BOTH AUDIO AND VIDEO AT THE SAME TIME. AND THEN WHO NEEDS MOVIES!)?
But facing an ever more competitive environment, Hollywood hasn't done much to change its modus operandi. Wide releases, for example, work great when there's definite want-to-see surrounding a movie. (In the case of this summer's top-grossing film, "Star Wars: Episode III -- Revenge of the Sith," the want-to-see had been building for more than 25 years.) But when a movie isn't immediately embraced, it disappears almost overnight.
Amid the barrage of pre-opening publicity and incessant advertising that has become standard operating practice, moviegoers don't have a chance to discover movies for themselves. In the '70s, at the birth of the modern blockbuster age, blockbusters lived up to their name: Such hits as "The Godfather," "The Exorcist," "Jaws" and the first "Star Wars" found moviegoers literally lining up around the block. That, in turn, created its own excitement, generating the sort of free publicity that even money can't buy.
But now that giant multiplexes schedule the biggest releases on the hour, and in some cases even the half-hour, demand is so instantly satisfied that movies have lost some of their sense of occasion. They've been reduced to the status of a distraction.
At the same time, the hard core of frequent moviegoers are bombarded by so many images from a movie before it even opens that they can be forgiven if they begin to dismiss films that appear to offer no surprises.
EDITOR'S NOTE: TRAILERS THAT SHOW…OR AT LEAST

APPEAR

TO SHOW…THE ENTIRE PLOT, FOR EXAMPLE?
If it proved anything, summer 2005 proved that Hollywood can't continue to take its audiences for granted.
EDITOR'S NOTE: I AM

MOVIE-GOER

! HEAR ME ROAR!!!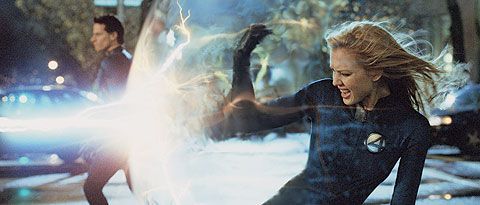 Studio report cards
Complete summer session analysis of the winners, losers, office politics and future plans at the major film studios. (Listed by summer market share rank)
1. 20th Century Fox
EDITOR'S NOTE: WE'RE NUMBER 1, WE'RE NUMBER 1! (OF COURSE, UNCLE GEORGE GETS MOST OF THE CASH, BUT FOX GETS SOME BRAGGING RIGHTS AT LEAST).
2. Warner Bros. Pictures
3. Paramount Pictures
4. DreamWorks SKG
5. Universal Studios
6. New Line Cinema
7. Buena Vista
8. Sony Pictures
EDITOR'S NOTE: BREAKING DOWN THE DOLLARS AND CENTS (SENSE?) FOR THOSE INTO 'SIZE MATTERS' DISCUSSIONS ----
Battling for a share
20th Century Fox fends off rivals in a lackluster market-share race.
By Brian Fuson
For the second consecutive year, 20th Century Fox has taken home the North American summer market share crown -- with a near company-best performance. In contrast to last summer, when Fox and DreamWorks jockeyed for position throughout the season, with Fox pulling up the winner in late August, this summer, the winner was never in question. Fox cruised to the finish line.
Warner Bros. Pictures was the only distributor to mount a late-season run at the title. It finished a relatively close second, while Paramount placed third. In the process, Warners and Paramount each turned in company-best performances. DreamWorks brought up the fourth position followed by Universal in fifth.
Of course, there was less wealth to spread around during the downbeat summer of 2005.
Last summer, which set a record, four distributors grossed more than $400 million each, including Fox with more than $600 million and DreamWorks clearing $500 million. This summer, by comparison, three distributors surpassed $400 million.
Riding on the coattails of sci-fi and action genres, Fox jumped into the lead with the release of the last episode of the granddaddy of modern sci-fi tales, Lucasfilms' "Star Wars: Episode III -- Revenge of the Sith." With the release a few weeks later of Regency Enterprises' "Mr. & Mrs. Smith" and the July opening of "Fantastic Four" -- both films grossed more than $150 million each -- the distributor never looked back.
Fox generated an impressive $608 million, which equates to a summer marketshare of 19.8%. The studio's boxoffice total was down by a scant $2.5 million from last year's $610.5 million, which represented a share of 18%.
The summer market share period this year is comprised of the 15 weeks between Memorial Day and Labor Day. While some boxoffice tracking services view early May as the start of summer, The Hollywood Reporter measures the season using the traditional summer calendar, which is based on the dramatic increase of mid-week business. That lucrative midweek business doesn't begin to escalate until after the Memorial Day holiday, when schools let out and vacations begin across much of North America, and subsides after Labor Day.
Because of the tremendously competitive nature of the business, it's rare when a distributor can take the summer crown two years in a row. The last time a distributor won the summer market share race for two years running was in 1999 and 2000 when Buena Vista won the crown. The distribution arm of Walt Disney Studios, it benefited from a late summer surge from "The Sixth Sense" in 1999 and the animated "Dinosaur," its top earner in 2000.
While Fox didn't break any industry records with its summer total, the studio's 2005 tally will go down as the fifth biggest of all time and marks the second time the company has surpassed $600 million during the season. (Buena Vista, Universal and Sony have at one time each grossed more than $700 million during a summer.)
Buena Vista still holds the record for the biggest summer in history with a sterling $773.7 million in 2003. That was the year "Finding Nemo" and "The Pirates of the Caribbean: The Curse of the Black Pearl" were in theaters.
Underlying Fox's strong performance was the fact that it was the only distributor that had three films that grossed more than $100 million each. "Sith," the sixth and last film in George Lucas' "Star Wars" saga, not only helped Fox take the lead, but also was the biggest grossing film of the summer with $379.8 million. Ultimately, "Mr.& Mrs. Smith" took in $184.6 million followed by "Fantastic Four" with $152.7 million.
Fox proved victorious even though it initially stumbled with the presummer launch of the big-budget "Kingdom of Heaven" on the first Friday in May. The R-rated film opened to a soft $19.6 million to become the season's first costly casualty as the period action-drama only worked its way to $47.4 million.
Warners captured the second spot this year with an impressive $571.8 million and 18.7% share of the market -- a company summer best. That was a sharp 26% improvement on the previous year's $454.7 million gross and fourth-place ranking. It also was the first time the studio has ever grossed more than $500 million in the summer.
Because of Warner's ninth-inning surge, a slim $36.2 million separated the top two distributors. It was the closest summer boxoffice race since 2000, when Buena Vista edged out DreamWorks for the top spot -- in the last week of the season -- by a scant $7.9 million. (In fact, there was only a mere $9.3 million separating the top three distributors that summer.)
Warners had two films gross more than $200 million each this summer. The reinvigorated "Batman" franchise brought in $203.6 million from "Batman Begins" -- the third-highest grossing film of the summer. The remake of "Charlie and the Chocolate Factory," on which Warners joined with Village Roadshow, the Zanuck Co. and Plan B, unwrapped $201.3 million. Another remake, "The Dukes of Hazzard," provided some decent returns, contributing $77.5 million.
Paramount secured third place largely because of two remakes: "War of the Worlds" and "The Longest Yard," which contributed to a summer studio gross of $503.3 million while gleaning a 16.4% market share. The boxoffice tally represented a dazzling 164% improvement on the previous summer's meager $190.9 million and seventh-place finish.
Before this year, Paramount's best summer ever was in 2000, when the studio generated $342.1 million. The company placed fifth that year with "Mission: Impossible 2" powering its lineup.
Like Warners, Paramount also had two films gross more than $100 million each, in stark contrast to summer 2004 when the studio's highest-grossing film was "The Manchurian Candidate" with $62.5 million. But if last year Paramount's dependence on remakes hit a wall, this summer its reliance on remakes proved a boon. "War," a co-production with DreamWorks, was the second-highest grossing film of the season, with $232.6 million, while "The Longest Yard," co-produced with MTV Films and Columbia Pictures, tackled $157.8 million.
However, "Bad News Bears" had a rough time with $32.7 million, while "Four Brothers" proved feistier with $64.4 million.DreamWorks managed to ride into the fourth spot with $272.9 million, down considerably from the previous summer's $557.6 million -- which was a season record for the company. That summer, the distributor had the benefit of owning the highest-grossing film of the season with "Shrek 2" ($436.5 million by season's end).
This summer, the DreamWorks tally was based almost solely on the returns from another CG animated family film, "Madagascar," which corralled $191.6 million. The studio would have had a much stronger season had its high-priced tent pole, "The Island," a co-production with Warners, resonated with a larger audience. The $100 million-plus sci-fi actioner opened with a dismal $12.4 million and finished the summer with just $35.8 million.Noticeably missing from the top distributor rankings this summer were Sony and Buena Vista. Last year, Sony placed third with a stout $497.7 million, while this summer the studio finished in the eighth spot with a disappointing $138.8 million. Just three years ago, in 2002, Sony won the summer market share race with $708.2 million, and it then placed third the following two years.
Sony's most expensive disappointment this summer was "Stealth," with a budget north of $100 million.
EDITOR'S NOTE: AND FOR ONE HUNDRED AND

TWO

MIL YOU COULD HAVE HIRED A WRITER. (AND WITH

ANOTHER

COUPLE OF MILLION, A MORE INTERESTING CAST)
The film opened to $13.3 million and has grossed a slim $31.7 million to date. While "Bewitched" did $62.3 million by season's end, hopes were higher for that film as well.Buena Vista landed in the seventh spot and took in $180.2 million this summer, off a sharp 43% from the previous year, which in itself was a disappointing season for the company. In fact, last summer was the first time in nearly a decade that the distribution arm for Disney didn't finish in the first or second spot for the season. Buena Vista's highest-grossing film this summer was "Herbie: Fully Loaded," with $65.2 million.
EDITOR'S NOTE: EEK. NOT PRETTY. (BET THERE WEREN'T ANY COOL NEW TOYS AT THE DISNEY PARKS THIS YEAR)
Universal had a lackluster summer as the studio finished with $239.4 million in its boxoffice coffers and landed in the fifth position. The season's total was down 11% from the previous summer's $267.8 million.While Universal didn't really have any high-priced tent poles, "Cinderella Man" from Imagine Entertainment came closest and was expected to do better than it did. Aimed at an adult moviegoing audience, the film was extremely well reviewed, but it never really caught fire at the boxoffice, collecting a modest $61.5 million by season's end -- the company's second-highest grossing summer film. Another well-reviewed picture, the R-rated comedy "The 40-Year-Old Virgin," was the highest with $71.9 million.
In the world of independent distributors, nothing rivaled Lions Gate's "Fahrenheit 911," which collected $118 million in 2004. But Warner Independent Pictures couldn't complain, because it fielded the season's highest indie grosser with "March of the Penguins" ($63.6 million). Among other indie distributors, Lions Gate had a strong slate, beginning with its pre-summer release "Crash" ($53.3 million) doing the most business. For Paramount Classics, "Hustle & Flow" ($21.9 million) and "Mad Hot Ballroom" ($7.5 million) were the top earners.
Marketing matters
Attention-grabbing film promotions were the exception and not the rule
E
DITO

R'S NOTE: GIGGLE…..(UNCLE G ROCKS THE PROMOTIONAL SCENE TOO)
By Gail Schiller

It wasn't just the boxoffice that was lackluster this summer.
For the most part, film promotions were so tepid that only a few even managed to get noticed. "Star Wars: Episode III -- Revenge of the Sith," "Fantastic Four" and "Madagascar" attracted full-blown promotional programs with numerous blue-chip advertisers, but "Sith" proved to be the only film to equal the blockbuster success of "Shrek 2" and "Spider-Man 2," the biggest promotional hits of summer 2004.
Cingular Wireless and "Star Wars: Episode III -- Revenge of the Sith"
Cingular's promotion was viewed as enormously successful because of a fully integrated marketing campaign and a humorous TV spot that featured Chewbacca struggling to alter his monotone grunt
EDITOR'S NOTE: NOT SO MUCH MONOTONE AS UN-CHANGING. AND NOT SO MUCH A GRUNT AS A ROAR/GURGLE
. as music producers recorded his voice for a "Star Wars" ringtone. While nearly all of the promotional partners for "Sith" had the rare opportunity to feature "Star Wars" characters in their commercials, the Cingular spot was widely viewed as the favorite, according to marketers surveyed.
EDITOR'S NOTE: AU CONTRAIRE.

MY

VOTE GOES WITH DARKSIDE M&M'S! (NOT ONLY CUTER AND SNARKIER, BUT

DARK CHOCOLATE

! FOOD

ALWAYS

TRUMPS TECH, DUH!)

P.S. NOT TO MENTION ALL THE VERY VERY GROOVY GIVE-AWAYS FROM CEREAL AND COOKIES AND CANDY AND FAST FOOD, ETC. UNCLE GEORGE REALLY DOES LOVE US AND WANT US TO HAVE COOL STUFF. (THANK YOU UNCLE GEORGE!)


"
The Cingular campaign with the ringtone ad was just phenomenal,"
says Jeff Greenfield, executive vp at branded entertainment and marketing firm 1st Approach. "
It was a great commercial that created a lot of buzz."
Initial concerns that Lucasfilm had overextended the "Star Wars" characters by allowing them to appear in too many promotional partners' commercials at the same time quickly evaporated.
By offering new Cingular customers free tickets to see "Sith," free "Star Wars" ringtones preloaded on selected phones and access to the first collection of "Star Wars" mobile content ever available in the U.S., Cingular created a highly effective and fully integrated program.
"
The 'Star Wars'-Cingular promotion was one of the strongest this summer
," says Mark Workman, president and CEO of First FireWorks Group.
Budweiser and "Wedding Crashers"
Despite criticism from anti-alcohol watchdog groups like the Marin Institute, Budweiser's tie-in with the summer's surprise hit "Wedding Crashers" -- its first movie promotion in 14 years -- was considered a smashing success.
"
'Wedding Crashers' was huge, the tie-in with Budweiser was perfectly done, and it was a perfect movie for Budweiser,
" Greenfield says. In the view of the marketing community, the movie and the campaign effectively hit Budweiser's target audience of young males, while irreverent TV spots, directed by "Crashers" helmer David Dobkin, gave Budweiser the opportunity to closely associate Vince Vaughn and Owen Wilson with its beer by tying in clips from the film in a creative and organic way. One of Dobkin's TV spots featured a group of young women being briefed with clips from the movie on how to deal with wedding crashers. Budweiser also got the bonus of being featured in at least one scene in the movie.
"
The consumer acceptance of 'Wedding Crashers' and the corresponding boxoffice success have made our affiliation with the movie a huge hit for Budweiser,"
says Michael Gianino, director of film and television branded entertainment for Budweiser's parent company Anheuser-Busch.
SBC and "Fantastic Four"
While not quite as successful as its tie-in with "The Incredibles" last year, SBC's partnership with 20th Century Fox's "Fantastic Four" was nevertheless considered quite effective -- mostly because of TV spots for its DSL high-speed Internet service that blanketed the airwaves.
The commercials featured movie clips of the Johnny Storm character, who flies at breakneck speeds after turning into a human torch.
"
You couldn't turn on a TV anywhere and not see those spots,"
says Mike Mallone, vp at entertainment marketing firm Alliance.
"They just blanketed everything. It was a great way to promote their high-speed DSL."
Marketers say the SBC campaign worked despite similar marketing messages in SBC TV spots promoting the Walt Disney Co.'s "The Incredibles" last year.
SBC spokeswoman Tiffany Nels notes that the "Fantastic Four" promotion introduced many new nontraditional marketing initiatives such as interactive floor displays in malls and movie theaters, interactive taxi displays and exclusive, customized content on its "Fantastic Four" microsite.
"
What differentiates the 'Fantastic Four' promotion from 'The Incredibles' promotion is not so much the product messaging but the extension of the theme into a lot of additional outlets beyond radio and TV,"
Nels says.
Hitachi and "War of the Worlds"
When Hitachi initially announced its partnership with Paramount Pictures' "War of the Worlds," it was lauded as a major coup for the brand because Tom Cruise and Steven Spielberg had granted Hitachi permission to use their images in its advertising materials -- a rare occurrence among Hollywood's A-list celebrities.
But in the end, sources suggest that Hitachi was extremely disappointed with the tie-in. The brand was apparently unhappy that their plasma TVs and DVD camcorders that were slated to appear in the movie were not actually identifiable as Hitachi products.
Several months before the movie even opened, the company had publicly touted the product placement as a major component of its promotion and overall marketing strategy.
In addition, Cruise's controversial remarks about psychiatry and mental health drugs on NBC's "Today" turned the very images of the actor that had been hailed as a marketing coup into a major liability, sources say.
"Hitachi is pleased with the partnership
," a Hitachi spokesman says. "
We are expecting increasing sales and Hitachi brand awareness through the cross-promotion activities."
Reportedly valued at about $25 million, the promotion was Hitachi's first major movie tie-in and was implemented on a global scale. And while Hitachi was the only promotional partner for "War" -- scoring what was hailed as yet another marketing coup -- some marketers questioned the wisdom of any company partnering with such a violent movie.
"
I would have stayed away from 'War of the Worlds,
' " says Ferris Thompson, president of entertainment at Edelman. "
Who wants to be associated with the end of the world
?"
EDITOR'S NOTE: OH

PLEASE

. WE'RE TALKING MARKETING AND AD FOLKS. THE END OF THE WORLD WILL BE FULLY SPONSORED. (AND IF YOU'RE NOT USING YOUR SOUL, SOMEONE WOULD LIKE TO BUY THAT, TOO).
Summer B.O. wrap
After four consecutive year-over-year increases in boxoffice and admissions, the most lucrative season of the year felt the chill of a sharp downturn.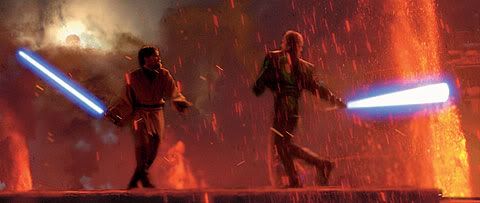 EDITOR'S NOTE: I SURE DO LOVE THIS PICTURE. THE ROTS END DUEL IS CLASSIC CLASSIC IMAGERY. WE SHAN'T SEE ITS LIKE AGAIN ANY TIME SOON, EH?
By Brian Fuson
Science fiction and fantasy pyrotechnics might have lit up movie screens, but the summer boxoffice season proved stubbornly lackluster. 20th Century Fox's "Star Wars: Episode III -- Revenge of the Sith" was far and away the season's best performer. The final episode in producer-director George Lucas' six-part epic franchise grossed nearly $400 million in receipts. Its closest competitors were Paramount Pictures' "War of the Worlds" and Warner Bros. Pictures' "Batman Begins," with more than $200 million each.
But after four consecutive year-over-year increases in boxoffice and admissions -- the longest streak of back-to-back gains on record -- the most lucrative season of the year felt the chill of a sharp downturn during summer 2005.
While a few films managed to break out and generate some solid grosses, the remaining lineup failed to ignite much interest from moviegoers.
As a result, the national boxoffice total for the summer season was $3.15 billion, down a steep 9% from the previous summer's record haul of $3.45 billion. This summer's boxoffice tally had to settle for being the fourth-best ever recorded, registering the lowest aggregate gross since 2001. A slight rise in ticket prices masked the fact that estimated admissions were down even more precipitously. This summer's count was 486.9 million estimated admissions, down a dramatic 13% from 2004's record tally of 557.4 million. It was the lowest summer admission count since 1997 and ranks as only the 13th best in the past 23 years.
Summer 2004
Shrek 2
DreamWorks
$436.5
Spider-Man 2
Sony
$369.9
Harry Potter and the Prisoner of Azkaban
Warners
$248.3
The Day After Tomorrow
Fox
$186.4
The Bourne Supremacy
Universal
$164.8
I, Robot
Fox
$141.9
Troy
Warners
$133.2
Van Helsing
Universal
$120.0
Fahrenheit 9/11
Lions Gate
$118.0
Dodgeball: A True Underdog Story
Fox
$113.7
Summer total

$1,717.2
All boxoffice in $ million"Shrek 2" total includes presummer gross of $129 million"Troy" total includes presummer gross of $86 million"Van Helsing" total includes presummer gross of $100.5 million
EDITOR'S NOTE: A TAD EMBARASSING TO ADMIT THAT I HELPED THE TOTALS OF BOTH "TROY" AND "VAN HELSING". (AT LEAST I CAN SAY I DIDN'T GO SEE "DODGEBALL"?)
Overall summer total excludes all presummer gross revenue

Summer 2005
Star Wars: Episode III -- Revenge of the Sith
Fox
$379.8
War of the Worlds
Paramount
$232.6
Batman Begins
Warners
$203.6
Charlie and the Chocolate Factory
Warners
$201.3
Wedding Crashers
New Line
$195.8
Madagascar
DreamWorks
$191.3
Mr. & Mrs. Smith
Fox
$184.6
The Longest Yard
Paramount
$157.8
Fantastic Four
Fox
$152.6
Monster-in-Law
New Line
$82.9
Summer total
$1,779.7
All boxoffice in $ million"Star Wars" total includes presummer gross of $158.4 million "Monster-In-Law" total includes presummer gross of $44.2 million
Overall summer total excludes all presummer gross revenue
The traditional summer boxoffice season, as tracked by The Hollywood Reporter, runs from Memorial Day through Labor Day, which was a 15-week period this year.
While some tracking companies use the first weekend in May as the start of summer, the traditional summer season is based on the dramatic increase of midweek business, which doesn't begin to escalate until after Memorial Day, when schools let out and vacations begin across much of North America.
During this particular summer, some armchair analysts and industry observers had been beating the drums of doom, making a media sport out of postulating a host of reasons for the downturn, pointing to everything from the narrowing of theatrical windows, advances in home theater technology, DVDs, high ticket and concession prices and moviegoers' frustrations with onscreen advertising.
TRENDS AT A GLANCE
2005 2004
National summer boxoffice ($ bil)
$3.15 $3.45
Total summer admissions ($ mil)
486.9 557.4
Average opening weekend ($ mil)
$19.6 $23.2
Average # of theaters on opening weekend
2,680 2,650
Per-theater average
$7,332 $8,753
Average second-weekend % drop
-49 -51
Wide releases (more than 1,000 theaters, incl. ultrawide)
42 42
Ultrawide releases (more than 3,000 theaters)
17 14
Debuts of more than $40 million
7 6
Debuts of more than $60 million
2 3
From Memorial Day weekend through Labor Day Weekend. All film comparisons are for wide releases only (more than 1,000 theaters).
EDITOR'S NOTE: SO THIS IS WHAT ALL THE FUSS IS ABOUT? A FEW BILLION DROP? WHAT'S A FEW BILLION AMONG FRIENDS? I MEAN,

REALLY

???
But though all of those factors might have played a part, it really boils down to product.
When the industry experiences record seasons, the credit usually goes to the movies that contributed to those records -- the A-list stars, fresh concepts, franchises that delivered, sleeper hits. During the record-breaking times, boxoffice increases are not attributed to slow DVD sales, low-cost concessions or because home theaters don't have the latest THX yet. Likewise, when a slump occurs, it follows that whatever was given credit for the rise -- which is always the product -- also should take credit for the slump.
When taking the long view of boxoffice history, statistically speaking, the current summer downturn was overdue.
Since 1981, when records of seasonal boxoffice and admissions totals first began to be kept by boxoffice analyst A.D. Murphy, the summer season's ups and downs have followed a nearly uniform cycle of three up years, followed by two down years, and then the cycle begins anew.
Most recently, there was a three-year upward cycle, from 1997-99, followed by only one down year (in 2000), followed in turn by an unprecedented four up seasons.
EDITOR'S NOTE: SO…THE SKY ISN'T FALLING, IT'S JUST A CYCLICAL NORM?
Summer admissions have followed a pattern similar to the boxoffice grosses, but because changes in ticket prices can partially mask the downturns and recoveries, the pattern was more often three up years followed by three down years.
While the drops in boxoffice and admissions this summer are high, they are not unprecedented. Like the U.S. economy during the heady dot-com days, the distribution and exhibition industries had been on an extended swing upward, with a "correction" waiting in the wings.
EDITOR'S NOTE: SO IT WAS A

BUBBLE

? THANK YOU ALAN GREENSPAN
.
This summer's $300 million boxoffice shortfall from the all-time high last year represents the steepest single year-to-year drop since 1983. But from 1989-91, summer boxoffice grosses were down about $380 million, only to rise to record heights two years later in 1993. And that sizable $380 million drop happened despite two years of increased ticket prices.
This summer's admissions fell about 70 million from the previous year's record tally, a steep but not unprecedented drop. Ticket units during summer 2000 fell 45.5 million from the year before, and in 1990 admissions were down 63 million from 1989. As a result of two consecutive down summers back-to-back, admissions were off 113.1 million from 1989-91.
Still, while the summer of 2005 might be part of a larger pattern, that was little consolation for the studios that fielded films that fell short of the marks set in previous years. There were fewer blockbusters, less low- to midrange product and no big surprises.
This summer, "Sith" was the only film that grossed more than $300 million, compared with last summer, when DreamWorks Pictures' "Shrek 2" grossed more than $400 million and Sony Pictures' "Spider-Man 2" took in $367.8 million.
Altogether in summer 2005 only nine films grossed more than $100 million each, down from the previous year's 11 and summer 2003's record 15. The last summer when only nine films topped $100 million was 1998.
What this summer did have was three high-profile, high-priced misfires, each carrying a budget north of $100 million. Fox's Crusades adventure "Kingdom of Heaven" debuted the first weekend in May with $19.6 million and finished with just $47.4 million. DreamWorks Pictures' sci-fi actioner "The Island" debuted with an insipid $12.4 million and left the summer with $35.8 million. And Sony Pictures' high-tech "Stealth" opened with $13.3 million and ended the season with just $31.8 million.
EDITOR'S NOTE: HEY, AT LEAST "THE ISLAND" BEAT "STEALTH". (I EVEN HATED THE

TRAILER

FOR "STEALTH")
In the low- to midrange product area, things don't look much better.
Only 11 films grossed $50 million-$100 million, compared with 13 last year.At the same time, the number of wide-release films -- movies bowing in more than 1,000 theaters -- was the same number, 42, as last year. The number of wide releases between Memorial Day and Labor Day fluctuates year to year, from a low of 37 in 2003 up to 45 in 1998.
EDITOR'S NOTE: OK, IT'S FUNNY. BUT IT

FELT

LIKE LESS MOVIES CAME OUT THIS YEAR. SINCE THAT ISN'T THE CASE, I GUESS IT REALLY

IS

THAT THERE WERE FEWER FILMS GETTING TOP-OF-MIND ATTENTION. (OF COURSE MY MIND WAS RATHER OCCUPIED WITH ROTS FOR A WHILE. PRE-RELEASE, RELEASE, POST-RELEASE. SINCE THE THERAPY, I'M DOING A BIT BETTER, THOUGH. AT LEAST…GIDDY GIGGLING…TILL THE NOVEMBER DVD!!)
But though the number of wide releases remained flat, distributors had more choices in deciding where to book those movies as the nation's screen count rose by about 650 from a year ago. The building of new theaters continues to outstrip the closing of older venues, thereby increasing the number of screens to about 36,850. Yet while the pipeline continues to expand, most of this summer's candidates couldn't take advantage of that opportunity.
The only distributor that had a film lineup that took full advantage of all those screens was Fox, which won the summer market share crown for the second consecutive year.
Last year, Fox was in a horse race with DreamWorks in the early part of the season, but in mid-July, Fox overtook DreamWorks to take the crown. This summer there was no race.
With "Sith" out of the gate a week before Memorial Day, it was Fox on top from beginning to end.
As in summer 2004, the company had three films gross more than $100 million each -- more than any other distributor. Along with the $379.8 million from "Sith," "Mr. & Mrs. Smith," from Fox-based Regency Enterprises, targeted $184.6 million and the Marvel Comics adaptation "Fantastic Four" took in $152.6 million.
During the previous two summers, sequels were all the rage. In fact, during the 2004 season, for the first time in history the three top-grossing films were all sequels -- "Shrek 2," "Spider-Man 2" and Warner Bros. Pictures' "Harry Potter and the Prisoner of Azkaban."But this summer, only two films in the top 20 were sequels -- compared with last summer, when six of the 20 top-grossing films were sequels, or with 2003, when 10 of the top 20 were sequels.Instead, this season had an abundance of remakes and adaptations, which taken all together didn't fare nearly as well as their sequel counterparts in past years.
The most successful remakes were "War of the Worlds" ($232.6 million) Warners' "Charlie and the Chocolate Factory" ($201.3 million) and Paramount's "The Longest Yard" ($157.8 million), and the bottom rungs included Paramount's "The Honeymooners" ($12.8 million) and "The Bad News Bears" ($32.6 million).The biggest surprises, or in this case overachievers, were New Line Cinema's "Wedding Crashers" ($195.8 million) and Fox's "Smith" ($184.6 million).
Warner Independent Pictures' "March of the Penguins" ($63.4 million) along with Lions Gate's "Crash" ($53.3 million) were the summer's indie highfliers. But nothing in the marketplace could match the indie hit of summer 2004: Lions Gate's "Fahrenheit 9/11" ($118 million by season's end).
Like most summers, films rated PG-13 and PG dominated the top ranks, accounting for nine of the 10 top-grossing films, with "Wedding Crashers" being the lone R-rated entry.
This year, there was not one week (defined as Friday-Thursday) that topped $300 million. By contrast, last summer two weeks grossed more than $300 million each. In fact, 2004 was the first time that a one-week period took in more than $300 million during the summer, let alone two.
With the growth in the number of available screens, the average number of theaters for a wide release on opening weekend expanded slightly from 2,650 a year ago to 2,680. But combined with overall lower boxoffice performances, the average opening weekend gross slipped from $23.3 million last year to $19.6 million.
One factor that did show modest improvement was the average second weekend drop, which was down by 2 percentage points, falling from 51% a year ago to 49% this summer.
But no opening-weekend records were set in the dispiriting summer of 2005. The biggest debuts were from "War of the Worlds" ($77.1 million) and DreamWorks' "Madagascar" ($61 million). Although impressive, both openings were a far cry from "Spider-Man 2" ($115.8 million) and Fox's "The Day After Tomorrow" ($85.8 million), the previous summer's biggest openings.
EDITOR'S NOTE: OK, BUT ROTS WAS TECHNICALLY

PRE

-SUMMER AND SET ALL-TIME RECORDS FOR THIS. SO NOT EXACTLY A FAIR STATEMENT.

Summer B.O. wrap


Foreign grosses dropped from 2004 levels, but were better than previous frames.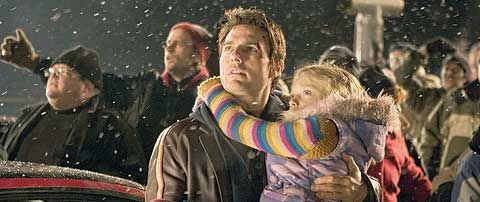 By Hy Hollinger
The international theatrical bubble is not bursting -- not in the eyes of the major studio executives who deal with the foreign market on a daily basis.
Sure, they say, there's been a worldwide boxoffice decline in the first half of the year, but it comes in the immediate wake of 2004, which was the industry's biggest year of all time at the overseas boxoffice. If, however, the results so far this year are compared with a more typical year like 2003, business this year is substantially ahead of where it was at the same point just two years ago.
EDITOR'S NOTE: WELL GOD BLESS THOSE LITTLE FURRINERS, EH?!
Paul Hanneman, executive vp sales and strategic planning at 20th Century Fox International, cites statistics assembled by the studio that show that at the end of the Jan. 1-Aug. 31 period this year the overseas boxoffice was about 10% ahead of 2003. The Fox figures estimate, as of the end of August, that this year's numbers have declined by 12% from where they stood in 2004. But 2004 represented a 25% increase over the comparable period in 2003, which in turn notched a 12% increase over the comparable period in 2002.
At the same time, some analysts say the boxoffice slump might signal the beginning of the end of many years of uninterrupted growth in the international market. They cite a variety of reasons for the foreign boxoffice decline -- DVDs, piracy, competitive entertainment, multiplex saturation, increased admission prices, annoying theater advertising, poor marketing, lack of local-language hits, no "surprise hit" like "The Passion of the Christ" and what many believe to be the poor quality of many of the movies released this year.
"
People are making films that people don't want to see,"
says a distribution executive who asked not be identified.
EDITOR'S NOTE: HE MAKES IT SOUND SO

SIMPLE

. SURELY THERE MUST BE SOMETHING DEEPER AND MORE COMPLEX TO IT THAN THAT?! (SNICKER)
Globetrotters

Distributor B.O. Top-performing film B.O.

20th Century Fox Intl. $1365
Star Wars: Episode III -- Revenge of the Sith
$459
Warner Bros. Pictures Intl. $1,030 Batman Begin $164
Buena Vista Intl. $747.0
National Treasure
$107.6
UIP/DreamWorks* $662.5
Madagascar
$277.1
Sony Pictures Releasing Intl. $516.0
Hitch
$187.7
UIP/Paramount $461.0
War of the Worlds
$347.8
UIP/Universal $288.5
The Interpreter
$83.1
Miramax Intl. $280.0
Sin City
$70
New Line Intl. $264.1
Blade: Trinity
$60
Overseas boxoffice from Jan. 1-August 31. Figures in $ million. UIP's total from Jan. 1-Aug. 31, $1.4 billion (with $20 million from separate acquisitions).
This year, only two tentpole films -- United International Pictures/Paramount's "War of the Worlds" and Fox's "Star Wars: Episode III -- Revenge of the Sith" -- grossed more than $300 million at the overseas boxoffice from January-August.
In 2004, six films topped $300 million -- Warner Bros. Pictures' "Harry Potter and the Prisoner of Azkaban," New Line's "The Lord of the Rings: The Return of the King," DreamWorks' "Shrek 2," Warners' "Troy," Fox's "The Day After Tomorrow," Sony's "Spider-Man 2."
This year, it looked as if only Fox would top $1 billion at the offshore boxoffice at the Aug. 31 cutoff, but then Warner Bros. Pictures International hit the peak a few days before the deadline.
Last year, Warners and Buena Vista International (the Walt Disney Co.'s overseas distribution arm) hit the $1 billion jackpot by the end of August, and Fox and Sony Pictures Releasing International were poised (and made it) to the $1 billion platform.
"
The product did not resonate internationally as well this year as in the previous year
," says Veronika Kwan-Rubinek, Warners president of international theatrical distribution, who called attention to the cyclical nature of the film business.
But Kwan-Rubinek, supported by her counterparts at the other major studios, anticipates a huge upsurge for the industry in the final four months of 2005, especially with a year-end holiday lineup that includes Warners' "Harry Potter and the Goblet of Fire,"
EDITOR'S NOTE: WHOOHOO!!
BVI's family fantasy "The Chronicles of Narnia: The Lion, the Witch & the Wardrobe" and UIP/Universal's "King Kong" from "Lord of the Rings" director Peter Jackson.
Kwan-Rubinek says she noticed an upswing in the overseas market in July and August, as "Charlie and the Chocolate Factory" topped $100 million (with dates this month in Australia, Japan, Korea and Italy), and "The Island," a domestic dud with about $34 million, also made it to the $100 million mark.
EDITOR'S NOTE: SO ME……. AND A BUNCH OF FOREIGN PEOPLE LIKED "THE ISLAND"?
Warners (currently at $1.03 billion), with $164 million in the bank for "Batman Begins" and a new "Potter" on the horizon, also will have such titles as "Rumor Has It," "The Dukes of Hazzard," "Tim Burton's Corpse Bride," "Kiss Kiss, Bang Bang" and "Must Love Dogs" in play from now until year's end.
"
I think the year will be huge for the industry,"
says Fox's Hanneman, though he concedes that the front-end slump might partly be because of "
middle-range films that don't perform well because of many other entertainment opportunities for teenagers."
Fox ($1.36 billion) ruled the roost in the eight-month period ending Aug. 31, finding favor with "Sith" ($459 million), "Kingdom of Heaven" ($144 million), "Mr. & Mrs. Smith" ($157.4 million), "Fantastic Four" ($142 million) and "Robots" ($131.5 million).
The mop-up troops for the final four-month lap, headed by the holiday-season Steve Martin-Bonnie Hunt family comedy "Cheaper by the Dozen 2," include the Russian sci-fi thriller "Night Watch," "Fantastic Four" in Japan, the ensemble comedy "The Family Stone," the action-thriller "The Transporter 2" and New Regency's "Little Manhattan."BVI ($748 million at the end of August) is depending on "Narnia" and the rest of its end-of-the-year slate to help it maintain a remarkable record of 10 consecutive years of $1 billion-plus hauls -- despite not having a summer blockbuster among such titles as "Herbie: Fully Loaded" and "The Hitchhiker's Guide to the Galaxy."
The rest of the fall lineup also includes Ron Howard's "Cinderella Man," the soccer movie "Goal!" the Jodie Foster starrer "Flightplan," the animated family comedy "Chicken Little" and the comedy drama "Kinky Boots."
"
It will help position us to maintain our $1 billion consecutive streak,"
says Anthony Marcoly, BVI's executive vp distribution and acquisitions.
Sony ($516 million) also is looking for a surprise to finish the year after its summer hopefuls -- "XXX: State of the Union," "Stealth" and "The Adventures of Sharkboy and Lavagirl in 3-D" -- failed to click sufficiently with overseas moviegoers.
High on Sony's lineup for the year's final lap is "The Legend of Zorro," the Antonio Banderas-Catherine Zeta-Jones starrer that is set for a worldwide day-and-date release late next month. "Bewitched," "The Longest Yard" and "Deuce Bigalow: European Gigolo" will be around through November, backed later by horror thrillers "The Cave," "The Exorcism of Emily Rose" and "The Fog."
Mark Zucker, senior executive vp Sony Pictures Releasing International, says that "
a couple of surprise hits
" will make up for this year's "
product-related"
slump.
"
We're only a couple of pictures away. What's missing is those sleepers that show up,"
he says.
"
It'll be a very healthy fall and a really strong Christmas
," says Andrew Cripps, president of United International Pictures, the London-based overseas distributor for Paramount ($461 million to date), Universal ($288.5 million) and DreamWorks ($662.5 million) as he anticipates the September-January flow of Universal's "King Kong," Paramount's "Bad News Bears" and DreamWorks' "Wallace & Gromit: The Curse of the Were-Rabbit."
The boxoffice decline, Cripps says, hardly ruffled UIP, which had an enviable summer thanks to "War" ($347.8 million), which represents a major comeback for Paramount, and DreamWorks' "Madagascar" ($277.1 million).
He says UIP might be heading for a record year depending on the outcome of its fall-to-winter releases.
Boxoffice revenue totaled $1.4 billion as of Aug. 31 (including about $20 million from separate acquisitions), compared with $1.1 billion in 2004.