Friday (falalalala) with some VERY groovy STAR WARS news (and PICS)
EDITOR'S NOTE: JUST WHEN YOU THOUGHT ALL THE FUN WAS DONE. JUST WHEN YOU THOUGHT THE TORPOR WAS EVERLASTING. JUST WHEN YOU THOUGHT YOU NEVER NEEDED TO GO INTO A FAST-FOOD RESTAURANT AGAIN ------
Burger King Brings Back The Force

EDITOR'S NOTE: A GREAT PROMOTION (AND BK HAS DONE A

SUPER

JOB) DESERVES A LOGO, YES?
Get ready for another round of Super D toys at Burger King this fall as Star Wars takes over for another promotion beginning November 7th.
EDITOR'S NOTE: SOMEONE REMIND ME TO START CHECKING OUT BK AGAIN IN A MONTH OR SO?
Seventeen more toys will join the lineup with 4 Cosmic Cruisers, 4 Shadow Casters, 4 Galactic Spinners, and 4 Jedi Wisdom toys...plus 1 Darth Vader chase figure.
Also get ready for 6 Destiny Watches that you'll flip over
EDITOR'S NOTE: AND HERE'S MORE DETAILS FROM UNCLE G'S OFFICIAL SITE ---
Revenge Returns to Burger King

EDITOR'S NOTE: ANOTHER LOGO;THEY ARE

REALLY

GOOD TOYS.
Hot on the thrusters of Burger King's extremely popular series of Star Wars Super-D figures and vehicles, an all-new series of 17 additional collector toys are set to target your local Burger King restaurant in conjunction with the
Revenge of the Sith
DVD!
Four all new categories of the Super-D series have been devised for this stellar promotion, each containing four characters from the Star Wars saga.
In addition, Darth Vader returns as the elusive chase figure, this time sporting a sound chip heaving his signature rasp.
EDITOR'S NOTE: WOOOHOOOOOO!!!
Categories include:
Cosmic Cruisers -- rolling spring-loaded vehicles that launch from special keys inserted in the back:
ARC Clone Fighter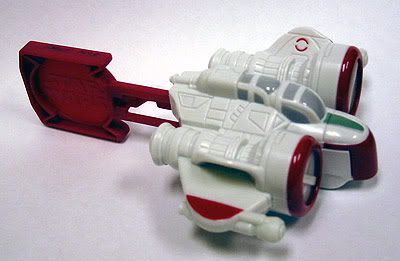 Vulture Droid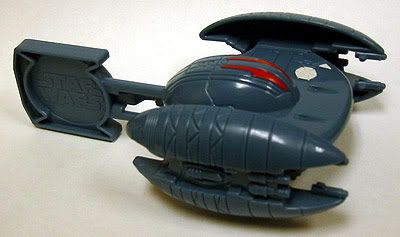 NabooStarfighter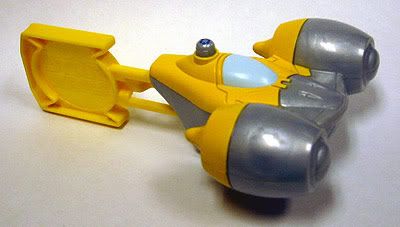 Snowspeeder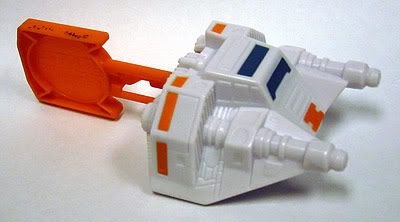 Shadow Casters --- by depressing a button on the back, an image is projected from the bottom of the figure:
Stormtrooper with Imperial logo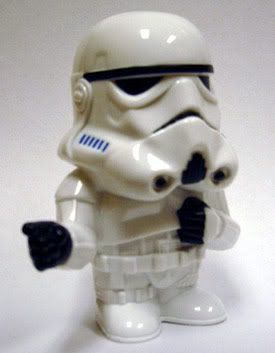 Queen Amidala with Anakin Skywalker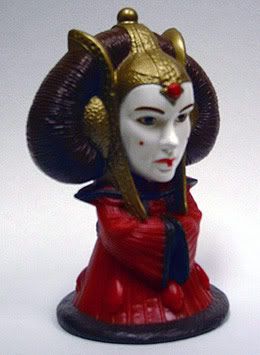 Bail Organa with Yoda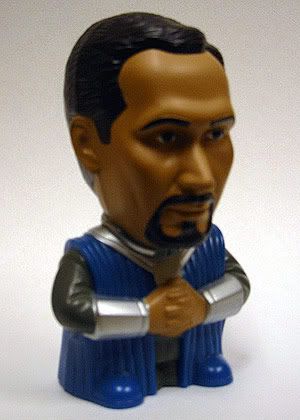 EDITOR'S NOTE: OOOO. A SQUATTY JIMMY SMITS TOY! (LIFE

IS

GOOD).
R2-D2 w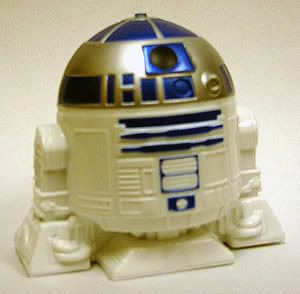 ith Princess Leia
Galactic Spinners -- tops that you rev up and spin on a "whirler" revealed by removing the figure's lower half:
Emperor Palpatine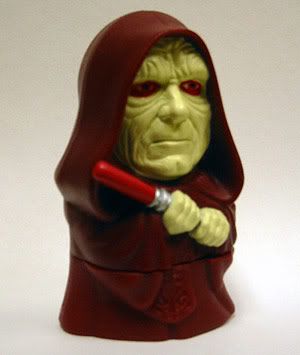 Chewbacca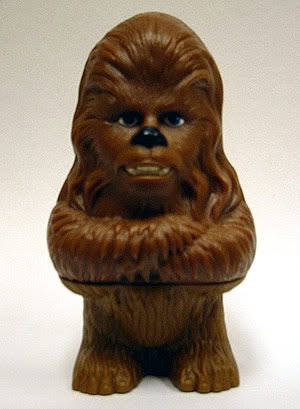 Luke Skywalker
Anakin Skywalker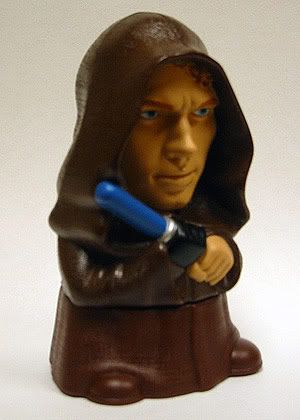 Jedi Wisdom -- magic fortune telling cubes are revealed beneath these four Jedi figures:

EDITOR'S NOTE: MAGIC 8 BALLS, BUT JEDI?! ZOWEEEE!
Obi-Wan Kenobi from A New Hope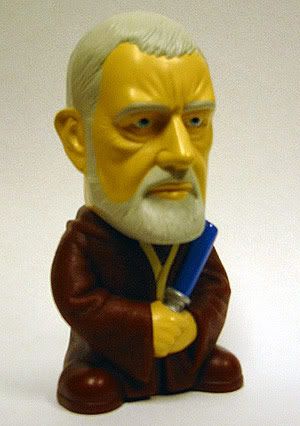 Mace Windu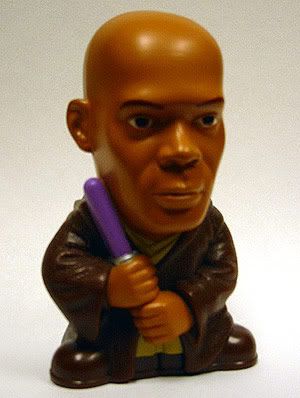 Kit Fisto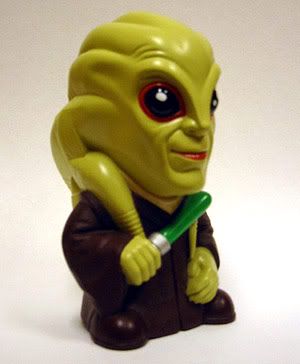 Yoda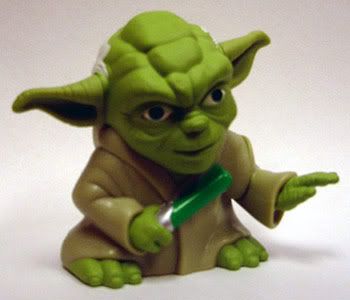 Finally, a Darth Vader chase figure with sound chip will be tough one to find this time, so make sure to perk up your Sith sense looking for them.
EDITOR'S NOTE: 'SITH' SENSE. HA HA. I JUST NEVER GET TIRED OF THAT ONE. AHEM....
ON THE OTHER HAND, WOWOWOWOWOWOW!!! BK ROCKS! UNCLE G LOVES US!!! WOWOWOWOWWOWOW!!!
Have It Your Way Destiny Watches
In addition to the new figures and vehicles, six unique flip watches commemorating each film in the saga will also be available in special collectible tins.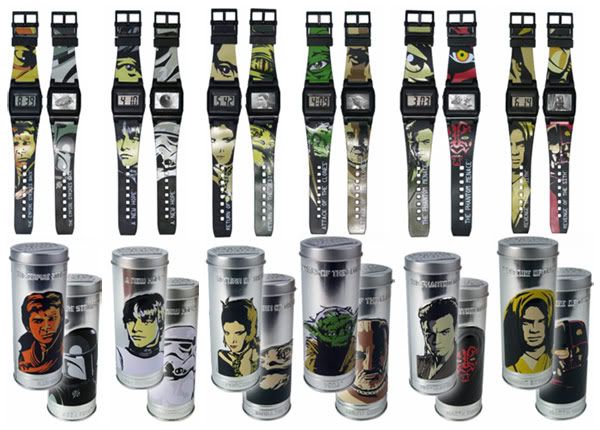 The six Destiny Watches truly allow you to "Have It Your Way" -- each liquid crystal digital watch face can be flipped to reveal a laser hologram image on the reverse, and each sports two completely different patterns on each side of the watch bands.
What's more, the two halves of each watch band can be swiveled independently, allowing for eight different configurations!
EDITOR'S NOTE: STOP STOP STOP! TOO MANY CHOICES. MUST LIE DOWN NOW......
Each watch comes in a collectible tin with stylized embossed imagery and one of six titles from the Star Wars saga.
Look for the Destiny Watches, which will be available for $1.99 with the purchase of any Adult Value Meal, and free with Kids Meal Super-D saga figures starting November 7 and running through December 11, or while supplies last.
EDITOR'S NOTE: I DON'T CARE IF YOU ARE ON A DIET. I DON'T CARE IF BEEF DISGUSTS YOU AND THE THOUGHT OF EATING CORPORATE JUNK FOOD IS AGAINST YOUR RELIGION.
I MUST OWN ALL OF THESE. (AND YES, THAT IS THE DARKSIDE TYPING, BUT THAT DOESN'T MEAN IT ISN'T A TRUE MANDATE).
AND SPEAKING OF OUR CUPS RUNNING OVER.....
Chocolate Mpire Returns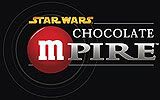 Rebelscum reader Richard Blood received this email from Masterfoods when he inquired about the dark chocolate M&Ms:
Masterfoods USA is excited about our promotional partnership with Lucasfilm and STAR WARS as the exclusive confectionery snack sponsor of the sixth and final movie; Star Wars: Episode III Revenge of the Sith.The promotion is dubbed, "The Star Wars M-Pire", and for the first time, M&M'S CHOCOLATE CANDIES were made available in dark chocolate beginning in April 2005.
M&M'S DARK CHOCOLATE CANDIES were only available for a limited time and sold out very quickly. The product cannot be purchased via the Internet nor directly from us.This product will be available again at the end of September through November 2005. As in the Spring, the product will be available in limited quantities at, Target, Walmart and Kroger. We hope you will watch for them.
EDITOR'S NOTE: AND MORE SHOPPING ---
Star Wars: Clone Wars Volume 2 Coming to DVD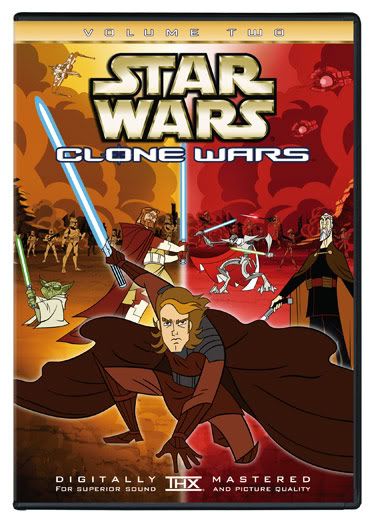 Jedi heroes
Anakin Skywalker
and
Obi-Wan Kenobi
continue their valiant fight to stop the evil
Separatists
led by
General Grievous
in the Emmy Award-winning and critically acclaimed Star Wars: Clone Wars series. The animated adventures that appeared on Cartoon Network and starwars.com Hyperspace will be complete on DVD on December 6, 2005 with the release of Star Wars: Clone Wars Volume 2.

All five 12-minute chapters of Volume 2 are included in this release, chronicling Anakin's rise to
Jedi Knight
as well as General Grievous' daring attack against the Republic capital, leading directly into the events of Star Wars: Episode III Revenge of the Sith. See Grievous cut through Jedi warriors as he kidnaps the Chancellor,
Mace Windu
and
Yoda
fighting side-by-side to defend
Coruscant
, and Skywalker's shocking vision of the future.

Directed by
Genndy Tartakovsky
with Art Direction by
Paul Rudish
, the Clone Wars series are a fresh, stylized take on Star Wars.
Each chapter features exclusive audio commentary by Tartakovsky and his team of artists. Also included as bonus material is a brand new featurette, "Connecting the Dots," that takes audiences inside the creative process and shows how the series connects to Episode III.
There are also two full galleries of animation concept art, storyboards, and sketches, as well as trailers for upcoming LucasArts video games, Star Wars:
Empire
at War and Star Wars Battlefront II, which also includes an Xbox playable demo of two entire levels from Battlefront II.

Be sure to pre-order your Clone Wars Volume 2 DVD
from StarWarsShop today!
EDITOR'S NOTE: SINCE I HAVEN'T BOUGHT VOLUME 1 YET (SHAME SHAME) I WONDER IF THEY'LL SELL A TWO-VOLUME SET?
EDITOR'S NOTE: AND NOW, SOME LOVELY SW PICS TO GAZE UPON WHILE WE PONDER LIFE AND GOODNESS AND ALL THAT COOL STUFF WE WILL SOON HAVE TO (GET TO) BUY ----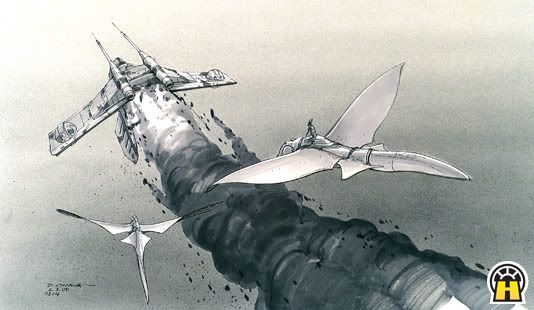 Geonosian fliers atop aiwhas hound a doomed Republic gunship in this concept illustration by Doug Chiang.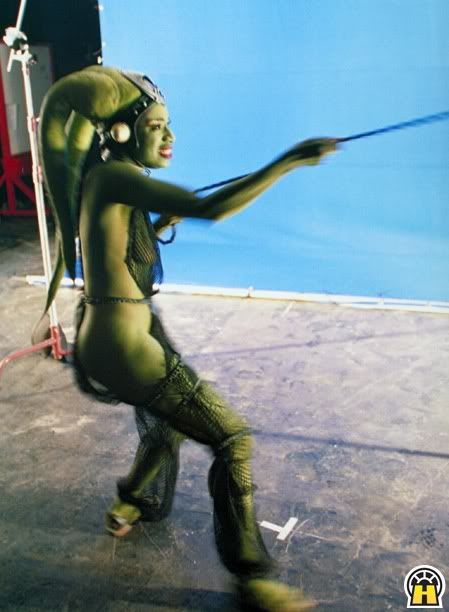 Oola makes her objection to Jabba's advances clearly known. Femi Taylor returned to the green-skinned role after over a decade to film new elements for the Special Edition release of Return of the Jedi.EDITOR'S NOTE: AND STILL IN FAB SHAPE! (YOU

GO

, GIRL!)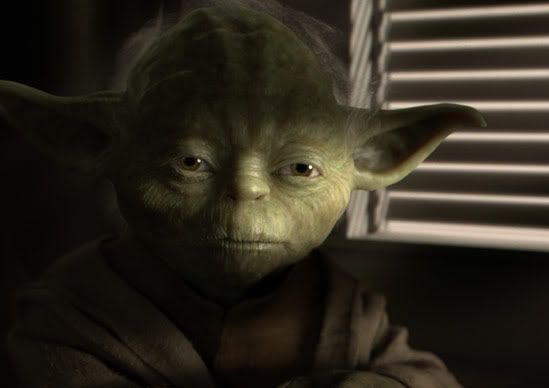 GREEN NOIR. The slatted windows of his chambers cast a moody shadow on the wise Yoda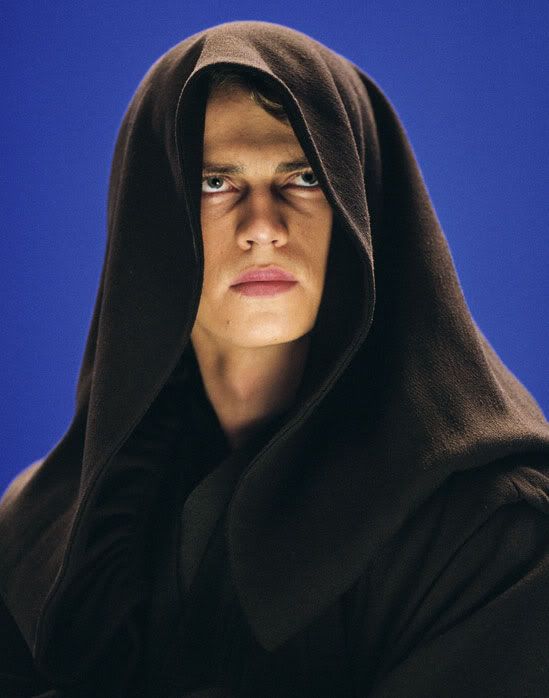 Hayden Christensen (Anakin Skywalker) takes well to the demands of the dark side during pickup photography in Shepperton.
EDITOR'S NOTE: EVIL CAN BE SO PRETTY....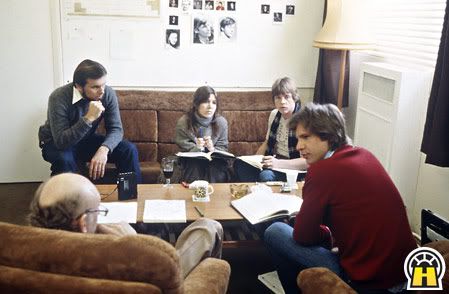 An early meeting of the minds for Empire -- Producer Gary Kurtz and Director Irvin Kershner discuss the upcoming film with Carrie Fisher, Mark Hamill and Harrison Ford.
EDITOR'S NOTE: LOOK HOW YOUNG THEY ALL WERE!