Friday (yippee skippee) at the Movies
NC-17 upheld for ThinkFilm's 'Truth'
The Appeals Board of the MPAA's Classification and Rating Board upheld the NC-17 rating it awarded director Atom Egoyan's "Where the Truth Lies" at a meeting Wednesday at which it heard statements from Egoyan and actress Rachel Blanchard.
The rating was given to the film, which will be released by ThinkFilm, because of what the board described as "some explicit sexuality."
ThinkFilm requested the appeal after Egoyan had already made several cuts to the film, starring Kevin Bacon and Colin Firth, in hopes of receiving an R rating.
At issue, according to ThinkFilm, was the mystery's pivotal scene, which involves a menage a trois between Bacon, Firth and Blanchard, which leads to a young woman's death.
EDITOR'S NOTE: SO…TO CLARIFY….IS IT THE MENAGE THAT GETS THE RACY RATING, OR SEX=DEATH, OR WHAT?
According to Egoyan, the shot was filmed as a single sustained master shot and he couldn't cut it any further without rendering the mystery incomprehensible
EDITOR'S NOTE: THEN AGAIN, MOVIES MAKING SENSE IS A NEW CONCEPT; WHY START NOW AND MESS UP YOUR RATING?

Danes joining 'The Flock' for shepherd Lau
Claire Danes is in final negotiations to star alongside Richard Gere in "The Flock," Bauer Martinez's thriller being directed by Andrew Lau.
"Flock" follows a hypervigilant federal agent (Gere) who is training his young female replacement (Danes). The two must track down a missing girl who might be connected to a paroled sex offender under investigation.
Hans Bauer and Craig Mitchell wrote the script. Bauer Martinez's Philippe Martinez will serve as producer on the film along with Elie Samaha, Jenette Kahn, Adam Richman and Lau. The budget is pegged in the $35 million range
EDITOR'S NOTE: PLEASE TELL ME THAT DANES AND GERE ARE NOT TIED ROMANTICALLY IN THE MOVIE. PLEASE? (
HE'S A HANDSOME MAN. BUT HE'S APPROACHING GEEZERHOOD. AND SHE IS STILL, WELL….EWWWW….NOT RIGHT
).

Work underway on 24 the movie
Just when it looked like he was going to be stuck in the box forever - not that he's complaining, you could imagine the Ben's that are aligning his wallet thanks to the series - Kiefer Sutherland has confirmed there are plans to take "24" to the big screen, and he will be back as Jack Bauer.
"
We have talked about it. Our biggest problem right now is getting the writers to find enough time to write a screenplay
", he tells
Empire Online
.
EDITOR'S NOTE: YEAH, CAUSE THEY ARE USED TO HAVING A WHOLE SEASON TO MAKE IT UP AS THEY GO ALONG
.
"
There are certain inherent challenges in trying to make something in real time over a two-hour period that's going to allow enough to be engaging. I certainly believe that they're going to accomplish that, but I don't think that's going to happen—well, it might happen for next year—for next year's hiatus. We're not sure yet, but they have been working on it."

Spider-Man 3 secrets revealed!
Many have been speculating/guessing/assuming what characters Topher Grace and Thomas Haden Church are playing in "Spider-Man 3".
Most recently, the majority agreed that one - or possibly both, which would make sense? - will be donning the name-tag 'Chameleon'.
Not so, says
Freeze Dried Movies
, who have got to the bottom of the 'which villains are they playing?' conundrum.
According to the site, Grace will play the character of 'Venom', and Haden Church will be playing 'Sandman'. Done. Finished. All-Clear. The puzzle be solved, y'hear?
EDITOR'S NOTE: OH. SO EARLIER GOSSIP WAS JUST FANBOY RUMORMONGERING, EH? (OR IS THIS SOMETHING TO TOSS US OFF THE SCENT?)
In addition, there's a third villain in the film. James Franco, who plays in the previous films, transforms into Hobgoblin (not the Green Goblin II, as he was in the comics) sometime in the next instalment.
EDITOR'S NOTE: YEAH. ABOUT TIME HE WENT ALL THE WAY TO THE DARKSIDE, SINCE HE'S BEEN BEATEN ABOUT BY FATE FOR TWO MOVIES.

Crowe on Gladiator 2 and Master and Commander 2
Apparently - and not surprisingly, the films added an extra floor to most of the exec's condo's - the respective studios behind both "Gladiator" and "Master and Commander" are hungry for sequels to the hit films - but what does AT&T spokesman Russell Crowe say about that?
The Kiwi spoke to Australia's Empire Magazine about the likelihood of any of them happening.
Would you ever play Capt.Jack Aubrey again?
It comes up all the time, man. People I meet - bankers, doctors, pilots - are always pulling me aside and saying [adopts English accent], 'So, Captain Aubrey. When do you think he might set sail again?"
.
So will he?
Contractually, with Fox, I'm not required to. Everybody else is if they want to do another one. I think Paul [Bettany] is contracted for three. There are 20 books and there are so many more adventures. You never know. There are some intriguing ideas, like bringing in his dad, his wife, other characters from the books.
There's always talk of a [Gladiator] sequel or prequel. Have you ever been interested?
At first I was very cynical about that notion, but I've come around on it. We've had other ideas too, where we step off into the metaphysical and you actually acknowledge the fact that Maximus is dead [laughs], but that is a hard script to write
.
How far did you get with the idea?
Nick Cave actually wrote a draft for me and Ridley [Scott] at one point. He's an excellent writer, man. Nick did this draft and Ridley and I considered it for a while. Actually I paid for it, such is my belief for the idea. But again, like I say, unless everybody is on line then it's kind of pointless going forward with it.
EDITOR'S NOTE: SO…A DEFINITE, OR NOT-SO-DEFINITE

MAYBE

TO BOTH, EH?

Statham CRANKs it up
Lakeshore Entertainment will produce the action-thriller CRANK for Lions Gate Films. The film will Jason Statham.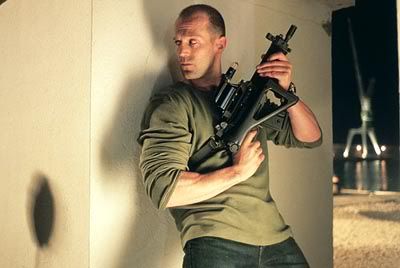 EDITOR'S NOTE: VOILA. IN CASE YOU WERE THINKING '

WHO

'?
The story centers on a hit man's one-day rampage through the streets of Los Angeles after learning he's been poisoned.
Mark Neveldine and Brian Taylor wrote the script. They will also direct.
Filming will begin in October.
EDITOR'S NOTE: FOR A GUY (ALBEIT A SEXY ONE) THAT WE DON'T REALLY KNOW A JOT ABOUT, HE'S SURE HAVING A RIP-ROARIN CAREER, HUH?
Manson Crimes Inspire FREAKY Animated Musical
Wellspring has acquired all North American rights to LIVE FREAKY! DIE FREAKY!
The stop motion animated musical was inspired by the Manson family crimes.
EDITOR'S NOTE: APRIL FOOLS! NO, ACTUALLY, I DIDN'T MAKE THIS ONE UP. (REALLY. I

DIDN'T

)
The story centers on a young man in the year 3069 who discovers a copy of Vincent Bugliosi and Curt Gentry's "Helter Skelter," which described the murders committed in the '60s by Charles Manson and his followers. Treating the book as a biblical text and adopting Manson as a messiah, the young man preaches a better world through "music, murder and mayhem."
EDITOR'S NOTE: CHARLES MANSON JUST

SCREAMS

COMEDY AND MUSIC, DOESN'T HE? (I'M SO SURPRISED NO ONE FILLED THIS ACHING VOID BEFORE NOW)
Billie Joe Armstrong of Green Day and Tim Armstrong of Rancid and Operation Ivy provide the voices for two of the characters.
Park Talks WERE-RABBIT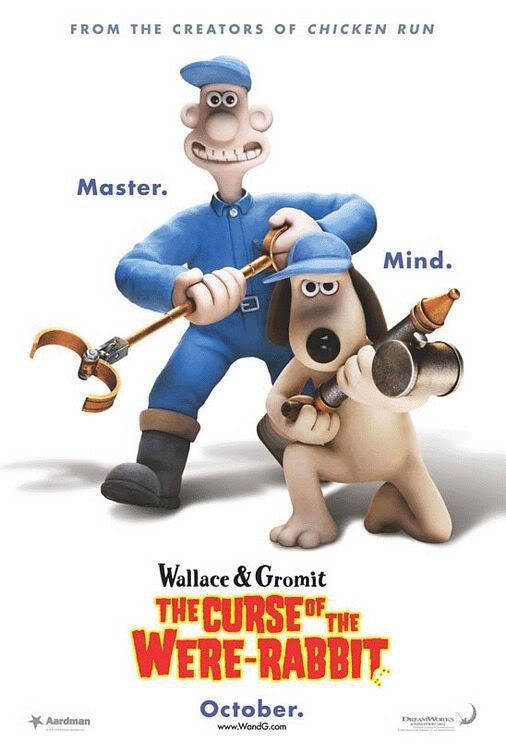 Moviehole talked to WALLACE AND GROMIT: THE CURSE OF THE WERE-RABBIT's director Nick Park, who offered an update on what he/or the studio are up to next. Though he says a WALLACE & GROMIT 2 is a ways off - he has got an idea for a sequel to CHICKEN RUN.
EDITOR'S NOTE: WHAT ABOUT MORE TALES OF SHAWN, THE SHEEP!?
Park says he's looking forward to a well-earned rest after he travels the world to promote WALLACE AND GROMIT: THE CURSE OF THE WERE-RABBIT and has no immediate plans for a follow-up film. He seems confident that there might be another WALLACE AND GROMIT movie in the future - but is in no rush to see it come to fruition.
"I guess if this is successful, there probably will be talk of another one. I don't quite know yet. It's a long haul thing. I find every film I do sparks off a hundred more [ideas] – especially with these, they sort of write their own stories".
One film he does have an idea for is "Chicken Run 2".
"
At the time I thought 'No Way, I don't want to see another Chicken as long as I live!' but I have got an idea for a sequel
", he says. "I
don't want to do it just because you have to – because of commercial pressure [though]".
Meantime, he's lending a helping hand on some other Aardman projects, including the highly anticipated FLUSHED AWAY.
"It's half-way shooting right now actually. It's all CGI
", he explains. "
It's about rats in a sewer. It's looking good. Very funny".
Also, "
John Cleese is writing a film for us as well, about cavemen. I think it's all going to be in plasticine. It's called CRUDE AWAKENING. I think there's a lot of jokes in there about the French",
he laughs.
EDITOR'S NOTE: WELL, IF YOU WANT TO TAKE THE

EASY

ROUTE…….
Lynch on those Twin Peaks rumours
You can wish and wish all you want - but it doesn't sound like there's anyway to get Kyle MacLachlan back in a trenchcoat with a dictaphone glued to his gob. At least, not until the only job on his to-do list is an ad for Cherry Pie.
Rumours of a series of new "Twin Peaks" telemovies, featuring the character of Agent Dale Cooper, have been debunked by creator David Lynch.
Lynch, who hasn't worked with McLachlan for a few years now, told readers on his official site that there's no plans for a Cooper comeback.
"The Rumors are not true
", said the unique lizard of lens.
Lynch initially planned on doing more than one "Twin Peaks" spin-off film, but when "Fire Walk With Me" bit the big one at the box office - and, was trimmed to shreds by the studio - he changed his mind. A couple of years back a UK production company called Phoenixmedia contacted us to let us know that they were trying to get a new "Twin Peaks" movie off the ground. Called "With a Thousand Angels", it. The company had hoped to get Lynch's approval. We assume, they never did.
"
Many people have been asking about the involvement of David Lynch, as far as we are concerned there will be no movie if David Lynch is not on board",
the company said at the time.
All is not lost though. If you're based in the country where a 'Meat Pie' is one of the main food groups, you can see Cooper in the DVD debut of "Twin Peaks : Fire Walk With Me", which arrives on shelves in a couple of weeks. The Region 4 edition - the MK2 one, for those who know what I'm yabbering about - includes a couple of vintage extras including interviews with some of the cast, a trailer and two-hundred and fifty deleted sce...OK, got ya there. Again, that was me hoping. You've simply got the interviews and a couple of other smallish things. Those who actually purchase the DVD - not just snag a review copy from the distributor - will also get a bonus 40-page collectors booklet on the film.
EDITOR'S NOTE: GOSH I LOVED THE SHOW ONCE UPON A TIME. BUT I DON'T SEE IT PLAYING AGAIN OR ME CARING AGAIN.
Attack of the Clones
Now that he's all finished with the lightsabers and greenscreens, Ewan McGregor's sliding back into the kind of films he does best. The "Island" star will headline "The Great Pretender", says Variety, in which he plays four roles - in two different time periods.
The movie, from director Peter Capaldi, tells of two ambitious filmmakers who try to coax Hollywood legend Leslie Grangely into playing Bonnie Prince Charlie in a movie about Scotland's Jacobite Rebellion in the 18th century. When Grangely goes AWOL - they have to get an extra (who looks like the actor) to fill in.
McGregor will play Grangely, the extra, and, the two characters they play in the film within the film. The $18 million dollar project kicks off in London in January.
EDITOR'S NOTE: SOUNDS LIKE FUN! (AND I LOVE IT WHEN AN ACTOR I LIKE SO MUCH HAS SUCH AN OCD WORK-ETHIC).
Is Connery returning to shoot Canon?
Sean Connery is said to be ready and willing to give the prematurely squashed "Josiah's Canon" another go.
The semi-retired actor, who last year walked away from 'Canon' to concenrate on his writing, is in talks to rejoin the production. Brett Ratner will resume his directing position.
"
20th Century Fox apparently intended on getting the movie up-and-going again - but they assumed with a new star. To their surprise, Connery's considering it now
", an insider tells Moviehole. It's unsure when the film will go ahead, but both Ratner, currently helming "X-Men 3", and the studio, "
are hoping for a Fall start
".
It will film in Prague.
The dramatic heist story is about a Holocaust survivor who leads the world's foremost team of bank robbers. The criminal mastermind sets his sights on a supposedly impenetrable bank in Switzerland, which holds special appeal.it purportedly houses gold deposited by Jews prior to the Holocaust. Adam Fields will produce.
EDITOR'S NOTE: SO THE OLD CRANK DECIDED TO BACK-PEDAL ON HIS FORESWEARING OF ACTING? GOOD. WE NEED MORE OLD CRANKS ON SCREEN.
The X-Files 2
The 'little sequel that couldn't' isn't quite dead yet - atleast William B.Davis (The Cigarette Smoking Man), speaking to MTV, hopes not.
"
I remember when we talked about it way back, just after the [TV show's] finale, but what kind of a film could I do?"
he laughed. "
One of the problems, of course, for me is that I'm very dead. I mean, they demolished me in the finale. I've come back from the dead a couple of times, but whether I could come back from that is a little hard to imagine
."
Apparently one idea that Chris Carter has for the film is a prequel - which means Davis could return. "
His point [however] was that David [Duchovny] and Gillian [Anderson] are getting older, so how far back in time can you go? And now quite a number of years have gone by. So whether the cigarette-smoking man can make a believable appearance other than a ghost, I don't know ... [but] I'd love to do it. It'd be great."EDITOR'S NOTE: CSM OR NOT, GET THIS MOVIE MADE, DURN IT! (

BEFORE I CARE AS LITTLE AS I NOW DO ABOUT "TWIN PEAKS". NOT THAT THAT IS IN ANY DANGER OF HAPPENING, XFILES STILL TOPS IN MY BOOK

).