A few Friday (Zippideedoodah) OddsNends
Altman to direct on London stage
Hollywood veteran Robert Altman is to make his London stage directing debut at Kevin Spacey's Old Vic next year.

Altman, 80, will direct one of Arthur Miller's final plays, Resurrection Blues, as part of Spacey's second season at the London playhouse.

Miller was rewriting the play at the time of his death earlier this year.

Spacey, currently in rehearsals for an Old Vic production of Richard II, will return next autumn to star in Eugene O'Neill's A Moon for the Misbegotten.

However, there are no plans for him to act or direct at the theatre between those two plays.

"

I don't want to overplay my hand

," he said at the season's press launch on Thursday.
"

We have to allow the novelty of my being on stage to shift a little bit so it's not on my shoulders entirely."



Criticism
Spacey said the combination of Altman and Miller was "a double whammy" for the theatre.

"

It's a remarkable, challenging play, and Robert continues to be at the top of his game."



Recruiting the director of MASH and Gosford Park was a major coup for the two-time Oscar-winner, whose first season at the Old Vic was met with harsh criticism from some quarters.

His commitment to the theatre had also been questioned, most recently when he took a leave of absence midway through a revival of The Philadelphia Story in order to make a film in Australia.

However, Spacey said he had "

no regrets at all

" about his first year in charge at the historic south London venue.

"

I walked in expecting to come under criticism

," he said.



"But when you're in it for the long haul you're not concerned. It's too early in the game to start looking back."





'Convincing' king



Spacey said he was "

having the time of his life

" working on Shakespeare's Richard II with director Trevor Nunn - despite having to master an English accent for the lead role.

"

I'm doing my level best to be convincing as an English king

," he said. EDITOR'S NOTE: CERTAINLY AN ENGLISH 'QUEEN' WOULD BE A PIECE OF CAKE....(AHEM....SORRY.....SORRY....)

The 46-year-old admitted he was having trouble pronouncing certain words but added: "

If it makes sense and feels real, it will sound right."



He also refused to confirm whether he and Nunn would film the show during or after its run.
Between Richard II and Resurrection Blues, Sir Ian McKellen will return as Widow Twankey in the Christmas pantomime Aladdin.

The Old Vic will then host a production of Stravinsky's The Soldier's Tale, performed by a combination of British and Iraqi actors.

After the Miller play, first staged in the US in 2002, there will be another, still-to-be-named production.
Seven of Nine And Oh What a Bust it is...
Sideshow Collectibles is taking orders for the Seven of Nine Bust.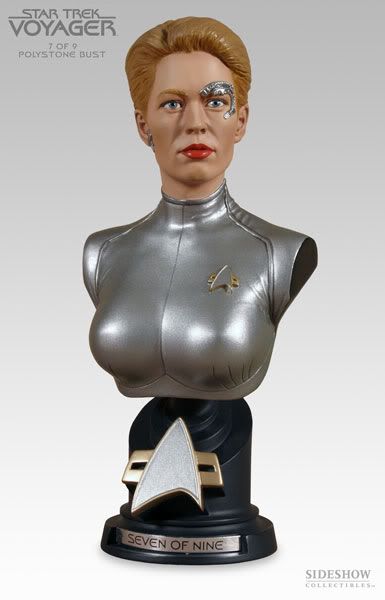 Seven of Nine, short for Seven of Nine Tertiary Adjunct of Unimatrix Zero-One, joined the STAR TREK Voyager crew during the fourth year of their journey. She was designated to help Captain Janeway and Tuvok to destroy an alien species threatening both Voyager and the Borg, Species 8472.
The Seven of Nine polystone bust features:
- Jeri Ryan likeness sculpted by Oluf Hartvigson - Each base bottom features product information, a print of the artist's signature, and hand-numbered edition info.
Only 2000 will be sold in this limited run. It retails for $40.
EDITOR'S NOTE: SO ANDREW….SAVING UP? (AND IF YOU PLACE HER ON A SHELF JUST THE RIGHT WAY, YOU CAN TALK INTO HER BREASTS JUST LIKE JANEWAY ALWAYS HAD TO WITH THEIR RELATIVE HEIGHTS. DISTURBING…..)
Original BATTLESTAR GALACTICA TV Series Action Figures
Later this month, Majestic Studios is heading back to the 70's with with 12" collectible figures from the original classic BATTLESTAR GALACTICA TV show.
Majestic will be offering all your favorites:
Richard Hatch as Capt. Apollo,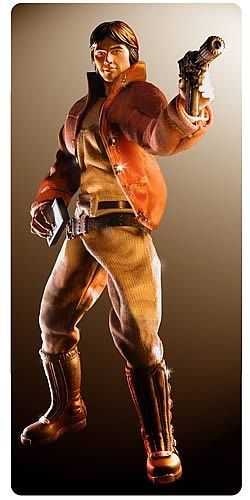 Dirk Benedict as Lt. Starbuck,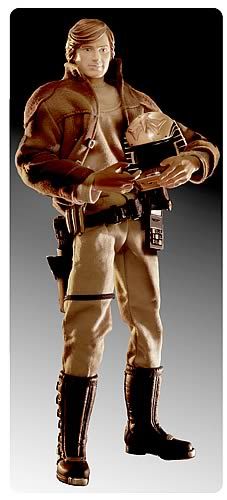 Lorne Greene as Commander Adama and more.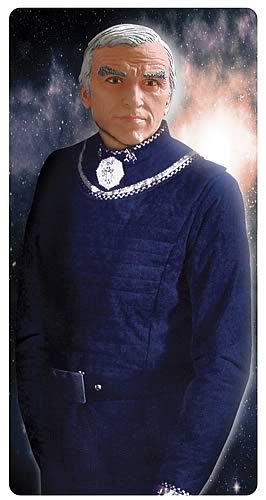 EDITOR'S NOTE: OK, THIS ONE'S CREEPY. WONDER HOW MANY PEOPLE ARE LINING UP FOR A TOY OF AN OLD, DEAD GUY. (AND A SCULPT THAT LOOKS LIKE IT WAS DONE AFTER LORNE GREENE HAD PASSED AWAY).
The villainous Cylons will be represented by the famous chrome robot and the equally evil gold robot.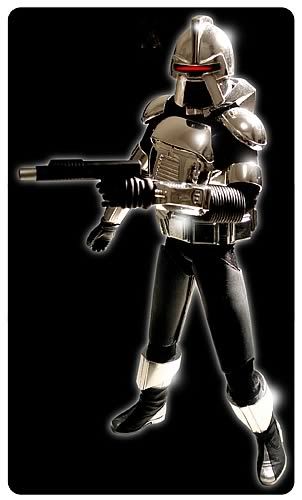 The action figures will feature articulation, clothing and accessories. They are priced at $39.99 each.
http://www.entertainmentearth.com/prodinfo.asp?number=MJ2615710
Colin Firth was born to play Mr Darcy.
So can anyone else shine in the lead role?
By Chris Hastings, Arts Correspondent
(Filed: 28/08/2005)
It is universally acknowledged that Colin Firth was born to play Mr Darcy.
EDITOR'S NOTE: YUMMY YUMMY YUMMY. COLIN FIRTH. YUMMY. (I'M SORRY….MOVING ALONG….)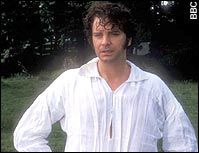 Colin Firth: 'definitive'
Despite a new "sexed-up" film adaptation of
Pride and Prejudice
with Matthew Macfadyen in the leading role, Firth remains synonymous with the role.
Andrew Davies, who wrote the screenplay for the renowned BBC adaptation, last night concurred with Jane Austen aficionados and said: "
Matthew Macfadyen is a brilliant actor, but I cannot imagine him being as good as Colin Firth."
EDITOR'S NOTE: MATTHEW WHO?
Austen followers say the latest version of the classic, on general release on September 16 and starring Keira Knightley as Elizabeth Bennett and Macfadyen as Darcy, does nothing to undermine the appeal of the BBC's Bafta-winning adaptation, which featured a dripping Firth emerging from a lake.
Matthew Macfadyen: 'sulk'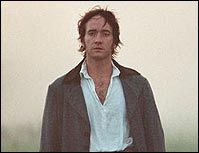 The film has also been criticised for taking "unacceptable liberties" with the novel and for portraying Darcy as if he is in a "
perpetual sulk
".
Joan Klingel Ray, a professor of English at the University of Colorado and the president of the Jane Austen Society of North America, who has seen a preview of the £20 million film, said Macfadyen wasn't a patch on Firth who was "
simply more attractive
".
EDITOR'S NOTE: WASN'T A 'PATCH ON'? ENGLISH. SOOOOOO TRICKY.
She said: "
The Darcy in the film does not have the quality of attractiveness that Colin Firth has. I don't want to cause any offence but Colin is simply a much better looking man than Matthew
."
EDITOR'S NOTE: I'M BETTING IT'S MORE A FUNCTION OF CHARISMA THAN STRICTLY LOOKS. (COLIN FIRTH JUST OOZES ALL THE RIGHT STUFF)
She added: "
I think Colin had the huge advantage of working with a terrific script which gave him glamour scenes which were not in the novel. The scene where he emerges from the lake is a case in point. The genius of these extra scenes was that they were in keeping with the book and the characters.
"There is simply nothing in the film to compete with anything like that. The new Darcy is too sullen for far too long. We do not see the gradual shift in his emotions which is an important part of the novel. He spends too much of the film looking like a young Heathcliff."
Prof Klingel Ray thought that the film's deviations from the 1813 novel were a step too far. She said the rustic look of the film and the obsession with pitting the action against the elements ensured that the film felt like an adaptation of a Brontë or Bridget Jones novel.
"
The film is full of sexual imagery which is totally inappropriate to Austen's novel,"
she said.
"In one scene a wild boar, which I assume is supposed to represent Darcy, wobbles through a farm with its sexual equipment on show. Also much of the action takes place against tempestuous weather which simply isn't in the novel. None of this is Jane Austen. The passion in Pride and Prejudice is more of a linguistic affair. I read an interview with the writer when she said she was trying to be honest but honest to whom. I feel the whole thing has been de-Austenised."
EDITOR'S NOTE: THAT MIGHT END UP BEING THE CASE, BUT WHY WAS THIS GAL STARING AT A WILD BOAR'S PRIVATE PARTS? (KINKY PROFESSOR, KINKY)
Prof Klingel Ray said transplanting the famous proposal scene from the cottage to a ruined temple gave the film a feel of Jane Eyre rather than
Pride and Prejudice
. "I
felt we were watching Rochester and Jane meet for the very first time. Later on there is a scene of Darcy and Elizabeth talking and there is a painting of gods and goddesses cavorting behind them. That also has nothing to do with Jane Austen."
The academic was, however, full of praise for Knightley as Elizabeth and Rosamund Pike who stars as her sister, Jane. She thought Jennifer Ehle, who played Elizabeth in the BBC series had been a little too
"heavy
" for the role.
The new film which has been directed by Joe Wright, a relative newcomer to the industry, is due to premiere at the Toronto Film Festival next month.
Davies last night revealed that he had been doubtful about casting Firth but said the actor had delivered a superlative performance. "
Darcy was Colin's peak achievement and he was born to play the role. He gave a superlative performance which I do not think Matthew will come up to. Colin burnt his way into the hearts of England's womanhood."
EDITOR'S NOTE; I AM PROBABLY GOING TO AGREE, BUT I FEEL SORRY FOR THIS MATTHEW CHAP. POOR DUDE.
David Bamber, who played Mr Collins for the television adaptation, agreed that Firth, and Ehle, would be a tough act to follow. "
I do
think these things stand or fall on casting
," he said. "
I think Jennifer was amazing even though she was comparatively inexperienced. Colin, I think, was the definitive Darcy.
"
I think meeting an actual aristocrat in 1809 or whenever the novel was set must have been an absolutely monstrous experience. I think Colin understood the social side of the story and managed to capture an element of that without going too over the top. He had the voice, the chin and the manner and slowly he let you in on the change he was going through."
He added: "
All too often, nowadays, there is a tendency to say, 'Let's drop the accent, after all it is just a story about two edgy people.' But if it was just about two edgy people, there would be no story to tell. The social context is everything to this story. Without that there would be no struggle or tension. If you have an estuary English Darcy, what is the point?"
Ehle said: "
I remember when we were about to make our version of Pride and Prejudice, there were so many letters to The Times and other newspapers saying how dare the BBC spend money on remaking this when the definitive film version already exists with Laurence Olivier and Greer Garson. So you never know. Nobody owns Pride and Prejudice. It's out there in the public domain, and it's good that people are taking a fresh look at it."
Deborah Moggach, the writer of the new film, said: "
We have two wonderful stars and we are very pleased with their performances. I am not going to say whether either of our leads are better or worse. I will just say we have our own Mr Darcy.
"
Matthew has put in a very complex performance and he has a very interesting journey in the film. His performance works on so many different levels and we do not react to him in a simplistic manner. He has a whole history behind him."
There were signs last night, however, that Macfadyen had managed to win the support of some diehard Firth fans. Members of the Republic of Pemberley Society, which was founded in honour of Firth, have been pleasantly surprised by the usurper.
A spokesman said: "
The BBC version is highly cherished and Firth's Darcy was the reason why we are here as a society. A number of our members, however, have attended previews of the film and have been pleasantly surprised by what they have seen. They think he has done a very good job. We have reports that he is absolutely wonderful."
Top 10 Robert Redford films
From 'The Sting' to 'Brubaker' the Sundance Kid delivers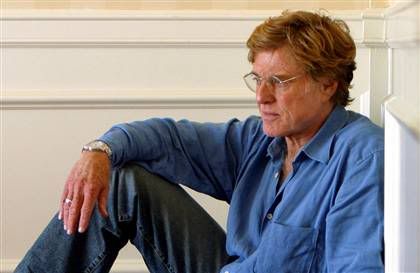 By John Hartl
Film critic
MSNBC

Updated: 2:07 p.m. ET Sept. 8, 2005
Robert Redford's star power has faded during the past couple of decades. The Sundance Kid helps run the Sundance Film Festival, and he seems more interested in promoting and directing movies than starring in them.
Now 68, he's made a remarkable impression on the other side of the camera, earning an Academy Award for best director for "Ordinary People" (1980) and winning the New York Film Critics' award for best picture for "Quiz Show" (1994). Last year he helped produce "The Motorcycle Diaries."
But he's never really given up on his acting career.
He keeps on trying with projects that allow him to stretch, like last year's "The Clearing," in which he played Helen Mirren's doomed husband, and "Spy Game" (2001), about a retiring CIA agent who's committed to one last job.
Next up is Lasse Hallstrom's "An Unfinished Life," in which he plays a cranky Wyoming rancher whose daughter-in-law (Jennifer Lopez)
EDITOR'S NOTE: WHY DOES SHE STILL KEEP GETTING ACTING GIGS? (HOPING SHE FINALLY LEARNS BY DOING?)
moves in with him to escape an abusive ex-lover. Morgan Freeman plays his closest pal. Filmed more than two years ago, and once scheduled as a Christmas 2004 release, it's finally opening this month.
EDITOR'S NOTE: NOT A GOOD SIGN….
Hallstrom, who directed "My Life as a Dog" and "The Cider House Rules," has promised "a slightly different Redford" this time around.
Sometimes accused of acting within a very small range, Redford has in fact given a wide range of performances that have consistently helped him to reinvent himself.
EDITOR'S NOTE: I THINK REDFORD IS A LOT LIKE HARRISON FORD. WHAT HE DOES IS SUBTLE. AND BECAUSE BOTH MEN ARE SO HANDSOME (EVEN NOW) AND SO CHARISMATIC, THEY AREN'T GIVEN CREDIT FOR THE GENTLENESS, THE NUANCE OF THEIR PERFORMANCES.
Following a noteworthy television career (including "The Iceman Cometh" and "The Twilight Zone"), he made his big-screen debut as a Korean War soldier in a provocative 1962 anti-war movie, "War Hunt," co-starring his longtime collaborator, Sydney Pollack. The National Board of Review named it one of the year's 10 best.
Soon he was co-starring with Natalie Wood in "Inside Daisy Clover" (1965) and Pollack's "This Property Is Condemned" (1966), and with Jane Fonda in "The Chase" (1966) and "Barefoot in the Park" (1967) — a popular Neil Simon comedy in which Redford recreated his Broadway role.
Apprentice performances they may have been, but Redford brought a memorably fatalistic quality to his part as an escaped convict in "The Chase." Pauline Kael singled out his work opposite Wood in "Inside Daisy Clover": "As the young star's no-good, vaguely homosexual husband (one of the most cryptic roles ever written), Robert Redford gives the only fresh performance."
"Barefoot" was the first of his movies to break out at the box office. A string of hits, interesting misses and Oscar winners followed. Most of the best were released within a 15-year period.
These were 10 that delivered, in one way or another:

"Downhill Racer
" (1969). Director Michael Ritchie's scathing portrait of an arrogant athlete was the first movie Redford had to carry on his own. As a small-town Colorado kid who gets a chance at glory on the U.S. Olympic ski team, he gives a brave, self-effacing performance, especially in the edgy scenes with his no-nonsense coach (Gene Hackman) and jet-setter girlfriend (Camilla Sparv).
"Tell Them Willie Boy Is Here
" (1969). Blacklisted writer-director Abraham Polonsky made his comeback with this gorgeous wide-screen Western about a manhunt that's more like a witch hunt. Robert Blake plays the hunted Indian, Willie; Redford is the well-meaning sheriff on his trail. Redford and Katharine Ross won British Academy of Film and Television Arts awards for their performances.
"Butch Cassidy and the Sundance Kid"
(1969). Redford and Paul Newman teamed up for the first time in this lighthearted Western box-office smash, loosely based on the adventures of two legendary outlaws from the late 19th century. William Goldman's Oscar-winning script has a loose, flippant quality that allows the stars (as well as Katharine Ross as Redford's girlfriend) plenty of room to kid around.
"The Candidate"
(1972). Redford and Ritchie reteamed for this smart political satire about a young liberal lawyer who tries to hold on to his ideals as he campaigns to defeat a conservative senator (Don Porter). Slowly he loses his way, and Redford's skillful performance suggests just how aware he is of his failure. Jeremy Larner's detailed script, based on the writer's own campaign experiences, won an Oscar.
"The Way We Were"
(1973). Directed by his old friend, Sydney Pollack, Redford's most romantic movie clicks mostly because of his chemistry with Barbra Streisand. He's a jock with few political commitments, she's a left-wing activist, but in spite of their differences they marry and end up in Hollywood — just in time for the blacklist. The strain on their relationship is disastrous, but the bittersweet ending is sublime.
EDITOR'S NOTE: OH HOW EMBARRASSED I AM AT HOW MUCH I LOVED THIS MOVIE AT THE TIME IT CAME OUT. (SHAME, THY NAME IS QOTD…..SIGH…..)
The Sting
" (1973). George Roy Hill, who directed "Butch Cassidy," brought Newman and Redford back together for this tricky story about a couple of con men who target a mobster (Robert Shaw) in 1930s Chicago. Showered with Academy Awards, including best picture, script and director, it earned Redford his only Oscar nomination for best actor. He's rarely been so charismatic.
EDITOR'S NOTE: ONE OF MY ALL-TIME

FAVORITE

MOVIES.
"Three Days of the Condor"
(1975). Pollack's nifty political thriller, starring Redford as a CIA researcher who knows too much, reflects Watergate-era distrust in government. It also plays like an update of Hitchcock's "North by Northwest," with Redford as the fugitive everyone wants, Faye Dunaway as the woman who shelters him and Max von Sydow as an eeriely amoral villain.
"All the President's Men"
(1976). Redford attacked Watergate head-on in Alan J. Pakula's tense account of the investigative work of Washington Post reporters Bob Woodward (Redford) and Carl Bernstein (Dustin Hoffman). Jason Robards won a supporting-actor Oscar as their boss, Ben Bradlee, but it's the give-and-take between Redford and Hoffman that anchors the movie.
"Brubaker
" (1980). W. D. Richter's Oscar-nominated, fact-based screenplay focuses on a new warden's attempts to clean up a corrupt Southern prison that turns inmates into slaves for local farms. Redford captures the man's naivete and integrity (echoing the character he played in "The Candidate"), and he gets to interact with a first-rate supporting cast, including Morgan Freeman in his first strong film role.
"The Natural"
(1984). Although Redford would later have one of his biggest hits with "Out of Africa" (1985), that was primarily Meryl Streep's movie. Redford's last memorable movie-star role was Roy Hobbs, the elusive baseball champ of Barry Levinson's fantasy-laced sports drama. The movie's attempts to mythologize Hobbs' story are over-the-top, but Randy Newman's irresistible score, Caleb Deschanel's lush cinematography and Redford's larger-than-life performance help you buy it.